Onnit's flagship Earth grown nutrient based supplement, Alpha BRAIN, demonstrates statistically significant cognitive improvement for healthy, intelligent adults in a double blind, placebo controlled, randomized trial conducted by The Boston Center for Memory.
Onnit Labs, an Austin based total human optimization company, recently announced a major milestone in their clinical research platform. The flagship Earth grown nutrient based nootropic Alpha BRAIN, which has already sold over 16 million capsules, released clinical trial results in a podcast with Dr. Todd Solomon of The Boston Center for Memory.
In discussing the results of the study Dr. Todd Solomon commented "We are encouraged by the results" Dr. Solomon went on to clarify, "We are an independent research organization that has conducted over one hundred clinical trials in compounds for cognitive benefit and our goal was to apply the same rigorous scientific standards and methods in the study of Alpha BRAIN as we do in any other clinical trial. Our plan from the outset was to disseminate the data from the study, regardless of whether the study demonstrated any significant findings. As such, we are always encouraged by results that indicate a potential for benefit, however, as in any single clinical trial, the results will need to be replicated before any definitive conclusions can be made."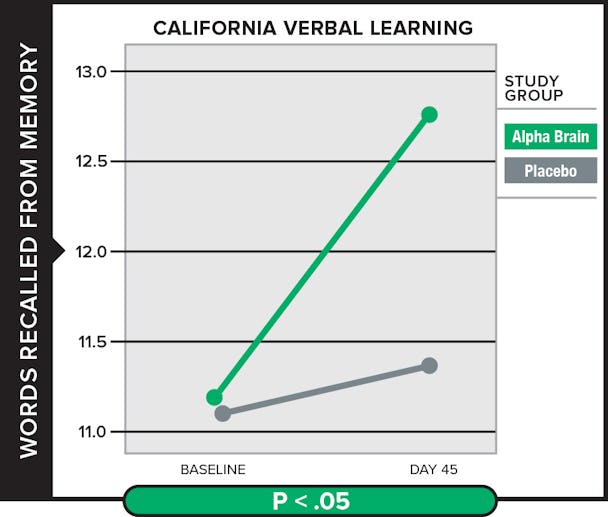 The double blind, randomized, placebo controlled trial of over 60 patients showed clear statistical significance (p < .05) in the aspect of verbal memory after 6 weeks of supplementation. In a standardized test of verbal memory, subjects were prompted to memorize a list of unrelated words over several trials. When asked to recall words from the list roughly twenty minutes later, the Alpha BRAIN group, on average, recalled significantly more words as compared to their placebo counterparts.
In addition to a neurocognitive battery, a subset of subjects underwent an additional electroencephalogram (EEG) protocol to characterize notable brain wave frequencies, such as Alpha (8-15hz), Beta (16-31 Hz) and Theta (4-7 Hz). Peak alpha frequencies correlate positively with healthy cognition, attentiveness, and inhibition control. A compelling finding from the EEG data showed that subjects randomized to Alpha BRAIN supplementation had significantly higher peak alpha frequencies (p=0.0041). Another assessment tool of attentional vigilance is the ratio of theta/beta frequencies. The Alpha BRAIN group trended toward a significantly improved ratio (p=0.0551), an encouraging finding given the small sample size. These additional biomarkers not only help elucidate the mechanism of improved memory function, but also reveal the direct physiological changes that occur when taking Alpha BRAIN.
"This is the holy grail of clinical research for a natural supplement. To be able to show statistically significant improvement in healthy adults with a natural supplement is one of the most challenging things to do. We put the reputation of our company on the line with this trial because we believe not only in the quality of product we provide, but the importance of unbiased empirical data," commented Aubrey Marcus, Onnit CEO.
This trial, which followed similar parameters of a successful pilot trial announced in Q4 2013 brings the total patient group to over 80 healthy individuals. In both trials Alpha BRAIN was well tolerated with minimal to no side effects. Notable amongst the side effects reported was an increase in vivid dreams, which is not uncommon with elevation of the neurotransmitter acetylcholine.
Commenting on Alpha BRAIN, Jarrett Leech, scientific advisor to Onnit added "The Alpha BRAIN formula was built on the shoulders of giants. The ingredients used all had sound clinical evidence of efficacy in some aspect of cognitive performance. What this study showed was that the whole can be greater than the sum of its parts."
Key ingredients used in Alpha BRAIN include Huperzia Serrata, a traditional Chinese herb that has been shown to contain the acetylcholine enhancer Huperzine A, as well as AC-11®, a proprietary extract of the Amazon rainforest herb Uncaria Tomentosa licensed exclusively for use in nootropics from Optigenex Inc. Research on AC-11® has indicated the extract has an ability to help the body repair itself on a cellular level.
Medical advisor to Onnit, Dr. Dan Engle MD commented, "In my practice as a psychiatrist I have yet to come across a natural supplement with data as strong as Alpha BRAIN for healthy individuals. It begs the question, how effective might it be for those showing signs of age related cognitive decline?"
Onnit CEO Aubrey Marcus hinted that it would be interesting to study that indication directly, but plans to wait until publication of this initial trial is complete. The Boston Center for Memory has submitted the results for presentation to The American Academy of Neurology Conference in April of 2015 and will submit for publication in a major journal to follow soon after.
In line with Onnit's philosophy of constant study and improvement of its product line, this is only the beginning. "The data from this trial has only just started to ripple out from our network of customers. Based on our overwhelming customer response to the Alpha BRAIN product, a great safety profile, the data on our ingredients, and the evidence from this study, the potential market size for this supplement is unlimited. We passionately believe in the case for human optimization, as we understand that often the tipping point between success and failure is simply performing to the best of your capability."
For more information on Alpha BRAIN click here or visit https://www.onnit.com/alphabrain/ – Further details of the study will be published on the Alpha BRAIN page shortly following this announcement.
For questions on the study contact Jarrett@Onnit.com
For other inquiries contact Jennifer@Onnit.com