When you pose the question, "Who's the greatest fighter of all time," most people don't immediately picture a 5'3", 140-pound guy. Nevertheless, Demetrious Johnson, aka Mighty Mouse, could very well lay claim to that title. He was the UFC's inaugural flyweight champion, held the belt for six years, and still owns the UFC record for the most consecutive title defenses with 11 straight victories. UFC analyst Joe Rogan has said that Johnson fights "correctly," and the legendary Georges St-Pierre even admitted that, if he and Mouse were in the same weight class, Johnson would "beat the shit" out of him.
Why then does Johnson, 32, get so little recognition? For one thing, he's not as physically impressive as a Brock Lesnar or Tyron Woodley, and he's not as outspoken or outrageous as Conor McGregor or Jon Jones—but he's OK with that. The flyweight king is now fighting in Asia for the up-and-coming ONE Championship, where he hopes to dominate the flyweight grand prix (he's already beaten Yuya Wakamatsu in the quarterfinals), and wind down his career with some of his most exciting performances yet.
We spoke to Mighty Mouse about the legacy he hopes to leave in MMA, his training and diet, and his first foray into martial arts—playing the Street Fighter and Mortal Kombat video games.
Onnit: You've said that you're even more passionate about video games than you are fighting, and you've been playing for cash via Twitch, a live streaming service. How did you get into gaming?
Mighty Mouse: I come from a very poor background, so gaming was a very cheap form of entertainment. You could buy a used game like Mortal Kombat cheap, and I'd sit there for two hours playing it. I used to play with my mom. We'd play Super Contra for Nintendo together and beat it over and over. I just stuck to it, and now, through Twitch, I've got a way to monetize it. Gaming will always be a part of my life—longer than mixed martial arts will be.
Are there any games that frustrated you as a kid that you've been able to beat as an adult? Some of our staff recently beat Tyson in Mike Tyson's Punch-Out, and it was a long time coming.
I just beat Ninja Gaiden II for NES, which I could never beat as a kid because it was hard as hell. It took a long damn time. And I didn't even beat it legit! The way it works is if you lose to the last boss, you have to go three stages back and work your way up again. So I would save the game when I got up to the boss, anticipating that I would die, then die, and reload the game. It took a long time. A long time.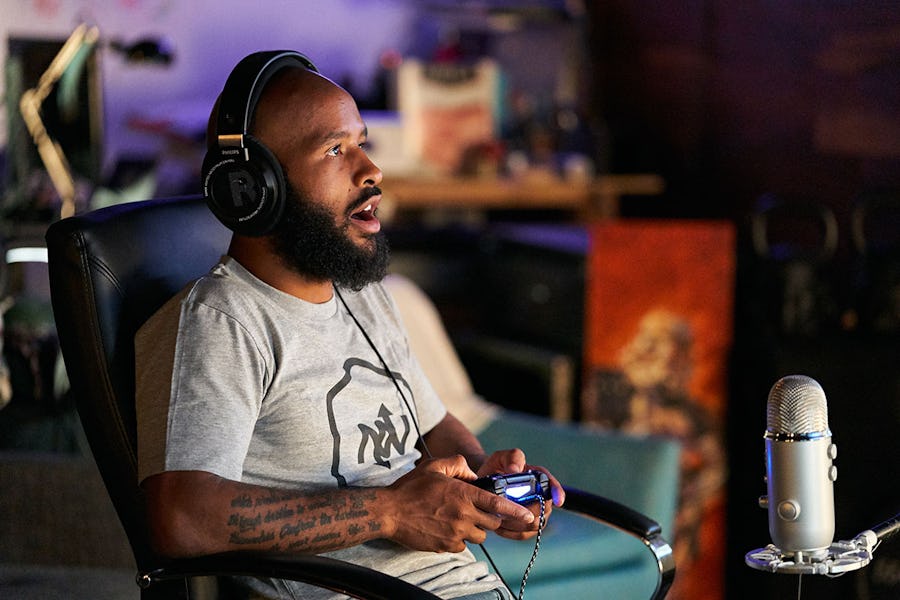 Yeah, too bad you couldn't save the game back in 1990. Are there any characters you really like to as play as in games? Say, in Street Fighter or Mortal Kombat?
Back in the day, I liked to play as Ryu and Ken in Street Fighter. I played as T.J. Combo in Killer Instinct, and I liked Sub Zero in Mortal Kombat. Nowadays, I like Nash in Street Fighter because he's good about getting in and out, closing the distance, and throwing projectiles. I kind of hope that's what I'm like as a real fighter [laughs].
Speaking of real fighting, you're widely regarded as one of the best MMA fighters of all time, but you're not as well known as other stars. Why?
I think I'm just a plain-Jane kind of guy. I go home to my wife at night. I drop my kids off at school. I'm not on social media blasting people and saying derogatory things. And that's fine with me. I'd rather have the respect of true mixed martial arts fans who love the sport than have to go out and cause chaos to get recognition.
You're the first fighter the UFC has traded. Do you think that set a precedent?
I don't think so. I think most fighters believe that where they're at is the best place for them. Everybody's journey is different. For me, I feel like I accomplished everything I could in the UFC and in North America. Now I have an audience that appreciates the smaller weight classes and a guy like me who lives by a code.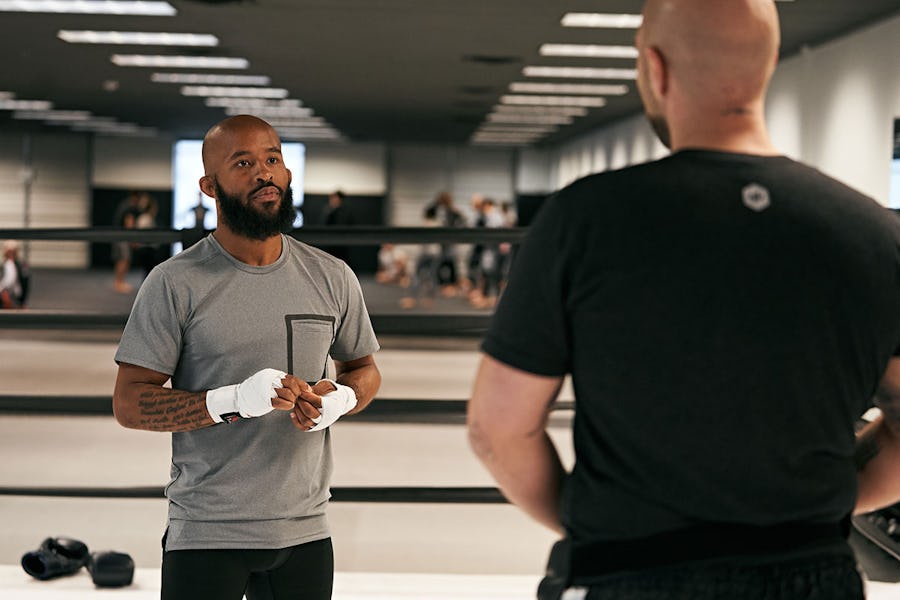 Why do you think the ONE Championship fans respond so well to you?
The average height of a male in North America is bigger than I am. I'm 5'3", so I'm not for everyone. The Asians are generally shorter, so they relate to a guy my size better. And they have a long history of martial arts. It's embedded in their culture like football and basketball are here, so there's a bigger fan base in general.
They cheer for me loud over there and they're not known for loud cheering. In my first fight there, I fought Yuya Wakamatsu in Japan. He's Japanese, but the people cheered for both of us.
A lot of people seem to think that the weigh-in process ONE uses is fairer to the fighters.
When I fought in North America, I'd walk around at 142 pounds, and I'd cut down to 125 for the fight. Then I'd rehydrate and go into the Octagon at about 140. That's very unhealthy, to lose that much weight in a short time and then blow back up. At ONE, the flyweight division is 135 pounds, so I only have to diet down about five pounds. And yes, the weigh-ins are more honest.
They do two weigh-ins, 24 hours apart. You can cut down, but they check your hydration. If you miss the hydration check because you're dehydrated but you still make weight, it doesn't matter. You have to do it all over again. You have to be hydrated AND make weight. And you have to do this twice. I don't go into fights thirsty or hungry anymore, or needing sodium. Everybody fights closer to their walk-around weight. I don't have to worry about going into the ring against a monster.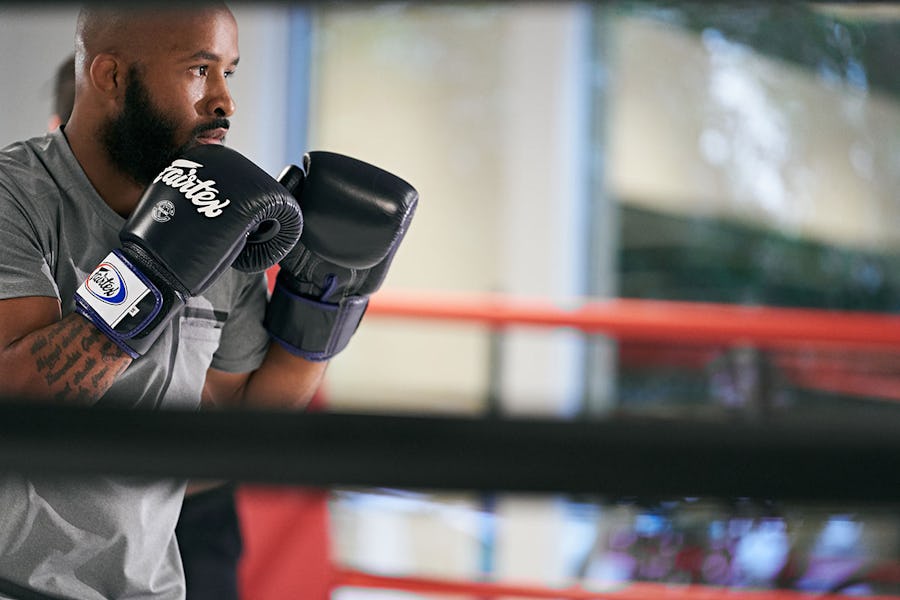 Joe Rogan once said that you fight "correctly." You always move forward but you don't get hit. Is that a teachable style?
It is. [AMC Kickboxing & Pankration founder and head trainer] Matt Hume taught me that. But you really have to teach yourself. That's how Matt learned how to fight. He took things he liked from different fighters and he would make them his own. That's what I've done in my career. And you have to fight smart.
I got into a brawl one time in the ring and Matt said to me afterward, "What the fuck was that?" I said I wanted to bang. It was the first time I had ever fought someone who was 5'3", like me, so why not? He said, "That's the stupidest fucking thing I've ever heard in my life. Why do that? Why give the person the opportunity to hit you and knock you out? You might get hit and not think you're knocked out, but your body will shut down on you." He told me my greatest attribute is being able to flow between different martial arts disciplines without being hit—so let's use that and have a long career.
I've stuck to that since and I've been successful.
You were flyweight champion for six years. Is it a relief not having to defend that title anymore?
It is and it isn't. I feel the same way now as when I was the champ. It's a relief to not be champ but, at the same time, I feel pressure because I'm in a new organization and, with all the things I've accomplished, they expect me to keep on doing that stuff.
I hope I'll have my best run yet at ONE. But I was champ for six years and I'm more about having a good time now. I want to enjoy my last few years of fighting. I think I'll be out of the sport within five years. Georges St-Pierre is an inspiration to me, and he got out when he needed to. He was smart enough to leave before opponents started to build a legacy off of him. Everybody wanted to be the guy who could say, "I beat GSP." I don't want to be marked like that. He was welterweight champ and middleweight champ and then said, "What else do I need?" I hope I'm disciplined enough to do that when the time comes, and then pursue other ventures.
GSP said if you were in the same weight class, he thinks you'd beat the shit out of him.
I would beat the shit out of him! [Laughs] I think what made him successful has made me successful as well. I think if we fought it would be an amazing fight between two great martial artists, but it won't happen in this life.
Right now, I'm looking for exciting fights and I'm excited about competing abroad. My next fight is in a ring as part of the ONE grand prix, so I have to train inside a ring instead of a cage. All the best guys ever—Anderson Silva, Fedor Emelianenko, Rampage, Cro Cop—they all competed in a ring and in the cage at some point in their careers. Most of them started in a ring in Pride [Fighting Championships], and I'm doing the opposite.
You've said that you feel ONE allows you to be yourself. Can you explain?
If someone were to come into Onnit and throw a dolly through a window, Aubrey [Marcus, Onnit founder] would tell the guy, "You're fucking fired! You hurt our employees? You're done." But if Aubrey used that as a commercial to showcase [the pre-workout supplement] Total Strength and Performance—as in, "Look how strong it made this guy; he can throw a dolly through a window!"—that wouldn't sit well with me.
When Conor [McGregor, former UFC featherweight and lightweight champion] did that, and he hurt UFC employees, the UFC used that footage to sell that fight between him and Khabib [Nurmagomedov, UFC lightweight champion]… I get it. You're trying to make money. But at the same time, I watched that unfold and I was like, "I'm over it." I want to fight somewhere where they're not going to use negativity to build a fight. ONE doesn't take fighters with criminal records.
Chatri [Sityodtong, founder and CEO of ONE Championship] is more focused on selling stories. He likes getting the hometown hero from a city or country and promoting that about him. The Asian fans love a humble guy who came from nothing and made something of himself. That suits my morals more. I go to work and I take care of my family.
What can you tell us about your nutrition regimen?
I use MCT oil a lot. I put it into my yogurt, and I'll make a concoction of coconut water and Mineral Electrolytes, like a Gatorade thing, and add MCT oil to that. I'm really conscious of hydration, because I train so much and I don't want to cramp or tear a muscle because I'm dehydrated. Breakfast might be eggs and oatmeal, and I'll take krill oil with that, and spirulina. I take Total Strength and Performance before workouts. When I get home, I take the Key Minerals. The magnesium helps me relax at night.
I think MMA fighters should take supplements because our bodies are burning through nutrients all day long—magnesium, zinc, sodium. So by the time you get home at night, you need to replenish yourself. Some people are scared to take supplements, and I was one of those people. When I first met Aubrey, he offered to send me some supplements and I said, "No, man, I'm caveman style. All I need is beer, sex, and sleep, and I'm good to go." But then, as I got older, I noticed that my body doesn't recover the way it used to. I started taking creatine and I added the other stuff later.
How about your strength and conditioning?
Going into any fight, I'll typically spend the first two weeks of camp getting in shape, getting my heart rate up to 150–175 [beats per minute]. The next two weeks we work on power and explosion. Then it's two weeks of heart rate variability training, where I'll do something as hard as I can, let my heart rate come down to 120, and then go again. I'll do circuit training with exercises like jump squats, sprints, pushups on a med ball, pullups, and wall climbs. Do all that to jack my heart rate up, and then rest down until my heart is at 120 beats again.
See Johnson face Tatsumitsu Wada at ONE Championship's Dawn of Heroes event, Friday, August 2, at 7:00 a.m. EST, on Pay-Per-View. Follow him on Twitter, @MightyMouse.