At some point, everybody's worked with that guy who ate fast food everyday, lit his next cigarette with the butt of his previous one, and could barely contain his contempt for your healthy lifestyle.
To him, your salad was "rabbit food," working out made you a "narcissist," and your protein smoothies looked "like something I'd flush."
So he really would have hated spirulina.
To the uninitiated, this edible algae product may seem like nothing more than pond scum—another example of newfangled, hippie-dippy, pseudo-nutrition.
But your old colleague (rest his soul, by the way) would be wrong.
In fact, spirulina is a bonafide superfood with the potential to not only restore your body but the planet at large, making it a more than worthwhile addition to your list of healthy habits.
What Is Spirulina?
Spirulina is a type of blue-green colored algae that grows in freshwater around the world. Technically, it's a blend of two non-toxic species of bacteria called Arthrospira Platensis and Arthrospira Maxima. (The bacteria are spiral-shaped, hence the "spirulina" name.) Spirulina has been consumed for hundreds of years, if not more, as records show it was part of the diet of the Aztec native Americans.
A source of complete protein and several vitamins and minerals, spirulina is so nutritious that it's often used as an ingredient in greens powders and as a supplement on its own. In fact, it's been studied as a food source for astronauts on long space missions. In 2005, the European Space Agency (think: NASA across the pond) even developed a gnocchi pasta out of spirulina, and determined that it was one of a select few foods that could be grown in a greenhouse on Mars, or other planets that may one day be colonized.
Sounds a lot more appetizing than Matt Damon's shit potatoes, doesn't it?
Easy to grow and ecologically-friendly, spirulina has been endorsed by the World Health Organization and United Nations as a food for fighting malnutrition in developing nations.
Spirulina Benefits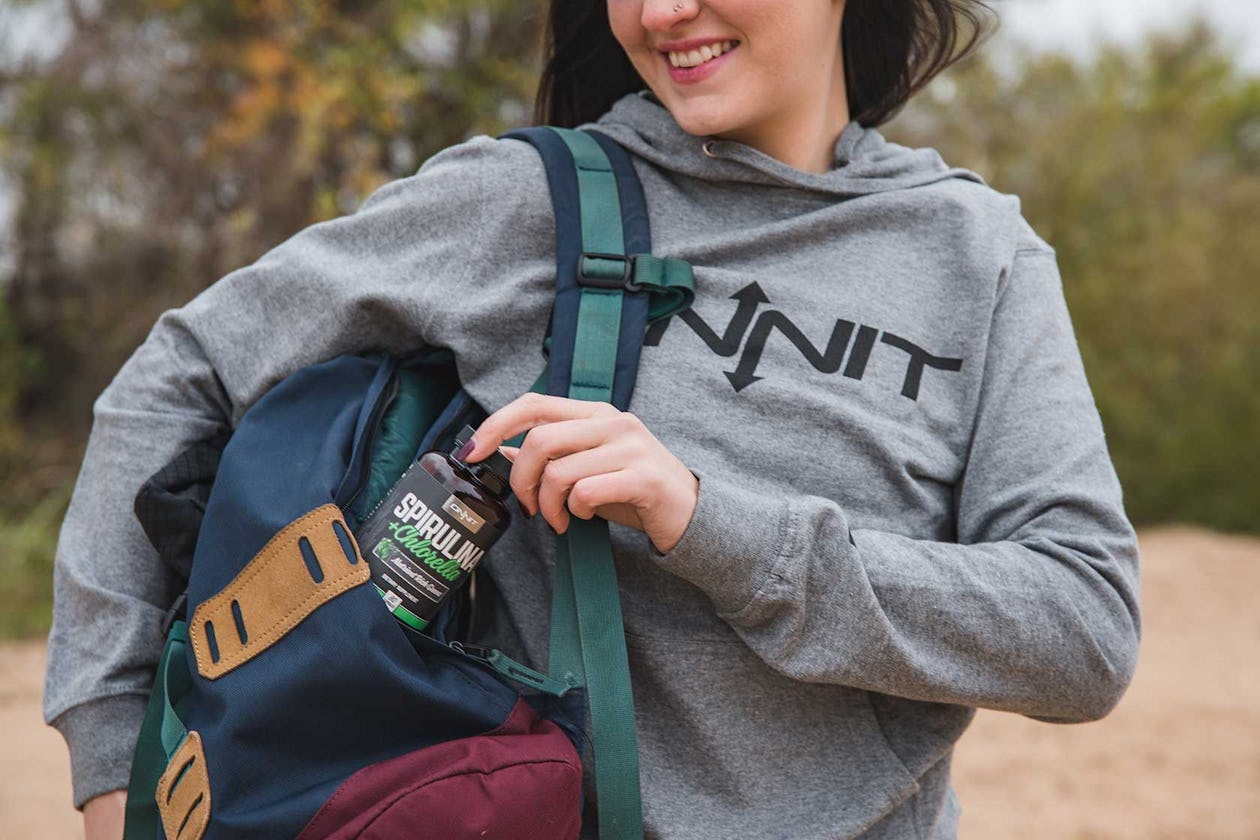 Spirulina is most often taken as a supplement. It's known for benefitting the body in the following ways.
Provides Complete Protein
Spirulina can be 55–70% protein by weight. Since algae is plant life, spirulina is a vegan protein—but, unlike most non-animal protein sources, its protein contains all the essential amino acids and is therefore complete.  This makes spirulina a valuable addition to a vegan or vegetarian regimen, especially among athletes and gym goers whose protein needs are higher than that of the average person. One tablespoon of spirulina powder has about five grams protein.
Supplies Basic Nutrients
Spirulina is a highly-concentrated food source, offering a plethora of micronutrition that includes essential fatty acids, vitamins, and minerals that many people don't get enough of, such as calcium, iodine, and magnesium. In fact, one teaspoon of spirulina has more calcium than the same amount of whole milk, more beta carotene than an equivalent amount of carrots and… are you ready for this? More than 10 times the iron of spinach. (Suck it, Popeye.)
A study in the European Journal of Applied Physiology found that spirulina supplementation aided aerobic exercise performance by extending the duration of exercise. The researchers suspected that spirulina helped with the maintenance of muscle cell integrity, allowing the subjects' muscles to resist fatigue. Another trial in Medicine and Science In Sports and Exercise found a similar gain in aerobic performance while the subjects kept up levels of glutathione, a molecule that promotes cellular health (and usually diminishes as it fights free radicals released by intense exercise). Bonus points: spirulina aided in burning more fat for fuel during exercise as well.
Promotes Heart Health
An investigation into spirulina and blood markers of health was published in the journal Lipids In Health and Disease. Scientists founds that spirulina helped regulate blood cholesterol levels and blood pressure in subjects without them making any other changes to their diets or lifestyle.
Assists In Relieving Occasional Respiratory Distress
Some people eat bee pollen to aid in relieving symptoms associated with environmental allergies. The science supporting spirulina for the same purpose, however, is much stronger. A European study found that, compared to a placebo, spirulina supplementation significantly aided in the relief of occasional runny nose, sneezing, nasal congestion, and itching. The researchers deemed it effective for helping to lessen these effects.
Helps To Cleanse Arsenic
Arsenic is a poison that's prevalent in the drinking water of developing nations. A study in the Journal of Clinical Toxicology had subjects take spirulina (along with a small amount of zinc) or a placebo. The spirulina plus zinc combo helped users lower levels of stored arsenic in their bodies.
Supports Environmental Sustainability
One of the biggest environmental problems the world is facing is how to continue supplying food for a growing population without running out of farmland. Unlike animals, spirulina is cheap and easy to raise for food. An Oxford study determined that spirulina requires the least amount of land per unit of protein and unit of human digestible energy, meaning that it needs less land to produce the same amount of protein and energy as livestock does.
To that end, spirulina is often used in feed for livestock and fish/shellfish farming.
Spirulina Tablets or Powder?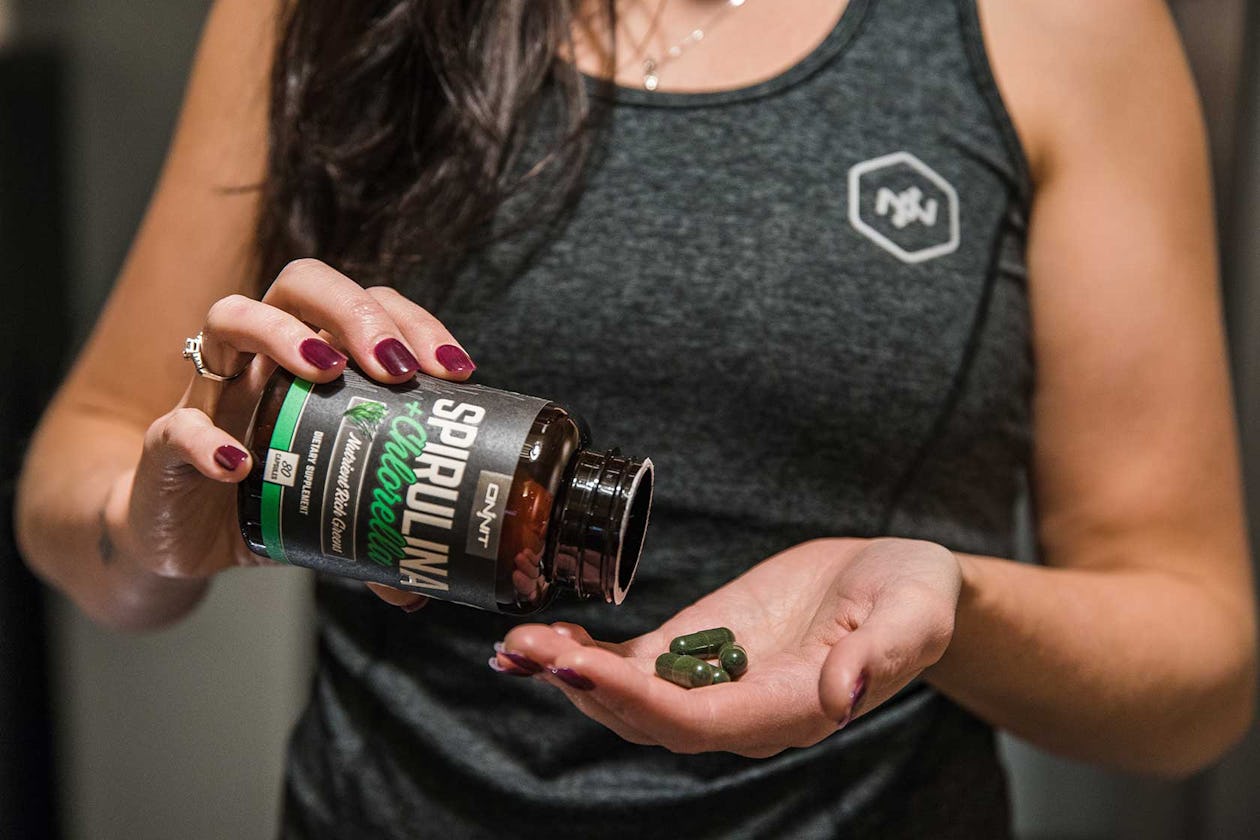 Spirulina supplements come in tablet or powder form. Powders make it easy to add to shakes, juices, sauces, and dips, all of which help to hide spirulina's earthy, slightly savory flavor (if that's not your thing). However, scooping spirulina can get messy, and tubs of it take up space and don't travel well. Plus, granules of algae can get stuck in your teeth like salad bits. For these reasons, plus better portability, you may opt for tablets instead.
Discussions about spirulina usually include mention of chlorella, a similar algae food that is also popular as a greens supplement. However, unlike spirulina, chlorella is more challenging to grow and process for human consumption. Chlorella's cell wall is made of indigestible fiber, so it must be broken down before you take it. As a result, chlorella is more expensive and therefore isn't as popular.
Still, it's a worthwhile supplement. As the name implies, chlorella contains large amounts of chlorophyll, the pigment in plants that makes them green. Chlorophyll has a number beneficial properties for the body, including supporting the immune system. Chlorella also has four times the iron in spirulina (which, if you'll remember from above, is already loaded with iron). Iron is necessary for healthy red blood cells that carry nutrients throughout the body, keeping up energy levels. For the widest array of nutrition, supplement with both spirulina and chlorella, or look for a greens product that offers both in one place.
Read more about chlorella in our corresponding guide The Benefits of Chlorella.