What's in your bag takes a look at the daily essentials Onnit's Pro Team takes with them everywhere. For this edition, we caught up with former Invicta FC atomweight champion, Michelle Waterson, to see what she can't leave home without, whether they're flowing from the gym, to work, to travel or beyond.
What's in Your Bag Michelle Waterson?
Known as "The Karate Hottie" for her blend of beauty and fight skills, Waterson is a former Invicta FC atomweight champion and is currently competing in the UFC's strawweight division (115 pounds).
She has been an MMA fighter for more than a decade, but she says her life — and her career — has never changed more drastically than when she gave birth to her daughter eight years ago. "Being both a mom and a fighter, I need a backpack that has many uses, which is why I love the Divison Daypack," says Waterson. "It is incredibly stylish, timeless and practical, and with the many different size compartments, helps me keep things tidy and organized."
While staying organized is important to anyone wearing as many hats as Michelle, which is especially true since one of these hats she wears as a fighter. As a competitor in the UFC, he needs to make sure she is properly hydrated and fueled throughout the day. "There is enough room to carry all of my meals and nutritional products throughout the day, but my favorite part about the bag is the side pockets, they are big enough to fit 2 liters of water, yet snug enough to have the confidence to put my phone in without having to worry about it slipping out!"
In addition to the Division Daypack, Waterson told us how versatile she finds the Division Dopp Kit. "The Division Dopp Kit is so cute, and I have used it for so many different things. I've used it to hold all my chargers and camera accessories. I've used it for my makeup. I've used for all my travel essentials, and I'm currently using it to hold all my planner and scrapbook essentials!"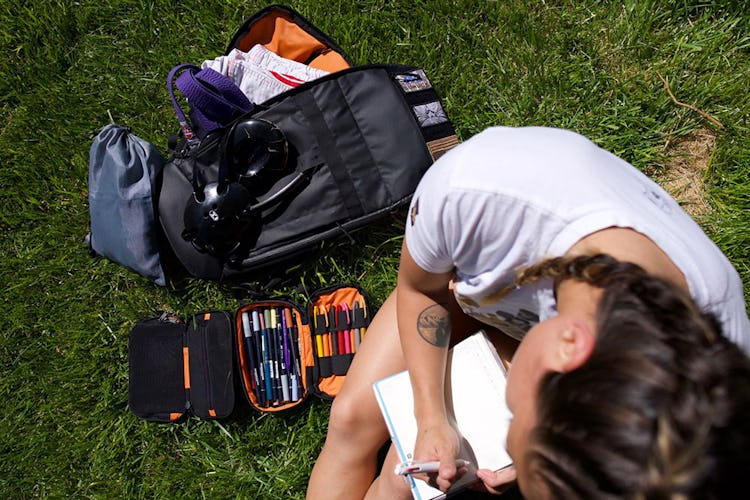 You rarely see Michelle Waterson in the gym or walking around town not wearing head to toe Onnit – but it is even more rare to catch her without her trusted Division Daypack. We stopped her on the spot one day, got her to empty it out and show us 'What's in your bag' – this is what we found.
● Onnit Protein Bar – Blueberry Walnut
● BODYARMOR Sports Water Alkaline Water
● Her Journal
● Markers
● A Brush
● Wallet
● A Pen
● Scrapbooking Materials
● Workout Clothes for the Gym
● Gi for Jiu-Jitsu
SHOP THIS STORY
It's time for an upgrade. Fabricated with care from intensely durable nylon. Water and abrasion-resistant. Adventure ready.