What are the Benefits of a Healthy Italian Diet?
While Italians include bread, cheese, and pasta in their diet, they manage to stay lean and healthy. How so? The Mediterranean Diet, which is essentially the Italian cuisine, is rich in plant foods, heart-healthy fats, whole grains, and fish, compared to the Western Diet which is heavier in red meat and processed foods and sugar.
The health benefits of a Mediterranean-style diet is nothing new. It has been shown to lower inflammation, oxidative stress, and reduce the risk of heart disease. The quality and sourcing of food also plays a role. Local, seasonal, and freshly prepared whole foods are always the way to go.
Another thing to consider about Italian food is portion size and preparation. Go to most Italian restaurants in the states, and the portions are often double the size of that in Italy. If you can't find an authentic Italian chef using only fresh ingredients in your neck of the woods, then we suggest you turn on your best Emeril Lagasse impression, and BAM! Cook your favorite healthy Italian dish at home. We've included some delicious ideas as a great starting point below.
What Foods Can I Eat, What Are Foods to Avoid, What's Good for Snacking?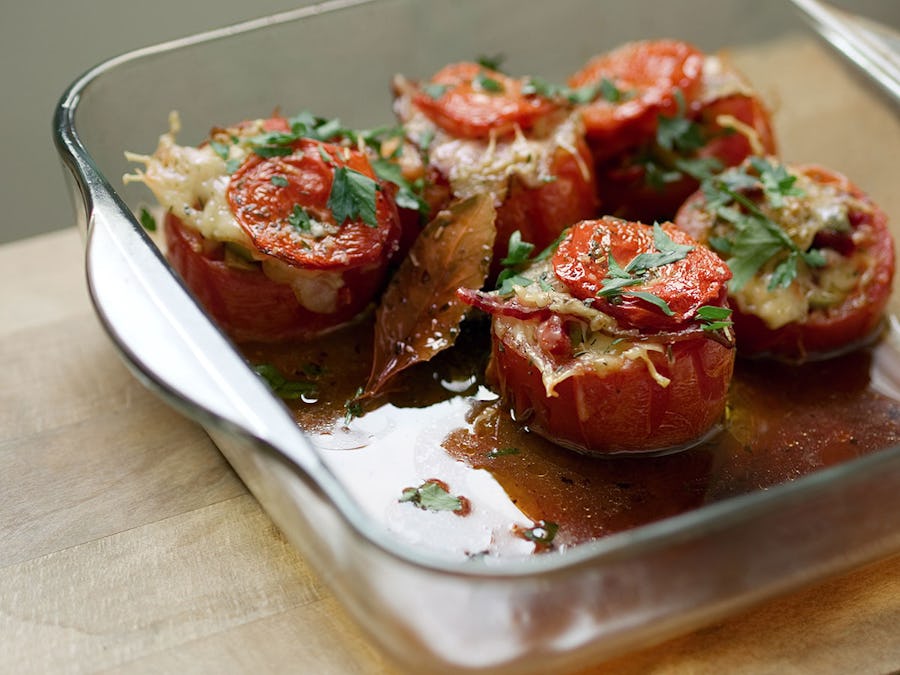 FOODS TO EAT
PROTEIN
Fish

Examples include: salmon, Black Bass, Branzino (Mediterranean sea bass)

Shellfish

Examples include: shrimp, mussels, lobster, octopus, scallops, clams and oysters

Poultry, in moderation
Eggs, in moderation
Red meat, rare occasions
CARBOHYDRATES
Vegetables

Fresh vegetables and fruits are plentiful in a healthy Italian diet

Fruit

Specifically fresh berries, which are lower in sugar by volume as compared to tropical fruits like pineapple and mango. 

Legumes and beans

Examples include: Cannellini beans, chickpeas, lentils, and hummus 

Whole grain and sourdough bread*
Fresh-prepared authentic pasta, in moderation 

You are more likely to find this in Italy than in the U.S. Store-bought pasta tends to be more processed to sustain shelf-life. 

Pasta alternatives; i.e. chickpea pea pasta, nonGMO edamame pasta, kelp noodles, zucchini or sweet potato noodles (you can buy a Spiralizer on Amazon for cheap and make your own at home. 
Whole grains and rice

Examples include: white and brown rice, quinoa, bulgur, farro 

Vegetable starches

Examples, potatoes, and corn 

Full-fat, plain, unsweetened yogurt 
Wine, in moderation

One glass for women; two for men 
*The live bacteria in the starter helps pre-digest the gluten and consume some of the carbohydrates prior to baking, yielding a bread that is easier on the digestive tract, with lower carbohydrates compared to standard white bread.
FAT
Raw cheese** and minimally processed fresh cheese

Examples include: Parmigiano Reggiano, Mozzarella, Burrata 

Olives and olive oil
Nuts and seeds
Avocado
**contains natural probiotics.
MISC.
Fresh herbs and spices 

Italians often use fresh herbs and spices in their dishes to add depth and flavor without using a lot of caloric-dense additives or fats.

Water 

A healthy Italian diet includes plenty of water; at least 8 glasses a day
FOODS TO AVOID COMPLETELY
Refined grains; i.e. overly processed white bread, store-bought pasta 
Refined or hydrogenated oils and fats; i.e. soybean oil, canola oil, peanut oil, margarine
Processed sugar; i.e. sodas, juice from concentrate, candy
Processed meat; i.e. hotdogs, bologna, pre-packaged deli meat
Excessive eating
BEST SNACKS
Fresh, local multigrain or sourdough served with extra virgin olive oil, fresh herbs, and olives
Fresh fruit and raw, organic nuts
Caprese salad: fresh tomatoes, mozzarella, basil, and extra virgin olive oil
Plain, unsweetened yogurt with raw honey and fresh fruit
Antipasto: fresh olives, raw cheeses, anchovies, and cured meat
Light salad with extra virgin olive, balsamic vinegar, and fresh fish 
Raw cheese, nuts, and sliced cucumbers 
Lentil salad
10 Healthy Italian Recipes That Won't Pack on the Pounds
BREAKFAST: Zucchini and Herb Frittata 
Frittata comes from the Italian verb "friggere" which means to fry.
Cook time: 25 minutes 
Yield: 4 servings 
Difficulty: Easy
INGREDIENTS
2 large zucchini 
½ yellow onion, finely diced
8 large pastured-eggs 
½ cup freshly grated Parmigiano Reggiano cheese 
½ cup full-fat Greek or Icelandic plain yogurt
½ tsp. garlic powder
Sea salt and pepper, to taste
Fresh dill sprigs 
Fresh Italian parsley 
2 tbsp. extra virgin olive oil 
INSTRUCTIONS
Preheat oven to 400°F. 
Heat olive oil in a 9-inch cast-iron skillet over medium-high heat. Add onion, and cook, stirring occasionally, until softened, about 5 minutes. Add zucchini and cook, stirring often, until tender and edges golden brown, 8 to 10 minutes.
Meanwhile, whisk eggs, yogurt, cheese, garlic powder, salt, and pepper in a large bowl. Pour evenly over sauteed zucchini and onions. Don't stir. Let cook until eggs begin to set, about one minute.
Place skillet in the oven, and cook until edges are set about 5 minutes. Then increase the temperature to broil and cook for an additional 2 minutes until the top is golden brown.
Remove from oven, sprinkle with a couple of tablespoons of cheese and fresh chopped parsley and fresh dill. Season with additional salt and pepper if desired. 
LUNCH: Gluten-Free Prosciutto, Fig, and Arugula Flatbread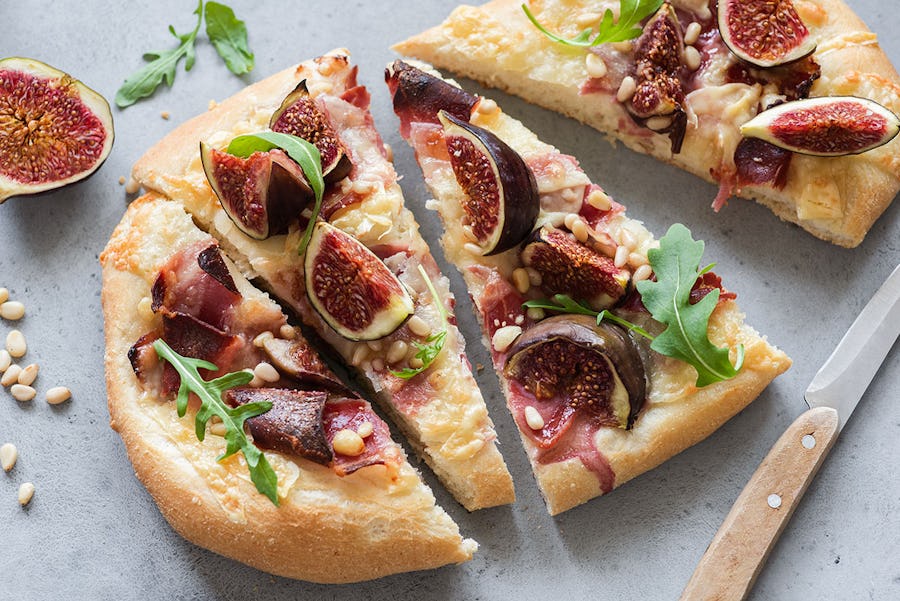 Cook time: 25 minutes 
Yield: 4 servings 
Difficulty: Easy
INGREDIENTS
1 cup shredded mozzarella
½ cup shredded parmesan and asiago
1 cup fresh arugula 
⅓ cup low-sugar fig spread*
10 slices prosciutto
1 box Simple Mills Gluten-Free Pizza Dough Mix**
2 tbsp. apple cider vinegar 
2 tbsp. extra virgin olive oil, plus 1 tbsp. for drizzling
6 tbsp. water 
*I love the FiordiFrutta USDA Organic fruit spreads sweetened only with fruit sugar. 
**I love this pizza dough mix for ease of use, quality of ingredients, and most importantly, taste! It's made out of eight simple ingredients: almond flour, arrowroot, flax meal, cauliflower baking soda, organic oregano, cream of tartar, and organic garlic.
INSTRUCTIONS
Preheat oven to 350-degrees Fahrenheit. 
In a large mixing bowl, add the pizza dough mix, apple cider vinegar, olive oil, and water. Mix until thoroughly combined and dough is formed. 
Divide dough into two equal portions, and roll into balls. Using clean oiled hands, carefully form into a flatbread or circular pizza shape with raised edges, based on preference. Repeat with second dough 
Bake flatbreads on an oiled sheet pan for five minutes. Remove from oven. On each flatbread, add ½ the fig spread and evenly distribute. Then sprinkle the mozzarella, parmesan, and asiago shredded cheese on top.
Bake for an additional 10 to 15 minutes. Remove from oven and add the prosciutto, arugula, and drizzle a little extra extra virgin olive oil on top! Enjoy warm. 
ANTIPASTO: Summer Pesto Caprese Salad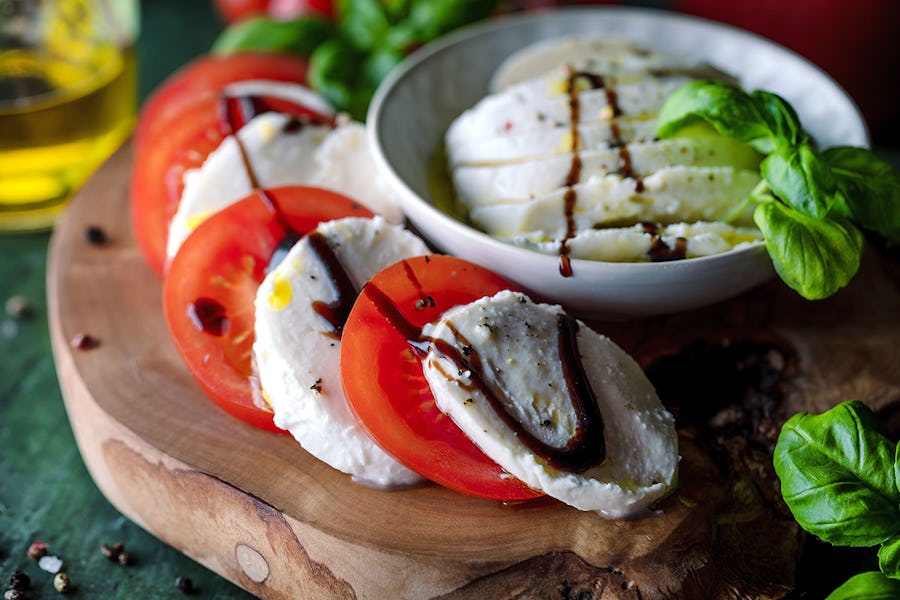 Prep time: 20 minutes 
Yield: 6-8 servings 
Difficulty: Easy
INGREDIENTS
2 fresh peaches 
3 heirloom tomatoes
1 lb. fresh mozzarella 
2 cups fresh basil leaves
½ cup extra virgin olive oil (EVOO)
3 garlic cloves
¼ cup Parmigiano Reggiano
3 tbsp. white balsamic vinegar 
Sea salt, to taste 
Black pepper, to taste
INSTRUCTIONS
In a food processor, add the fresh basil, EVOO, white balsamic, garlic cloves, Parmigiano Reggiano, salt, and pepper to taste. Pulse until combined.
Clean and slice the peaches and tomatoes into quarters.
Slice the mozzarella into a similar size and shape. 
On a serving platter, alternate the tomato slice, mozzarella, and peach, stacking them on top of the corner of the other. However, you can arrange whatever suits your fancy!
Carefully spoon pesto over the arrangement. Serve immediately.
DINNER: Lemon Butter Branzino served with Shiitake Risotto 
Cook Time: 50 minutes 
Yield: 4-6 servings 
Difficulty: Easy
INGREDIENTS
4 whole Branzino*, or white fish of choice
2 lemons
4 tbsp. grass-fed butter, divided
1 bunch fresh thyme sprigs
Sea salt and pepper, to taste
Extra virgin olive oil
2 shallots, minced
3 cups chicken broth**
1 cup arborio or medium-grain rice 
⅓ cup marsala wine
1 lb. shiitake mushrooms stemmed and thinly sliced
½ cup Parmigiano Reggiano, freshly grated
*Scaled and gutted
**from USDA Organic pasture-raised chickens ideally.
INSTRUCTIONS
Preheat oven to 450-degrees Fahrenheit.
Bring 6 cups of chicken or vegetable broth to a simmer.
In a large saucepan over medium heat, add 2 tbsp. butter and 1 tbsp. EVOO. Once melted, add shallots, and cook until translucent. Then add in the mushrooms. Cook for five to eight minutes, stirring occasionally, until softened.
Meanwhile, pat fish dry. Drizzle EVOO and season with salt and pepper on skin and in cavity. Stuff with thyme sprigs, a couple of lemon slices, and 2 tbsp. grass-fed butter divided into ¼ tsp. to evenly distribute among fish. Transfer fish to 2 rimmed baking sheets lined with wire racks. Roast for approximately 20 minutes.
While fish is cooking, add the rice, marsala wine, and leaves from 2 sprigs of thyme. Stir to combine with shallots and mushrooms.
When the liquid is absorbed, add ½ cup of warmed chicken broth to mixture and stir. Increase heat to medium-high, and continue adding ½ cup of broth, allowing the liquid to be fully absorbed before adding more broth. You should be stirring frequently. Continue with all of the remaining broth until the rice is tender and the mixture is creamy. Remove from heat, stir in Parmigiano Reggiano. Garnish with additional thyme leaves if desired. Serve immediately with fish.
DESSERT: Panna Cotta with Blueberry Sauce
Panna Cotta is Italian for "cooked cream." Traditionally, this Italian dessert is made with heavy cream, but for this recipe, we're using a non-dairy alternative, coconut milk, as a base and raw honey as a natural sweetener.
Cook Time: 10 minutes 
Set Time: 4 hours to overnight in fridge
Yield: 6 servings 
Difficulty: Easy
INGREDIENTS
(2) 13.5-oz can full-fat coconut milk
¼ cup raw, unfiltered honey 
1 vanilla bean*
4 tsp. gelatin**
2 tsp. water 
Coconut oil
Blueberry sauce
1 cup organic blueberries
2 tbsp. fresh-squeezed orange juice 
1 tsp. orange zest
1 tbsp. Honey or sugar substitute of choice
¼ tsp. cornstarch
¼ tsp. vanilla extract 
Pinch salt, to taste
*Slice down the center lengthwise to expose the vanilla bean caviar. Carefully run your knife perpendicular to the bean and slide down to scrape out the vanilla bean caviar. This is where the flavor is concentrated.
**We love Vital Proteins' gelatin from pastured cows.
INSTRUCTIONS
In a small bowl, combine the water and gelatin. Let it sit for five minutes.
Meanwhile, in a small pot on medium-low heat, add the coconut milk, honey, and vanilla bean caviar. Whisk together. You can also add the full vanilla bean for extra flavor and discard before pouring into molds or ramekins. Bring to a simmer, then add in the gelatin water. Whisk until the gelatin is fully dissolved.
Lightly grease a small ramekin or mold with coconut oil to prevent sticking to the sides. Coconut oil is the best choice here because of its sweet flavor profile.
Pour mixture evenly into 6 mini bowls or molds. Place in fridge to set for four hours or overnight.
Add all ingredients for the blueberry sauce in a small pot on medium-low heat. Stir and cook until blueberries start to breakdown, and it the mixture thickens slightly about five minutes.
Remove the panna cotta molds from the fridge. Run a knife around each edge and set in a bowl of warm water to loosen the edges. Invert mold onto serving plate. With blueberry sauce on top, and serve.
The Ultimate Healthy Italian Meal Plan
DAY 1
Breakfast: Muesli with unsweetened dried fruit & milk
Lunch: Grilled salmon served over spinach sauteed in garlic, EVOO, and lemon
Dinner: Bison Marinara over Zucchini Noodles
Snack: dry roasted almonds and an apple 
DAY 2
Breakfast: Vegetable omelet with fresh sourdough bread
Lunch: Lentil soup with a side salad
Dinner: Homemade Pesto Kelp Noodles
Snack: olives, feta cheese, fresh sliced cucumber and tomatoes 
DAY 3
Breakfast: Full-fat Greek yogurt with fresh berries and crushed walnuts 
Lunch: Seared scallops served with grilled vegetables 
Dinner: Turkey-Stuffed Peppers
Snack: Antipasto
DAY 4
Breakfast: Oatmeal porridge with unsweetened milk of choice and 2-4 soft boiled eggs
Lunch: Garlic Butter Shrimp over Zucchini Noodles
Dinner: Cauliflower-crust veggie pizza 
Snack: Greek yogurt and fresh fruit 
DAY 5
Breakfast: Shakshuka*
Lunch: Homemade tuna salad served on whole grain or sourdough bread 
Dinner: Chicken Paillard Snack: Cheesy Cauliflower "Breadsticks"