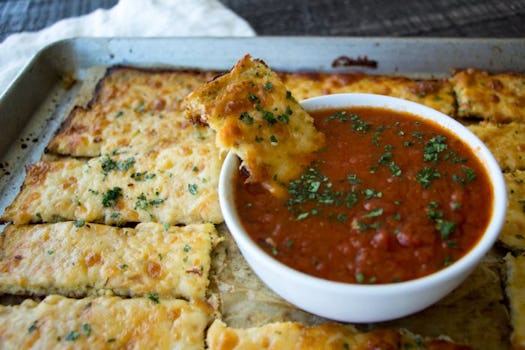 Cheesy Cauliflower "Breadsticks"
| | |
| --- | --- |
| Yield: | 1 sheet pan, 15 sticks |
| Difficulty: | Medium |
| Prep Time: | |
| Cook Time: | |
Ingredients:
1 head cauliflower, chopped into florets
½ cup shredded mozzarella
½ cup shredded Monterey Jack cheese
2 pastured eggs*
2 tsp. dried oregano
2 tsp. minced garlic
½ tsp. Himalayan salt
Black pepper, to taste
Topping:
2 tbsp.grass-fed butter, softened
1 tsp. garlic minced
½ cup shredded Parmesan
½ cup shredded Monterey Jack cheese
½ cup mozzarella cheese
Optional
Finely chopped parsley, for garnish
No-sugar-added marinara, for dipping
Primal Kitchen Ranch Dressing
Directions:
Preheat oven to 425 degrees F. Rinse cauliflower florets. Add to a food processor, and pulse until it reaches a couscous consistency.
Place the cauliflower particles in a microwave-safe bowl, and cover with a paper towel or lid. Microwave for 7 to 10 minutes.
Add the eggs, oregano, garlic, mozzarella, Monterey Jack, salt, pepper, and cauliflower. Mix until combined.
On a parchment-lined sheet, spread the cauliflower mixture with clean hands. Flatten carefully to reach the edges, forming a large rectangle.
Bake for 20 minutes. While that's cooking, mix together the the topping ingredients in a small mixing bowl.
Remove from oven, spread toppings. Bake for another 10 minutes, until bubbly and a golden brown. Slice.
Serve warm with a no-sugar-added marinara (look at ingredient label) or Primal Kitchen avocado-oil based Ranch Dressing. Sprinkle chopped parsley on top for garnish.