Research has found that ketogenic diets have been formally prescribed to treat epilepsy since before 500 B.C. In the 1920s, they were adopted by Johns Hopkins Medical Center as a means of treating epileptic children, and have been used there ever since. In recent years, ketogenic diets have been investigated for their potential in treating several diseases. Check out this article to see if this diet is right for you.
Whether you are already an avid keto dieter, feel better consuming fewer carbs, or simply want more healthy recipes incorporating whole foods, this guide to the best keto lunch ideas, recipes & easy keto meal prep will make your life easier and full of flavor, every day.`
What Fast Food Lunch Can I Eat While Keto?
You can get a great keto meal at just about any drive-through window, as long as you're prepared to tell your servers how you want it. At burger and chicken joints, simply ask them to hold the bun/bread, or remember to take it off yourself. Some restaurants, such as In-N-Out Burger™, won't require you to modify the existing menu. Just order the burger "protein style". For that reason, if we had to choose one, the Protein Style hamburger at In-N-Out™ is our pick for the single best keto hamburger out there. You won't have to explain yourself to the staff, the burger tastes great, and only packs 240 calories and 11 grams carbs for its 17 grams of fat and 13 grams protein, but the In-N-Out™ franchise is limited to just a few states in the southwest (California, mainly).
A close second, and a more widely available option, would be, believe it or not, McDonald's™. If you order a bunless burger there, you'll get 100 calories, six grams of fat, and eight grams protein for only three carbs.
With any burger order, watch out for special sauces—see if you can get them on the side or not at all. Apart from that, the only thing decidedly un-keto about standard orders at burger/sandwich shops is the dough they serve the meat on. The same rules apply to egg-based breakfasts. Lose the bun and the hashbrowns, and maybe double down on the eggs and cheese. If an avocado bowl is an option (such as at El Pollo Loco™), go for it.
For lighter fare, almost every convenience stop offers some kind of salad. Just be sure to pick out the croutons and be conservative with the dressing.
To learn about more ways you can eat while following a Ketogenic diet, check out our Keto Diet Guide to Restaurants, Fast Food, and Takeout HERE.
10 Best Keto Recipes
1. Sheet Pan Eggs with Sausage, Asparagus, and Goat Cheese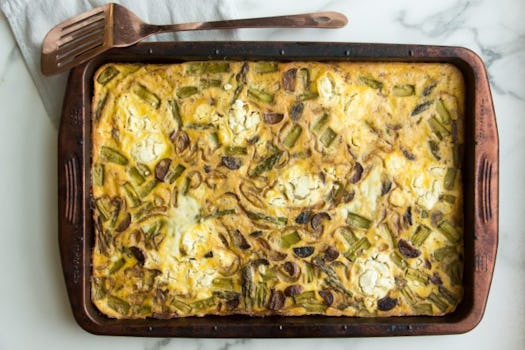 Yields: 12 slices
Cook Time: 20 minutes
Difficulty: Easy
Ingredients
● 12 spears of asparagus
● 1 yellow onion, organic
● 2 Andouille chicken sausage, nitrate free
● ¼ cup. goat cheese
● 12-14 eggs, pasture raised
● ¼ cup heavy cream
● 2 tbsp. grass-fed butter
● Himalayan salt, to taste
● Black pepper, to taste
Instructions
Preheat oven to 350-degrees Fahrenheit
Slice the onion. When caramelizing onions, you want to slice against the grain, so chop off each end (the bud and the root), then lay the onion on one of the flat surfaces. Slice onion in half through the core. Lay flat again, and starting at the root end, slice against the grain.
Chop asparagus and sausages into 1" bite-size pieces. In a medium saute pan over medium heat, add the chopped sausage. Once the edges begin to brown, add the onion and 1 tbsp. of butter. Turn down to medium-low heat. Once the onions soften and begin to caramelize, add in the asparagus. Saute for another 5 minutes, and set aside.
Grease sheet pan with raised edges using remaining butter.
In a large mixing bowl, whisk the eggs, heavy cream, and season with salt and pepper.
Add sauteed sausage, onions and asparagus to the sheet pan. Top with egg mixture. Dot with cheese evenly. Bake for 15-20 minutes. Cut into squares.
*Serving ideas:
● Toss arugula in lemon juice and olive oil. Serve salad and sliced avocado on top of two egg squares.
● If you're not following a strict ketogenic diet, you can cut the eggs into perfect-sized squares to fit a breakfast sandwich.
● Slice and store in an air-sealed container for up to three 3 days in the fridge.
2. Avocado Stuffed with BLT Chicken Salad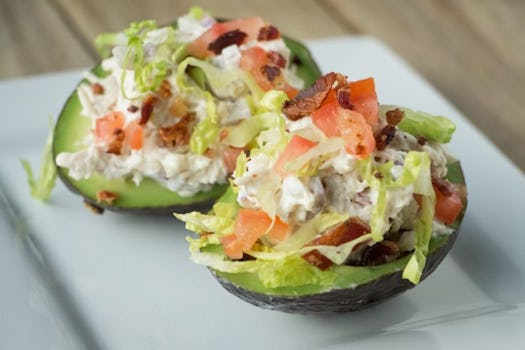 Yields: 2 servings
Cook time: 20 minutes
Prep Time: 10 minutes
Difficulty: Easy
Ingredients
● 1 cup shredded rotisserie chicken
● 2 tbsp. Primal Kitchen avocado oil mayonnaise
● 3 slices uncured, nitrate-free bacon
● ½ tbsp. rendered bacon fat
● 2 tbsp. diced red onion
● Himalayan salt, black pepper & garlic powder, to taste
● 2 ripe avocados
● ¼ cup thinly sliced romaine lettuce
● ¼ tomato, diced
Instructions
Preheat oven to 400-degrees Fahrenheit. Lay bacon strips flat on raised sheet pan. Cook for 20 minutes, flipping once in between. Remove bacon and lay flat on paper towels. Save the rendered fat in the pan for this recipe and in future cooking (can I get a YAS?!)
In a mixing bowl, add shredded chicken, mayonnaise, diced red onion, rendered bacon fat, and spices. Mix to combine.
. Slice the avocados in half. Carefully remove the pits and discard. Scoop out about 1 tbsp. of avocado meat (then eat it as a pre-meal snack). Add chicken salad in each of the 4 halves.
Crumble bacon on top of chicken salad, then sprinkle diced tomato and lettuce on top. Serve with a spoon.
3. Kelp Noodles tossed in Homemade Pesto
Yields: 1 serving
Cook time: 10 minutes
Prep Time: 5 minutes
Difficulty: Easy
Ingredients
● 1 12-oz. package kelp noodles
● 2 cups fresh basil
● ¼ cup toasted walnuts or pine nuts
● 4 Brazil nuts*
● 2 cloves roasted garlic**
● ½ cup Parmigiano Reggiano
● ½ lemon
● ½ cup Extra Virgin Olive Oil
● ¼ tsp. Himalayan salt
● Black pepper, to taste
*Brazil nuts and macadamia nuts are higher in fat, lower in carbohydrates compared to other nuts making them ideal for the ketogenic diet.
**You can use raw garlic instead, but roasted garlic adds an extra complexity of flavor–in other words, it's good!
Instructions
Add basil, nuts, garlic, Parmigiano Reggiano, juice from the lemon, salt and pepper to a food processor or high-powered blender. Pulse until smooth. Slowly add EVOO to the processor and continue blending.
Pick the largest, most sturdy pieces. Add about ¼ cup of the shredded chicken, 2-3 slices of avocado, and a sprinkle of blue cheese on top of the lettuce. Squeeze fresh lemon juice on top of the avocado slices to prevent browning. Enjoy!
For the kelp noodles, simply rinse. They're naturally a bit crunchy, but if you prefer them softer, you can boil in water for 10-20 minutes until desired consistency is achieved.
Toss in with the pesto. Serve with a nice, fatty piece of fish or steak.
4. Keto-Friendly Lettuce Wraps
Ingredients
● Head of red leaf lettuce, or any bibb or romaine lettuce of choice
● ⅓ cup. crumbled blue cheese
● 2 ripe avocados, sliced
● 1 lemon
● ½ cup Parmigiano Reggiano
● ½ lemon
● 5 chicken breasts, USDA organic
● 13-oz bottle buffalo sauce*
● ⅓ cup chicken broth
● ½ sweet onion, diced

Directions

Wash and pat dry the head of lettuce.
Pick the largest, most sturdy pieces. Add about ¼ cup of the shredded chicken, 2-3 slices of avocado, and a sprinkle of blue cheese on top of the lettuce. Squeeze fresh lemon juice on top of the avocado slices to prevent browning. Enjoy!
5. Keto Biscuits and Gravy
Ingredients
1 lb. ground sausage
½ tbsp. grass-fed butter
½ cup beef bone broth*
1 cup organic half and half
½ tsp. xanthan gum
Pinch of Himalayan salt
Black pepper, to taste
Dry Ingredients
1 cup super-finely ground almond flour
¼ cup cassava flour¼ cup coconut flour

1 tsp. baking powder
½ tsp. Himalayan salt
½ tsp. garlic powder
1 tsp. fresh rosemary, very finely chopped
½ tsp. onion powder
Wet Ingredients
½ cup organic sour cream*
3 tbsp. grass-fed butter, softened
1 tbsp apple cider vinegar
3 large pasture-raised eggs
2 tbsp. organic half and half
½ cup organic whole-milk ricotta cheese
Directions
Preheat oven to 400 degrees Fahrenheit.
First, mix the dry ingredients in a large bowl. You might need to break up chunks of flour with a fork. In a different bowl, add the wet ingredients except for the ricotta cheese. Mix until combined.
Pour the wet ingredients into the dry ingredients, and mix with a silicone spatula. Fold in the ricotta cheese.
Grease mold of choice. I used a standard muffin tin, but a biscuit mold would be even better! You want to opt for a higher smoke point fat or oil when baking at 400 degrees. I recommend a little grass-fed butter, rendered bacon fat, or avocado oil. If you use a biscuit mold, this will make about 7 biscuits verses about 12 muffin-size biscuits.
Spoon mixture into mold, and flatten the tops. This is completely optional, but for a more crisp top, coat each with an egg wash. (Whisk an egg in a small bowl, and brush over the flat tops of each mixture).
Place the tin or molds into the over and bake for 20 to 22 minutes. Biscuit molds may bake for a little longer. They're done when the tops are a nice golden brown.
While the biscuits are cooking, make the sausage gravy. See recipe below.
Remove from oven. Enjoy warm!
Notes
*If you aren't following a strict ketogenic diet, you can substitute the sour cream with a whole-fat Greek or Skyr plain yogurt instead.

What Foods Should I Avoid?
Basically, anything high in carbs—no matter how nutritious it is otherwise—should be minimized or banned from your kitchen.
Sugar
This encompasses soda, fruit juice, smoothies, pastries, candy, and desserts, as well as some condiments like ketchup and barbecue sauce.
Alcohol
No smart diet allows you to booze, but in addition to the problematic effects of alcohol by itself, most drinks contain sugar. However, the occasional small serving of dry red wine may not kick you out of ketosis or otherwise spoil your fat-burning efforts.
Processed foods
Crackers, chips, or any snacks labeled as "low-fat," no matter what other nutritional benefits they may claim. Also included here: foods that contain sugar alcohols (such as sorbitol or xylitol). These are common in "sugar-free" foods and may negatively affect ketone levels.
Fruit
The sugar content is too great. However, small amounts of berries are low in sugar, and can be part of a ketogenic diet.
Grains
Oats, corn, rice, pasta, bread, and other wheat-based products. See "Are There Any Other Exceptions To The Rules?" below.
Beans
Peas, lentils, kidney beans, garbanzos, etc. Again, see our section on exceptions.
Processed fats and oils
Mayonnaise, soybean oil, canola oil, and other vegetable oils.