Prep time: 20 minutes
Cook time: 1 hour, 30 minutes
Serves: 3-6
Turkey Stuffed Peppers Recipe Ingredients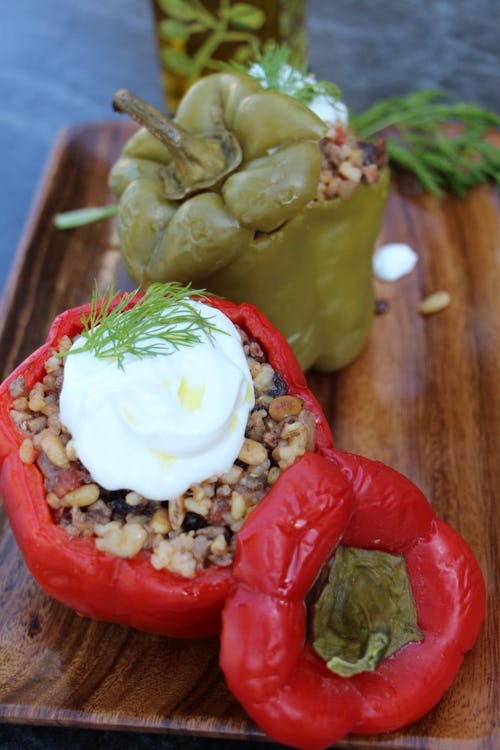 ● 6 bell peppers, any color
● 1 lb. ground turkey, USDA organic
● 1 large yellow onion, finely diced
● ⅓ cup extra virgin olive oil
● ⅓ cup dried currants or raisins (unsweetened if possible)
● ⅓ cup pine nuts
● 1 large bunch fresh dill weed, sprigs only, thick stems removed
● 1 cup short-grain brown rice
● 3 tsp. Himalayan salt
● ½ tsp. black pepper
● 2 tsp. cinnamon
● 1 tsp. allspice
● 1 tsp. sugar substitute of choice*
● 1 cup water or chicken stock
● ¾ cup canned or fresh chopped tomatoes
● Large, shallow pan (Pyrex)
*We used Lakanto Monkfruit sweetener.
Turkey Stuffed Peppers Recipe Directions
1. Preheat oven to 350 degrees Fahrenheit.
2. First, wash your peppers and remove the stems. Slice off the tops so you can repurpose them for cooking, and remove the seeds and white membranes from the inside.
3. Bring water to a boil. Add the rice and cook until the water is absorbed. Set aside. It's OK if the rice isn't fully cooked. It will continue to cook and soften while baking.
4. Filling: In a saute pan on medium heat, add 2 tbsp. olive oil and the diced onion. Cook until they are soft. Add in the pine nuts to toast for 5 to 6 minutes. Stir in the turkey, spices, and sugar substitute. Stir until the turkey is brown along the edges. Add in the chopped tomatoes and cook for an additional 2 to 3 minutes. Remove from heat and stir in the cooked rice and currants. Set aside to cool.
5. Once your filling cools down enough to handle, you can begin to fill the peppers. Arrange the empty peppers side-by-side in the bottom of a saucepan. Make sure there is no empty space left between the peppers. You want them to fit snug so they can help support each other.
6. With a spoon, fill each pepper with the meat & rice mixture until it reaches the top. Don't pack the filling down or overfill your peppers. Once you've filled the peppers, cover the opening with the tops of the peppers. Add water or stock to the pan to reach about ½" up the sides of the peppers. Drizzle about two tablespoons of olive oil over the peppers and add some extra salt if you're using water. Cover the entire pan tightly with foil (or a lid). Cook until the peppers are soft, about 1 to 1 ½ hours.
7. When the peppers are cool, they will become firmer and easy to remove from the pan. Remove each one gently with your fingers being careful not to damage it.
8. Serve with plain full-fat Greek or Skyr yogurt, drizzled olive oil and chopped fresh dill weed, if desired.