This week, one of the world's biggest companies announced that it was adding a new member to its family: Onnit. Present in more than 190 countries, with more than 400 personal care, home care, and food and refreshment brands under its wing, Unilever is a global force, and has the power to bring Onnit the worldwide recognition its founder, Aubrey Marcus, always envisioned.
But to many, the sale of the avant-garde Austin, TX, startup that pioneered nootropic supplements and unconventional training came as a surprise. Why would a company like Onnit, which became a health and wellness-industry leader under its own steam, join forces with a multinational conglomerate that sells everything from Axe® body spray to Q-tips®?
The answer, according to Marcus, is to allow Onnit to fulfill its potential and help more people around the world than it ever could on its own.
Marcus wanted to set the record straight with Onnit's fans and readers (i.e. you), explaining why it was time to let his child leave the nest.
Onnit: You founded Onnit more than a decade ago and have been the majority shareholder all that time. Why was now the time to sell Onnit?
Aubrey Marcus: Onnit selling now is the culmination of a long, long journey. That journey started with an idea, and the idea was based on practices that [Olympic champion skier] Bode Miller, [podcaster] Joe Rogan, [MMA fighter] Roger Huerta, and I were already following. All of us were doing things in an unconventional way. The supplements we took, the diets we chose to follow, the mindset we tried to adopt, the information we chose to use… We all ultimately realized that we had something different, and really important, to offer the world.
From the very beginning, Joe Rogan and I envisioned Onnit as a globally-disruptive entity. We wanted to share all these things we learned with the world—and
"with the world" is a key phrase in that statement, because while we have shared it with as many people as possible, very little if anything we put out has been translated into other languages. We've been unable to distribute our products to most of the countries in the world, so we haven't been able to live up to the original idea of Onnit being global.
We knew there was a ceiling on where our expertise lay, so the idea that another company that was already a global force could take what we have at Onnit and proliferate it around the world was something that we've had in mind for a long time. We were really just waiting for the right partner to come along, and the right time for Onnit to be truly ready, and it just so happens that now is that time.
This deal with Unilever is really the logical conclusion of a longstanding dream to bring Onnit's message and tools to the whole world. 
Onnit was your baby and now it's like we've grown up and moved out of the house. You must be experiencing a range of emotions. What does it mean to you personally?
Of course, there's excitement. There's general shock because, while I envisioned this happening, to have it actually happen is almost indescribable. It hasn't fully sunk in yet.
I'm also feeling really sentimental. I've been thinking back on the old days when our gym was a fraction of its size—it was a little classroom—and I remember working out in there. I remember formulating the smoothies we now have in the café [at Onnit Gym] on my own kitchen counter. All of these moments that led up to where we are now….
So it's a lot of different feelings. But if I had to call one out, it's gratitude. Overwhelming gratitude. I'm incredibly grateful for all the people who have been a part of this journey.
What will your involvement with Onnit be going forward, and where will you go outside of Onnit?
Onnit is part of what I eat and what I supplement. It's the ideas that I have and the spirit that I live by. It's always going to be a part of me and I'm always going to be a part of it. Last year, when I stepped down as CEO to make time for other ventures, we carved out the ideal position for my continued involvement with Onnit. As Unilever comes in, none of that is changing.
My role will be identical to what it's been for the past year. That is, I'll still be working on product development, innovation, ideas around both content and product, and really just making sure Onnit stays on the cutting edge of human optimization.
As for what I'm doing outside of Onnit, I'm still podcasting, writing books, and running Fit for Service—these were the reasons I stepped down as CEO in the first place. But to be clear, I'm still going to be working with Onnit, and everything I decided to concentrate on last year with the company will continue, so it's an ideal situation.
Joe Rogan is a co-founder of Onnit and probably its most famous spokesperson. What will his role be going forward?
The same. Ultimately, Joe is still there to be a champion of the brand. He's always going to talk about the cool shit that he's seeing out in the world and the stuff he's trying that's working for him. The great thing about Joe is that he talks about what he feels as honestly and authentically as possible. Contrary to what some people may think, he was never a shill for Onnit. No one could ever get Joe to talk about a product he didn't fully believe in. Joe only did what Joe wanted to do, and he will continue to do what Joe wants to do [laughs].
I have immense trust for Unilever and their team. I know where they stand, and I have absolute faith that they're going to continue to uphold all of Onnit's values. But the fact that Joe and I are going to continue to be around speaking the truth is ultimately the greatest protection for the brand. We're just going to keep telling it like it is, and I have no doubt that Onnit will continue improving on all fronts as a result.
So why was Unilever the right choice? A lot of people will see them as a faceless corporate giant. How are they able to help Onnit carry on its mission of being for the good of all?
When you get to the size that Unilever is, there's always going to be a bias. People associate large with bad. That's the universal stereotype that's out there in the world, and I understand that. There have certainly been a lot of big corporations that have done a lot of shady things. People think of big corporations as faceless, careless, money-making entities, but that's not what I met in dealing with this team. I met a lot of good people who care a lot about Onnit and the world, and are also real experts in their fields. 
When we started looking for a buyer, our banking team submitted me a list of potential acquirers. As soon as I saw the names, I got out my red pen and started crossing companies out. Unilever was one of the ones that remained. I hadn't met them yet, so I didn't understand fully why they were such a perfect fit, but just seeing the type of brands they had and looking at some of their accolades, I knew they were a contender.
They have a 50/50 gender balance in their management team. They've been number one on the Globescan Sustainability Leaders survey for 10 consecutive years. This is a global survey that tracks experts' opinions on which companies have the most environmentally-sustainable business practices, and Unilever tops the list. They're reducing virgin plastic use in all of their 400 brands by 50%. They championed a campaign in the UK to end discrimination based on hair—because research shows that many African Americans feel pressure to straighten their hair for the workplace. So Unilever is doing a lot of really cool things for the world.
Of course, they're a massive company, and not everything they do is going to be perfect. I'm not going to try to defend every action that this nearly 100 year-old company has made in every one of their 400 brands, but I sensed early on that they're doing their best to be a leader in the world. When I met the Unilever team, every one of them showed me respect and there was a real resonance. They had the same spirit as the team at Onnit.
And they're very receptive to ideas. This is not a one-way relationship where Unilever buys Onnit and now Onnit is run their way. As part of the Unilever family, Onnit is now going to bring its principles and values to Unilever so that they can take on some of what makes us great. This is a mutual relationship, and I'm looking forward to that. Believe me, if I see something they do that I don't agree with, I'm going to call up the leaders and say, "Hey, what the fuck's up with this? Here's what I think you could do better." I'm looking forward to both sides of this deal learning from each other.
Unilever is very aligned with Onnit in terms of philosophy, and they're already fans of our brand. One of the leaders on their team is an avid polo player, and she was telling me how many more goals she scores when she takes ShroomTech® SPORT. Another one is in love with Alpha BRAIN®. He's read my book and listened to my podcasts.
In your Instagram post announcing the sale, you mentioned that you attended the Burning Man festival a few years ago at the same time as one of the Unilever execs. Does that mean that you have so much in common with this team that you'd actually hang out with these guys in your free time?
I absolutely would. That was a crazy synchronicity—that my first year of Burning Man was when he was there. It just goes to show that the people at Unilever aren't all what you may expect of a corporation that size. You might expect the leaders to be all buttoned up, walking into the room in a suit. But he showed up to our first meeting in Onnit's gorilla shirt and talking about being at Burning Man [laughs].
He also asked insightful questions, and shared important details about his company. When the world settles down a little bit, he's going to take me on a trip to India, where Unilever has a strong presence, and he's going to show me around. So it's more than a partnership we have; it's a friendship. 
On the surface, a lot of Unilever's brands don't seem to fit with what Onnit is about. How does Onnit figure into a company that sells Hellmann's® mayonnaise and Noxzema®?
I don't think you could have any company at the size that Unilever is that would have exclusively brands that immediately align with Onnit. But Onnit is an indicator of the direction that Unilever is looking to go. Coming from where they've been, and being around for almost 100 years, of course there are things that are different from us. But their acquisition of Onnit is not about them trying to make Onnit more like what they already have. I personally believe it's the opposite.
They're growing their health and wellness sector. They have Olly® and Liquid I.V.® and SmartyPants® vitamins. And as for the rest, hopefully, there can be a little bit of Onnit that rubs off on all the existing legacy brands, and we'll see the whole portfolio catch a little Onnit flavor—because it certainly won't be vice versa. Onnit is going to continue to lead from the front.
What do you predict for Onnit's future under the Unilever umbrella?
One thing I'm sure of is that so many more countries around the world are going to get access to our products and information. Our blog articles are going to be translated into dozens of languages, and our products will be more accessible than ever. I always felt like Onnit's potential was unlimited. With the resources Unilever brings, anything really is possible now. We can become a true household name. People who are interested in Total Human Optimization will know about Onnit the way they already know about brands like Nike.
The thing Onnit's fans and employees will probably be most concerned about is how Onnit will be able to maintain its culture. The Austin, TX, HQ has become a mecca to people who love the brand around the world and want to come and train with our staff. Can we sustain the brother- and sisterhood that has made Onnit so unique?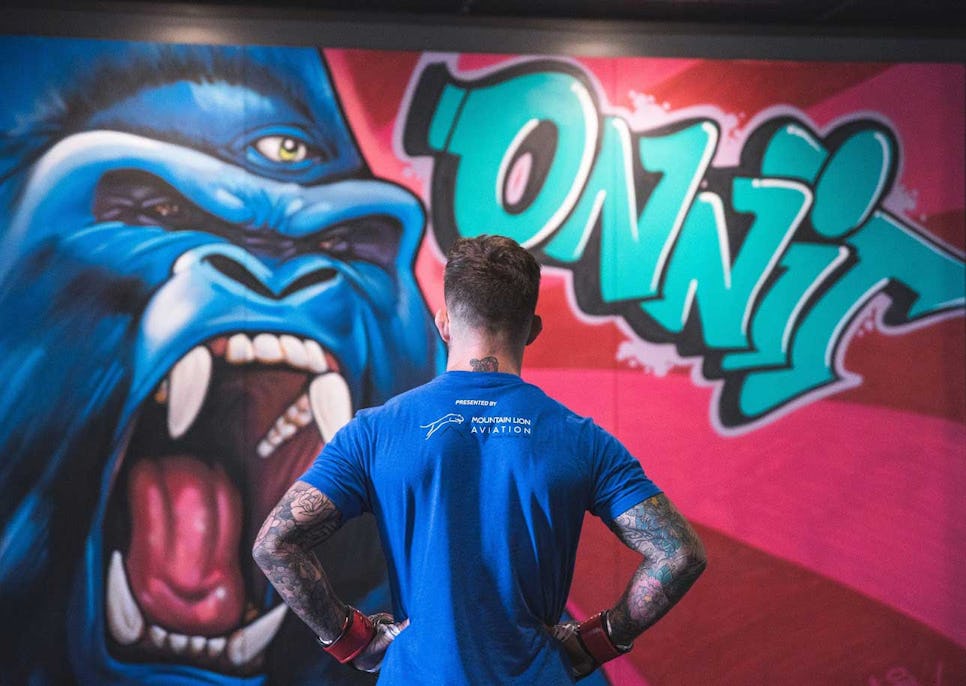 The Onnit culture is the last thing we want to change. Unilever understands the importance of culture, and that's one of the reasons they love us. For those who want to come train with us, the Onnit Gym is going to be the same. The smoothies at the café are going to continue to flow. All the employees and staff are going to remain. There's not going to be any change of office locations. Unilever loves that we're in Austin, and they recognize how well we fit in with this city and its culture.
Finally, what would you say to skeptics who think that any time a company sells, it's all about money?
Of course, this is a huge financial blessing for myself, and Joe Rogan, and so many people who have been a part of Onnit from the beginning. I'm excited about what I'm going to be able to do with these resources. What ideas I'm going to be able to fuel, and what I'm going to be able to create—documentaries, books, content, charities, and everything else I want to bring into the world.
But selling the company is really what I felt was best for Onnit's future. For anyone who is skeptical, I encourage you to wait and see. Keep an open mind, and watch what happens. I have complete faith this is only going to be positive for Onnit and for the good of all.
Hear more from Aubrey on the decision to sell Onnit to Unilever on the Aubrey Marcus podcast, with Onnit CEO Jason Havey.