Exercise isn't just something we do because we need another appointment in our day. It's supposed to add something to our life, making us feel better and do better at the other things we try. So what happens if your workouts actually subtract something from your quality of life, making it harder, even painful, to do what you love?
That's the question Daniel Fajardo—a doctor, husband, and father in St. Simons Island, Georgia—found himself asking a few years ago, after years of heavy lifting left him too sore and stiff to play with his kids. The answer he found was Onnit. The Onnit 6 programs' focus on mobility and longevity helped Fajardo reframe what fitness means, and restore the body he thought had given out on him.
Fajardo tells his tale to Shane Heins, Onnit's Director of Community Engagement, in this week's Onnit Story—part of our ongoing series of live video interviews with people who have made great life improvements with Onnit's help. See the video below, along with an edited transcript of the highlights, time-stamped so you can easily find them in the video. Stay up to date with Onnit Stories by following Onnit's Instagram TV (IGTV).
Daniel Fajardo Show Notes
4:20 – How Daniel Got Onnit
Daniel Fajardo: It was kind of a happy accident. I was just scrolling through Facebook and an Onnit ad came up, asking if I wanted a free workout. I had been working out for several years, but things weren't right. I always felt sore. I was very stiff. That got me looking a lot into mobility. I tried different mobility programs and had some results, but I still wasn't satisfied. I wasn't enjoying doing them.
So when I saw the Onnit ad, I just clicked on it, entered my email address, and I got this free workout with some guy that was jumping up and down screaming, "I'm a beautiful butterfly." [Shane Heins, who coaches several of the Onnit in 30 workouts, likes to make them entertaining.] I got into it. I thought, "Well, this guy is a little strange, but he's got a lot of energy."
The workout was short, but I enjoyed it, and I felt like I got a lot of benefit from it. I was just doing mobility, but my heart rate was up, and I felt good. I noticed that, the next day, Onnit was offering an Onnit 6 Challenge.
I had a lot of workout tools already. I had kettlebells, but I wasn't really using them. I even had a five-pound steel club that I'd bought for a different program. I contacted Onnit and asked what kind of workout to do for the Challenge. I said, "I'm very stiff. I have a lot of neck, back, and shoulder soreness, and hip stiffness." The rep I spoke to said, "You need to try Durability." I said, "I'll trust the process and do it." The rep also told me to join the Onnit Tribe—the Facebook group where Challenge participants can talk to each other.
I joined the Tribe thinking, "Oh, here's my competition." But very shortly afterwards I didn't see them as that. The members came from different walks of life, but we all had the same goal of improving ourselves. I found a lot of support in there. Everybody was very positive, and I saw that even though some people were going through some real struggles, they were very open about it. I'm not usually that open, so that was a big deal to me. People weren't afraid to be vulnerable in the Tribe. That's pretty unusual in the world of social media.
Over the course of the Durability program during the Challenge, a lot of the stiffness got better. The pain started going away. The workouts were different from what I had been doing. They were challenging for different reasons. There are three levels of difficulty with each workout in Onnit 6, and in the beginning, I thought I'd never get to Level 3. But the workouts showed me how to modify the exercises so I could go at my own pace. By the end of six weeks, I was doing Level 3 movements.
I've always had problems with my hips. I had hip surgery when I was in my early 40s. I liked the hip exercises in Durability so much that, sometimes, after I finished a workout, I would do them for an extra few minutes, and I noticed a lot of benefit from that. 
I became a father late in life. I have three young boys—ages nine, six, and four. Last year, when I started with the Onnit 6 Challenge, it was February 2021. I remember one day my boys wanted to go play soccer. I had to say to them, "You have to give me about an hour to get my body ready." I would have to stretch first, and do a certain amount of warming up, just so I could play with them. By the time I was ready to take them to the park, we could only play for about an hour. By then, it was my three year-old's nap time. Well, fast forward to about halfway through the Durability Challenge, and I noticed that I only had to warm up about five minutes before I could go out and play with the kids. So Durability gave me back quality time with my children.
I used to feel like I couldn't do a lot of things. I was just like, "Yeah, I can't lift you up. My back is killing me." Or, "my shoulders are really bothering me." Now, over a year later, my stiffness is never to the point where I can't play with my kids. Now I do yoga. I never liked it before because it was very hard for me, but now I can do the poses, or modify them as I need to.  
That brings me back to the Tribe. If I say I'm having trouble doing something, they say, "Well, maybe you should try this other thing first, and then, as time progresses, you'll be able to reach your goal." They showed me that if I put the time in, I will get to that point. I'm still not super limber, but I am miles ahead from where I was when I first started, and it's showing.
13:40 – On Flexibility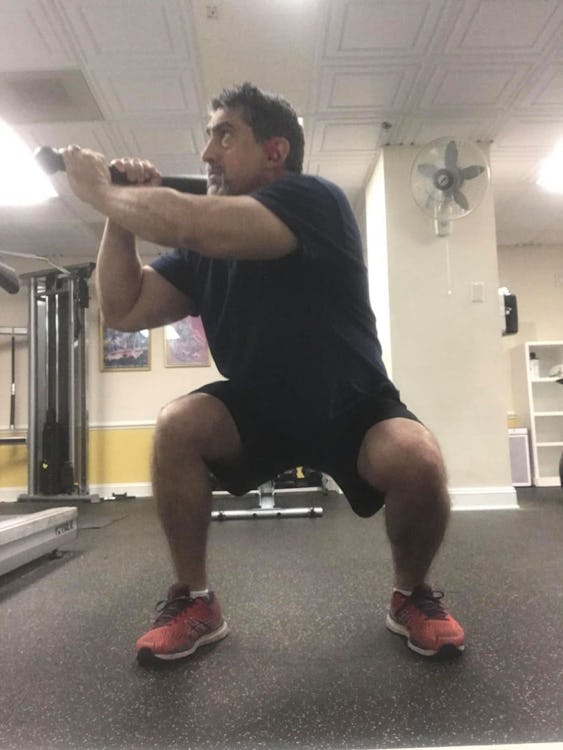 I've noticed the mobility I've gained helping with other things I do, like jiu-jitsu. You have to be able to move in jiu-jitsu. I used to get trapped in submission holds and before the other guy had even sunk in the technique yet I was already tapping. Now I usually feel like I have a little more range, which buys me some time. 
One of the first things I noticed about the Challenge was how the people in the Tribe don't shame you for the things you can't do. We had a family emergency come up, and I wasn't able to do the workout one day. I thought, "Man, I've already messed up on this Challenge." I posted about it, but the Tribe members said, "Don't worry about it. Things come up." Now I see problems as just a speed bump. They slow you down, but that doesn't mean you have to stop. I think it's important, sometimes, to slow down, just to make sure you don't stop completely.
16:10 – Daniel's Background
I was born in Peru and came to the United States when I was 10. I moved around the US a lot and now I'm in St. Simons Island, Georgia. My job requires a lot of sitting because I spend all day on a microscope. I think that's why my neck started hurting in the first place. It's a very sedentary job, so I always tried to work out a lot. For me, that usually meant heavy weights, but that's not the smartest thing at my age. I was getting injured. I tore my rotator cuff. I had to ask myself, "What's important? Moving this heavy weight, or being able to move myself?" I actually haven't even touched a heavy weight in months because I've been doing the Onnit 6 HydroCore program.
I'm not against lifting weights now, and I'll probably go back to it in some form, but I'm glad I've found other ways to work out. I don't push through injuries like I used to. Onnit taught me discipline, and true discipline isn't just working out when you don't feel like it. It's not working out when you SHOULDN'T work out.
24:00 – Abandoning The All-or-Nothing Approach
The Tribe encourages reflection, and tries to help you understand your why. "Why are you doing this?" My first why with Onnit was because I wanted to win the Challenge, but then I started to ask myself why I really wanted to work out. I realized I wanted to play with my kids. I wanted to move around and not be in pain.
Then I started to think about how I would reach that goal. I knew that the kind of training I had been doing couldn't be a part of it, because I had torn my rotator cuff. I had six months where I couldn't lift my arm above my head. Did I want that again? So my goal was not about just working out but working out smarter. 
It's easy to get hooked on the negatives. You have these goals, and when you don't reach them, you feel like you failed. But you don't really fail. You only fail when you quit. Things come up in everybody's life. So you may not reach your goal in the time you allotted yourself, but you definitely will never reach it if you completely stop.
The Tribe never tells you to just "suck it up and do your workout." Or, "push through the pain." That's so different from what I'm used to—going all in or going out of it entirely. I finished the last Onnit 6 Challenge a week late due to illness, but I finished it. I'm behind in this Challenge, but I'll finish it. And the Tribe members are still encouraging me all the way.
Here's another example. I had a trip planned for Costa Rica. I was so excited, but then I ended up getting COVID-19 and I couldn't go. I even infected my three year-old, and I had to quarantine with him. I felt miserable. But the more I thought about it, the more I realized that I had never had that much uninterrupted time with my son before. My son had some mild symptoms, but he was fine, so we could play together and I could read him books. So I may have missed out on Costa Rica, but I had a whole week where I got to spend time with my son. And then, earlier this year, I got to go to Costa Rica anyway, and I enjoyed it—but I look back on that week I had with my son even more fondly.
33:15 – Becoming A Tribe Moderator
It was very humbling, when I was asked. It was about a year ago and the other moderators said, "We value you as a Tribe member. Join our team." It felt really nice. I said, "Oh, OK." I was just posting because I enjoyed interacting with the other people. But they said, "We feel you'd add a lot of value to the Tribe as a moderator." So here I am.
36:20 – Daniel's Go-To Supplements
I take Total Human® every day. It's basically a mix of supplements organized into night and daytime packets. It includes Alpha BRAIN® and ShroomTech SPORT® and a greens formula, among other things. I use it every day. I noticed I feel a lot better, sleep a lot better, and have more energy. I do like Alpha BRAIN on its own too. I've tried the different versions, from the capsules to the different flavored Instant mixes, and I think the peach one is my favorite. I also like to eat the Protein Bites, but I have learned to slow down because I can scarf quite a few in one time. The S'mores ones are really, really good.  
I take creatine as well. I think the science behind protein and creatine is pretty solid. Creatine has been found to help with cognitive function as well as the muscles. With Alpha BRAIN and Total Human, I just go by the way I feel. I think they help me focus, which is very important in my job. If I forget to take a packet, I do notice the difference without it. 
39:20 – Daniel's Favorite Fitness Equipment and Workouts
Right now, it's the HydroCore bag. I was fortunate enough to participate in the beta-testing of the new Onnit 6 HydroCore program. Like I said, I had an injury, but I didn't have trouble training with the bag. It's done wonders for my shoulder. I feel like I get a workout with it, but I never feel like I'm wrecked afterward. I also like steel clubs quite a bit. The steel clubs from Onnit are excellent. Third on my list would be kettlebells.
The Onnit in 30 workout programs, I think, are probably some of the best $10 you can spend. The amount of training you get for that is amazing. I do the Move & Groove and Morning Mobility very often. Juan Leija's My Warmup, Your Workout is brutal, but I like it because it's very specific. It really gets your heart rate up. For a while, I was using that for my warmup and then the Mobilized Strength for my workout. Then, for the cool down, I would use Decompress To Defy. So that's three programs. For those three Onnit in 30 programs, you get 30 workouts for $30. That's a great deal. 
The Onnit 6 Steel Club program has yoga workouts in it, like all the Onnit 6's. But the Steel Club ones are my favorite. I was someone who hated yoga, but the Onnit 6 program makes it fun, and my body feels great afterward.

Of all the Onnit 6 programs, the Bodyweight is probably the most challenging. I had to learn to start at Level 1 until I got comfortable. Then you can increase the difficulty to Level 2, or increase your reps, or go faster. It has a lot of modifications too. If you can't do a pushup on the floor, you can start by doing one on a chair. 
43:20 – Shane Sums Up Daniel's Journey
Shane Heins: For people who don't know, Daniel is a strong, strong man. He's got muscle on him, and he used to refer to himself as a rock. Watching him move now, you wouldn't know he has a history of things he's gone through with his shoulders, wrists, and hips. 
Daniel Fajardo: Yeah, and just to clarify, I used to refer to myself as a rock because I was so stiff, not because I thought I was jacked [laughs].
Shane: To see the way you move now is a testament to not just all of the effort that you've put in, but the shift in the mindset that you created for yourself. You're a lot like [Onnit Chief Fitness Officer John Wolf]. When people see him they're like, "Big dude. How does he move like that?" Well, it's because he takes care of himself and continues to practice mobility.