Looking to go low carb, but aren't sure where to start? Well, look no further than our guide for easy low carb dinner Ideas.
Low-carb diets have been found to be a healthy option for weight loss and heart-health. Low-carb diets are also great for putting limits on those bags of potato chips you've been KOing at night. (Some of us need hard-and-fast rules and that's okay.)
You don't have to go super low carb in order to see the benefits. Don't worry about going all-out Keto. Instead, fill your diet with healthy proteins and fats, and fibrous fruits and veggies.
Being consistent with these types of meals will help you reach your weight-loss and fitness goals. Plus, enriching your diet with more nutrient-dense foods will improve your overall health and immunity. Wins all around.
What Are The Most Filling Low Carb Foods?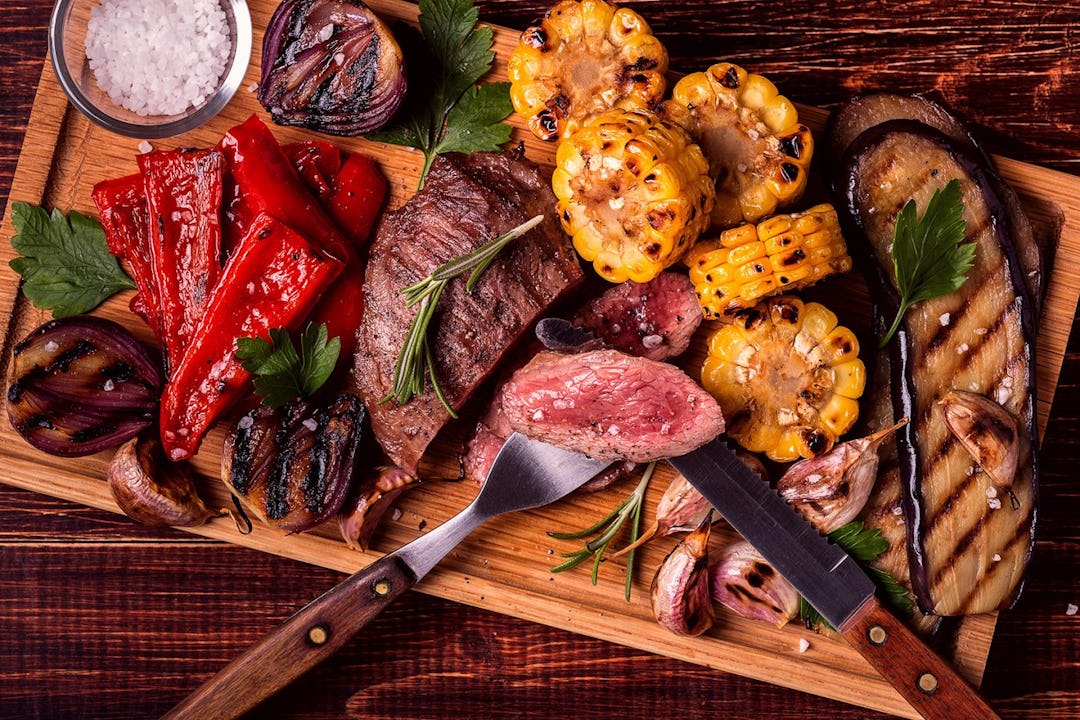 Luckily, low-carb foods lend themselves to being filling. Low-carb foods mean they're usually high in fat, protein, or both. Both protein and fat help make you feel fuller because they regulates your appetite by controlling hormones that make you feel hungry.
High-fiber vegetables are also great for keeping you full because fiber digests very slowly, so food actually stays in your stomach longer.
Some great choices for low-carb, filling foods are:
Avocado
Avocado is the king of low-carb foods. This high-fat fruit is also fibrous and can be added to pretty much anything—from smoothies to steak— for flavor and calories.
Eggs
Eggs are a great choice because they're almost carb-free and contain a variety of healthy nutrients that keep your brain healthy. Worried about your cholesterol? Don't be.
Meat (Beef, Chicken, Pork, Salmon, Trout)
For those who are going low-carb, it's important to vary the types of meat you eat. Adding salmon, trout, and other fish to your diet is a great way to get Omega-3 Fatty Acids into your diet. Beef, chicken, and pork are also virtually without carbohydrates.
Fibrous Veggies and Fruit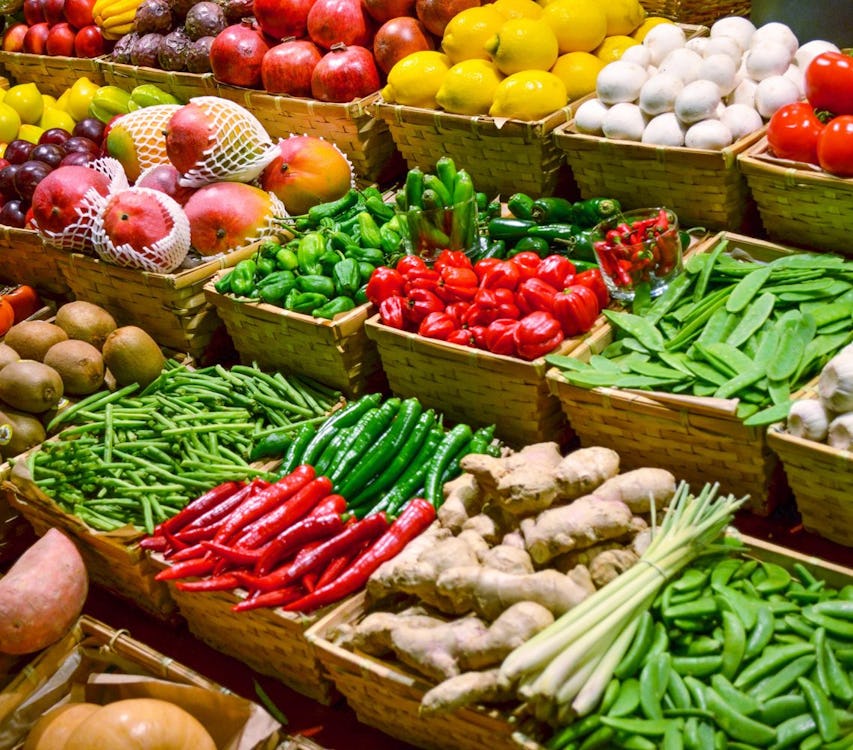 Fibrous veggies and fruit, such as broccoli, kale, and berries are excellent choices for low-carb eaters. If you're trying to go "keto," however, you'll need to watch how much fruit and vegetables you eat because they also contain carbohydrates.
Almonds
Almonds and other nuts such as cashews are perfect for snacks. They contain a low amount of carbs, lots of fiber, and are easy to carry around.
Greek Yogurt and Cheese
If you digest dairy okay, cheese and yogurt are excellent low-carb options. Yogurt is great for a bedtime snack because it contains casein protein, which is slow-digesting.
Easy Low-Carb Dinner Ideas with Meat
These are some easy, tasty low-carb dinners to make. They're great not only for those small, family dinners, but impressive if you want to invite guests!
Chicken Zucchini Boats
Ingredients
3 Zucchinis
Cooking Spray
3/4 lb. chicken breast, shredded
2 tbsp olive oil
1/4 tsp Italian seasoning
1/4 tsp garlic salt
1/4 tsp ground black pepper
3/4 cup marinara sauce
½ cup Italian cheese mix
Instructions
1.Preheat oven to 400°F. 
2. Cut the zucchini in half lengthwise, then use a spoon or melon baller to scoop the flesh and seeds out.
3. Place zucchini in a baking dish and lightly coat with cooking spray. Place in the preheated oven for 15 minutes, or until the zucchini gets tender.
4. While zucchini is cooking, heat olive oil in a large non-stick skillet over medium-high heat. Add the chicken and seasoning.
5. Cook until the chicken is cooked through. Add marinara sauce and cook for an additional 2 minutes, stirring occasionally.
6. Scoop the chicken mixture into the zucchini boats and top with cheese. Return the zucchini boats to the oven until the cheese melts.  
Steak Salad with Balsamic Dressing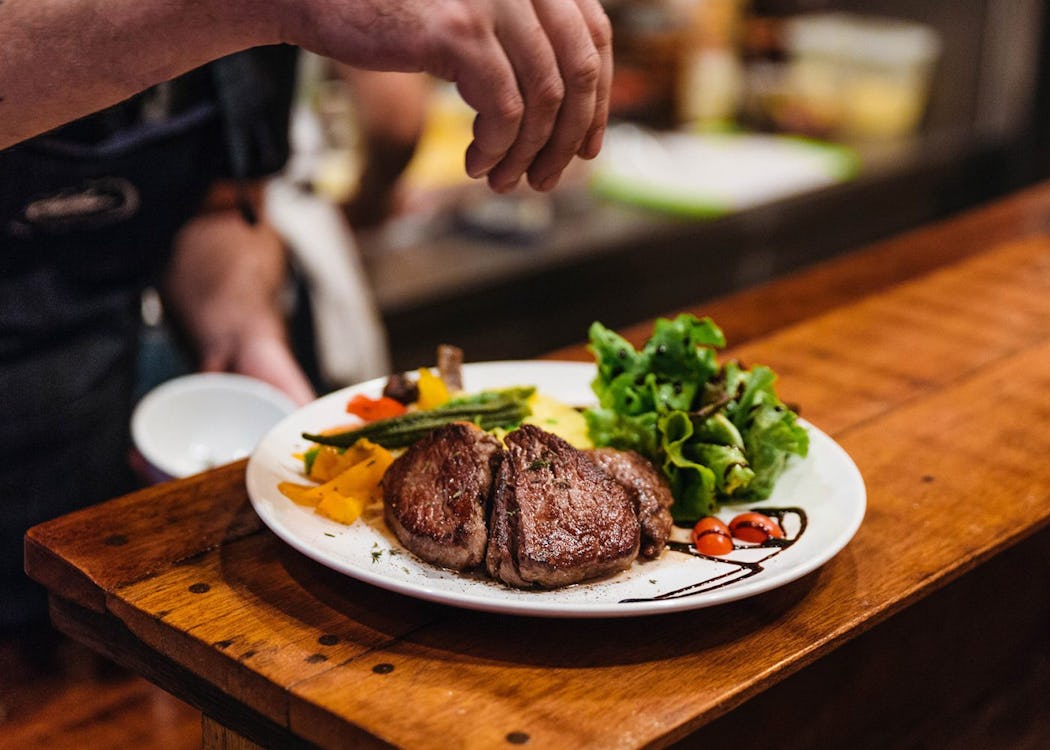 Ingredients for dressing
1/4 cup balsamic vinegar
1/4 cup olive oil
2 teaspoons lemon juice
1/4 teaspoon dried thyme
1/4 teaspoon salt
1/8 teaspoon black pepper
For salad
1 beef flat iron steak or top sirloin steak (3/4-1 pound)
Salad greens
4 radishes, sliced
1/2 avocado, sliced
¼ cup almonds, crushed  
Directions
1.To make dressing, whisk vinegar, olive oil, lemon juice, thyme, salt and pepper
2. Marinade steak with ¼ cup dressing (keep the rest). For best results, allow to marinate in the refrigerator for at least 8 hours.
3.Cook steak as desired. Let stand for 5 minutes and then slice.
4. To serve, plate greens and top with steak, radishes, avocado, and crushed almonds. Dress with reserved dressing.
Easy Low-Carb Dinner Ideas with Seafood
If you're trying to add more seafood in your diet, these delicious low-carb dinners are just the ticket.
Lemon Garlic Shrimp and Asparagus
Ingredients
Cooking spray
1 lb. asparagus
2 tbsp olive oil
4 cloves minced garlic
Salt
Black pepper
1-1/2 pounds uncooked shrimp, peeled and deveined
Juice from ½ lemon
1 tsp paprika
3 tablespoons butter
Directions
1.Preheat oven to 400 degrees. Line a baking pan with parchment paper or tinfoil and spray with cooking oil
2.Place asparagus on baking pan and drizzle with 1 tbsp olive oil. Sprinkle with garlic, salt, and pepper, and toss. Place in a layer on one side of the pan
3.Bake in oven for about 5-7 minutes, or until tender
4. Remove asparagus from oven and place shrimp on the pan. Coat shrimp with olive oil, salt, pepper, paprika, and lemon juice. Top asparagus and shrimp with butter.
5.Roast in oven until shrimp is cooked.
Salmon with Mushrooms and Peppers
Ingredients
3 tablespoons unsalted butter
1 white onion, thinly sliced
2 red or yellow bell peppers, sliced  
1/2 lb. oyster* mushrooms, sliced
2 garlic cloves, minced
1/4 cup dry white wine
1/4 cup finely chopped flat-leaf parsley
Salt and pepper, to taste
1 tbsp olive oil
6 salmon fillets
Directions
1. In a large skillet, melt butter. Add the onion, stirring continually, and cook until softened. Add bell peppers and cook until softened. When peppers are cooked, add the mushrooms, garlic, and wine. Stir occasionally, for about 7-9 minutes, or until the mushrooms are starting to brown. 
2. Add parsley, salt and pepper. Cover and turn heat to low.
3. Heat another large skillet until it's hot. Coat skillet with olive oil. Season salmon with salt and pepper and add them to skillet, skin-side up.
4. Cook salmon until desired doneness.
5. To serve, spoon mushrooms and peppers onto plate and top with salmon.
Easy Low-Carb Dinner Ideas for Vegetarians
If you'd like to go low carb and you're vegetarian, or if just want to give your meatless Mondays a little more flavor, try these!
Mozzarella Spaghetti Squash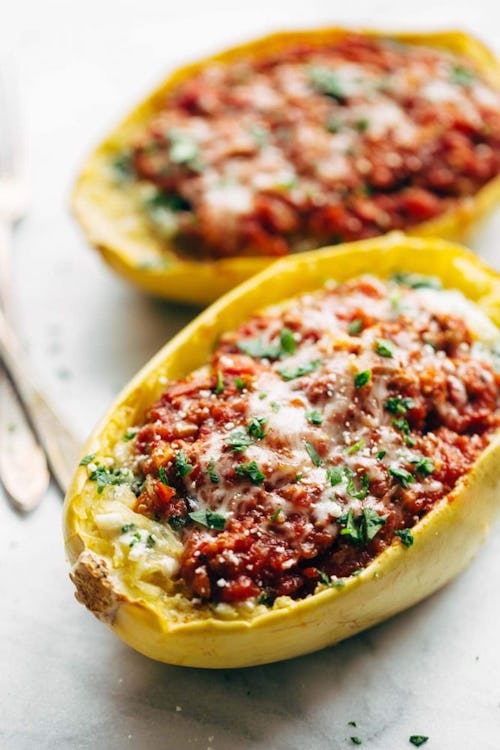 Ingredients
1 spaghetti squash, seeded
2 tbsp olive oil
3/4 cup onion, chopped
3 cloves garlic, minced
1/2 cup light sour cream
3 ounces cream cheese
3/4 cup grated parmesan cheese
3-4 cups baby spinach
1 1/4 cups canned artichoke hearts, chopped
Salt and pepper
3/4 cup grated mozzarella cheese
Directions
1.Place spaghetti squash in a microwave safe dish, cut-side down. 
2.Pour 1/2 inch of water in the dish, then cover with plastic wrap and microwave until soft, about 10 minutes. 
3. Remove and let cool slightly, then with a fork, scrape up the strings from the squash, but don't remove strings.
4. In a pan, heat olive oil over medium heat and add onion. Cook until tender, 5-8 minutes. Add garlic and cook until fragrant, about 60 seconds.
5. Add sour cream, cream cheese, and half of the parmesan cheese. Stir until mixture is smooth. Finally, stir in spinach and artichoke hearts. Cook until the spinach has wilted. 
6. Pour half of the mixture into each spaghetti squash half and gently stir with the spaghetti strings. Once combined, top with mozzarella and the remaining parmesan. 
7. Place under the broiler for a few minutes, or until the cheese is melted and slightly browned.
Veggie Stuffed Mushrooms
Ingredients
4 large portabella mushrooms
2 tbsp olive oil plus more for coating the mushrooms
1 yellow onion, diced
2 medium zucchinis, diced
1 roasted red pepper, diced
5 sun-dried tomatoes chopped
2 cloves garlic, minced
1 large handful spinach
1 pinch dried oregano
1 pinch dried thyme
1 pinch crushed red pepper flakes
Black pepper, to taste
1/4 cup dried breadcrumbs (gluten-free if needed)
1/4 cup grated parmesan
1/4 cup shredded mozzarella
Directions
1. Preheat your oven to 375 degrees. Line a sided baking sheet with parchment paper or tinfoil.
2. Remove the stalks and scoop the gills out of the inside of the mushrooms, and rub each with a bit of olive oil. Set mushrooms on the baking sheet, stalk side up.
3. In a sauté pan over medium high heat, sauté onions and olive oil. Add zucchini and cook until softened. Next, add red pepper and tomatoes and cook for a few more minutes.  the onions have become translucent and soft, add garlic and spinach.
4. When the spinach has wilted, remove the pan from heat. Add the remaining ingredients: oregano, thyme, red pepper flakes, salt and pepper, breadcrumbs, and cheese.  Stir.
5. Stuff each mushroom with a quarter of the mixture.
6. Bake for about 35 to 40 minutes. If desired, top each mushroom with a little more cheese and return to oven until cheese is melted.
Macro Tips to Keep in Mind with Your Easy Low Carb Dinner Ideas
When eating low-carb, there are a few important things to remember. First, it can be easy to go over on your calories because fat is so calorie-dense.  Fat has 9 calories per 1 gram. Protein and carbs, on the other hand, have 4 calories per 1 gram. So, if you're replacing the same volume of your usual carbohydrate sources with fat, you'll be eating more than twice as many calories.
Smothering everything in cheese because it's "low carb," is probably the wrong mentality. Instead, have a general idea of how many calories you should be eating and match your macronutrients to that calorie load.
Another good thing to remember is that fiber is your friend. If you want to count your carbohydrates, you can subtract the grams of fiber from the total number of carbohydrates. So, for example, a cup of raspberries has 15 grams of carbohydrates, but 8 grams of fiber. So, the net carbohydrate count for a cup of raspberries is only 7 grams.
Finally, if you like to work out hard, try to time your carbohydrates before and after your workout. Your body will need those carbs to perform well, no matter if you're trying to lose weight, build muscle, or win a Brazilian Jiu-Jitsu tournament.