The ketogenic diet has skyrocketed in popularity in the last 5 years or so. Much of its growth is due to the fact that it may have some really great health benefits. The keto diet has been found to safely and effectively help you lose weight. The diet may also help with mental clarity and ensure consistent energy throughout the day.  
The Ketogenic diet works by removing most of the carbohydrates from your diet and eating the vast majority of your calories from fat. When you make this change, your body and brain run on ketones (molecules created from stored fat) instead of carbohydrates. When your body uses ketones for energy, it reaches a state called "ketosis." Depending on your size, you probably won't reach ketosis unless you're eating under 50 grams of carbohydrates per day.
It's definitely not easy to reach ketosis. If you're usual diet consists of a lot of carbs, it can be a big lifestyle change to train yourself how to eat mostly fat and very few grams of carbs. However, some people have found great success with a Ketogenic diet.
One easy and delicious way to get more ketogenic-friendly meals into your diet is by using a slow-cooker (or crockpot). High-fat meats cook really well in slow cookers and, because you can "set it and forget it," crockpot recipes are generally great for people who don't have much time to cook.
Benefits of Using a Slow Cooker for Keto and Low-Carb Meals
The most obvious benefit of having a slow cooker in kitchen repertoire is that it, well, cooks your food without you having to do anything more than dump in the ingredients and turn the knob. If you're busy, there's not much better than coming home at the end of a long day and enjoying dinner that's hot and already made.
Crockpots are also great because they can provide some diversity to your keto menu. If you've been on the keto diet for a while, you probably have your go-to meals and snacks that are starting to get tired. Good slow-cooker recipes, (like the ones provided below), can be a great way to break up the monotony and help you keep your diet regimen on track.
Another great benefit of cooking in a crockpot is that it's like an oven, only better. All those delicious juices stay in the pot, just making your beef, chicken, or pork more tender.
Tips For Low-Carb Crockpot Meals
When your cooking keto in your crockpot, it's important to remember these tips:

1. Thaw your meat before you put it in the slow cooker. The USDA doesn't recommend using frozen meat in your crockpot. It's also important you cook your meat on "low" or "high." A "warm" slow cooker won't get hot enough to cook your meal to a safe temperature.
2. Be aware that high-protein meals are not necessarily "ketogenic." This happens a lot–, especially in the fitness industry. High protein does not equal high fat. A ketogenic diet is, more than anything, a high-fat diet. That means, if your crockpot recipes are mostly meat, it's important you make some high-fat additions (avocado, cheese, etc.) to the meal.
3. Fatty, tougher meats cook really well in crockpots. (Fat is good!) When you shop for meat, look for short ribs, pot roasts, and lamb shanks.
4. Cook your meat on top of any vegetables.
For keto recipes, make sure you check the carbohydrate count of any of the ingredients. Some things, such as ketchup, barbeque sauce, or teriyaki sauce contain more carbohydrates than you might think.
Keto Crockpot Chicken Wings Recipe
Having the neighbors over to watch the game? No need to worry about sticking to your diet. These chicken wings are ridiculously easy to make and are sure to be a crowd fave.
Ingredients
4 lbs chicken wings or drumettes
1 tsp salt
1/2 tsp pepper
1/2 cup melted butter
6 cloves minced garlic (or 1 tbsp garlic powder)
1 cup shredded Parmesan cheese
Directions
1. Place chicken wings in the slow cooker. Sprinkle with salt and pepper.
2. In a small bowl or saucepan, stir together melted butter and garlic.
3. Pour the butter and garlic over chicken wings. Stir to coat.
4. Cook wings in the slow cooker on High for 3 hours.
5. In the last 15 minutes turn the oven to Broil.  Line a sheet pan with aluminum foil and grease well. 6
6. Place chicken wings on the pan. Broil for about 5 minutes on each side.
7. Remove the garlic chicken wings from the oven and sprinkle (liberally) with parmesan cheese.
8. Return wings to the oven until cheese is melted.
9. Remove from oven, serve, and eat up!
Keto Crockpot Spicy Slow-Cooker Short Ribs Recipe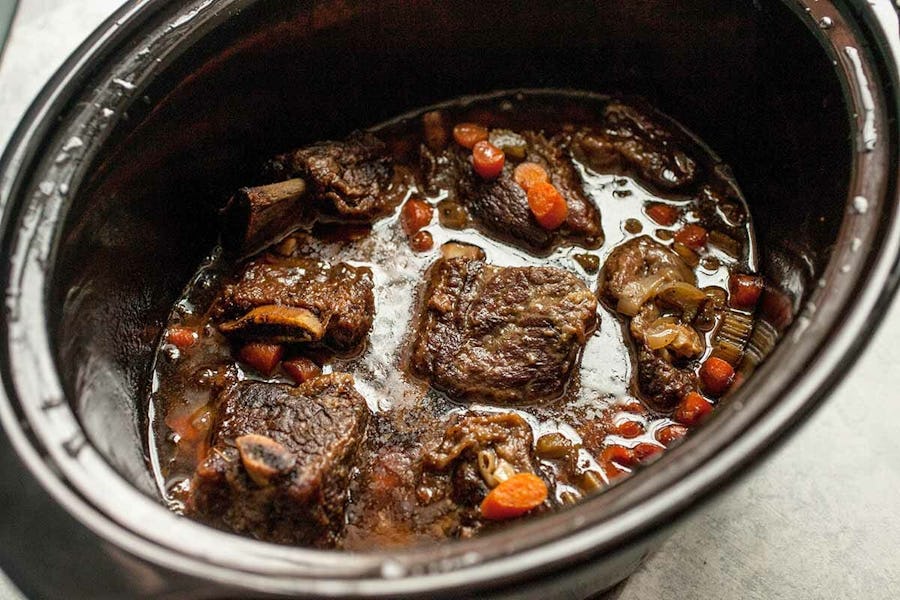 Decadent and rich, these short ribs are
definitely something you can serve to guests and impress them. The spiciness of
this dish can be up to you. Add as much or little red pepper flakes as you
like. To make this a full meal, we suggest serving the short ribs over roasted
vegetables
Ingredients
2 lbs. beef short ribs
3 oz cream cheese softened
1/2 cup beef broth
2 cups white mushrooms
1 tsp garlic powder
1 tsp salt
1 tsp black pepper
1 tsp red pepper flakes (or more if you like spicier food)
Directions
1. In a skillet, brown beef short ribs.
2. Mix together cream cheese, mushrooms, beef
broth, and spices. Pour into crock pot. 
3. Place beef short ribs on top of the mixture in
the slow cooker.
4. Cook on low for 6-8 hours, gently mixing every
1-2 hours.
Keto Crockpot Teriyaki Steak Recipe
Just because you're on the keto diet, doesn't mean you don't get
to enjoy some of your favorite Asian-restaurant foods. This recipe is fantastic
served over veggies, Asian slaw, or cauliflower rice.
Ingredients
1 1/2 lbs flank or
sirloin steak
1/3 cup brown sugar or sugar substitute
1/4 cup water
1/4 cup soy sauce (or
coconut aminos, but look at the carbs)
2 tbsp sesame oil
3 cloves garlic,
minced
1/2 tsp ground ginger
1/4 tsp red pepper
flakes
1/4 tsp xanthan gum
2 green onions, thinly
sliced
Sesame seeds
Instructions
1. Slice the beef thinly and place in the slow
cooker.
2. In bowl whisk brown sugar substitute, water, soy
sauce, sesame oil, garlic, ginger, and red pepper flakes. Pour over beef.
3. Cook on low for 4 to 6 hours, OR high for 2 to
3 hours.
4. When the beef has finished cooking, spoon some
of the broth out of the pot into a small bowl. Whisk in xanthan gum until
combined and pour back into the pot and stir to coat.
5. Sprinkle beef with chopped green onions and
sesame seeds.
Keto Crockpot Chicken Fiesta Soup Recipe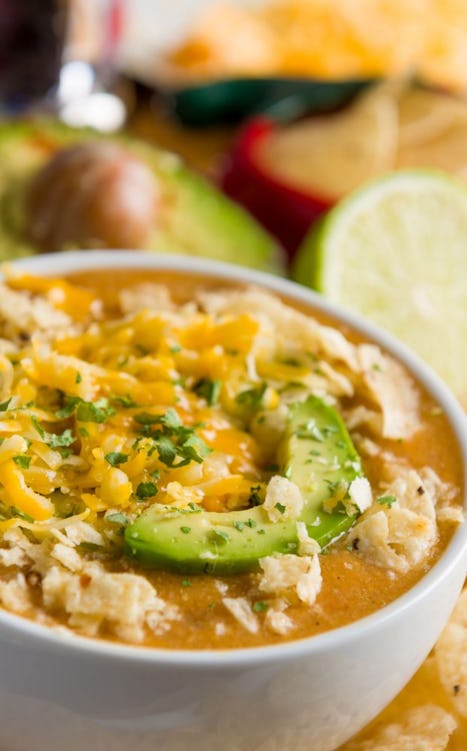 This soup is so tasty you'll forget you're on any kind of diet. It's creamy, full of juicy chicken, and will impress even your picky eaters. It even has the extra benefit of collagen from the bone broth! If you need some extra fat in your daily macro count, throw in some chopped avocado to the soup.
Ingredients
1 1/2 boneless, skinless chicken (thighs or breastwork best)
15.5 ounces chunky salsa
15 ounces of chicken bone broth
8 ounces shredded Monterey or Pepper Jack
Directions
1. Place chicken pieces in crockpot.
2. Pour salsa, bone broth, and cheese on top of the chicken.
3. Cook on high 3-4 hours or low 6-8 hours.
4. Remove chicken pieces and shred. Return to crock.
5. Serve hot. Add avocado or extra cheese, as desired.