I believe that strength training is just as important for the everyday person as it is for professional athletes. As a life long athlete myself and having recently begun my life as a personal trainer, I have started to make some connections between the physical demands of the average person and those of professional athletes.
Everyone Needs Strength Training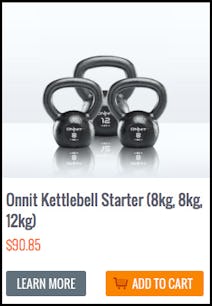 Both soccer moms and professional MMA fighters experience "competition" on a daily basis. Think of how rushed you are to get the laundry done, or how quickly you try to put the groceries away; although you weren't necessarily competing with another person, you were effectively competing with yourself. Because of the number of repetitions performed, whether you're training, competing, or performing mundane, everyday tasks, a bad movement is almost guaranteed, and if your strength training isn't up to par, you risk getting hurt in either case. Based on my experience with strength training and my sport of MMA, I realized how the demands are commonly mirrored or duplicated in both areas, and why everyone needs strength training.
Not only that, I personally noticed similar movements in my daily life as well. As a personal trainer, I soon became more aware of my movement patterns at all times. Whether trying to punch someone in the face or grab my keys from the counter, I made a mental note of the proper movement pattern that would maximize stability, speed, and power. This can benefit the everyday person because you are constantly rushed due to the fast paced world of today. To maximize your life and avoid injury in the future, you must improver your ability to perform dynamic and compound movements safely.
Whether you're a professional MMA fighter or a soccer mom, everyone needs to get into strength training. To get started, here are a few tips:
Tip #1: Anything Can Be a Weight
When in it comes to strength training, most people imagine the sound of clanking weights and barbells. Although true, resistance does not always have to come in the form of a metal object. Your own bodyweight, can create enough resistance while performing simple movements to get a workout, such as a lateral deltoid raises using your fist as a "weight" of sorts.
Tip #2: Not All Strength Training is the Same, So Get a Coach
Different people should perform strength training at different levels. Whether you're a businessman or woman or a professional athlete, everyone requires completely different movement patterns, and this is true whether you have proper coaching or not. Depending on the intended purpose of a strength training program, you will select different training equipment for different reasons. These choices are usually made by an educated trainer that will select bodyweight exercises over barbells or other external loads to lessen the resistance where needed.
Tip #3: With Strength Training, Form Always Matters
Strength training is simply this: proper movement patterns repeated with resistance. Whether that resistance is a can of beans or a dumbbell, you must maintain proper technique to limit pain and discomfort later, whether in life or sport. This  theory goes for a professional athlete in any sport. Every athlete has a coach to constantly remind him or her of the proper movement necessary to maximize speed, power, and agility. Often times the one thing that is forgotten is comfort later in life. In my opinion strength training is the best form of maintenance and rehab for both athletes and everyday people.
Tip #4: Injuries Shouldn't Stop Strength Training
Imagine if an athlete had an injury that required rehabilitation before returning to competition, or if an average person who has slight tendonitis wants to climb Mount Everest some day; after reestablishing proper strength through rehab, it is time to program barbells and other external loads back into your training. For the everyday person, begin a similar approach with assisted resistance or rubber bands. Once the muscle adapts to strength , programs change according to the goals of the individual athlete and/or everyday person.
Tip #5: You'll Get More Benefits with Dynamic Movements in Your Strength Training
Dynamic movements are great because they use more musculature than isolated movements. This benefits us because of a simple truth: the more muscles you use, the more calories you burn. During these dynamic movements, which use a high amount of musculature, you must remember that there are joints moving as well. Through the dynamics of the body and how opposing forces can pull joints out of alignment, proper technique is necessary to maintain a pain-free lifestyle.
My goal for the everyday person would be to develop functional strength for your given profession and current or future hobbies so that you have a mental note for dynamic and or isolated movements to maximize speed, power, and most of all, comfort for later in life!