At Wrestlemania 31,  Seth Rollins became the WWE Heavyweight champion of the world. That same night, many of the sport's most legendary superstars also appeared on stage. Nostalgia aside, after seeing The Undertaker, Triple H, Sting, The Rock, and Bret Hart enthrall the 76,000 plus on hand, the stark differences between the new champion and his predecessors made it official, this is the age of The Everyman.

This Onnit Academy Interactive Article contains video, animation, and sound intended to immerse you in the story. For the best experience, make sure you're reading this article on the latest version of Chrome, Safari, or Firefox with full desktop browser capabilities.
Look around the wrestling world today and you will see a roster of superstars that look nothing like the heroes of old. When you watched a Pay-Per View event in the '80s, you saw tall, jacked, flamboyantly over the top square-jawed white guys with super-oily pecs. Hulk Hogan, Rick Flair, Macho Man, the Ultimate Warrior…the list goes on. They all had the same schtick, they were all heroic babyfaces following the traditional good-guy routine. The prototypical superstar in those days rose up in the ranks using a combination of bodybuilding, raw eggs, and B-movie swag to seize their moment, basking in the glow of background explosions.
Professional Wrestling  has always been a kind of pop-culture mirror, reflecting the sentiment of the era, and showing us the ideal version of the hero we crave. In the early '80s, larger than life action heroes like Arnold  Schwarzenegger, Sylvester Stallone, and Dolph Lundgren set the standard for the generation. The over the top, excessive nature of the '80s was reflected with equally over the top WWE Superstars. But, by the end of the decade, as blue-collar jobs were going the way of the dinosaur, and obnoxious capitalism pulled away from the mainstream. America championed the underdog.
The '90s and '00s brought on the the rise of the everyman. Big hair and spandex were replaced with ripped jeans and flannel. The big muscle action movie stars were replaced with more of these everyman types. Stallone, Schwarzenegger, and Van Damm were replaced by the unlikely action heroes such as Gibson, Cruise, and Willis who thwarted their enemies more with their wits than their bronzed muscles.
The world of professional wrestling followed suit. The new "Attitude Era" of wrestling saw Steve Austin giving the CEO of the organization the Stone Cold Stunner, DX, as always being offensive and cutting-edge, and The Rock was calling people "Jabroni" or "Candy Ass". Even, Hulk Hogan, the former All-American hero, reinvented himself as a bad boy and adopted the moniker, "Hollywood Hogan."
Flash forward to 2015, and the tides have turned yet again. The squeaky clean heroes of the '80s and the F-U antiheroes of the '90s are gone. Today's WWE heroes aren't celebrated for their larger than life personalities and equally as exaggerated biceps. Today we like our heroes relatable.
Once upon a time, if you asked someone to name a Pro Wrestler, you'd likely hear a catchphrase shouted back…Something along the lines of "Oh Yeah!" "What you Going to Do Brother!" or "It Doesn't Matter What Your Name Is!" Today, the biggest superstar of the WWE has no catchphrase and no over-the-top persona. Wrestling's greatest champion, the sports biggest hero, it's he-man show-man answers simply to, Seth.
Professional wrestling, as (most) everyone agrees, is a well-choreographed play that doesn't always go exactly as planned. Every winner is predetermined, the storylines are scripted, and its characters are a product of carefully crafted writing. These attributes are what captivates kids at such a young age. Seth Rollins was no exception.
"I discovered professional wrestling when I was 3-4. I fell in love with the pageantry, the stories, the characters. Hulk Hogan, was my guy. He was like a something straight out of a comic book. He was a real life superhero beating up the bad guy. From that day forward I knew this was something I wanted to do for a career."
Hulk Hogan was America's superhero, a real American fighting for the rights of every man – a four-color comic dropped into the black-and-white Sunday funnies.
During the most pro-USA era in this countries history, Hulk Hogan was America's superhero, a real American fighting for the rights of every man – a four-color comic dropped into the black and white Sunday funnies. Hulk Hogan helped elevate the WWE into a sports entertainment franchise that steamrolled through sold out arenas generating hundreds of millions of dollars of revenue in its wake. Seth Rollins was engrossed by this phenomenon, and set out to follow in the footsteps of his hero.
Unable to make a career in mainstream professional sports, many of the old generation's wrestling superstars got into wrestling as a backup plan. Hulk Hogan and Randy Savage picked it up when baseball didn't work out, and The Rock didn't start wrestling until he blew out his knee playing football at the University of Miami.
Being ex-athletes, Hulk Hogan and Dwayne Johnson already had the action hero build required by wrestling superstars of the day. Seth Rollins however, aspired only to be a pro wrestler. For a skinny kid from Iowa, this presented no small challenge.
While the previous generation's superstars were recruited to join wrestling schools due to their already large, athletic builds, Seth Rollins spent his days training and his nights petitioning to get into the same schools. Many other of the top stars of today's WWE including Daniel Bryan, Adrian Neville, Randy Orton, and Kevin Owens –also grew up training specifically with the goal to become WWE Superstars. From their training, to their diet, to their in-ring personas, this new generation is wildly different than their predecessors. This new breed are functionally fit athletes that train specifically for the grueling demands of professional wrestling.
He called his product "sports entertainment." And while the entertainment part of that tagline is obvious to most, the "sports" part rarely gets the credit it deserves.  Wrestling demands serious athletic abilities, and there's a growing number of wrestlers who shape their lifestyles and their bodies accordingly. There aren't many athletes left training like the Hulkster circa 1987.
5 years ago, Seth Rollins traded bodybuilding for Crossfit. The creator of Crossfit, Greg Glassman, describes Crossfit as:
"A core strength and conditioning program, that is not a specialized fitness program, but a deliberate attempt to optimize physical competence in each of ten recognized fitness domains: Cardiovascular and Respiratory, Endurance, Stamina, Strength, Flexibility, Power, Speed, Coordination, Agility, Balance, and Accuracy."
This is a superior training methodology for wrestlers, as athletes are required to successfully perform a multitude of physical challenges. This change in training style is evident in the WWE today as the number of mountainous men are giving way to a faster, more mobile wrestler.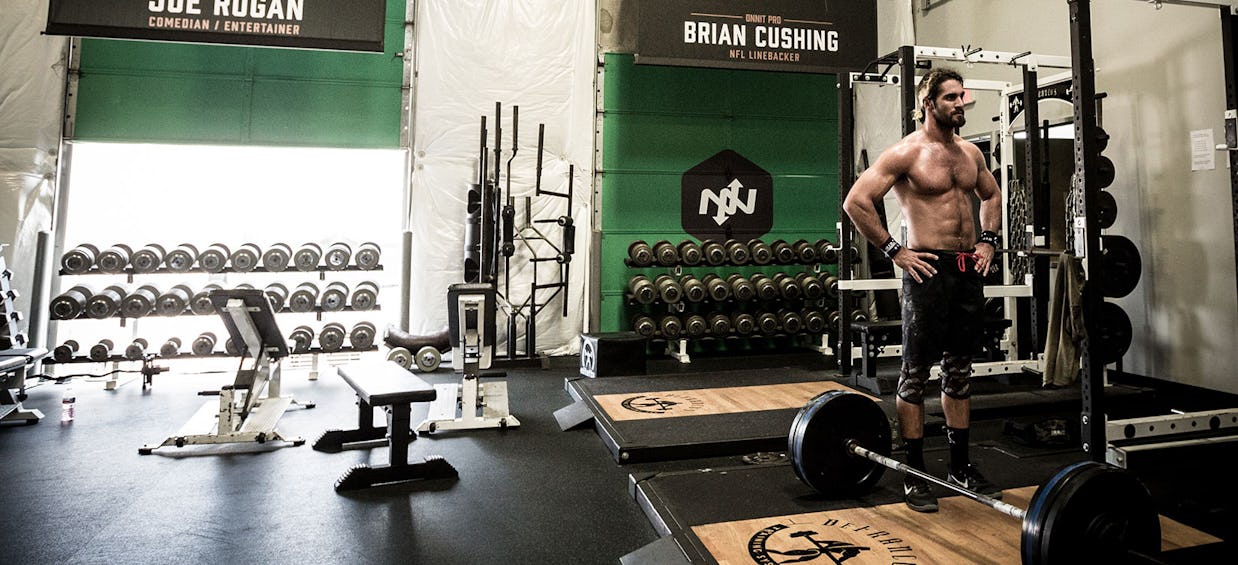 Today's WWE Superstar is more reminiscent of Olympic gymnasts than bodybuilders. Evident by the fact that 4 out of the 5 top WWE Superstars today are 6'1'' or under.
The excess of the '80s lifestyle also carried over into the athlete's diet. Little concern was shown to what was being put into the body with more of a "mass-at-all-costs" approach. The mantra was lift heavy and eat calories no matter where they came from (beef, beer, ice cream) Who cares? Eat Big, Get Big, Body Slam, repeat.
For today's wrestler the calories are still there, but macro, micro, and nutritional timing are more important than ever. In an interview with Seth Rollins, he revealed how he eats:
"I listen to my body. My schedule doesn't allow me to eat as much as possible. I try and eat real food as often as I can. Good quality meat and vegetables. Post workout, I try and get as much good food as I can. 30 grams of protein and 40 grams of carbs or so. Refueling after a workout is very helpful when the days and the tours get long."
Supplementation has come along way as well. Hulk Hogan used to famously tell his disciples:
"To all my little Hulkamaniacs, say your prayers, take your vitamins and you will never go wrong."
https://www.youtube.com/watch?v=YMkC67sEEs8&feature=youtu.be&t=7s

Taking your vitamins, and praying that they cover your nutritional needs is a very '80s mentality and fits in line with the vague nature of training and nutrition associated with professional wrestling of the time. Today's wrestler has a mentality towards supplementation that is just as well-thought out as any other mainstream professional athlete.
The goal of these new methods are not to be as big as possible, but to be as physically capable as possible. America is more health-conscious than ever, and our heroes are reflecting that.
As with most evolutions, the progression of today's wrestler has been a positive one. From training, to diet, to supplementation, today's Everyman hero is simply more functional. It is no longer just about looking the part. They strive to be as fit and healthy as any other professional athlete. The every man doesn't need "real Americans" to do his fighting for him. Today, the every man is perfectly capable of doing that himself.
What will the next version of our champion look like? How will society and pop culture shape the face (and the physique) of the sport in the years to come? Perhaps as the limit of human capability and technology begin to intersect, we'll see some sort of half-man/half machine rockem sockem wrestling robot. If the newest video game trailer for WWE 2K16  is any indicator, that just might be where we are headed. At least he'll already have a catch phrase.
Onnit Academy Extra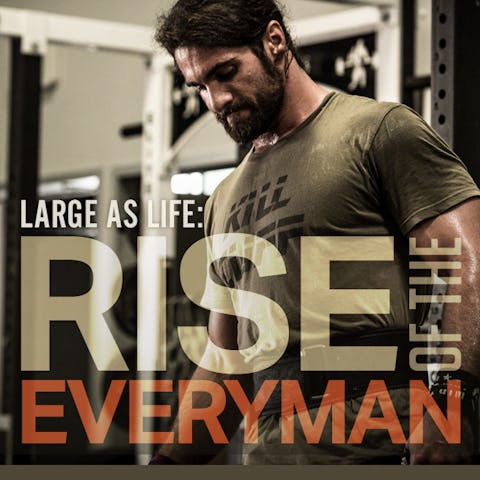 Recently Seth Rollins stopped by the Onnit Academy, where we spoke about what measures he uses through his diet, supplementation and training to compete in the only sport with no offseason. Below you will find out how Seth stays Onnit while spending 300 days of the year on the road.
"I love the MCT Oil – I feel like it gives me a lot of energy throughout the day, without any crash. I think Onnit's Total Human is great. It gets me up in the morning and puts me down at night." Shroom Tech Sport is a tremendous product. It is a very natural pre-workout. It doesn't give you the jitters like other pre-workouts."
Seth Rollins gave up bodybuilding years ago in order to train like an athlete. This is the actual workout Seth Rollins uses when training for the WWE. Try it out for a week and see if you can keep up with the champ.