Twenty years ago, telling your waiter you had food allergies and couldn't eat gluten, nuts, dairy, etc., would make him roll his eyes, or bark, "Sorry, no substitutions." But today, nearly every restaurant and food product line offers some accommodation for people with food allergies and intolerances, from the most formal banquet halls to the cheapest TV dinners. And when you look at the statistics on people who can't digest certain foods, it's clear that they have to.
According to Food Allergy Resource and Education (FARE), approximately 32 million people in the U.S. have food allergies. They're not just so-called "picky eaters"; they face legitimate health problems if they eat certain foods. Gluten (the protein in wheat and other cereal grains) and nut allergies are among the most common and frustrating, since grains and nuts are widely used as ingredients in other dishes—some of which you might never expect (nuts in your vanilla ice cream, for instance).
About two-and-a-half million people can't handle wheat, and gluten is a major contributing factor. One in 100 people worldwide is believed to have celiac disease, a severe form of gluten intolerance that falls under the banner of an auto-immune disorder. For these people, consuming gluten will actually result in damage to the intestine.
Meanwhile, more than six million people have a reaction to peanuts (technically a legume), and nearly four million need to avoid tree nuts.
If you count yourself as a member of any one of the above groups, you already know that you have to be careful about what you eat, and how your food is prepared. But you may not be aware of how many delicious—and healthy—options you still have, especially when you're looking for a quick bite between meals. With the help of a dietician and a recipe whiz, we came up with five different gluten-free and nut-free snacks that taste great, and help you stay fit.
What Foods Should Be Avoided?
Going gluten-free means saying no to wheat, barley, and rye, and all the foods and food ingredients that can be made from them. When you add them up, it's a long list that includes (but is NOT limited to):
Baked goods
Beer
Bread
Brewer's yeast
Cereals
Condiments
Granola
Meat substitutes
Milkshakes
Pasta
Salad dressings
Sauces
Soups
Spice blends
Syrups
Tortillas/wraps
Wine coolers
Of course, gluten-free options do exist for many foods, but by and large, a gluten-free diet will be devoid of what you see above. Even food coloring can be an allergen, as it's often made from barley. One should also watch out for oats. While they're naturally gluten-free, oats are often grown near wheat, barley, or rye, and, as a result, they can become contaminated by them. Make sure that any oats you consume are guaranteed gluten-free on the food label.
Avoiding tree nuts will have you waving off…
Almonds
Brazil nuts
Cashews
Coconut
Curries (They often contain ground almonds)
Hazelnuts
Honey (Some nut species are pollinated by bees)
Macadamia nuts
Nut butters
Nut milks
Pecans
Pistachios
Walnuts
Be wary of cold cuts (such as mortadella), energy bars, flavored coffees, marinades, pastries, and sauces (including barbecue) too. All can and often do contain some tree nuts as additives. Certain ethnic foods, such as Chinese, Indian, and Thai, also contain nuts.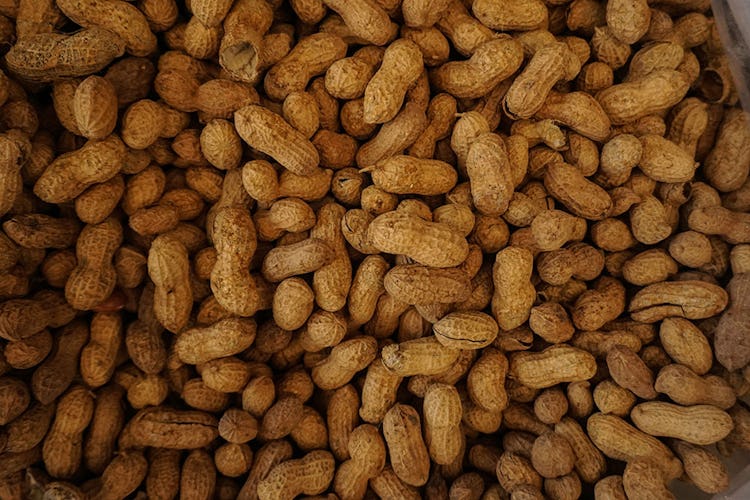 If you have an intolerance to peanuts, you should steer clear of the following:
Beer nuts
Chili
Cold-pressed peanut oil (Although highly-refined peanut oil may be OK; ask your doctor)
Egg rolls
Enchilada sauce
Fried foods (Many are cooked in peanut oil)
Ice cream
Glazes
Lupin/Lupine (A flour substitute in gluten-free foods, it's a legume, like peanuts are, and may provoke a reaction similar to a peanut allergy)
Marinades
Mole
Nut butters (Even if you're not allergic to tree nuts, nut butters can be exposed to peanuts in processing and pick up their allergens)
Pancakes
Pesto
What Nutrition Am I Missing By Cutting Out Gluten and Nuts?
Avoiding gluten and nuts if you're allergic to them will greatly reduce the risk that you'll have a bad reaction when you eat something. On the downside, you will increase the likelihood that you don't get enough of certain vitamins and minerals, if you're not careful to eat other foods that supply them.
"Nutrients of concern in a gluten-free diet are vitamins D, B12, and folate," says Shannon Ehrhardt, RD, CSSD, an EXOS Performance Dietitian, "as well as iron, magnesium, calcium, and zinc." But you can cover these needs by consistently eating some of the following.
For vitamin D: egg yolks, mushrooms, and salmon
For vitamin B12: beef, clams, eggs, and tuna
For folate: broccoli, Brussels sprouts, chickpeas, and leafy greens
Nut-free diets are often lacking in vitamin E, niacin, magnesium, manganese, and chromium, says Ehrhardt. To make sure you stay topped off on them, eat foods from the lists below.
For vitamin E: avocado, broccoli, butternut squash, kiwi, olive oil, and spinach
For niacin: beef, brown rice, salmon, and tuna
For magnesium: avocado, banana, dark chocolate, legumes (chickpeas, lentils, soy beans, other beans), okra, oysters, salmon, spinach, and tofu
For manganese: black pepper, clams, coffee, legumes, mussels, oysters, rice, and tea
For chromium: fruits, meats, and vegetables
5 High-Protein, Low-Carb Snack Options
Liv Langdon (livoutloud.com), a holistic wellness coach, recipe developer, and photographer, whipped up the following five recipes for amazing snacks that are not only gluten- and nut-free but also high in protein and low in carbs—perfect for active people who want to be lean and strong. They also include many of the foods that Ehrhardt encourages you to include to make sure you get the nutrition that might otherwise go missing with the loss of gluten and nuts.
None of these snacks takes long to prepare. If you're concerned about having reactions to other foods, such as dairy, or you're interested in vegan options, Langdon included substitutions to make those adjustments as well.
1. Tuna Salad On Crackers
Prep time: 15 minutes
Serving size: 5 crackers
Yields: 4 servings 
INGREDIENTS
2 cans tuna, chunk light, in water
1 lemon, cut in 2 halves
3 tbsp. avocado oil mayo*
3 tbsp. full-fat Skyr yogurt**
2 tbsp. flat-leaf parsley, finely chopped 
2 tbsp. red onion, finely minced 
⅛ tsp. coriander 
⅛ tsp. garlic powder 
⅛ tsp. white pepper 
⅛ tsp. sea salt
½ avocado, diced
10 brown rice crackers***
10 flax crackers***
*We used Primal Kitchen's avocado-oil based mayonnaise.
**We used Siggi's 4% plain Skyr yogurt. If you have a dairy allergy, replace this with the avocado-oil based mayonnaise.
***We used Trader Joe's gluten-free brown rice crackers.
***We used Flacker's rosemary flax seed crackers. 
INSTRUCTIONS
Step 1. Drain and rinse the tuna. Transfer to a mixing bowl, and break up any large chunks with a fork. Squeeze ½ lemon on top.
Step 2. Add the mayo, yogurt, parsley, onion, and spices. Mix until well combined and set aside.
Step 3. In a separate mixing bowl, add the diced avocado and squeeze the remaining lemon half over it. Season with salt and pepper, and mash with a fork.
Step 4. Place crackers on a plate. Spread one teaspoon of mashed avocado onto each cracker, then top with tuna. If traveling, keep the tuna salad, mashed avocado, and crackers in separate containers until you're ready to prepare.
MACROS PER SERVING 
240 calories | 16g fat | 10g carbs | 4g fiber | 6g net carbs | 18g protein
2. Broccoli + Cheese Turkey Bites
Prep time: 15 minutes
Cook time: 20 minutes
Serving size: 2 bites
Yields: 12 bites
INGREDIENTS
Avocado oil (see instructions)
½ tbsp. extra virgin olive oil
½ cup finely diced onion
1 tbsp. minced garlic 
1 bag frozen broccoli
1 lb. organic ground turkey
1 egg
½ tsp. sea salt  
¼ tsp. smoked paprika 
¼ tsp. ground pepper
2 tbsp. chopped parsley
½ cup shredded parmesan cheese
½ cup shredded cheddar cheese
¼ tsp. lemon zest  
INSTRUCTIONS
Step 1. Preheat the oven to 375-degrees Fahrenheit, and turn on the broiler. Spray or wipe a muffin tin with avocado oil to prevent sticking.
Step 2. Place a sauté pan on medium-low heat, and add the olive oil. When hot, add diced onion and minced garlic. Cook until the veggies are softened—about three minutes—then set aside to cool.
Step 3. Steam 2 cups of frozen broccoli. You can use fresh broccoli or frozen steam bags for ease. Drain, let cool, and chop finely.
Step 4. In a large mixing bowl, add the ground turkey, egg, spices, onion-garlic mix, chopped broccoli, parsley, shredded cheese, and lemon zest. Mix until thoroughly combined.
Step 5. Fill about ⅔ of each muffin tin with the turkey mixture. Top with a little more shredded cheese.
Step 6. Bake for 20 minutes, then broil for an additional 3 to 5 minutes, or until the cheese is golden brown. Enjoy warm! These bites are easy to travel with; simply store in a Ziploc baggie or Tupperware container.
MACROS PER SERVING 
270 calories | 16g fat | 2g carbs | 1g fiber | 1g net carbs | 28g protein
3. Pumpkin Spice Protein Shake
Prep time: 5 minutes
Yields: 1 shake
INGREDIENTS
1 scoop Onnit Grass-Fed Whey Isolate Protein, vanilla flavor*
½ cup canned pumpkin puree
½ cup unsweetened vanilla flax milk 
¼ cup Skyr full-fat plain yogurt
¼ tsp. pumpkin pie spice
¼ tsp. ground cinnamon
½ tsp. vanilla extract
½ tbsp. flax meal
1 tsp. pure maple syrup**
1 ½ cups ice
Pinch sea salt
Pumpkin seeds (optional)
*To make the recipe vegan, opt for Onnit Plant-Based Protein powder, vanilla flavor, and remove the yogurt. 
**Flavored or processed maple syrups may not be gluten-free, so get one that's as pure as possible.
INSTRUCTIONS
Step 1. Add all ingredients to a high-powered blender. Pulse until smooth. Garnish with pumpkin seeds and additional cinnamon if desired, or take it to go!
MACROS PER SERVING 
280 calories | 7g fat | 22g carbs | 5g fiber | 17g net carbs | 33g protein
4. Sunflower Energy Bites
Prep time: 10 minutes 
Fridge time: 15 minutes
Serving size: 2 bites
Yields: 16 bites 
INGREDIENTS
½ cup sunflower seed butter* 
1 scoop Onnit Grass-Fed Whey Isolate Protein, vanilla flavor** 
¼ cup flax meal 
⅓ cup unsweetened dried cranberries
⅓ cup mini dark chocolate chips***
½ tsp. ground cinnamon 
2 tbsp. pumpkin seeds 
3 tbsp. hemp seeds 
2 tbsp. chia seeds 
¼ tsp sea salt 
*Make sure your sunflowers are nut-free. Some sunflowers are processed with equipment that is also used for peanuts, so there is risk of cross contamination.
**To make the recipe vegan, opt for a vegan protein powder, such as Onnit Plant-Based Protein
***We used Enjoy Life mini dark chocolate chips, which are dairy-free, nut-free, and soy-free.
INSTRUCTIONS
Step 1. Line a tray with parchment paper and set aside. Add all ingredients to a medium mixing bowl, and mix with a spoon until thoroughly combined. 
Step 2. Scoop out a spoonful of the mixture and, using your hands, roll into a bite-sized ball. That's one bite.
Step 3. Place bites on the parchment-lined tray and refrigerate until firm, about 15 minutes. Store in the fridge in an airtight container for up to one week.
MACROS PER SERVING 
340 calories | 24g fat | 19g carbs | 5g fiber | 14g net carbs | 14g protein
5. Chia + Yogurt Parfait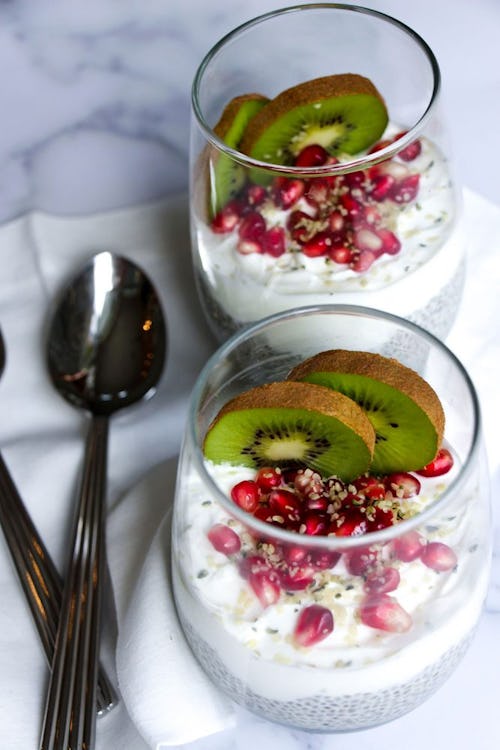 Prep time: 10 minutes 
Fridge time: 30 minutes 
Serving size: 1 parfait
Yields: 2 parfaits
INGREDIENTS
For the chia pudding:
¼ cup chia seeds
1 cup unsweetened rice milk
2 tbsp. organic half + half 
1 tsp. vanilla extract
Sea salt, to taste 
For the yogurt:
1 ⅓ cups full-fat Skyr yogurt
10 drops liquid Stevia, or sweetener of choice (optional)
For the toppings:
2 tbsp. pomegranate seeds
1 kiwi, sliced
1 tbsp. hemp hearts
INSTRUCTIONS
Step 1. Add all ingredients for the chia pudding to an airtight container. Mix until combined. Make sure there aren't any clumps of chia stuck on the bottom of the jar. Don't worry about any excess liquid; the chia will soak it up. Store in the fridge for 30 minutes, or until a thick pudding consistency is formed.
Step 2. If desired, mix the yogurt with your sweetener of choice.
Step 3. Layer ½ of the chia pudding on the bottom of a serving glass. Then layer ⅔ cup of yogurt over the pudding. Top with pomegranate seeds, kiwi slices, and hemp hearts for added texture. Repeat with the remaining half of the ingredients. You can prepare this in advance in enclosed mason jars for a quick snack on the go! 
MACROS PER SERVING 
360 calories | 19g fat | 27g carbs | 10g fiber | 17g net carbs | 24g protein
For more recipes from Langdon, follow her on Instagram—@livlangdon