Are you ready for some football? Sunday night party! Nothing says the #SuperBowl quite like buffalo sauce, excessive amounts of cheese and some serious celebratory dance moves.
If you haven't already threw back a couple of brewskies in anticipation for one of the biggest sporting events in America, it's probably about that time. Here are some simple low-carb appetizers to accompany your night full of screaming at Tom Brady and pretending you don't like Justin Timberlake (when you know "Sexy Back" is your jam).
These recipes are the perfect addition to any potluck or viewing party!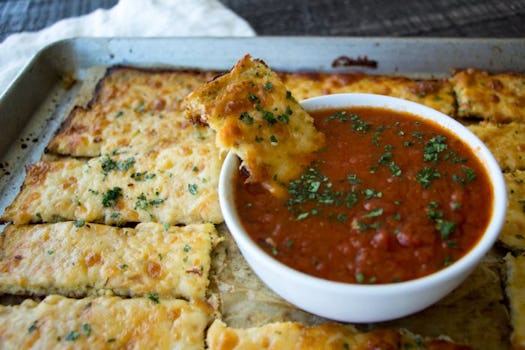 | | |
| --- | --- |
| Yield: | 1 sheet pan, 15 sticks |
| Difficulty: | Medium |
| Prep Time: | |
| Cook Time: | |
Ingredients:
1 head cauliflower, chopped into florets
½ cup shredded mozzarella
½ cup shredded Monterey Jack cheese
2 pastured eggs*
2 tsp. dried oregano
2 tsp. minced garlic
½ tsp. Himalayan salt
Black pepper, to taste
Topping:
2 tbsp.grass-fed butter, softened
1 tsp. garlic minced
½ cup shredded Parmesan
½ cup shredded Monterey Jack cheese
½ cup mozzarella cheese
Optional
Finely chopped parsley, for garnish
No-sugar-added marinara, for dipping
Primal Kitchen Ranch Dressing
Directions:
Preheat oven to 425 degrees F. Rinse cauliflower florets. Add to a food processor, and pulse until it reaches a couscous consistency.
Place the cauliflower particles in a microwave-safe bowl, and cover with a paper towel or lid. Microwave for 7 to 10 minutes.
Add the eggs, oregano, garlic, mozzarella, Monterey Jack, salt, pepper, and cauliflower. Mix until combined.
On a parchment-lined sheet, spread the cauliflower mixture with clean hands. Flatten carefully to reach the edges, forming a large rectangle.
Bake for 20 minutes. While that's cooking, mix together the the topping ingredients in a small mixing bowl.
Remove from oven, spread toppings. Bake for another 10 minutes, until bubbly and a golden brown. Slice.
Serve warm with a no-sugar-added marinara (look at ingredient label) or Primal Kitchen avocado-oil based Ranch Dressing. Sprinkle chopped parsley on top for garnish.
Ingredients:
5 chicken breasts, USDA organic
13-oz bottle buffalo sauce*
⅓ cup chicken broth
½ sweet onion, diced
Directions:
Add all ingredients to CrockPot or slow cooker. Cook on low for 3 to 4 hours or on high for 5-6 hours.
Using two forks, gently shred the chicken, and mix in with all the delicious sauce.
Notes:
*We used Wing-Time medium buffalo wing sauce
Ingredients:
Head of red leaf lettuce, or any bibb or romaine lettuce of choice
⅓ cup. crumbled blue cheese
2 ripe avocados, sliced
1 lemon
Shredded buffalo chicken, recipe above
Directions:
Wash and pat dry the head of lettuce.
Pick the largest, most sturdy pieces. Add about ¼ cup of the shredded chicken, 2-3 slices of avocado, and a sprinkle of blue cheese on top of the lettuce. Squeeze fresh lemon juice on top of the avocado slices to prevent browning. Enjoy!