You usually don't read about healthy ground beef recipes, because ground beef gets a pretty bad rap. Sure, it makes hamburgers and other delicious not-so-weight-loss friendly food, but the truth is it can easily be part of a healthy diet. Ground beef is also relatively inexpensive, freezes well, and mixes with pretty much anything to make a complete meal.
If you started a healthy nutrition plan for 2020, and aren't sure how ground beef fits, then you're in the right place. Read on to learn the healthiest types, how to make good burgers, and even get inspired with a few easy ground beef recipes!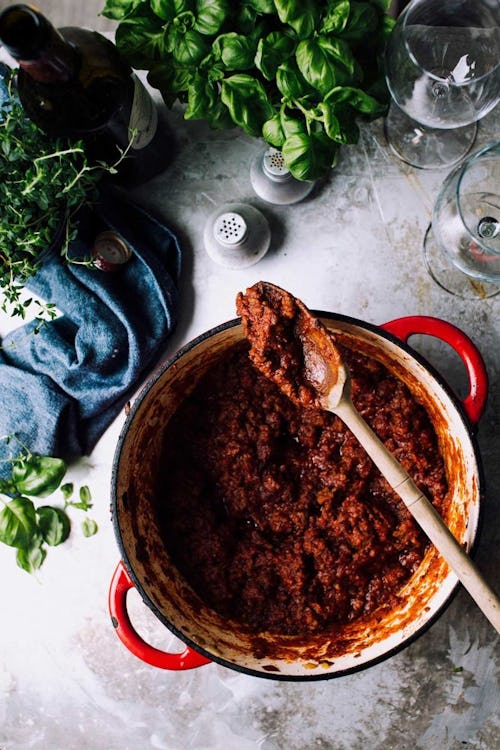 What's The Healthiest Type of Ground Beef?
There are generally four types of ground beef, each of which has a different fat content.
1. Regular Ground Beef
This type of beef is ground shank and brisket and is generally the least expensive. Regular ground beef also has the most amount of fat—somewhere around 30%. Don't knock the fat, however. The fat in the meat makes it the most flavorful. If you're on the Ketogenic diet and need some fat in your meals, getting it from ground beef isn't a bad idea.
2. Ground Chuck
Ground chuck is often labeled as "lean" ground beef because it has less fat content than regular ground beef. Ground chuck contains about 20% fat, but is still flavorful.
3. Ground Round
Ground round is less-fatty option. It contains around 12% fat and is great to mix with veggies our sauces. Sometimes, the ground round is labeled as "extra lean." Ground round is a good choice if you're looking to lower cholesterol levels or just want a little less fat in your diet.
4. Ground Sirloin
Ground sirloin may be the leanest cut, but it's usually the most expensive. Because there's only about 10% fat content, it will cook a bit drier than other beef options. But if you're really watching your calories, ground sirloin is generally the best choice.
When you're out shopping for ground beef, it's best to spend a little extra money on grass-fed, free-range options. Cows that were allowed to move around and eat grass usually produce better-tasting meat. Healthy ground beef is also generally free of antibiotics and other chemicals.
What Can I Eat with Lean Ground Beef?
Lean ground beef is great to eat with almost anything. You can stir it into vegetables, add it to sauces, or throw it in a baked potato. See the recipes below for more options!
Really, what you eat with your ground beef depends on how much you like the flavor of the meat. In general, meats with more fat tend to be juicier and taste better. Less-fatty meat tends to cook drier and have a mild, less "beefy" flavor.
How to Make a Healthy Hamburger with Ground Beef
Ultra-lean beef can be difficult to make hamburgers with. The fat is what binds the beef together, so there are a few things you can do to make your burgers juicy and flavorful, even with lean beef.
The best way to add some moisture and improve the binding is to add a little something to the beef. A tablespoon or two of water, or an egg will often do the trick, but if you want to be a little more adventurous, you can try moistened breadcrumbs, ketchup, barbeque sauce, salsa, hot sauce, or even soy sauce.
Combine the meat with your hands, but don't handle too much. If you crumble the meat too much, it won't stick together.
Quick and Easy Ground Beef Recipes
Eating healthy doesn't have to be hard. The following recipes are quick, easy, healthy, and are great if you like to meal prep.
For each of the recipes below, we used lean beef, but let your taste buds be your guide!
Ground Beef and Vegetable Stir Fry
This recipe is really easy to transfer into Tupperware containers and take for lunch. It cooks plenty, so you can feed a lot of people with this recipe.
Ingredients
1 cup brown rice
1/4 cup soy sauce
2 tbsp brown sugar, packed
3 cloves garlic, minced
1 tbsp grated ginger
2 tsp rice wine vinegar
1 tsp sesame oil
1 tsp Sriracha
1 tbsp olive oil
1 pound ground beef
12 oz broccoli florets, chopped
2 green onions, sliced
1/2 cup shredded carrots
1/2 cup red bell peppers
1/2 cup sliced mushrooms
1 tsp sesame seeds
Directions
In a large saucepan, cook rice according to package instructions. Set rice aside.
In a small bowl, whisk together soy sauce, brown sugar, garlic, vinegar, sesame oil, and Sriracha
Heat olive oil in a large skillet over medium-high heat. Add ground beef and cook until browned. Drain excess fat.
Stir in broccoli, green onions, carrots, peppers, mushrooms, rice, and soy sauce mixture until combined. Allow simmering until broccoli is tender.
Meatballs
These meatballs are easy and super delicious. The most difficult part is deciding what to eat with them!
Ingredients
1/2 cup Panko bread crumbs
2 oz. Parmesan cheese
1 cup parsley leaves, chopped
1 cup milk
1 large egg
3 cloves garlic
2 lb. lean ground beef
1/2 lb. Italian sausage
Canola oil
1 medium sweet onion, finely diced
Directions
Preheat oven to 425 degrees F.
Combine panko, Parmesan, parsley, milk, egg, and garlic cloves in a bowl; let stand 10 minutes.
Add beef, sausage, and onion to bowl. Gently combine using your hands. Shape into 36 (1- to 1 1/2-inch) balls.
Line a baking sheet with foil and lightly grease with canola oil. Place meatballs on a baking sheet and bake until browned, 15 minutes. Drain well.
Mix with your favorite spaghetti sauce and serve over noodles, or eat with veggies.
Stuffed Peppers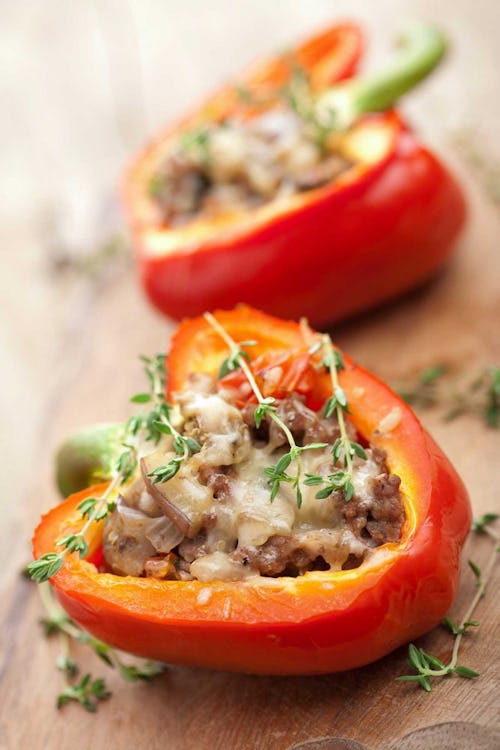 Stuffed peppers seem fancy and advanced, but this recipe makes it really easy to impress anyone—even your kids.
Ingredients
1 can crushed tomatoes
3 cloves garlic, minced
1/2 cup scallions, sliced
1 tbsp. tomato paste
1/2 tsp. salt
1/2 tsp. cayenne pepper (if desired)
1 tbsp. granulated sugar
4 large red, yellow, or orange bell peppers
3/4 lb. lean ground beef, browned
3/4 c. instant brown rice, cooked
2 tbsp. crumbled feta cheese
Directions
Preheat oven to 350 degrees F.
Cook rice according to package directions.
In a bowl, stir together tomatoes, garlic, tomato paste, oregano, sugar, 1/4 cup of the scallions, and 1/2 teaspoon pepper.
Slice tops off the peppers, just below the stems. Roughly chop the tops and add them to the bowl along with the beef, rice, and 1/2 teaspoon salt. Mix well.
Remove ribs and seeds from peppers.
Season inside of peppers with salt and pepper, and then stuff with beef mixture.
Pour a small amount of water in the bottom of baking dish and set peppers in it. (If they don't stand, slice a thin piece from the base of each pepper.) Drizzle them with olive oil, and cover with tin foil.
Bake for 30 minutes, then uncover peppers and bake until they're soft.
Transfer the peppers to plates. Sprinkle with feta and remaining scallions.
Taco Salad
Low-carb, healthy, and freaking delicious, this taco salad recipe checks all the boxes!
Ingredients
1 lb. ground beef
1 packet taco seasoning
Romaine lettuce, or another salad mix
1-2 medium tomatoes, chopped 
1/2 cup green onions, chopped
1 can kidney beans
1/2 cup cilantro, chopped
1 avocado, chopped
1 cup shredded cheddar cheese
Directions
Brown beef and drain any excess fat.
Add taco seasoning and follow directions on packet.
If lettuce is not already chopped, chop lettuce or other greens mix. Drain kidney beans.
Toss all ingredients together in a large bowl. Top with tortilla strips, chips, or any other crunch you like!
Easy Beef Chili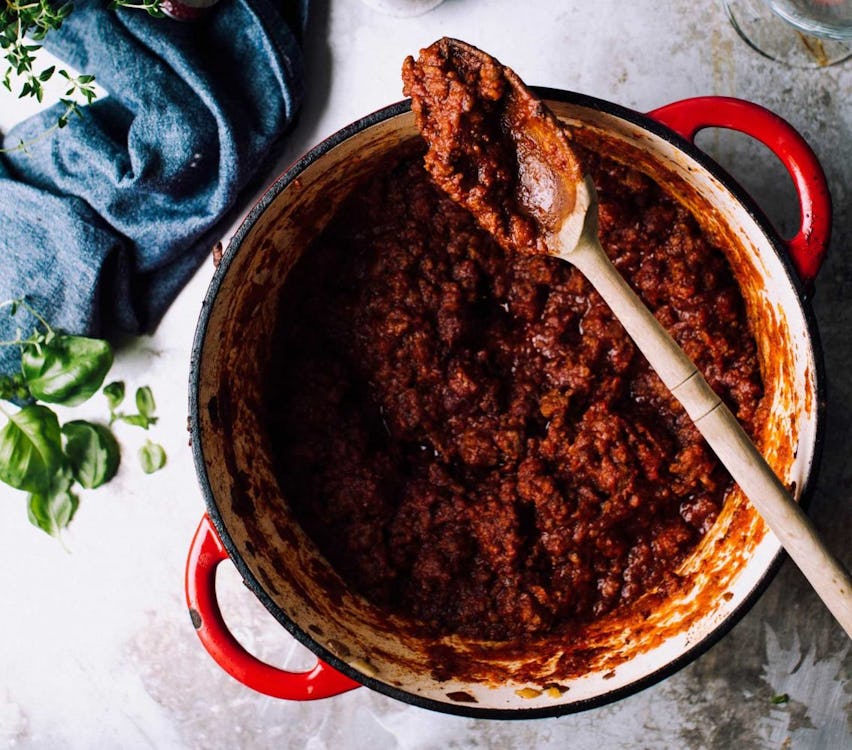 Ingredients
2 lbs ground beef
1 onion, chopped
4 cloves garlic, minced
2 stalks celery, finely chopped
1 carrot, shredded
4 cans stewed tomatoes
1 can tomato sauce
2-4 tbsp chili powder (you choose the spice level)
2 tsp Italian seasoning
2 tsp salt
1 can red kidney beans with liquid
1 can black beans, drained
1 can white kidney beans, drained
1 avocado, chopped
1 cup shredded cheddar cheese
1 cup sour cream
Directions
Combine ground beef, onions, and garlic in a large pot. Cook until beef is browned and drain any excess.
Add celery and carrot, cook until tender.
Stir in stewed tomatoes, tomato sauce, chili powder, Italian seasoning, and salt.
Bring liquid to a boil, reduce heat, and stir occasionally for about an hour.
Stir in beans and simmer for another 20 minutes.
Top with chopped avocado, shredded cheddar cheese, and sour cream.