If you love a good redemption story, you won't be disappointed with Jake Brandon's saga. The 39 year-old from Crescent, Iowa, battled through obesity and drug abuse to reclaim his family and start a prosperous new career, and the Onnit Tribe—our private support group, available on Facebook and Discord—has been in his corner the whole way.
In this interview, Brandon reveals how he survived life on the street, quit drugs cold turkey, and why the Onnit 6 Challenge is really a contest without a competition.
Onnit: Tell us about life before you found Onnit.
Jake Brandon: I joined the Army as soon as I was 18, and still a senior in high school. I felt like serving my country was just something I had to do. The 9/11 attacks happened two days before I graduated basic training, and I wanted to go to Afghanistan, but I had already been assigned to a reserve unit in Omaha.
I was trained to be a helicopter mechanic, but there never seemed to be a helicopter for me to work on, so I went over my head to an officer that I shouldn't have, asking to get deployed. Instead, I got reprimanded, and was eventually let go from the Army with a less than honorable discharge—just because I broke rank.
That experience left a hole in me somewhere. There was also a death in my family around that time, and it sent me on a downward spiral. Health was not remotely a concern of mine.
I got married, and my wife and I had my first son. Four years later, we had another boy, but I was gaining a lot of weight. I started a job that had me working on wind turbines, and that's when I started to see the value in keeping myself healthy. I had to climb towers that were 300 feet in the air, and doing that multiple times a day is a workout. That made me start paying attention to what I was eating.
I got the job weighing 268 pounds, but 265 was the weight limit for my position, so I promised that I would lose it. Over the next year and a half, I got down to 215.
Something tells us it's too early for a happy ending…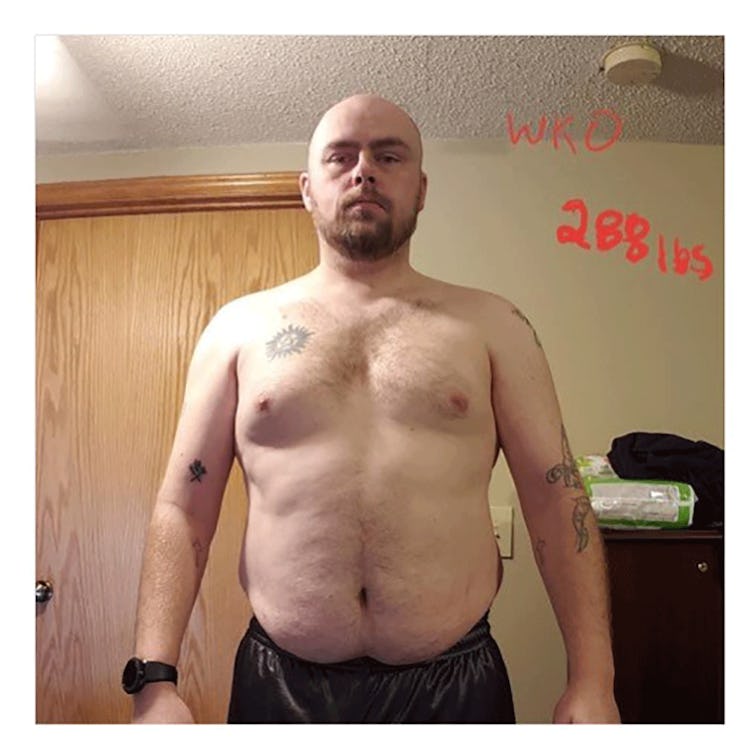 You got it. In 2015, my marriage ended in a nasty divorce. My wife took my son away, and he was everything to me. I got depressed, moved back to my hometown, and lost track of fitness again altogether. I was too ashamed, or too prideful, to reach out to family for help, so I ended up staying with a friend of mine—and I use that term lightly. I knew he had done drugs in the past, but I didn't anticipate it rubbing off on me the way it did. Staying with him in the mindset that I was in at the time made me the perfect victim.
I started doing a lot of hard drugs, and it didn't take long for me to find myself on the street. I was surviving any way I could, sleeping in the woods or an alley, and occasionally crashing at someone's place. I made sure that wherever I slept, no one else could see me. I wasn't proud of where I was at, and I continued using drugs.
In one of the lowest moments of my life, I slept in an abandoned house with no windows. It was the middle of winter. I managed to scrounge up enough money to buy a Marlboro sleeping bag from a pawn shop, so I had that for warmth, and a few blankets, but I woke up in near hypothermia, urinating on myself.
After about a year and a half of being homeless, I had had enough, so I reached out to my brother. He told my mom everything and, even though my mom and I didn't have a great relationship at that time, she offered me a place to stay. From there, I was able to get myself clean. I never went to rehab—I just stopped using.
The first couple weeks were the hardest. Head to toe pain, body aches, and chills. But I was motivated by my boys. My oldest was four and a half, and my youngest was six months, and I didn't want them to discover that this was their dad. When my head was clear, I developed a plan to start life over again.
What was the first step?
I started a new career in HVAC. I wanted to do heating and air replacement and repair, and I had to show the court that I was rebuilding my life before I could get joint custody of my boys. The HVAC company had their own apprenticeship program, so I didn't have to go back to college to get another degree. I could go through the apprenticeship while I was working. Of course, it raised some red flags when I applied, but I told them I would be the best hire they ever had if they took a chance on me. As it turned out, I became their top apprentice for the next three and a half years, and I was made lead of a division in the company.
About a year into the job, I was talking to a coworker, and I found that we shared a love of mixed martial arts. That evolved to us talking about fitness, and he asked if I ever used kettlebells, and showed me the Onnit 6 Kettlebell program. In 2019, I started working out on my own with it. I didn't want to commit to any Onnit 6 Challenge yet; I just wanted to see if I could do the workouts, because, at that point, my weight was up to 299 pounds.
I was pretty disgusted with myself and I didn't know if I could handle the workouts. My friend showed me another workout program, RUSHFIT, from Georges St-Pierre, who was one of my favorite UFC fighters. RUSHFIT was more cardio-based, and I used it to help melt some of the fat off and prepare me to do Onnit 6. The more fat I lost, the more comfortable I felt doing the kettlebell exercises I saw from Onnit, and that's when I decided to join the Onnit Tribe and do my first Onnit 6 Challenge.
By the way, I got joint custody of my kids a year and a half after I started the new job. I want to say that I couldn't have done it without my Mom, Grandpa, and God in my life.
What were your first impressions of the Tribe?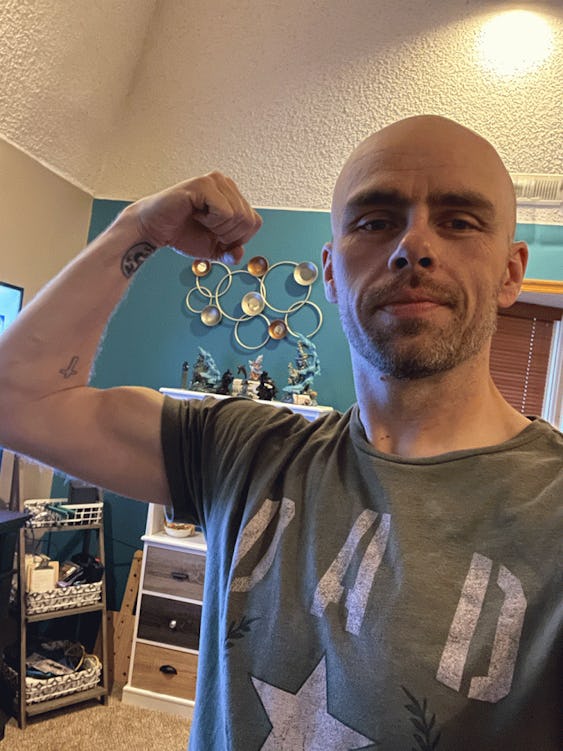 I joined the Tribe out of curiosity. But I was also skeptical. I had it in my head that it was going to be just fitness enthusiasts with years of experience in there. I thought I wouldn't fit in. To my shock, the Tribe turned out to be made up of everyday people. No matter your fitness, financial, or social status, you were welcome. But I didn't open up to the members right away because I felt I didn't belong. After my drug history, I felt like a fraud being a part of a fitness group.
I kept pretty quiet for the first Challenge I did—the kettlebell one. There was one couple in the Tribe that I did go back and forth with in conversation, and they hounded me about opening up to the whole group. They just said, "You'll get more out of this if you share more."
Talking to [Onnit Chief Fitness Officer] John Wolf helped too. He shared details about his past, which included drug use, and that inspired me. Here I was thinking that I was the only one in the Tribe with a story like that, but I wasn't. The Tribe became the most important people in my life. That's when I realized that I wasn't doing another workout, diet, or fitness fad. I was beginning a whole new lifestyle.
How did you like the Onnit 6 workouts?
When I started using the kettlebells, it was awkward at first. There are three tiers of exercises you can choose from when you do the Onnit 6 workouts, and I stayed at Level 1, instead of jumping ahead, and that made all the difference. I have herniated discs in my back from when I was in the service, but the way the program is designed, I was able to build up strength in my back without aggravating it. Now I don't have low-back pain anymore.
Doing the Onnit and RUSHFIT workouts got my bodyweight down to a healthy 175. I think by now I've done every one of the Onnit 6's. The programs Onnit offers, with or without the Tribe, are on a whole other level from others I've tried. Other fitness programs have their benefits, but they're laser-focused on just one thing—fitness. My whole outlook on fitness now is that it's a lifestyle. I'm getting my mom and my boys into it too. I want to show them what you can do if you put your mind to it.
My six year-old son is eating more whole grains now. He had been living on white bread with ketchup and eggs, but I prepared meals in front of him so he could see what I'm eating, and he learned to try new foods. I ask him if he wants to try what I'm having. Sometimes he turns his nose up at it, but sometimes he'll try it. I have him two weekends a month, so I do my best to lead by example.
In spite of all the kind things you've said about the Challenges, you took a step back from them for a while. What was that about?
I'm a competitive person, and that can be a bad thing. When I compete for something and don't win or get noticed, it can have an effect on me. About four Challenges ago, I wanted to stop participating. I was putting everything I had into these contests, but I hadn't been named as a finalist.
I was getting up at 5 a.m., getting back from work at 4 p.m., and my life was all about Onnit after that. I really didn't have a life because I was so focused on this new fitness lifestyle. There wasn't room for anything else anymore but work and fitness. I thought that if I stayed very regimented with training and eating, that that discipline would keep me from going back to drugs.
Once again, the Tribe helped me through it. Tim Sibley said I shouldn't view the Onnit 6 Challenges as competitions in the sense of one person against another. They're supposed to be about all of us working together, competing against our former selves. Tim said that you can't compare one person's progress to another person's, "because we're all on a different point in our journey." There's no standard to measure up against.

That helped me to let go a little and have fun with the Challenges again, like I did in the beginning. When it started to feel like fun again, I was able to look at where other people were at and help them do better. I could see myself in some of the other Tribe members and knew what they were struggling with, and that allowed me to support them. 
Interestingly, I ended up being a finalist in that Onnit 6 Challenge, using the Onnit 6 Barbell program, last August. So, looking back at the process, it isn't just a fitness journey I'm on. It's been about building my character.
Are you a fan of any supplements?
I've taken Total GUT HEALTH™. I'm studying right now for my journeyman license in heating and air, and you can bet that I'll take Alpha BRAIN® Black Label before I take that test [laughs]. I also like New MOOD® for when I'm going to sleep. But for the most part, I do well on what I eat. I used to take supplements for a kick in the butt, but now I find I have the energy from a healthy diet, so I don't need supplements for that anymore.
What's your advice to people who may be considering joining an Onnit 6 Challenge, or the Onnit Tribe?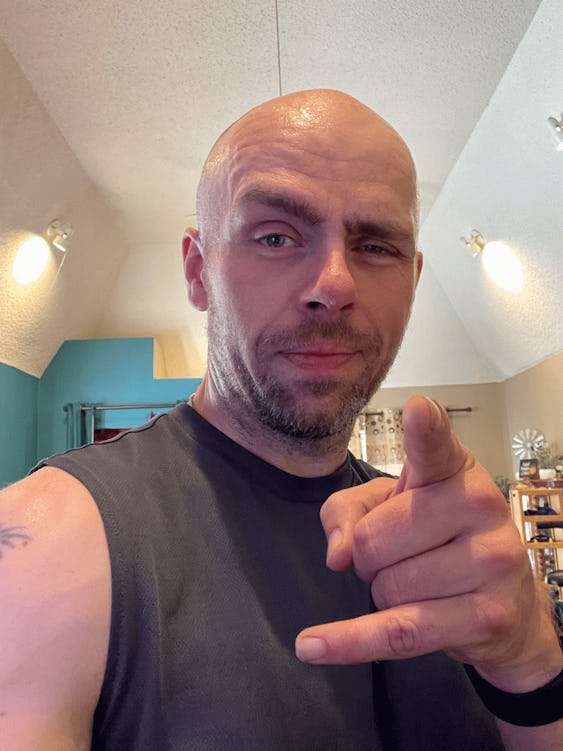 Have fun with fitness. Don't take it too seriously. Yes, it's about your health, and you need to be consistent with it, but don't let it consume you to where you don't enjoy life. Fitness should be a way to make friends, and you can find a lot of amazing people in the Onnit Tribe on Facebook and on Discord. I got away from Facebook for a while because of their politics, but I'm back on now so I can be in the Tribe. It's important to me to give back to a place that I got so much support from.