If you have an Instagram account and you're even mildly interested in kettlebells, you already know Eric Leija, aka @Primal.Swoledier. The perennially ripped and never out of energy Onnit-certified kettlebell coach has been associated with our brand from its infancy, and continues to do us proud as a rising fitness influencer with a massive following (nearly one million followers on IG alone). But for all his accomplishments and glory, he'd rather talk about what YOU are up to. Leija still makes himself available for workshops where he can connect with other coaches and fans alike, not just to spread his own philosophy but to learn theirs as well.
The Primal Swoledier recently gave an interview to Onnit Chief Fitness Officer John Wolf (who also happens to be one of Leija's earliest mentors) for our Onnit Stories series, where we talk to people on camera about how they changed their lives with Onnit's help. See Leija's interview below, along with an edited transcript of the highlights, time-stamped so you can find those moments in the video. You can stay up to date with Onnit Stories by following Onnit's Instagram TV (IGTV).
Eric Leija Show Notes
3:45 – How Eric Got Onnit
My older brother [Juan Leija] was good friends with the former CEO of Onnit, Aubrey Marcus, going back 10 or 12 years now. We all trained MMA together in what we called El Garaje—Aubrey's old garage gym. We would all go in there, beat each other up, and that's where I first met Aubrey. He actually gave me a bloody nose. I was only 12 years old at the time, and he beat me up [laughs].
No, just kidding, I was in high school at the time, and I had it coming. I was like, "I'll take this guy," but then he gave me a bloody nose. Aubrey's got reach! [Laughs]
We all connected originally through our mutual friend, Roger Huerta, who was a UFC fighter back in the day. He got us into all the unconventional training methods, like using kettlebells. We all gravitated toward the strength and conditioning that was a little bit more unconventional at the time, and maybe still is.
8:05 – On Being Internet Famous
I'm grateful for the attention and the eyes that I've been able to get. A lot of people say I've helped them get back into movement, back into working out, when they had previously gotten injured or just fell off the rails. They appreciate the content and the videos that I put out, and it motivates them to work out and get back in shape. When people recognize me on the streets and they tell me stuff like, "Oh, you helped me get through COVID; you helped me stay sane with your workouts," it's super humbling. I want to keep that up. I want to keep trying to inspire people while also being the best that I can be. The more I focus on myself, staying healthy, and doing good things, the more people see that and do similar things, and we all get better together.
At Onnit, we have such a huge platform. I try to make the most of it, because our community is amazing. One of my goals, personally, is to start traveling more and teaching more workshops and connecting with even more people. So, people out there, let me know where you want me to go!
10:35 – John and Eric Discuss Eric's Early Days at Onnit
John Wolf: What some people may not realize about you is that you maintain humility. You've always been willing to help everybody at any time. You've never tried to act as if you're above doing the hard work. I remember when I came to Onnit. I interviewed with Aubrey and he said, "All right, show us what you know." So I started leading a kettlebell workout, and you were in it. You busted out set after set, and then you said, "I gotta go back and pack more kettlebells," because at that time you were working in our warehouse. 
Eric: Yeah, dude. Aubrey was my friend back in the day, and when I graduated high school, I went to college but I needed help paying the bills. I asked Aubrey, "Is there any opportunity for me at Onnit?" He said, "Yeah. Come work in the warehouse. We need your help. We need your muscles."
So, I started off in the warehouse, taping up boxes and sending off kettlebells to people. I'm grateful for that opportunity because it's led to all this. Now I'm all about trying to make sure that I keep giving back. I feel like, in general, that's how life should be—you should always give more than you're receiving. Eventually, the tides will turn and you'll end up getting things that you never even dreamed of to come your way. I always try to say yes to opportunities and do what I can to help, and I've found that it always comes back to me when I do.
17:10 – How Onnit Certs Helped
The most important phase of my life was all those weekends I spent learning from you, John, at the Onnit certs we put on. For a while, it felt like we were doing a certification or a workshop every other weekend, and it was awesome. I got to see movement practiced from different perspectives, and I expanded my knowledge on training and so many other things. To this day, I'm still incorporating those things that I learned, and expanding on them. The goal going forward, especially after the pandemic, is to continue teaching my own workshops, but also get more education. For me, the most enriching part of being a trainer is connecting with other coaches and also regular Joes who just want to learn how to move. We learn so much from each other because everybody's got their own way of looking at things.
Through my role as a coach, I've gotten to connect with leaders in our industry—people like Dr. Mark Cheng, the FRC crew [Functional Range Conditioning certification], and Dr. Andreo Spina. Ken Blackburn put me through my first kettlebell certification, the IKFF one. I took Dr. John Rusin's PPSC course. Then, of course, you, John, and Shane Heins [Onnit's Director of Community Engagement], have been huge influences. Without you guys, I wouldn't be here. You showed me the way. I'm so grateful to have met you, trained with you, and had you both as mentors. 
Before you guys, I used to be scared to ask for help. I had the fake-it-till-you-make-it attitude. But when I heard you and Shane speak at these certifications, you'd say, "Empty your cup, so you can fill it and have more to share." That made me not afraid to ask questions and get help. All fitness coaches should combine forces and work together. Apart from all the movement skills I learned at the certs, the underlying message was always to be open and non-dogmatic in your thinking. 
24:47 – How Primal Swoledier Eats
Right now I eat a lot of white rice. I've been training really hard and I make this garlic rice to help me recover—it's so delicious. For protein, I eat a lot of chicken, steak, and fish. I try not to eat a lot of processed carbs. I'll eat white rice, especially post-workout, and then tons of veggies. Every now and then I'll have a cheeseburger if I'm in New York City and I'm like, "You know what? I'm just going to eat this burger or eat this pizza." But, 90% of the time, I like to do home-cooked meals.
30:55 – Eric's Favorite Unconventional Equipment
Definitely the kettlebell. OK, also the slush ropes [a hybrid jump rope and battle rope that can be used in flows to work mobility and conditioning]. They're fun, man. I'm connecting with AJ Londono, who's @flowwithaj on Instagram, to learn more about slush ropes. He's coming with me to New York this weekend to help me coach a workout at the Adidas store. We're also going to be in the Dominican Republic in September, teaching people how to rope flow. We're going to have some fun out there in the DR.
34:05 – Erics's Favorite Supplements
It's a toss up between the Total Nitric Oxide® and Shroom Tech® SPORT. I can really feel my endurance when I take Shroom Tech SPORT and I ride my bike around the neighborhood, or when I'm doing boxing on the punching bag. When I don't take it, I feel like I'm moving through cement. So I take four capsules in the morning before I do my cardio. And I like to take the nitric oxide before my weight training, because it gives me some sick pumps, and I like looking vascular when I'm working out [laughs]. I also love Onnit's protein powders—the grass-fed whey is super high quality. The new Protein Bites too. The Cookies N' Cream flavor… the white coating around the chocolate is delicious. I didn't know I needed that in my life until now. 
38:25 – Bike Recommendations
I'm not a bike expert. I just got into riding about a year ago and I have a gravel bike—but I don't even know what that means. It was a gift, and I ended up getting another one for my mother recently. A gravel bike can be a little bit pricier than a road bike because it's supposed to be able to go onto the road and on the trails. I got my mom the gravel bike because I want to take her on the trails with me. She's pushing 56, and I'm trying to get her back in the gym, but also riding with me. She says that riding a bicycle for her is a little bit more fun than picking up kettlebells. She likes to ride around at sunset and we've been trying to hit it at least two or three times a week in the evenings.
40:30 – The Last Movie Eric Liked
Cyrano. It has the guy who plays Tyrion Lannister on Game of Thrones in it [Peter Dinklage]. It was so good. I hadn't read that story before, so it caught me by surprise how good it was.
42:00 – Does Eric Take Caffeine?
I love caffeine. But I go through phases. I'll go really hard taking it for a few weeks and then I'm like, "OK, I'm starting to burn out a little bit. I'm consuming way too much caffeine. Let me take a little bit of a break." I'll take a week or two off from it to let my adrenals reset. Then I'll do only Shroom Tech SPORT, since it doesn't have a lot of caffeine, but it still helps me get that energy that I need. I hate having to drinking 1,000 milligrams or more of caffeine just to feel something. You got to cut back and try to take it easy when it gets to that point.
I make sure to stop taking caffeine no later than two o'clock. Before bed, I'll take some New MOOD® or some magnesium. That always helps me unwind and relax before bed, and it gives me some cool dreams too.
44:00 – How Eric Does Kettlebell Flows
When I was starting out, I was just having fun and putting together movements that felt natural. I'm really into superheroes and comic books, so I was like, "Oh it would look so cool, and I bet it would feel badass, if I did this with the kettlebell, and then landed in a kneeling position, and then cleaned it over here, and then snatched it." I was just trying to be creative like that. Now I've nailed down the movements that I like, but I want to add more to the arsenal and expand it. And so that's where I'm at right now—I'm trying to be even more creative again and step it up.
46:15 – His Workout Playlist
You don't want to listen to what I'm listening to [laughs]. I have a whole lot of Taylor Swift, Selena Gomez. No, I'm just kidding. Honestly, my friends send me playlists. I listen to my friends' playlist because I'm so bad at creating my own. If I make one, I'll listen to the same stuff for years. That's why I just ask my friends, "Hey, send me the dope stuff you're listening to now." Go look at @flowwithaj. Just go through his reels and look at all his tracks. 
47:35 – Surviving COVID-19
It was rough. If you're coming back from COVID, I would suggest not worrying about working out. Make sure you're eating, drinking plenty of fluids. I'm no doctor, but you don't want to stress your body out more than it's already being stressed out when it's sick. So talk to your doctor and see when it's OK to start working out again. I listened to my doctor and she said, "If you can breathe, if you're not coughing, then it's OK to start doing some body weight movements and just make sure you're not pushing yourself too hard, too fast." 
50:10 – Kettlebell Weight Recommendations
John: We have a viewer who asks, "I'm 5'6″ and weigh 150 pounds. What size kettlebell should I use?"
Eric: For most males I recommend starting off with a 12 kilogram bell, which is about 25 pounds. That's pretty standard. The 16kg can get heavy with overhead pressing, but you may want to get a 12 and a 16kg, because eventually you want to be able to do some swings with a heavier weight.
52:10 – What He Eats On Cheat Days
There's no crappy food, in my opinion. It's all amazing and delicious [laughs]. But if I cave in, I'll order an Italian sandwich with tons of cheese. I'll get three different cheeses, all the meats, and just eat that all day—this huge sandwich. I love sandwiches and burgers and pizzas.
Oh, man, there's this pizza that I had recently in New York. It was a tie-dye pizza at this place called Ruby Rosa. It's New York style pizza, thin crust, but it had three different sauces. And I added pepperonis, which apparently you're not supposed to do, but I love pepperoni, so I don't care. It had pesto, vodka sauce, and tomato sauce. Oh, dude, it was amazing. Best pizza I ever had.
But I don't really have cheat days. I feel like having a cheat day makes me look at food as punishment, or a reward, when it should just be looked at as nutrition. Healthy foods can taste good, so when I cook at home, I try to make things taste good. A cheat meal for me is not necessarily something that's fast food. When I cheat, I'm usually just indulging in a little bit extra of what I'd normally have. I'll have an extra helping of some rib eye with some avocado. Just eating more than I usually would is like a cheat for me. I still try to make sure I'm eating high quality foods.
You pay a price for eating processed foods like junk food, fast food, and drinking alcohol… I feel like crap for a long time afterward. Especially as I as get older. When I was 21, 22, 23, I could eat whatever I wanted and feel fine. Now, I'm like, "Whoa, this is what the older guys were talking about. This sucks." So be more mindful of what you eat, but you also have to level up your cooking game. There's this funny reel that I shared the other day of this big Mexican guy cooking some fish. The narrator says, "Marry somebody who can cook, because beauty fades, but hunger doesn't." [Laughs]
56:10 – How He Trained Before Kettlebells
I grew up doing barbell training and dumbbells, but it wasn't until I started using kettlebells that I really learned the proper mechanics of how to move. Kettlebells allowed me to condition my body using lighter weights. Then, when I went back to training with barbells, I was stronger than ever. Now, I like to combine both kinds of training so that I can keep maximizing my gains in all areas—mobility, strength, and conditioning. That comes from using all the tools at your disposal.
57:30 – Does Eric Ever Get Off Track with His Training?
I used to when I would train solo. But now that I've created a training group where we hold each other accountable, it's a lot harder to fall off track. You have to find a team and surround yourself with them, even if it's virtually. Connecting with people online can be just as powerful. You can check in with each other on Facebook and support each other [Editor's note: the Onnit Tribe exists for this reason]. Check in, like, "I did the workout today. How did you do? How was it? How'd you feel?" It's so much easier to stay on track when your peers are also there with you because you're like, "Damn, I can't give up because I'll let down my team."
59:10 – How You Can Train with Eric In Person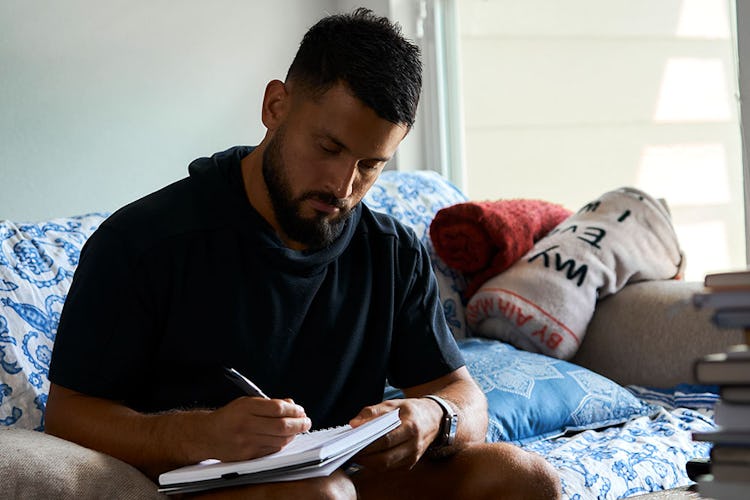 Stay tuned to my social media channels. I'll be pumping out events that I have coming up. I'm currently planning workshops for the rest of the year, and you're totally welcome to come to any one of them. You can also come and work out with me and we can hang after and have a Q&A. Sign up for my email list [at ericleija.com].
1:00:50 – One Training Tip for Everybody
Keep showing up. Even if you're not feeling it, just show up. Obviously, if you're hurting, don't injure yourself further, but show up and be consistent with your training, because you're not always going to feel motivated. You're not always going to have all this energy to crush it, and you don't need to. You can go hard some days, and focus on mobility other days, but do something. That'll keep you on track.
When I used to think, "Go hard every single day," I used to get hurt a lot. I used to burn myself out. Now that I've balanced it out, I'll go hard some days and then I'll do an active recovery day where I just go cycle around the neighborhood. As long as you're doing a little something every day, that's enough.
See our profile on Eric Leija, chronicling how he went from a chubby kid to the beast he is today.