"It's not the daily increase but daily decrease. Hack away at the unessential."
– Bruce Lee
We live in a world where we have access to far more information, opportunity, and assistance than ever before. In just a few minutes we can access every training workout program and exercise ever devised, probably on a device smaller than your average book.
So, why do people still struggle to fit exercise into their lives? Why does inactivity still cause so many health problems in society? Could it be that we have too much choice?
Here I'll explore what it means to take a minimalist approach to your workouts and how you can strip away everything that doesn't currently serve your goals.
Followed properly, the minimalist approach can help you to radically transform the way you approach your strength and conditioning workouts, endurance training, and life in general.
What Does It Mean To Apply Minimalist Principles to Your Workout
By definition, the minimalist is someone who does the bare minimum of what is necessary to accomplish something.
Minimalists are often accused of being lazy, low-achievers because they can look (to hard working over-achievers at least) that they aren't working hard enough.
But when it comes to success, doing what is necessary to accomplish your goal is exactly what is required, isn't it?
The real issue here is that goals need to be clearly defined and then energy can be best used for what's important.
The minimalist, therefore, is actually far better placed to make huge leaps in progress because they can more effectively assign their resources.
Do I Need To Change?
That's a question that only you can answer. Are you happy with your progress right now? Do you enjoy your workouts?
Either way, if you don't need to change right now then I can guarantee that you'll need to at some stage in the future. So it's important that you have a strategy in place.
Minimalist Principle #1: Don't Get Overwhelmed
We've all been there. There's so much going on inside your head that you cannot choose the right course of action, so instead you freeze and do nothing.
If you're new to exercise or feel as though you aren't achieving the results that you need with your current program then you're going to need to come up with a plan to make sure that this doesn't happen in the future.
Feeling overwhelmed typically comes from having too much choice or not having a clear enough goal in mind.
What's the solution?
Strip away all of the useless, energy-draining options available to you and accept that options . This is possible in a number of different ways but,  you should work out a plan that works for you. These 2 solutions can help greatly:
● Decide on clear goals. This sounds incredibly simple but so many people have a vague idea about what they are doing and why they're doing it. Even if your goal is simply to enjoy your workouts, you should have this clearly defined.
● Create a minimalist workout plan that has very few options and variables in it. Contrary to some popular belief, a constantly varied training program may not be the best way to achieve improved strength and conditioning.
● Try focusing on one main exercise (e.g. Squat) per session with 2-3 assistance exercises.
Minimalist Principle #2: Do Something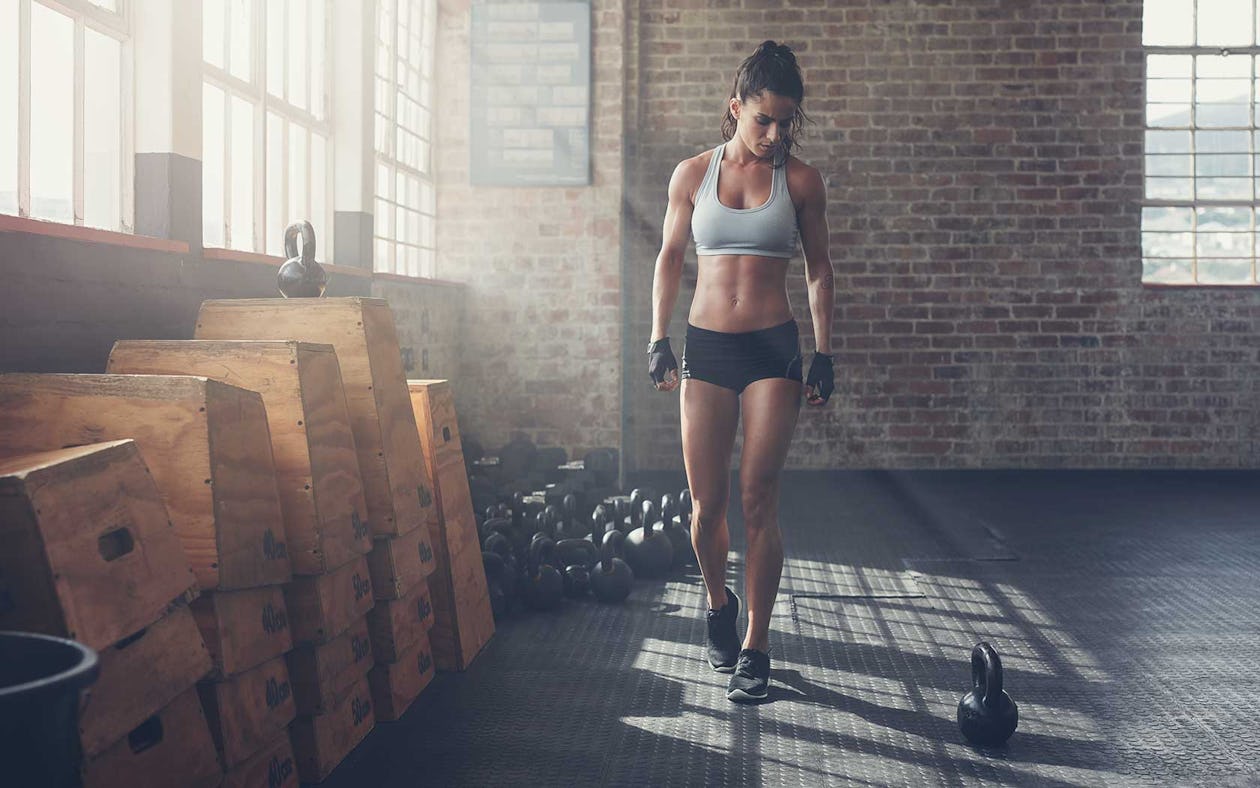 No matter how you try to rationalise your health and fitness habits, you won't get fit by thinking about it. You won't learn new skills by reading about them,  and you won't truly make progress without action.
What's the solution?
No prizes for guessing this one. Get out there and do something right now. If you've been procrastinating about starting a workout program or making changes to your existing program then go and do it right now.
Don't rationalise it, just do it. Not only will you start to build some momentum but you'll be telling your brain that new goals start with new actions. Never make new goals without actually doing something towards accomplishing them.
Minimalist Principle#3: Be Time-Smart
No matter what your goals may be, there is a way that you can structure your workout program to make better use of your time.
If you're not currently exercising then we need to get you to a place where you can fit exercise into your life because, without exercise and activity your long term well being will suffer.
What's the solution?
You could take a "no extra time" approach to exercise and multi-task. People who read while on the treadmill do this. Personally, I think the benefits of spending time focusing on the present far outweigh the small amount of time you might save with this type of approach.
If you don't have time to exercise then sleep less. Do whatever you need to do to free up some time.
Instead, I suggest you take a more time efficient approach to the workout session itself. In fact, many people find that that a time-limit on their training session makes them work much, much harder. Try these:
● 300 Kettlebell Swings – complete as fast as possible.
● 5 Pull Ups, 10 Push Ups, 15 Squats – as many rounds as possible in 10 minutes.
● 50 Ground-to-Overhead lifts with a Sandbag – complete as fast as possible.
Minimalist Principle #4: Ditch Perfection
You aren't perfect, nobody is. An excessive focus on perfection leads to one or all of these 3 things:
● You will cherry-pick activities and exercises that you are good at, avoiding those that will challenge you because you're scared of failure.
● When you do fail, you will fail, you'll quit because you can't handle the prospect of not achieving.
● You'll never allow yourself the feeling of achievement that comes from success, always thinking that you have to do better.
Perfectionists are not, as most people tend to think, the most successful people among us. Typically, I find that the happiest and most successful people, success is used in the broadest sense here, are those that accept failure and use the experience to make progress.
Ironically, this can lead perfectionists to lead increasingly insular lives and never achieve their full potential.
What's the solution?
Focus on progress rather than perfection. Progress often comes from making errors along the way and learning from your experiences. Aim to leave each so called failure with a point of learning.
You can also force yourself to focus on progress rather than perfection by trying lots of new training methods, including:
● Odd object strength workouts with implements like kegs, logs, stones and sandbags.
● Bodyweight mastery and agility workouts with Parkour, Gymnastics and Ju-Jitsu
● Playing new sports and enter events, especially events that you have never considered entering before!
Minimalist Principle #5: Ask Yourself Better Questions
The simplest way to change the quality of your life is to change the quality of the questions that you ask yourself on a regular basis. We've all spent time with the person who asks lousy questions (perhaps that's even you from time-to-time?):
"Why can't I do this exercise?"
"Why am I so fat?"
"Why do I always quit so easily?"
When you use negative questions regularly you'll come up with negative answers. When you start asking yourself more constructive questions then you'll open up your mind to come up with some better answers.
Have you ever heard the phrase "what you focus on, you feel"? The same is true of questions. When you start focusing on questions that serve you then you'll start looking for solutions to make positive change.
What's the solution?
Ask better questions on a daily basis. This isn't about positive talk where you refuse to think negatively about anything – that's not natural. Instead, this is about looking at existing challenges with a more open mind. Ask yourself "how" questions like these:
"How can I break down this exercise to make it easier to learn?"
"How can I change my exercise and dietary habits to makes changes to my weight?"
"What causes me to give up when I start something new and how can I stop that happening in the future?"
Minimalist Principle #6: Delete Your To-Do List
High-achievers love checking off tasks on a to-do list; it's part of their daily life and failure to check enough things each day equals failure in their minds. The same sometimes happens with health, exercise, and activity.
We make sure we follow the program, complete all of the reps, and spend enough time doing various activities. But does it equal the results we want? If you don't take the time to regularly assess the relevance of your program then you can lose sight of the long term goals.
What's the solution?
While a sequence of tasks can be a legitimate way for you to accomplish your goals, the to-do list can be too limiting.
When you spend too much time focused on to-do's you can lose sight of the overall goal and instead take reward in the daily "checking-off".
Think about what it really is that you want from exercise, activity, and then aim directly for that.
Putting It All Together
You'll notice that this article has been light on specific exercises and programs for you to follow, and purposefully so.
Taking a minimalist approach to your workouts means means that you strip away all of the useless components relevant to you and not simply following somebody else's program.
Done right, this can be a tremendously rewarding experience that gives you the tools you'll need to continue making progress long into the future.