| | |
| --- | --- |
| Yield: | 8 servings |
| Difficulty: | Easy |
| Prep Time: | |
Here's another wonderful way to eat avocados...
Ingredients:
4 ripe avocados, pit & skins removed
¼ tsp. Onnit Himalayan salt
1 tomato, chopped
½ red onion, finely diced
2 tbsp. cilantro, finely diced
3 limes, juiced
Seasoning to taste: chili powder, cayenne pepper, garlic powder
2 large orange bell peppers
Blue corn chips*
Fried pork rinds, keto option**
Directions:
In a large mixing bowl, add the avocado meat, tomato, onion, cilantro, lime juice, salt and seasonings. Mix with a fork until desired consistency is achieved. I'm a big fan of chunky guacamole, so I'll keep some nice chunks of avocado in there, which happen to make this faux pumpkin barf look that much more real!
Take one large bell pepper, and carefully slice off the top and remove the seeds and membranes from center. Carve out the eyes and mouth with a small paring knife or a small carving knife. Make a greater than sign ">" for the left and a less than sign "<" for the right eye. For the mouth, cut a large "U" shape at the bottom of the bell pepper.
Using a spoon, add the guacamole to the inside of the carved bell pepper and add what's remaining to appear like it's pouring out of the mouth on the serving platter. Serve with sliced bell peppers, blue corn chips, and pork rinds (if a crunchy keto option is desired). Serve immediately.
Notes:
*We bought Jackson's Honest Blue Corn Tortilla Chips slow-cooked with coconut oil from Whole Foods Market. **We bought 4505 Chicharrones Jalapeno Cheddar fried pork rinds.
| | |
| --- | --- |
| Yield: | 12 |
| Difficulty: | Easy |
| Prep Time: | |
Because adults should be able to enjoy Halloween too.
Ingredients:
3 bottles dark red blend wine*
¾ cup brandy
½ cup organic orange juice
3 blood oranges, sliced
2 blood oranges, juiced
3 cups frozen blackberries
2 cups black grapes
Spider charcoal ice cubes, optional
Dry ice, optional
Directions:
Add the wine, brandy, orange juice, and fruit to a large pitcher. Mix together with a spoon and keep in fridge for 4 hours or overnight to let the flavor to develop.
When ready to serve, add to individual glasses or large caldron. Add dry ice to the caldron for the "smoky" witches' brew effect. Wear gloves handling or do not touch the dry ice directly. It will burn your hands! Also, dry ice only keeps in standard temperature freezers for less than a day (I learned this the hard way). So buy it the day of serving. If adding dry ice to the individual glasses, note that you can consume only once the dry ice has melted. If it touches your mouth, it will burn your precious lips and that's not a cute look. To break into smaller ice "cubes" I added it to a plastic bag, sealed it, and slammed it against the floor. Probably not the most professional means, but hey, it works. But remember, protect your hands and skin! We recommend not doing this around children.
If using charcoal spider ice cubes, add to individual serving glasses or toss into the caldron. Simply mix one scoop of charcoal with 6 fl. oz. water and add to spider molds. Freeze until set, about 5 hours.
Enjoy responsibly 🙂
Notes:
*We used Menage a Trois Midnight, dark red blend
Ingredients:
4 purple sweet potatoes, washed, peeled & quartered
½ cup potato water*
½ cup beef bone broth**
2 black olives
2 green olives
4 tbsp. goat cheese
¼ beet, boiled & peeled
¼ cup rendered herbed ghee (recipe with steak below)
1-2 tsp. Himalayan salt, plus more for boiling
Directions:
Bring a large pot of water to boil, heavily salting the water prior.
Add the purple potatoes and beet to water. Cover and boil for about 25 minutes, or until you can easily pierce it with a fork.
Drain, but make sure to save ½ cup of the water to add back to the mash. Set aside the boiled beet. Add the saved water, bone broth, salt, and herbed ghee to the potatoes. If you prefer a sweet fall flavor, see the notes below. Mash using an electric mixer.
I would recommend kitchen gloves for this portion (I learned the hard way). Finely dice the beet into very tiny pieces for the monster mouth. Roll and mold the goat cheese to form the eyes and teeth. Slice the olives for the eyes. Get creative! This part would be fun for the kids, or adults. I love playing with food, especially when I can eat it afterwards...
Notes:
*Saved and set aside when draining the boiled potatoes. **We used Kettle & Fire beef bone broth. ***For a sweeter, fall-inspired flavor, swap the bone broth and ghee for coconut milk. Add ¼ ghee or butter, 1 tsp. ground cinnamon, ¼ tsp. ground cardamom, ¼ tsp. ground cloves, and Sweet Leaf Stevia Drops, vanilla creme flavor.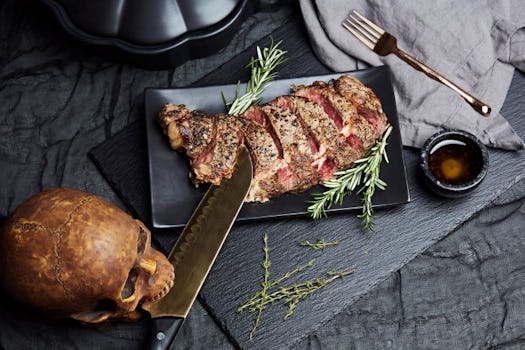 | | |
| --- | --- |
| Yield: | 2 servings |
| Difficulty: | Medium |
| Prep Time: | |
| Cook Time: | |
| Total Time: | |
Is there anything spookier than a bloody steak? Yes, there's a lot of things. The truth is, I really just wanted an excuse to eat a delicious steak. Here is my recipe for the perfect seared steak, medium rare of course, with my new favorite herbed ghee that I cook and dip everything in. So freaking good!
Ingredients:
2 grass-fed, pasture-raised ribeye steaks
2 tbsp. Himalayan salt or Fleur de sol
Black pepper, to taste
1 cup ghee or pastured butter
4 garlic cloves
10 sprigs fresh thyme
3 sprigs fresh rosemary
2 tbsp. avocado oil
Directions:
Rub each steak with a more coarse salt, like kosher, Himalayan or Fleur de sol. Set aside at room temperature or in the fridge if overnight. Ideally, you want to salt your steak at least 40 minutes prior to cooking. I like ribeye the best for flavor and happiness purposes, but you can use whichever cut tickles your fancy.
In a small saucepan on low, add the ghee, fresh herbs on the sprigs, and the garlic cloves--you can keep the skin on because we're just using for infusion. Let the ghee melt and the flavors develop for 15 to 20 minutes.
Preheat cast-iron skillet to high heat. You want it to be smoking hot when you throw on the steaks in order to get the best sear. Cast-iron skillets and fast-searing are both crucial components to a brown crust without overcooking the meat. Make sure you use a high-smoke point oil like avocado oil here. Butter and olive oil have to low of a smoke point and will brown and turn rancid, which is not good for flavor and can produce toxins.
Add the steak to the oiled very hot pan. The cooking times will vary based on the thickness of the steak, but I recommend about three minutes per side for 2-inch thick steak. Remove from heat and baste with the herbed ghee or butter, adding the herbs and garlic on top of the steak as you baste to add more flavor. To baste, tilt your pan to the side, which is basically an arm workout considering the weight of a cast-iron skillet, and continue to spoon the ghee on top of the steak to get a more golden crisp. Repeat on the other side. For this Halloween recipe, I like a bloody medium-rare steak, which is about 130-degrees Fahrenheit so make sure you double check with a meat thermometer.
Remove the steaks from the pan, and let cool on a cutting board for at least 15 minutes prior to slicing and serving. Serve with additional herbed ghee if you so choose. I like to make extra herbed ghee and save it for cooking other dishes, like adding it to the "Purple Monster Mash" or for scrambling my eggs in the morning. The options are endless!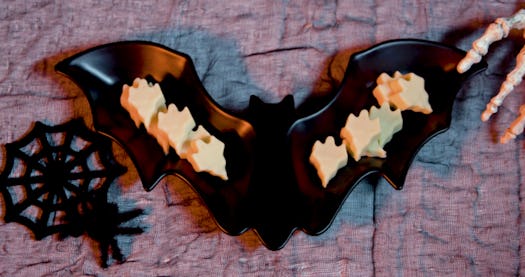 | | |
| --- | --- |
| Yield: | 6 bites |
| Difficulty: | Easy |
| Prep Time: | |
| Total Time: | |
If you're looking for a slightly sweet and rich dessert without any sugar, this is the perfect recipe for you. All you need is four ingredients and almost no cooking skills. Does it get any better than that? Nope. You can easily create an orange creamsicle version by adding one tablespoon of our tangerine dream Joint Oil to the mixture prior to pouring into the molds. This will turn your ghost bites orange, but hey, it's a Halloween color, so it works!
Ingredients:
½ cup raw cacao butter
⅓ cup raw coconut butter
1 tbsp. Onnit Almond Milk Latte Emulsified MCT Oil
30 drops SweetLeaf Stevia Drops, vanilla creme flavor
Ghost silicone molds
Directions:
In a small saucepan on medium-low heat, add the raw cacao butter (chips or bar) and coconut butter. Stir until melted and remove from heat.
Stir in the Almond Milk Latte EMCT Oil and the vanilla creme (or flavor of choice) Stevia drops.
Pour into molds and freeze for 15 minutes, or until hardened.
Store in airtight container in the fridge for up to one week.
| | |
| --- | --- |
| Yield: | approx. 18 gummies |
| Difficulty: | Easy |
| Prep Time: | |
| Total Time: | |
These hydrating gummies are fun for the whole family. Too much wine pushed mom and dad over the edge? Looking for a sugar-free treat the kids will enjoy? This recipe will check all your boxes this Halloween. For a more tart flavor variety, squeeze in your favorite citrus juice. You can also switch up the flavor profile by using your favorite organic juice or coconut milk in place of the water.
Ingredients:
1 cup water
3 scoops Onnit Mineral Electrolytes, lime flavor
¼ tsp. of each color, vegetable-based colorants*
4 tbsp. grass-fed beef gelatin**
Bug silicone molds
Directions:
In a mixing bowl, add ⅓ cup of cold water and stir in 3 scoops of Onnit Mineral Electrolytes. It will foam at first, but it will settle after a minute or so. Mixing the electrolytes with cold water prior to adding hot water is key, so don't skip this step.
Bring the remaining water (⅔ cup) to a simmer, not a boil. Remove from heat and slowly stir it in the electrolyte mixture, adding the gelatin in between pours.
Divide the gelatin-electrolyte mixture into three mixing bowls. Add ¼ tsp. of each vegetable-based colorant to each bowl and stir. We used red, yellow and blue.
Pour the dyed mixtures into molds and refrigerate for 3 hours.
Once firm, remove from molds and store in airtight container for up to 5 days.
Notes:
*We used India Tree Natural Decorating Colorants purchased at our local Whole Foods Market. You can also make your own natural food dye at home using turmeric, beet, and spirulina. **We used Vital Proteins' Pasture-raised, Grass-fed, non-GMO Beef Gelatin.