Optimal Kettlebell Weight for Beginners
Ready to get started with kettlebell training, but don't know where to begin? No problem. This article will provide you with all the information you need to pick the correct kettlebell weight and perform exercises with proper form.
And to make things easier for you, we have included a simple 15-minute kettlebell workout video to get you in the best shape of your life.
The Problem with Choosing a Starting Kettlebell Weight
There are a few  problems with picking a kettlebell weight depending on your training experience. If you have never trained with weights before, you may think the beginner weights I suggest are too heavy.
Conversely, if you have been weight training for years, you may think the weights I suggest are too light. I need you to throw away your current perception of weight training, and look at the kettlebell as something new and different. For that reason, you cannot have an opinion of the weight you think you need. Period.
You must do what every trainer in the world hopes you will do: be open, listen, and learn. While you may not think you need to, having at least one session with a trained kettlebell professional will make an enormous difference in your results.
Kettlebell training is very different from standard isolation training. You'll be using multiple muscle groups at the same time through ballistic, full-body movements. You've likely never trained like this before.
A kettlebell professional can show you the basics; like, the Clean, Swing, Goblet Squat, Windmill, and Turkish Get Up. We have kettlebell videos that can show you the proper form, but a trainer will be able to specifically show you what you can improve upon as well as how to avoid injury.
First, seek the instruction of a trainer, then use the videos as reference later.
When performed properly, kettlebell movements will improve your body control, shorten your workout time, and give you functional results (and physique). This will be unlike anything you've achieved in the past. Even better, you'll never get bored!
The core movements in kettlebell training have exploded into hundreds of new exercises and techniques. Once you get going, you won't ever have to stop. Assuming you've been to at least one session with a kettlebell professional and are ready to get started, here is what I recommend based on gender.
The Correct Starting Kettlebell Weight for Women

With very little exception, I always recommend that women start with an 8-kg (18 lb.) kettlebell. The key with this weight is that it is not too heavy and not too light. A new female kettlebell trainee might pick up the weight, and automatically try to perform a 1-arm upright row (without one thought of lifting technique, mind you), and immediately exclaim, "I can't lift that!"
Again, the difference with kettlebell training is the way you'll be lifting the weight. Unlike isolation lifts–the dumbbell curl is the best example of an isolation lift–kettlebell training uses multiple muscle groups at once.
When done properly, kettlebell movements will improve your body control, shorten your workout time, and give you functional results (and physique) unlike anything you've been able to achieve in the past.
You won't just be lifting with one arm or one leg, you'll be using your upper body, lower body, and especially your core for the majority of the lifts. For that reason, an 8-kg kettlebell is not really that heavy.
A big mistake is selecting a weight that is too light (again, assuming that you have trained with a kettlebell professional). When you are lifting too light with ballistic movements, you can muscle through a lift rather than using proper form.
You'll be throwing around a 4-kg (9 lb.) kettlebell like nothing. If you do this, you will never perfect your form, you will never progress to heavier weights, and you will not achieve the real benefits that kettlebells have to offer. Don't go too light!
The Correct Starting Kettlebell Weight for Men

Again, with very little exception, I always recommend a 16-kg (35lb) kettlebell for men. Unlike women, most men will look at the 16-kg kettlebell starting weight and say, "That's way too light! I bench 'X' weight all day long!" The problem is not that you can't "lift" more weight, the problem is that if you can't lift more kettlebell weight.
No, 35 pounds might not be much for your barbell curl, squat, or deadlift, but we're not doing those lifts, are we? Even if we do, they are going to be done in a much different fashion than you're used to.
Most likely, a kettlebell will be hitting muscles you've never even felt before. Areas of your core (back, abdominals, and upper legs) will be on fire during your first session. Kettlebell training is usually combined with high intensity interval sets – short stretches of intense work with little rest in between.
To maintain proper form, you need a weight that is in proportion to your skill level,which may be low initially.
If you think that a 16-kg kettlebell is too light, think again. Men who have never used a kettlebell are especially susceptible to muscling through a movement, rather than performing it with proper form.
The 16-kg kettlebell weight is just enough to force you to use proper technique (assuming you have been taught proper technique by a professional).
What Is a Pood?
What pood is your kettlebell? Most people seem a bit lost and think of something much worse when they hear this term. When this phrase is associated with kettlebells, there's even more confusion.
But, a pood is simply the Russian measurement of weight, and in Russia, kettlebells are measured in poods. A pood is equal to roughly 16 kilograms or 36 pounds.
You will hear this term used more in Crossfit boxes and by most traditional kettlebell instructors.
Choosing The Right Kettlebell
Various styles of kettlebells are marketed these days. Onnit Labs manufactures multiple types of kettlebells to suit the needs of everyone from beginners to professional kettlebell sport athletes.
Onnit Kettlebells are made with a high-quality, chip-resistant coating that's strong enough to endure your most punishing workouts.
Here are some considerations when shopping for a quality kettlebell:
1) A chip-resistant coating, smooth enough for stamina-building work sets without irritating your hands, yet with just enough texture to take gym chalk. Quality kettlebells come with smooth, curved handles that can be gripped anywhere on the handle, not just the top part.
2) Clearance from the handles to the bells allow for optimal bone stacking in snatch and press lifts, and the obtuse shape of the handle is perfect for work gripping the horns (the sides of the kettlebell handle). The handle must be smooth so that it does not rip your hands up.
3) High-contrast lettering which lets you know the kettlebell you are using. Always make sure there's a guarantee – to ensure your kettlebells do not rust, and you are ensured for a lifetime of use.
Some other aspects of kettlebell design to consider are: grip diameter, grip width, ball diameter, and the distance from the top of the ball to the bottom of the handle. But as a beginner, the most important things for you to look for are those mentioned above.
15-Minute Full-Body Strength Kettlebell Workout
Who said kettlebells are only for conditioning? Don't let this common misconception fool you. Kettlebells are more than capable of building strength and cultivating mass. In fact, due to the unique design of the grip, kettlebells are able to increase grip strength unlike any other implement!
Using the 15-Minute Full-Body Strength Kettlebell Workout, you can build strength and increase conditioning simultaneously, – all while packing on slabs of muscle! This workout will make you so beefy, Hollywood would be crazy not to cast you in the next Marvel movie!
Workout Instructions
Perform all exercises in each group before moving onto next group. Rest 1 to 2 minutes between rounds and sets. Be sure to decrease weight to avoid form degradation (if necessary).
A1: Kettlebell Anyhow Squat – 5 rounds x 5 reps (each side)
B1: Kettlebell Double Side Swing – 5 rounds x 10 reps
C1: Kettlebell Double TGU – 5 rounds x 3 reps
D1: Kettlebell Squat Curl Sots Press – 5 rounds x 5 reps (each side)
E1: Kettlebell Gladiator Get Up – 5 rounds x 3 reps (each side)
Take Your Kettlebell Training to a New Level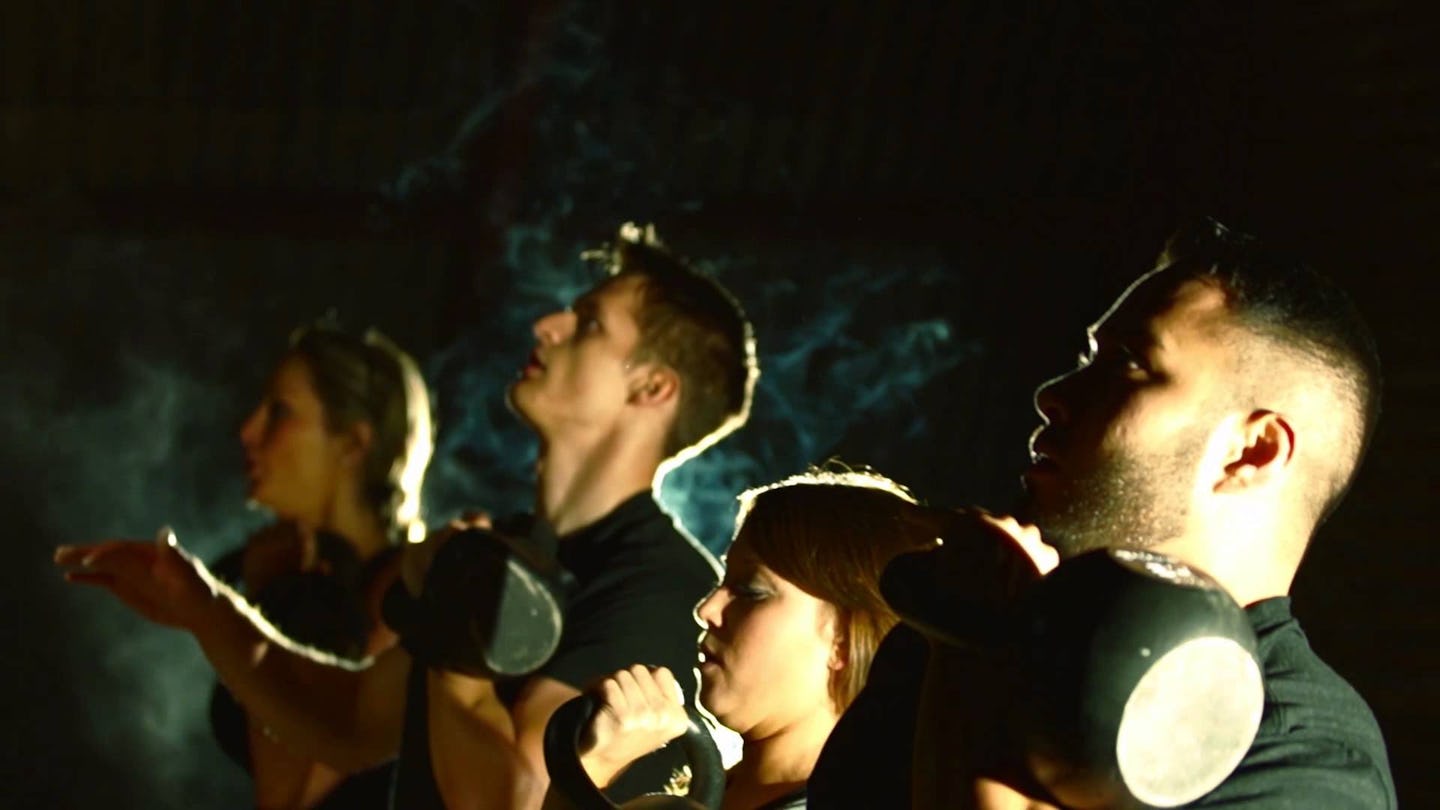 Few tools are as versatile and portable as the kettlebell. Whether you're a trainer or fitness enthusiast the kettlebell should have a place in your training for the results it can deliver in less time.
Whether you decide to use your kettlebell to supplement your training or as a stand-alone tool you will gather the exact system on how to do so.
The Kettlebell Specialist Course was created to give the user a simple, powerful approach to learning and teaching proper kettlebell use.
The benefits of the kettlebell are immense and with this single tool one can create incredible strength, power output, and stamina if used to its potential.
At the Onnit Academy we believe the kettlebell can create powerful athletes regardless of your chosen sport and with this system you will have everything they need to do just that.