If you're looking to drop a few pounds, or make this year the one where you get leaner than you've ever been, see our Fat-Loss Nutrition Plan. But if you want to put on muscle size, stay right here. I'm going to give you some simple rules for eating that will help you gain lean muscle weight—not bloat or fat. These apply whether you want a nutrition regimen that accompanies an Onnit 6 or Onnit in 30 program you're following, or any other strength training you may do. Better yet, they don't require you to count calories or give up the foods you love. Gaining muscle is as easy as making a few adjustments to your daily routine.
First, have a look at the article linked above, as well as its two followups (Part 2, Part 3). They explain my basic nutrition philosophy and lay out a framework for how you should eat to be healthy and perform well. (Trust me, it's not complicated.) To gain muscle, all we have to do is add a little more food to the equation and amend a couple of the rules, so that instead of dropping weight, you're putting it on—but only the right kind.
Here are the rules of eating for muscle gain. Try any of them that you like, but NOT all of them—at least not all at once. Trust me, they may seem simple but they're powerful, and they can add a lot of calories to your day without you hardly noticing (that's the point!). If you go overboard, you'll gain fat. So experiment with one or two at a time and monitor your weight. If you're gaining a pound a week, keep doing what you're doing. If your weight doesn't change after two weeks, add one or two more rules to your day until it does. If you start gaining more than a pound per week, you're gaining too fast and it's going to be more fat than muscle, so back off. Take it slow when you want to grow.
#1. Eat Protein Throughout The Day
Your body will absorb protein and put it to better use for muscle growth if you consume it in regular and roughly equivalent doses.
A 2018 review in the Journal of the International Society of Sports Nutrition concluded that subjects looking to add muscle should take in 0.4–0.55 grams of protein per kilogram of their bodyweight in each meal they have, aiming for at least four meals, or until they've hit a protein intake of 1.6–2.2 grams per kilogram of bodyweight for the day.
So let's do a little math. To convert your weight from pounds to kilograms, divide by 2.2. Let's say you weigh 150 pounds—that's 68 kilos. The minimum amount of protein you should eat in a day (1.6 x 68) is 108 grams, and the maximum (2.2 x 68) is 150 grams. I usually recommend that people eat about 1 gram per pound of their bodyweight, just to keep things simple. In this example, it would be 150 grams protein, which is on the upper end of the spectrum, but not excessive. (For the record, it's hard to eat "too much" protein. But if you do overshoot your quota a little bit, you'll be fine. It's just that extra protein won't build any additional muscle.)
Now we need to determine how much protein you should have per meal. Generally, the hand-sized portioning guideline I gave you in the fat-loss plan will cover this amount, but let's do some more math so you can see why.
Multiply your 68 kilo bodyweight by 0.4 grams, the minimum amount of protein you need per meal, and you see that you need to be eating at least 27 grams of protein at each feeding (feel free to round up to 30). Twenty-seven grams of protein is roughly the equivalent of a palm-sized portion of chicken breast, lean steak, and most fish. So, at that rate, you'll need four meals over the course of the day to reach the minimum target of 108 grams protein, and five meals to get to the maximum of 150. (A meal-replacement shake with protein powder can substitute for one of these meals.)
OK, want the TLDR version? Eat a palm-sized amount of protein or bigger at every meal, totaling four meals and maybe one protein shake by the end of the day. That should give you the right amount of protein overall and per meal to build muscle.
This means that if you're a person who likes to fast in the morning, you may want to reconsider this strategy when you're in muscle-gain mode. Fasting forces you to consume most of your food (and protein) in a smaller window of time, and that doesn't keep the anabolic (muscle-building) signal turned on as well as eating frequently does. Likewise, if you're a busy person who forgets to eat and ends up having a huge feast for dinner. The science is clear that it's better to have a nosh here and there than it is to inhale a 64-ounce porterhouse at the end of the day.
#2. Drink Milk (But Not Just Any Kind…)
Obviously, if you're lactose intolerant, don't do dairy, or just don't like milk, skip this rule and move on, but it's a simple hack that can really come in handy. I know I told you to cut out calorie-containing beverages in the fat-loss guides, but when you're bulking up, drinking SOME of your calories is a convenient way to get them in. If you haven't discovered this already, eating to gain weight isn't always as much fun as it sounds, since pounding extra food can get uncomfortable. Sometimes it's a relief to drink a glass of milk rather than shovel down another serving of chicken and rice, when you know that it will still give you the calories you need.
I'll tell you a secret to help you get more nutrition out of your milk: drink one that's higher in protein. Most milk brands offer about eight grams of protein per cup, but Fairlife's is filtered in such a way so as to pack more protein per serving—13 grams, in fact. To control calories, opt for the reduced-fat, 2% variety, or skim. Yes, we want more calories in order to gain weight, but too many leads to gaining fat. (If you want to calculate exactly how many you need, see How To Set Up Your Diet for Fat Loss or Muscle Gain.)
In case you're wondering, Fairlife's moo juice is also free of GMOs and growth hormones.
#3. Eat Yogurt
Skyr is a mild-flavored Icelandic yogurt that's naturally low in fat and sugar and high in protein. I like Icelandic Provisions' brand, which packs 17 grams of the stuff per serving.
If you're having trouble reaching your protein requirement, eat skyr as a snack between meals. (You can add a little fruit to flavor it.) Also, I have no hard science to back me on this, but I suspect that skyr might make you superhuman if you lift weights along with consuming it. Look up how many times Icelanders have won the World's Strongest Man contest and you'll see what I mean!
#4. Drink Casein Protein
Whey protein is arguably the king of muscle supplements (if you're not sure why, see our guide here), but casein can be beneficial too. Casein is whey's counterpart, a slower-digesting milk protein that can feed your muscles for a long period of time. Because of its slow absorption rate, I like it as part of a smoothie that you drink shortly before bed. Research has shown that pre-bedtime consumption of protein, including casein specifically, supports protein synthesis overnight—particularly if you work out in the evening.
#5. Go Nuts
A one-ounce portion of raw, unsalted, mixed nuts (enough to fit in your palm) has about 160 calories. Adding this amount to each of your meals, or eating it as a snack between meals, really adds up, contributing to the surplus you need to build muscle while also providing important vitamins, minerals, and fiber.
It's healthier (and cheaper) than weight-gainer shakes that are loaded with calories and sugar.
#6. Have A Nut Butter and Banana Sandwich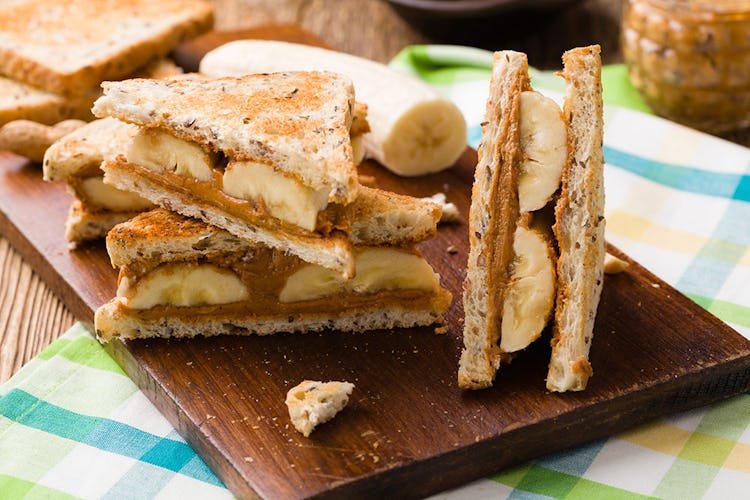 If you need an extra meal to hit your protein number, or find that you're still not gaining weight after implementing all of the above, finish your day with a peanut butter and banana sandwich (any nut butter you like is OK too). Wash it down with a glass of milk.
Eating it may make you feel like a kid, but at 500-plus calories, you won't look like one after a few weeks.
While I recommend whole food as the basis for your weight-gain strategy, supplementing with creatine monohydrate can be useful as well. See our guide to creatine (along with more info on whey) here. 
And if you want to get more scientific with your diet, managing your intake down to the last calorie and gram, I'll show you how to do that in this piece—How To Set Up Your Diet for Fat Loss or Muscle Gain.