Proving that Onnit is becoming a force throughout the globe, this week's Onnit Story comes to you from Europe. Magnus Palmer, an Onnit Tribe member for more than a year, has the distinction of being the first overseas subject in our ongoing series of interviews with inspirational guests. Speaking to Onnit's Director of Community Engagement, Shane Heins, Palmer told his story from his native Sweden, including advice on how to find motivation in trying times, and clarifying once and for all whether you really have to be able to assemble an IKEA chair in order to work for the company (Palmer formerly served as a data engineer for the notoriously complex furniture brand!).
See the video of Shane and Magnus' interview below, along with an edited transcript of the highlights, time-stamped so you can find those moments in the video. You can stay up to date with Onnit Stories by following Onnit's Instagram TV (IGTV), where a new one appears every other week.
Magnus Palmer Show Notes
3:00 – How Magnus Met Onnit
Magnus Palmer: I saw that a friend of mine liked one of Jocko Willink's posts on social media. When I looked at the post, it showed this weird-looking metal equipment. I said, "What is that?" When I learned it was a steel mace, I felt I had to have it. I ordered one on January 1, 2021, and then I looked on the internet for resources on how to use it. I found a video of [Onnit co-founder] Aubrey Marcus using a mace, and I started following what he did.
I used the mace every day. Unfortunately, the mace I bought was a 15-pounder, which was too heavy, and I hurt my lower back. I wised up, took a step back, ordered a lighter mace, and somehow stumbled onto the Onnit 6 Steel Mace program in February of last year.
When I started following Onnit 6, I understood why my back was hurting. Coach John Wolf tells you in the videos not to arch your back—you want it neutral—and I had been arching like crazy because the 15-pound mace was too heavy, and I didn't have the foundational knowledge to use it properly.
5:15 – When Lighter Is Better
Shane Heins: A lot of people look at the unconventional Onnit tools and think 10 or 15 pounds is too light, because they compare those weights to what they use on more conventional equipment and exercises. We used to sell a lot more of the 15, 20, and 25-pound maces, but when we started teaching certifications for the steel mace and creating more education for it, people realized they could get more out of lighter weights to start with. Then we saw this huge shift. Suddenly, we were selling out of the 10-pound maces [laughs].
7:55 – Finding His Tribe
Magnus: After a few weeks of Onnit 6 Steel Mace, I bought the Onnit in 30 Move & Groove program. Then I got a suggestion on Facebook to join the Onnit Tribe, and I thought that, maybe if I joined, it would give me a tip or two about using the mace. So I joined the Tribe, thinking I would just ask a question about mace training and get some advice.
Within the first few days I was in the Tribe, I was blown away by the leadership, the diversity, and everyone coming together and having the backs of others. It was so different from other communities I've tried. I now consider the Tribe part of my extended family. Even though it's all online, you get to know people, and these people have their ups and downs. They come from different backgrounds, different parts of the world. These are people you would never get the chance to hang out with otherwise, but you can connect with them in the Tribe because you have something in common.
At the time that I joined, the world was such a turbulent place, but that was never the focus in the Tribe. The focus was on the people in the Tribe. No matter what's going on outside, you still have people you can connect with and be inspired by.
10:55 – Finding Balance In His Workouts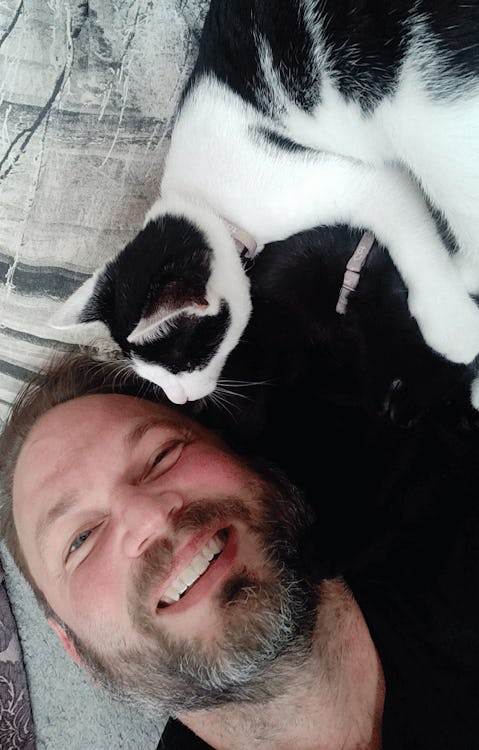 Magnus: One thing I've learned in this journey is that recovery is important. I used to go hard and then harder, and that got me  injured or sick. When I was better, I'd repeat the cycle all over again. But recovery is built into every Onnit program. They have yoga and active recovery sessions, which provides a nice balance to the resistance work. Onnit taught me to use a foam roller, which was pretty torturous at first, but I love it now. 
The Tribe offers these mini-challenges that keep you on task. They're great for people like me who skip yoga, or complain about it [laughs]. One of them was to do yoga for 14 days. They weren't all long sessions; it was just a challenge to get you in the habit of doing some, and I did. At the end of the Challenge, I thought I failed, because I only did 11 out of the 14 days. But you, Shane, said it wasn't a failure. "It's a success," you said, "because that's 11 days more than nothing." And you were right, because it really opened up my mind to yoga. I tried all different types and found one I really enjoy.
The Tribe pushes you beyond your comfort zone, and it's helped me rediscover a lot of healthy habits that I forgot along the way. If you're trying to do it all alone, it's easy to let those habits fade away.
17:50 – Unity in Diversity
Shane: You mentioned diversity earlier, and one of the pillar principles in our fitness education is Unity In Diversity. We believe that unity, taken to an extreme, can become conformity—a box where everyone lives and has to do everything the same. And diversity, taken to an extreme, can become chaos, because there's nothing connecting the dots to create structure. So the idea of Unity in Diversity is about how we find the common through-lines in our diversity to connect us all together so that we can move forward together. 
It's beautiful to hear that in what you're talking about—that yes, we're all different people, but we can recognize that we're all going through something similar. We can draw strength from that.
20:40 – Magnus' Background
Magnus: I live in Sweden with my future wife, and I have four daughters. I'll be 48 soon. We have two cats, one dog, and two rabbits living outside. My previous job was actually at IKEA as a senior data engineer. If you go to IKEA's website, you'll see things my team and I did. I was at a big data conference in San Francisco in 2019, and I met a lot of people. They joked with me, asking if I had to assemble an IKEA chair for my job interview. It was funny the first few times I heard that, but I don't know how many times I had to hear that joke [laughs]. I'm a computer geek developer at a small Swedish/American company now. 
I used to do a lot of martial arts when I was younger, and when I saw The Ultimate Fighter TV show in 2008, I said, "I'm only 34, maybe I could have a go at this because I'm not that old." I started training again, but it takes time to get your body used to that kind of training. But I didn't know that then, and I got injured. After four and a half years, I looked back on what I was doing and realized that two-thirds of that time was spent with injury and rehab. It didn't seem worth it, so I quit.
Now, fast forward a few years, and all the sitting I was doing in front of a computer was causing neck problems. The Onnit in 30 Morning Mobility has been a lifesaver for me in that regard.
My daughter wanted to train martial arts, and that got me into judo. Now that I'm doing the Onnit workouts, I noticed that I have fewer headaches than when I trained before, because I'm not as stiff from sitting in front of the computer. 
Onnit has helped my mindset so much too. Now, if I do get injured, instead of thinking about how I can't do what I want, and not doing anything as a result, I ask myself what I can do instead. That's proof of a new mindset. The last time I got injured, I managed to do 76 days of stretching in a row.
I also did a lot of planks. I was in plank purgatory! Level 1 planks in the Onnit 6 Steel Mace program are brutal. Every Onnit 6 exercise can be progressed and regressed depending on your ability, and many people want to jump to Level 3 as fast as they can, but sometimes Level 1 is even harder. And if something does feel easy, Coach Wolf shows you how to make it feel hard, and that's a good skill for life in general.  
There are lots of Onnit principles you can apply to your life. My plan right now is to be doing great when I turn 50. Onnit is one of the resources I use to push me. I just have to be sure not to stop the good things I'm doing and fall back on old habits, which is what I've done over the years. When you're in a good place, it's easy to let your good habits fade away and forget their benefits.
34:20 – Good Is The Enemy of Great
Shane: I love the saying that good is the enemy of great. Aiming for good enough can be an obstacle to pushing yourself to the next level. The trick is to know when to push yourself and when to take your foot off the pedal a little bit. That's why our fitness system really is a longevity and performance-focused system. It's not just longevity for longevity's sake. It's about achieving longevity so you can continue to do the things that you love to do at a higher level for as long as you live. That's how to make age 50 better than 48.
Magnus: A few weeks ago, there was a really emotional moment in the Onnit Tribe Live at Five [a Q&A with the Onnit 6 coaches at 5p.m. CST in the Tribe's Facebook group]. You said we owe it to ourselves to be the best version of ourselves when tragedy happens. That really hit me profoundly. Sometimes life seems meaningless, so I remember what you said. I will try to be the best version of myself, and the good thing is, doing so is a lifetime quest.
Shane: I appreciate you saying that. ​​I think when you're feeling paralyzed and asking, "What's the point? Why try?," you have to remember that there are folks who do not or will not have the opportunity to change things in their lives. So, in a way, you owe it to them, to yourself, and to the world to do what you can. Outside of whatever else we can't control or dictate, we can start with ourselves and shift the energy. "Why am I doing this? Because I can, and if I can, then I will. And I will in honor of those who can't."
45:00 – Leading By Example 
Magnus: It's pointless to tell someone, "You should join the Tribe. You should do mobility. You should do yoga." That doesn't work. They need to see you and me and say, "I want to have what you have." Leading by example is the only way to persuade people—because you don't "persuade" them. You win them over by being you. I want people to look at me and say, "He's old and he's big. He shouldn't be that flexible." Then they might get inspired to train mobility.
49:40 – The Biggest Improvement in Magnus' Life, Thanks to the Onnit 6 Programs
Accountability. I actually joined an accountability team in the Tribe for the Onnit in 30 workouts, and being part of that has made me do my decompression sessions late at night, and my Morning Mobility early in the day. These are times when I would normally say, "I don't have time to do it," but I realize now that I have time because I want to honor the others in that small group who keep me accountable. That's a tip for you all out there. If you ever join the Tribe, take the opportunity to connect with others. Sometimes you will inspire them, and sometimes they will inspire you.