Training for Kettlebell Sport is not like any other training I have ever done. Growing up I would go to the gym for a workout whether I felt good or bad and more times than not I would leave feeling pretty good; I would get my pump (hey, it was the 90's!). Things are different now though, and when I train I have to hit my numbers.
When you train for Kettlebell Sport there is an ebb and flow to the programming. Each session feeds off of each other and when I am really training well my progress is clear and I can allow myself to be happy. When I have a bad set, maybe because I was on a plane (or in an airport) for 30 hours and then a train for 30 hours more, my head will twist into knots and every doubt I have ever had about my lifting comes rushing to the front.
"I'm not getting any better"
"I'll never be any good at this"
"I'm too old"
"I'm too fat"
"I'm too weak"
The time you spend under the bells is time dedicated to managing these thoughts. The longer you do this, the louder they get and the better you get at managing them. This is my favorite thing about this sport. At some point you are going to have to go down into the basement and clean it up.
So, the reason I bring this up is because it is the worst thing about traveling and training or traveling to compete. As soon as you get off that plane, or train, or out of that car, you have every reason to think you won't hit your numbers.
The reasonable thing to do is rest. Maybe go out to dinner and adapt to you new environment. Even though your program says to train today it would probably be best to put it off until tomorrow when you are stronger, right?
I have done extensive testing on this and I can honestly say that right after some grueling travel I have had both the worst training sessions of my life and the best.
What? No way dude? That sounds like BS! It's true. I have learned that if I am rolling with Dolby and Nazo for days and days and I am tired and cranky and basically unmanageable in every way, and I am unhappy and don't want to train, I start to make excuses. The main excuse is that I won't hit my numbers because I am so tired, and nobody wants to miss their numbers.
However, if I am meeting the group, especially for the first time, I start to get excited. Even though nothing has changed about me physically, I get pumped up and I want to train. I have set many personal bests in moments like that.
Why? I surrendered to the training. Training is what we do. When we get to- gether we can feed off of each other and produce excellent results.
Travel Training Key #1: Set Yourself Up to Succeed
Jason and I flew to Eastern Siberia in February 2011 to train with our coach at the time. We were very nervous and we really wanted to get the last run on our program in before we left Jason's house for the airport.
We had about two days of straight travel ahead of us (because Chu-Hu's like us go the long way!), but we still had to get that run in (so 1am we would be on the road running and at 3am on our way to the airport). It's hard to sleep in a middle seat in coach when you are 6'6" and 300+ lbs, so lets just say I would have traded that run for sleep 1,000 over. Lesson learned
Travel Training Key #2: Don't Be Dumb, Budget Your Rest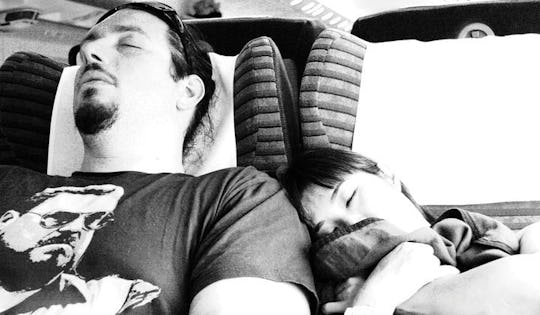 8 hours of sleep before you leave will pay off more than a last minute late night workout that leaves you hungover for a long trip. Away games make you prove it. It's fun to compete at home where you can sleep in your own bed and drive to the meet, but if you are really looking to test yourself you need to hit the road.
You will learn a whole lot about competing the first time you can only get squid eggs for breakfast, or when there is some crazy techno mobster/ hooker party in the room next to yours when you are way too nervous to sleep anyway. If you forget your shorts at home you know where to get them. If you forget them on the road… ne povezlo tebe.
Nerves? Lack of sleep? Bed's too small? Toilet is the size of a hat and wedged in the corner? These things got ya down? Are you looking at your plate and thinking "Thank you so much, I am so honored to be here and you guys are great but I really, really don't think I can eat that"?
Travel Training Key #3: Bring Some Familiars
Jason will eat anything…ANYTHING…but I always bring along something I know I can eat. For me, it's meal replacement bars. I know, I know, not ideal nutrition but when my choice is a Big 100 or a bowl of fermented fish guts, I go Big 100. Thank you very much.
Travel Training Keys in Action: When Are We?
Oh, it's tomorrow, or yesterday…when the hell are we? Jason and I were scheduled to compete 3 weekends in a row, across the dateline, in three different time zones and climates: Japan, Hawaii, and Texas. We were with Nazo in Japan and were running the Japan Championship; lot's of bells and mats, banners, flags, trophies, medals, etc. We had to set it all up, run the meet, compete, and break it down (with the help of our awesome friends) in 24 hours.
We had just gotten off of the plane and we were at it. That was some hard ass work, but when it was time to get up there and compete we did. We are lifters. Before we are coaches or promoters or businesspeople we are lifters. Speaking for myself, I want to lift. I want to be a part of this whole thing.
I can't just watch other people lift and not have fun too, so I did. Ran out of gas on the snatches but did pretty well on the jerks. I was disappointed, but that is the normal condition of a GS lifter at my level…hit a personal best, still really disappointed.
We taught and worked conventions all week, then set off to Hawaii. The only ticket we could find/afford that worked with our schedule went Tokyo/Los Angeles/Hawaii. Seriously. The plan was to leave Japan at 4pm Friday, arrive in Hawaii 2pm that same Friday and compete at 5pm after the 20 something hour flight.
We were pretty pumped up! This was something we hadn't done before and we were curious about what it would do to us physically. We were so ready.
Our flight was delayed 30 minutes. We landed at LAX and rushed through the airport like animals and they closed the gate on us. We could see the plane. It hadn't left yet but they wouldn't let us on. We missed it. We let our friends down. It was horrible.
We got into Hawaii after a 7 hour layover and taught that weekend. Jason and I did our sets as planned during our breaks but it just wasn't the same. We wanted to compete so badly. What would that have felt like? Tuesday we were off to The North Texas Open at Full Throttle.
We got there a few days early and got to have a few training sessions before the competition. We got to sleep in nice beds and eat good food. The meet went really well and I hit a few competition personal bests. We had been on the road for over three weeks and we were lifting better than ever. I can tell you how we did it.
Surrender to Your Training
I do my best to hit the numbers on my program because I know how they work together. But sometimes, for whatever reason, I can't hit the number. That is all it is, "some reason." No blame, no explanation; it just happened. Accept it and move on. Practice this every time you lift.
Find the best in every set. Maybe you went longer than ever. Maybe your technique was better than ever. Maybe you couldn't finish the time but you went fast- er than ever. Maybe it all went to shit on you and you didn't quit. Count how many times you wanted to put the bell down and didn't, make it the most times ever.
In the sport we say that if you don't lift, you don't get it. That's because it is the practice that changes you. It is the ritual of failing and carrying on. It is about managing suffering and enjoying every little success. It is about spending time getting to know yourself under the bells.
If you practice this you will be able to get on the platform and lift because you know that the next 100 reps you do are just an extension of the 100,000 reps you have already done. You have been tired and sore before and had great days. This will be one of those days.
A Sample of Road Dog Travel Training
Here is a week of kettlebell sport training that I did getting ready for a tournament when I was on the road. The programming is only with 24kg bells because it is hard enough to find those and I didn't want to get greedy and try to find heavier weights. This was over a period of 3 weeks spanning 19,000 airmiles.
GOAL: 5 MIN JERK 50 REPS, 10 MIN SNATCH 200 REPS
| | | | | | |
| --- | --- | --- | --- | --- | --- |
|  Workout 1 | Weight | Pace | Time | Rest | Result |
| Jerk | 24kg | Easy Pace | 5 min | As needed | 4 |
| Snatch (left) | 24kg | Easy Pace | 5 min | 5 min | 91 |
| Snatch (right) | 24kg | Easy Pace | 5 min | | 82 |
| | | | | | |
| --- | --- | --- | --- | --- | --- |
|  Workout 2 | Weight | Pace | Time | Rest | Result |
| Jerk | 24kg | 12rpm | 3 min | 3 min | 35 |
| Jerk | 24kg | 12rpm | 3 min | As needed | 36 |
| Snatch | 24kg | Easy Pace | 10 min | | 172 |
| | | | | | |
| --- | --- | --- | --- | --- | --- |
|  Workout 3 | Weight | Pace | Time | Rest | Result |
| Jerk | 24kg | Easy Pace | 5 min | As needed | 4 |
| Snatch (left) | 24kg | Easy Pace | 5 min | 5 min | 91 |
Competition Result:
| | | |
| --- | --- | --- |
| Event | Reps | Time |
| Jerk | 54 | 5:30 |
| Snatch | 203 | 10:00 |
Final Word
Oh, and one more thing; if you ever find yourself feeling jet lagged in Japan, you can' go wrong with Lime Chu-Hi. I have done extensive research on this.