A lot of athletes are inspirational, but how many have really given someone a reason to live? That's just the effect UFC bantamweight champ Cody Garbrandt had on Maddux Maple, a five-year-old boy from the same hard-luck hometown who battled back cancer so he could see Garbrandt make it as a pro fighter.
Watch the Uhrichsville, Ohio, scrapper perform in the Octagon and you can understand why seeing his fights can be the visual equivalent of hearing the Rocky theme song. Fast as The Flash and armed with knockout power, Garbrandt has blitzed every opponent he's faced in the UFC, including the once invincible Dominick Cruz (from whom he lifted the title last December). He returns to action this Saturday in Madison Square Garden at UFC 217 to face former teammate and ex-champ TJ Dillashaw, his rival on season 25 of Fox Sports' The Ultimate Fighter (TUF) reality show.
"No Love" visited Onnit headquarters last spring to discuss his training, nutrition, and how his and Maddux Maple's mutual comebacks changed—and saved—both their lives.
Onnit: What do you remember going through your mind during the fight with Cruz?
Garbrandt: I was really in sync with my body. I could hear my coaches. I got good reads on Dominick—what his movement and strategy was. So I was very confident early on in the fight and I started tagging him up. It was like being on the outside looking in.
You're big on visualizations. Did you see the whole fight in your head before it happened?
Before I even knew what manifestation or visualization was, I was writing down in my planner that I would be state champion in wrestling. There's never been a freshman Ohio state champion from my county. I wrote it out like a script. I could hear the announcer's voice say, "112-pound freshman state champion from Claymont High School, Cody Garbrandt," in front of 20,000 people. The toughest state bracket that year was my weight class and I won four to two in the finals. 
Did I see the fight with Cruz in my head beforehand? Millions of times, man. Since I was a teenager I had focused on fighting Dominick Cruz. He was the champion when I was a sophomore in high school. I never really studied how he fought until 10 weeks before the fight, but mentally I was preparing for him since I was a teenager.
I pictured Dana White strapping the gold belt around my waist. Even in my darkest moments, my light at the end of the tunnel was seeing Dana put the belt on me. Seeing that vision made me think, "Why am I not living the lifestyle to get there?" It took some close calls before I realized the potential that I had. I didn't want to go to the coalmines; I wanted to be a fighter. I saw myself out in California with my team. I sat down with my mom and told her, "I want to do this. I want to be a world champion and I know I can be. Give me until I'm 25. I promise you I'll make it." She said, "OK, I'll support you because I know you're the kind of kid who can do whatever he puts his mind to." I got into the UFC at 23 and became champion at 25.
Still, you had a major setback and almost gave up on sports before you got to the UFC.
Yeah, I lost my sophomore year in the state wrestling finals to a kid I beat the year before. I got pinned. My father's been in prison my whole life, so my father figure was this wrestling coach I had had since I was five years old. He traveled with me everywhere and paid for my tournaments. I remember going back in the tunnel after the match and thinking, "OK, the pressure is off me to be a four-time state champion. Now I can rest up and get ready for next season."
That coach came up to me and said, "I would have loved for you to be my first four-time state champion." I didn't say anything back because I had so much respect for him but it really turned me off to him and the town. You lose and they turn their back on you? Those are fair-weather fans, but I still have the people who love me.
You quit wrestling. After that you boxed and got knocked out in an amateur fight. But you didn't walk away from boxing in the same way. What was the difference there?
I couldn't turn my back on fighting. I tried too many times to walk away and do other things. Meeting Maddux really changed my life, and before that, getting stabbed in a bar fight. I was facing prison time. That series of events really put my life into perspective. "Why am I wasting this life on a loss?" I think that loss made me reflect.
You've forged an unlikely and very inspiring friendship with this boy who had cancer. How did you find out about Maddux?
He's from my hometown. My brother reached out and said, "Do you know about the Maples?" It became known in town that he was sick. My brother said, "You should do a charity event. Sell your T-shirts, tickets, and raise money for him." Maddux was five at the time and I had a sister who was five so I could only imagine…
I went to see him and he had just had his first dose of chemo and he looked bad. Sunken eyes, bald head. But we're both fighters in parallel universes. I got a call from his father one day saying Maddux had seven months left of chemo and he was tired of being sick. He resented his mom because she was the one giving him the pills. She was an emotional wreck because he was saying, "I hate you." But the dad was like a rock. He said, "We've tried everything, and if anyone can change his heart it's you."
I talked to Maddux and said that if you promise me you'll take your medicine I promise I'll make it to the UFC and take you to every one of my fights. He said OK, and that lit a fire under my ass. I went to the gym right away, and I got signed by the UFC three months later. He was at my first fight and was well enough to walk me out to my second fight. He's in remission now, over two years, and he's good. He's healthy. He's playing baseball. Maddux has the belt that I won and the UFC gave me another one. I would have been happy to get a plastic replica but they gave me another real one.
January 22, 2012, is the first day I met him. We had a parade in town for him five years later to the day.
Most pro athletes get approached about visiting sick kids, but you really responded on a whole other level. Why?
He saved my life. I had my problems but when I saw this kid who couldn't even go outside and run around with his friends and play tag, I couldn't take my life for granted anymore. I think everything happens for a reason. He saved my life and I saved his life.
How do you stay hungry now that you have the belt?
Knowing that everyone's after me. Everybody's trying to climb up and take what I worked so hard to get. Not just what I worked for but everyone around me—Maddux, my coach, my training partners. I never go to battle on my own. So I have a street fighter's mentality. To beat me you have to knock me out. You have to finish me. That goes a long way. But it motivates me to know that I'm the top fighter in the world, and the world is a huge place. After Dillashaw, I might go down and fight Mighty Mouse [Demetrious Johnson] at 125, and I'll offer Dominick a rematch again.
You offered Cruz a rematch right away. Why do you think he didn't take it?
Because I whooped his ass. Straight up whooped his ass. He's never been taunted like that. Never been humiliated like that. He's usually the guy who goes out there and verbally and emotionally destroys his opponents before the fight. But he wasn't able to do that to me and I let him know it the whole time. He wasn't going to interfere with my destiny. I really believe that I was put on this earth to be a world champion. I never believed in love at first sight but when I first saw the UFC I fell in love with fighting. It gave me a dream.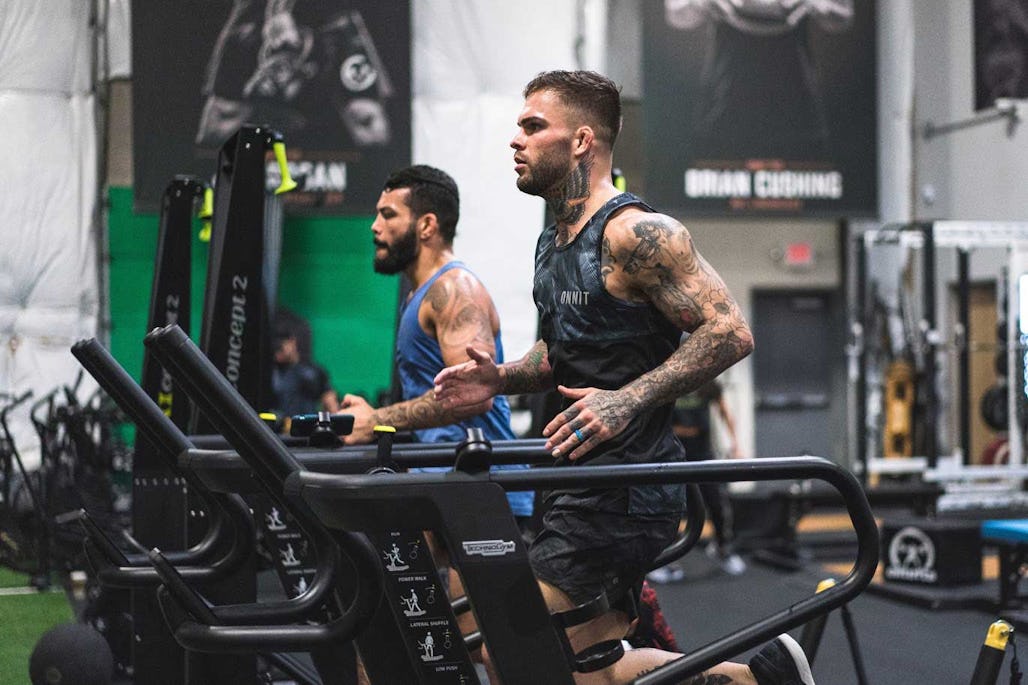 Do you think you got Cruz at his best?
I think so. He was healthy. He had won the title back after his layoff and defended it. He said he was the sharpest he's ever been and the best he's ever felt. I was just the better fighter. I prepared myself mentally that I might miss with the first two punches in there, but then I'll connect with the third and fourth ones and those are going hurt him. That's what happened.
A fighter recently tried to match your style and clowned another fighter in the cage, but he left himself wide open and got knocked out. What is your advice to fighters looking to showboat?
What we are at the end of the day are entertainers. That's what makes you a hot commodity. That guy did too much and it turned out bad for him. He showboated inside the fight range. You have to know the fight range. You have to have ring generalship and know where you're at all the time.
How do you balance being an entertainer and a fighter?
If you're an entertainer, the people are going to want you more. Companies are going to get behind you more. But you have to do your business and go out there and win. You can do your entertaining and get some more fans, but you have to be able to fight. Win or lose, you'll never see me in a boring fight. The fans scream for blood. Really, what they want is death in there. It's the rock 'em, sock 'em robot fights that fans talk about. Some guys worry too much about getting the win when they should be worried about giving the fans action.
What do you do for strength and conditioning?
I do anything that can test and challenge me as an athlete without hindering my performance. I don't swim. I don't run. Running is not going to make you a better fighter. I'd rather spar, hit pads, wrestle, or grapple. You can't run in a fight. With weights, I'll do one or two heavy days a week and two light days. Upper and lower body. I work a lot on keeping my balance, speed, precision, and cutting on a dime, so I can be fast and explosive and have a knockout punch. I do a lot of band work—get into a fight stance and shoot against the resistance. To build my anaerobic threshold, I'll do 90 seconds of pad work with my heart rate up in the high 180s. Take a minute's rest and go again.
What's your nutrition like?
I'm a healthy eater. I eat a lot of fish like salmon. I really don't eat breakfast. On days I spar, I'll take in more carbs because I know I'll be burning them off. I get my body weight in carbs. Sometimes if I'm craving chocolate I'll have S'mores Pop Tarts. I might have a pack of those on a Friday night after a good week but that's really it.
As for supplements, I take Alpha BRAIN®, New MOOD®, Shroom Tech® SPORT, Total Strength and Performance, and Stron BONE®..
For fans who missed TUF 25, can you recap what's going on with you and TJ Dillashaw?
It's about setShroom Tech® SPORTraight about what TJ did. He's coming out now saying he was kicked off the team [Alpha Male, Garbrandt's fight team] but he chose to leave. He got a sponsorship with Muscle Pharm and he was going out to represent Team Elevation in Colorado. He wanted to still come to Alpha and teach classes and we were like, "You can't rep our banner—you're either with us or you're not." But he's trying to act like we kicked him out. Forget all the people who brought you up to be a world champion; you just left us.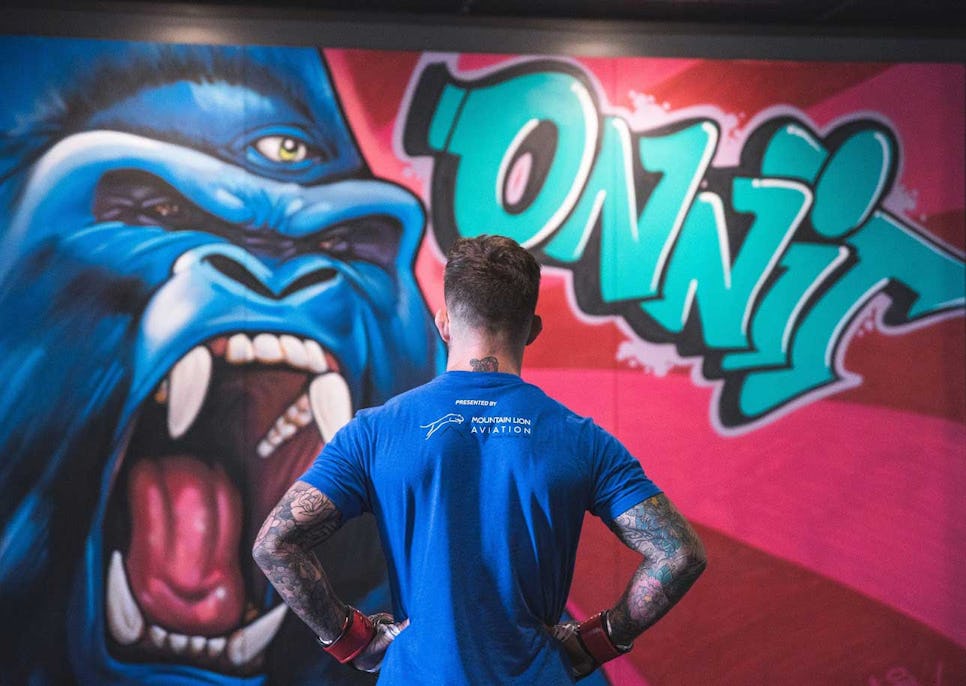 You're Mr. "No Love," but after hearing that story about Maddux, it seems like you know love now. Do you?
I think so. I've been with my girlfriend for a year now. This is a record for me, bro [laughs]. I would usually last for a month or two but I couldn't be tied down. This girl—Danielle Pimsanguan—has brought balance and positivity to my life. She's a kindred spirit. I've never met someone so giving and beautiful inside and out. [Garbrandt and Pimsanguan got engaged in April.]
We saw you be funny in a Geico commercial. Will you do more acting?
I'm doing the video game movie, Rampage, with The Rock [Dwayne Johnson]. I just got my lines for it. That will be out next April. I'm doing some movies so I have a life after fighting.

Do you think movies will be your next career?
I don't think about it. I just want to walk away from the sport with longevity and health, having made good decisions with the money I've made. I don't want to be one of those fighters who has to go back to a nine to five after years of fighting. I'm enjoying this chapter in my life.
See Garbrandt fight TJ Dillashaw this Saturday, November 4, at UFC 217 on pay-per-view. Follow him on Instagram at @cody_nolove.