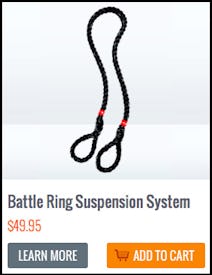 Summer is around the corner! No need to squat in a dark, stuffy gym anymore.
Build muscle, burn fat, and get killer abs by adding a few of your weekly workouts out in mother nature.
If walking to and from your car is your only quality time with the great outdoors, then maybe it's time to switch it up.
In a previous post this week, I gave you 5 reason why your next workout should be outdoors.
These benefits covered everything from enhancing your mood to increasing mental clarity.
Today, you turn knowledge into application with a look at 5 unique outdoor gyms from around the world.
Outdoor gyms is the perfect way of combining the physical intensity of a proper workout with the joy of being out on a beautiful, sunny day.
Tiger Muay Thai
Located in Phuket, Thailand, Tiger Muay Thai is the perfect gym for MMA aficionados. It is home to Onnit's own MMA legend Roger Huerta. This is a place where people can learn the popular martial art of Muay Thai, a staple in all MMA fights. It relies heavily on old, simple equipment such as punching bags, truck tires, and sledgehammers.
Members of this gym who are not interested in learning Muay Thai can simply focus on regular fitness and strength training, as well as yoga classes. If you are looking for a fitness vacation, they offer room and board as well as a food service for an extremely reasonable fee.
November Project
This next gym is not a gym at all, simply a great story concerning outdoor fitness. This inspiring tale starts with two rowing buddies from Northeastern University. Graduation was around the corner and they were about to enter the real world. They promised to maintain their fitness by motivating each other to get out of bed in the morning.
Consisting of very basic yet effective exercises, such as sprints, stadium runs, and bodyweight exercises, the two formed a "club" where they would get outside and workout no matter what. The simplicity, intensity, and most importantly, the bond all athletes crave after "retiring" from their sport, is what got so many of their friends hooked on their project. The project grew from two friends to over 1,000 participants in multiple cities.
This phenomenon is a direct result of social media presence and free membership, combined with a flash-mob attitude which guarantees ab-tastic results and all the benefits of outdoor training.
Paddle Yoga
Most yoga classes take place indoors, but no this one! Not only are you outdoors, you are on the water! At California based Bliss Paddle Yoga, participants get a lesson in paddleboarding on the beach, then paddle out into the water to practice gentle yoga poses atop their paddle board as it floats in a kelp bed.
You don't need any experience with yoga or paddleboarding to take the classes; the company provides guidance for students of all levels as well as all the necessary equipment. The tranquility and restorative benefits of yoga mixed with time on the beach and in the water.
Muscle Beach
Probably the most famous outdoor gym in the world, Muscle Beach sits just a few paces away from the boardwalk in Venice Beach, California. It became famous from the likes of over-the- top bodybuilders from the 70's such as Arnold Schwarzenegger and Lou Ferrigno who used these facilities in order to sculpt their award-winning physiques.
Nowadays, the gym has modernized equipment and a trained staff on hand to help anyone interested in getting buff. Not just for the super buff, this gym has become as renowned tourist attraction; and while on the weekends you will find Hulk like figures getting competition ready, during the week many everyday people spend their time getting fit here.
Kiev Outdoor Gym
The Kachalka Outdoor Gym in Kyiv, the capital of Ukraine, is outdoors. Located on the banks of the Dnieper river, this facility opened over three decades ago and has since been providing free access to anyone who wants to get in shape. If you did not have locals training here, this place would look like more of a junkyard than a gym. The equipment is entirely made from the remains of old, recycled components from cars and other machinery. This might be the most unconventional and creative gym in the world.