Considerable attention has been given to nutritional strategies for maintaining skeletal integrity and preventing the loss of bone mass over time[1]. Calcium is a known regulator of bone metabolism and is integral to maintaining a healthy bone structure. With nearly identical chemical properties, strontium is a natural occurring metal with a moderate prevalence in food, which has been shown to increase bone mass density and decrease bone resorption. Strontium supplementation has been considered both as a method of strengthening bones and helping to prevent bone thinning. The ability of dietary strontium to increase bone mass density over time and lower the risk of fracture supports its use as a bone-strengthening supplement.
Strontium Metabolism
Elemental strontium is a natural constituent of food and occurs at the highest abundance in grains and seafood (range 0.3-5.0 mg/kg)[2]. Strontium and calcium not only share chemical and physical characteristics, but also have nearly identical absorption and distribution rates throughout the body[3]. The intestinal absorption of strontium, when administered alone, is about 25-30% in humans. Once absorbed, approximately 99.1% of strontium is distributed into mineralized tissue, with preferential allocation to newly formed bone, rather than old bone. The theoretical elimination of strontium from the body has a rapid clearance (half-life 41 days) followed by a more prolonged elimination phase (half-life 3 years).
Following incorporation into bone tissue, strontium has direct effects on bone precursor cells. Calcium is one major component in the bone formation and resorption process. Osteoblasts are bone cells that uptake calcium from the blood to create new bone mass, while osteoclast cell mediate the opposite process of breaking down bone mass to increase blood calcium. Strontium has been shown to stimulate pre-osteoblast replication, directly contributing to the formation of new bone while simultaneously inhibiting the osteoclast activity[4](Fig 1). Furthermore, in vitro studies have show a stimulatory effect on DNA synthesis and bone collagen synthesis with strontium than cannot be replicated with calcium. Strontium exerts direct effects on bone tissue due to its chemical similarities to calcium, but can also independently enhance the bone formation process.

Strontium Increases Bone Mass Density
Recent studies have shown that commercialized foods grown in fields using pesticides and herbicides contain significantly lower concentrations of strontium when compared to organic counterparts[5]. There is speculation that this reduced intake of dietary strontium may cause strontium deficiency and contribute to early onset of bone thinning processes. Strontium supplementation has been demonstrated to be a well-tolerated and effective means of preventing bone loss. In 2004, a double-blinded, placebo controlled study published in The New England Journal of Medicine aimed to evaluate the efficacy of strontium on helping to prevent structural damage and bone fragility. Over a three- year period, strontium supplementation reduced the risk of fracture by 41%[6]. This reduction in risk was closely tied to the increase in bone mineral density in the lumbar spine and femoral neck (Fig 2). The occurrence of adverse side effects was low and reported equally among the treatment and placebo groups, further indicating the safe use of daily strontium supplements.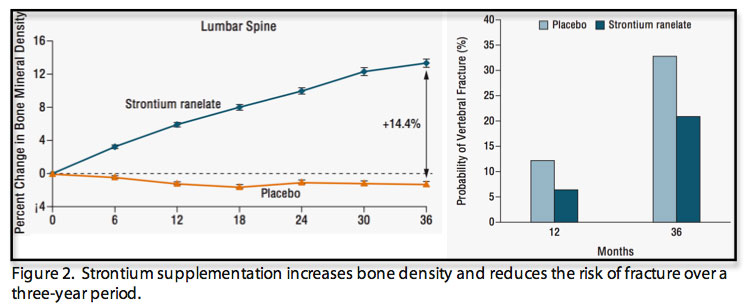 Strontium in Bone Formulas
Though strontium has been shown to augment bone density, it is only one component of the makeup of healthy bone tissue. Integrative therapy using multiple supplements known to promote bone health is now a subject of intense research and undoubtedly at the frontier of preventive medicine. One such study incorporating multiple micronutrients, including strontium, reported significant improvements in bone density in just one year [7](Fig 3).

Strontium citrate, a non-synthetic and naturally occurring mineral, has been incorporated into the Stron BONE formula by Onnit Labs. The safety and efficacy of strontium supplementation on promoting healthy bone tissue has been independently validated by multiple clinical trials. Tremendous support exists for using strontium in conjunction with other bone supporting supplements. The unique combination in the Stron BONE formula parallels the current trend in scientific research with the added advantage of providing a completely natural source of bone strengthening compounds.
Reference
Cashman KD: Calcium intake, calcium bioavailability and bone health. Br J Nutr 2002, 87 Suppl 2:S169-177.
Cashman KD: Diet, nutrition, and bone health. J Nutr 2007, 137:2507S-2512S.
Cabrera WE, Schrooten I, De Broe ME, D'Haese PC: Strontium and bone. J Bone Miner Res 1999, 14:661-668.
Marie PJ, Ammann P, Boivin G, Rey C: Mechanisms of action and therapeutic potential of strontium in bone. Calcif Tissue Int 2001, 69:121-129.
Genuis SJ, Schwalfenberg GK: Picking a bone with contemporary osteoporosis management: nutrient strategies to enhance skeletal integrity. Clin Nutr 2007, 26:193-207.
Meunier PJ, Roux C, Seeman E, Ortolani S, Badurski JE, Spector TD, Cannata J, Balogh A, Lemmel EM, Pors-Nielsen S, et al: The effects of strontium ranelate on the risk of vertebral fracture in women with postmenopausal osteoporosis. N Engl J Med 2004, 350:459-468.
Genuis SJ, Bouchard TP: Combination of Micronutrients for Bone (COMB) Study: bone density after micronutrient intervention. J Environ Public Health, 2012:354151.