If you eat healthy but don't think your body shows it, poor digestion may be to blame.
Downing food that doesn't get properly assimilated is like trying to fill a gas tank that has a hole in it—good nutrition could be leaking right through you.
The solution, however, can be as simple as taking a few capsules with your food. Digestive enzymes, among other supplements, can help you get the most out of every meal.
What are Digestive Enzymes?
Digestive enzymes are proteins that help break down the food you eat so it can be absorbed by your body. Most of them are made by your pancreas and are sometimes called pancreatic enzymes. The main ones to be familiar with are amylase, lactase, lipase, and pepsin, which break down carbohydrates, lactose, fat, and protein, respectively.
Your body produces enzymes, but, for various reasons, your own personal store probably isn't sufficient for great digestion (See "How Do I Know If My Food Is Digesting Properly?" below). You should aim to get some enzymes through your diet and may also benefit from supplements. Two whole-food options for boosting digestive enzymes are pineapple, which contains bromelain, and papaya, which offers papain—both enzymes break down proteins.
"Most people don't absorb fats as well as they could," says Carla Nowicki, R.D., C.S.S.D., a sports dietician in Austin, TX (follow her on Instagram at @carla_pursuitpn), "so they should try lipase." This goes double for those following higher-fat diets and may be consuming more fat than they can currently break down. Enzymes are available in most health food stores and pharmacies, and are usually combined into one supplement you can take in capsule form.
There is some back and forth on the Internet about the effectiveness of supplemental enzymes. Some critics argue that, like your food, the enzymes also get broken down by stomach acid, and this may render them useless before they can go to work in your digestive tract. Nowicki fires back that "stomach acid will kill some enzymes, but enough will make it through to help digestion." Still, it may be worthwhile to look for products that offer "acid stable" or "acid-resistant" enzymes for extra protection.
How Do I Know If My Food Is Digesting Properly?
You have to know your shit. (This gets kind of gross, so apologies in advance.)
"Having loose stools is a sign you're eating too much fat or not breaking it down, absorbing it, and putting it to use," says Nowicki. "Even a stool with a soft-serve ice cream-like consistency is not what you want. You want a formed stool." Think: a log in a still pond. Bad dumps also tend to float more—a sign of a higher fat concentration.
Another telltale can be slow absorption. "Your body should absorb most foods within 24 hours," says Nowicki. There are exceptions (ahem, corn, which you can pass in an hour or two), but generally speaking, anything that takes days to come out of you is evidence that you didn't digest it well. "For example, if you eat tomatoes on Friday and you see the skins on Sunday, you have a problem. You don't want food sitting in your gut fermenting for days on end."
Rarely feeling hungry can also indicate poor digestion. "If after a meal you're like an anaconda that just swallowed a deer—the feet are hanging out of its mouth and it just lies there swollen for days—you probably have a problem digesting food normally." Of course, bloating and gas are signs you're not digesting food properly, and often occur when you eat high-fiber vegetables (hint: beans).
Inefficient digestion can have many causes, but Nowicki warns that "there's not a single person who absorbs everything optimally," due to stress, bad food choices, and activity levels. Even fit people who follow perfectly balanced diets aren't immune. They generally eat more food to support their active lifestyles, she says, and so the challenge to the digestive system is greater. "If you don't digest well you won't see as good gains in the gym. Don't let your food and supplements go to waste."
Do Digestive Enzymes Cause Gas?
Some people report that supplemental enzymes give them gas, and even constipation, cramps, and diarrhea in certain cases. But this may be a sign that the products they used are not of the best quality. Looks for enzymes that are third-party tested for purity and safety.
Can Digestive Enzymes Help with Bloating?
Yes. A 2015 study in Gut and Liver found that an acid-resistant lipase—the enzyme that helps dissolve fats—reduced sensations of stomach fullness significantly in subjects after a fatty meal.
What Other Supplements Can Help Digestion?
In addition to digestive enzyme supplements, probiotics, prebiotics, and betaine HCL have been shown to aid digestive health.
How Do Probiotics Help Digestion?
Probiotics are bacteria and yeasts that set up camp in your gut. They work to break down food during digestion and have a positive impact on the immune system, fighting off the bad bacteria that can make you sick. The two most common strains are lactobacillus and bifidobacterium, which are both easily gotten through dairy products.
Newer research indicates that another probiotic, Saccharomyces Boulardii (SB), shows promise for alleviating various digestive problems. A 2017 study in Gut Microbes found that it restocks good yeast in the gastrointestinal tract, supporting a healthy gut microbiota.
"The Western diet doesn't promote a healthy gut at all," says Nowicki, who recommends getting in supplemental probiotics for both better digestion and overall health. Part of the problem is the lack of diversity in our food. According to a 2016 article in Molecular Metabolism, 75% of the world's food is generated from only 12 plants and five different species of animals. Modern agricultural practices, including the use of antibiotics in livestock, reduce the range of probiotics the gut is exposed to even more. Since most of us draw from such a small pool of food sources—and, therefore, ingest a very limited range of useful microbes—the need for probiotic supplementation may be dire.
As with pancreatic enzymes, there's some danger of probiotics being destroyed during the digestive process before they can act on it. Therefore, it's a good idea to seek out strains that are resistant to stomach acids, such as L. acidophilus DDS-1, L. plantarum, L. rhamnosus, B. infantis, and B. lactis.
How Do Prebiotics Help Digestion?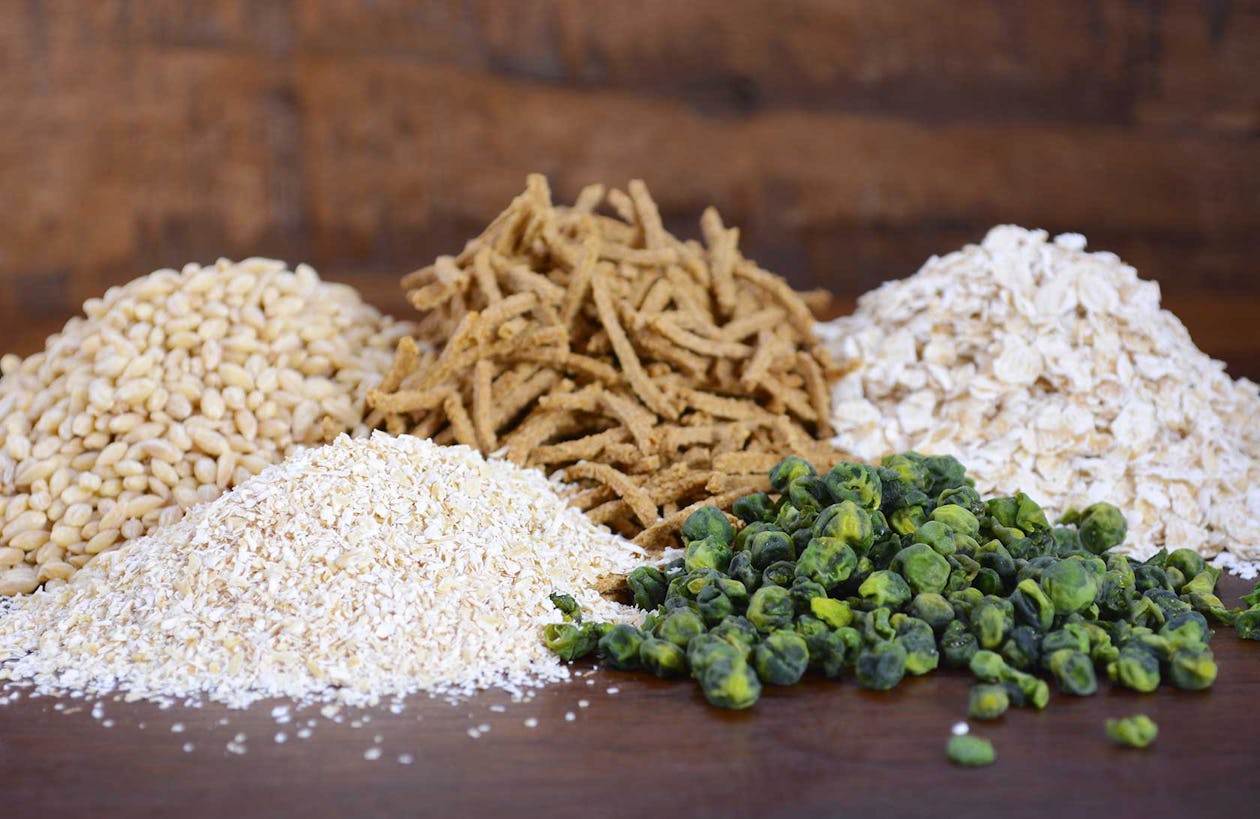 Probiotics aren't much good without their counterpart—prebiotics. While indigestible for us, these carbohydrates serve as food for probiotic bacteria and yeasts, promoting their growth and the good work they do for our bodies. Prebiotics exist in bananas, garlic, onions, and whole grains.
Jerusalem artichokes are another good source, and are used for supplements. A British Journal of Nutrition study found that a fruit and vegetable shot containing Jerusalem artichoke fiber had a helpful prebiotic effect in subjects.
When it works right, your stomach is like a bubbling cauldron of acid. That's a good thing, because optimal acid levels break food down easily. Research from Molecular Pharmaceutics indicates that the chemical betaine hydrochloride (HCL) promotes an acidic environment in the stomach, and is well-tolerated by healthy people. Another trial in Biochemical and Biophysical Research Communications showed that it improves digestion.
When Should I Take Digestive Supplements?
Enzymes, probiotics, prebiotics, and betaine HCL can all be taken at meal times separately or together. Take them with water shortly before you eat any big meal—especially one that's high in fat or fiber, says Nowicki. Snacks on the other hand, such as a handful of nuts or a piece of cheese, don't warrant enzyme use. Nowicki says, "don't waste your money."
The Benefits of Digestive Supplements & Total GUT HEALTH™ with Probiotics
Whenever you feel gassy, bloated, or tired after a meal, it becomes crystal clear that good digestion is essential to overall well being. But optimizing the gut isn't only about digestion.
Recent research suggests that the gut biome could serve as the foundation for a strong immune system and optimal brain function. Total GUT HEALTH™ contains probiotics, prebiotics, enzymes, and HCl. If there is a single thing you can do to optimize performance and health, this is it!†