Have you heard the term life hack?
Basically, it's a strategy or technique used to help you manage your time and activities more efficiently.
Life hacks are great for a lot of things.
Like…
Booking your travel at the best time to ensure you get the cheapest plane tickets.
Getting the most food from Chipotle for the least amount of money.
Getting the best night's sleep possible.
Even finding ways to microwave two bowls at the same time (hint: you just need to stack one bowl on a mug so they both fit).
Yes, hacks are great. Super helpful for making your life easier and more efficient.
BUT – despite how useful life hacks can be for helping you simplify many areas of your life, I want to encourage you to avoid hacking one aspect of your life, your fitness.
Fitness hacks have been around for longer than I've been alive (do you remember the Hawaii chair?).
Most recently you've probably seen the Shake Weight. A cool little gadget that is guaranteed to get you lean and chiseled arms.
It's true that some fitness hacks are far more ridiculous than others, but there is one thing that all fitness hacks have in common – they are not sustainable.
As human consciousness rises and we become less susceptible to buying bullshit products, we'll see an emergence of other types of hacks. Science-based hacks that may even have legitimacy behind them.
These types of hacks fall into the camp of things like juice cleanses and 3-day fasts. Yes, you will lose weight doing things like these, but if they don't fit into a sustainable healthy lifestyle, you will find yourself gaining the weight right back weeks (if not days) later.
One time fixes simply don't work when it comes to your fitness.
You MUST commit to giving up experimenting with miracle pills and other hacks and embrace an integrated health program if you want your results to stick around.
So here's how you do that. Focus on fitness priorities.
If you are at all interested in fat loss or muscle gain, you need to pay attention to 6 things that I will list in order of the attention they should receive from you.
Priority #1: Calories
This is not the sexiest topic to discuss, but it is the most efficient. If you want to gain weight, you must be in a calorie surplus (eat more food than your body needs to maintain its current weight).
If you want to lose weight, you must be in a calorie deficit (eat less food than your body needs to maintain its current weight).
Above all else, focus on calories if muscle gain or fat loss is your personal #1 priority. To get a rough estimate for how many calories you should be eating per day, you can calculate your numbers here.
Priority #2: Macronutrients
Macronutrients are carbohydrates, fats and protein. You want to focus on getting enough of each if feeling good and maintaining a lean muscular physique is a priority for you. Each one of these macronutrients is necessary for normal body function.
A short note on this topic would be to make sure that you are consuming around 0.8 – 1.1 grams of protein per pound of body weight if having a muscular and toned body is something that is important to you. If you want a rough estimate for how much protein, carbs and fats you should be eating, then you can calculate your numbers here.
Priority #3: Resistance Training
Making resistance training a part of your routine is a MUST if you want to maintain a healthy lifestyle. The reason being is that when you put your muscles under resistance and supply them with the appropriate nutrition, they grow.
And when you have more muscle mass, you have a higher resting metabolic rate. Meaning it's easier to stay lean! Specifically, I'd recommend implementing at least 3 days of barbell or kettlebell training per week.
Priority #4: HIIT Training
If you are getting your 3 resistance training sessions in each week and want to add more, then I suggest trying out some HIIT (High Intensity Interval Training). HIIT has been proven to burn fat fast and leave your metabolism elevated hours after you've exercised.
Priority #5: General Movement
Here we're talking about learning how to implement more movement into your life. Period. That means taking the stairs instead of the elevator. Walking to lunch instead of driving. Standing at your desk instead of moving. You get the point. Try to move as much as possible.
Priority #6: Optimizing Your Lifestyle for Healthy Living
When I say optimize your lifestyle, I mean take a look at all the things you do or don't do on a weekly basis and ask yourself what you can optimize using common sense.
One thing is drinking more water. We all know it's good for us, so optimize your lifestyle by carrying a water bottle with you.
Sleep is another area most people neglect, but can have massive implications on your overall health. Try and get at least 6-8 hours a night and more if you need it. Think about your life and what brings you stress across the board. Eliminate everything that you can in that department.
The moral of the story is that health isn't something that can be simply hacked. It needs to be integrated into your daily routine. These priorities are here to help you do that.
Yes, you may not always be able to sleep as much as you would like, but maybe you can start to log your food in myfitnesspal and make sure you don't overeat for at least 5 days out of the week.
Take inventory of your current routine and see how these priorities can help you determine the best strategy for living a sustainably healthy life.
Questions on getting started? Ask me in the comments!
Advance Your Training with Onnit Academy On Demand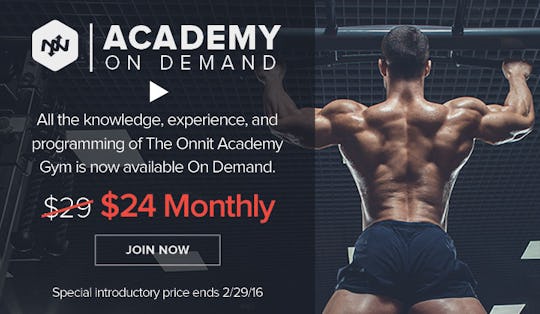 Want to optimize your lifestyle for healthy living? Then you need to sign up for Onnit Academy On Demand! If you enjoy the knowledge, experience, and programming of The Onnit Academy…it is now available On Demand.
With Onnit Academy On Demand, you can access the world's greatest fitness professionals anytime, anywhere, for one low monthly price. Whether you're a professional trainer, a fitness enthusiast, or just looking for a new routine, we've got you covered.
The program contains 2 different video channel packs, The Master Coaches Channel Pack, and The Legends of HQ Channel Pack.
Each of these packs gives you access to 6 top fitness professionals offering their own unique 4 week training programs targeted towards specific goals and techniques. Every 4 weeks, these trainers will introduce a new 4 week program expanding your library and allowing you even more fitness programming options.
We're offering a special discounted rate to early adopters. Sign up before February 29th, 2016 and you'll lock in your discounted rate.