There are very few things in life that warm your soul as much as a hearty bowl of New England clam chowder. So creamy. So comforting. So satisfying. While this recipe strays away from the traditional use of clams and potatoes, we've managed to create a healthier, keto-friendly chowder recipe that might even make you forget about the OG.
This soup is full of nutrients, flavor, and gut-healing properties from bone broth. If you have 24 to 72 hours of time on your hands, feel free to make your own broth at home. But for the rest of us, look for a high-quality or local bone broth derived from humanely raised animals, like grass-fed cows or pasture-raised chickens. We love the Kettle and Fire brand!
Before you go jumping to conclusions about this recipe, we suggest you try it for yourself. The mouth-gasm will speak for itself. This chowder will become a staple in your diet for the remainder of winter. No doubt.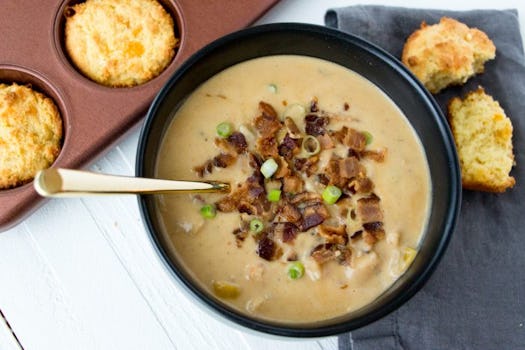 | | |
| --- | --- |
| Yield: | 6 servings |
| Difficulty: | Medium |
| Cook Time: | |
This soup is full of nutrients, flavor, and gut-healing properties from bone broth.
Ingredients:
8 slices bacon, uncured & nitrate-free
1 lb. shrimp, uncooked, peeled, deveined, tails removed
1 tbsp. grass-fed/pastured butter*
1 yellow onion, diced
4 cloves garlic, minced
2 yellow bell peppers, membranes & seeds removed, diced
2 stalks celery, diced
1 head cauliflower, roughly chopped into bite-size pieces/florets
1 tsp. smoked paprika
1 tsp. fresh thyme or ½ tsp. dried thyme
1 tsp. Himalayan salt
¼ tsp. Red pepper flakes
Ground black pepper, to taste
4 cups chicken bone broth**
1 cup organic half 'n' half, derived from grass-fed cows***
Green onion, for garnish
Directions:
Slice the bacon into small pieces. Saute bacon in a large 3-qt. pot on medium heat for about 10 minutes, or until crisp. Using a slotted spoon, transfer the bacon bits onto a paper-lined plate, and set aside. Pour rendered bacon fat into a small ramekin, leaving about 1 tablespoon in the pot.
Chop the shrimp into bite-size pieces. Add to the pot. Cook until pink, about 4 to 5 minutes. Be sure to watch carefully because shellfish can overcook and become rubbery very quickly. Remove with slotted spoon and set aside on the same paper-lined plate. Leave the juices in the pot.
Add the butter, diced onion, minced garlic, and chopped celery to the pot. Cook for 3 to 4 minutes until they start to become translucent. Add in the chopped cauliflower, thyme, smoked paprika, red pepper, salt, and black pepper. Cover and cook for about 5 to 7 minutes until the cauliflower is soft enough to pierce with a fork.
Add in the diced bell pepper, bone broth, half and half, and remaining rendered bacon fat. Cover, bring to a boil, then reduce heat and simmer for 15 minutes.
Using a ladle, add ½ of the soup to a high-powered blender. Blend until smooth; it will be thick. Pour this mixture back into the pot. Add in the cooked shrimp and bacon pieces. Save some bacon pieces for garnish.
Serve warm. Garnish with sliced green onions, bacon and fresh thyme. This delicious bowl of Heaven can be stored in the fridge for up to 5 days, or freeze to keep longer, in an airtight container.
Notes:
*We love using Vital Farms' grass-fed pasture-raised butter. **We used Kettle and Fire's chicken bone broth and mushroom chicken bone broth. ***We used Strauss Family Creamery Organic Half and Half. To add even more healthy fats, stir in 1 tablespoon of our savory emulsified MCT oils in Herbs de Provence or French Onion flavor per bowl of soup prior to heating!