What do time and Regina George have in common? They have both personally victimized lots of people.

Just like the quintessential mean girl from the iconic 2004 movie, time can be perceived as being a bully. We use phrases such as "I'm too busy," or "I don't have enough time," to imply that time is something that controls us, but in reality, it's something we should own. And with a little bit of forethought, we can.

The Best Time Management Activities for Productivity
The first step to better managing your time is to heal your relationship with it, and then figure out what you've been wasting it on. We consulted a time management expert to give you tips to beat the clock in any situation.

How Do I Learn Time Management Skills?
Start by giving some thought to how you view time. If you see it as something that's slipping away from you, your mindset will be to race it. When you have an adversarial relationship with time, the result will always be stress.

"Feeling stressed and overwhelmed is an emotional response to time," says Amanda McPherson, an Austin, Texas, life coach (lifecoachamanda.com). To get a handle on time, you have to see it as something you can work with to accomplish the things you want. In that sense, it's no different from any other relationship in your life. Time isn't something to race against—it's something you need to respect and pay attention to, and you can do that by making sure you don't waste it on the wrong tasks or people.

Consider how Apple founder Steve Jobs viewed time: "My favorite things in life don't cost any money," he said. "It's really clear that the most precious resource we all have is time."

How Can I Prioritize My Daily Tasks?
McPherson recommends a four-step process for low-stress life planning.

1. Write a to-do list.
Every morning, jot down everything you need and want to do that day, from scheduling a dentist appointment to writing a chapter in the novel you've been dreaming about finishing. Our brains get over-stimulated with everything that comes up in a day, and so we get off track. But if you dump all your ideas and intentions onto paper beforehand, you have a clear plan of attack to refer back to, and that should help keep you on task(s) throughout the day.

2. Rank your tasks.
Before you start checking things off your list, ask yourself which of your goals for that day are the most important. Which do you need to do yourself and which ones could be delegated to someone else (significant other, kids, friends, employees)? By assigning value to your tasks, you will be able to work through them more efficiently. You will probably also find that some items on the list aren't as important as they seemed, and can be put off for another day, week, month… Once you see a clear list in front of you, you can tell the real priorities from the mundane, "meh" chores.

3. Schedule everything.
Spend 30 minutes to an hour every Sunday night to build out your upcoming week on a calendar. Be sure to consider your overall life goals as well as the day-to-day responsibilities. There will always be little things you need to address, like answering emails and attending meetings, and constantly putting off the work you really want to do in order to satisfy them can take your sights off the bigger picture: creating the life you want to live. So be sure to block out time to engage in your hobbies and do any other work that you want to pay off for you down the road—even if it seems low-priority at the moment.

4. Execute your plan.
Once you've filled in your calendar, stick to it. Keep the promises you've made to yourself, no matter what else comes up (barring any serious emergencies, obviously). If some unforeseen opportunity or incident comes up, tempting you to abandon something you already planned to do, refer back to #2 and see where it ranks in overall importance. There will be many times you'll want to act on impulse because you're excited about something, but when you consider what effect those actions will have long-term, you may decide it's not worth deviating from the plan. For example, you want to spend Thursday night working on your art project, but a friend suddenly invites you to a concert. Maybe it's worth going… but maybe not, if that's the only time that month that you'll have to get your art done.

Time Management Activities for Students
Although it may not feel like it, if you're a student, you are in charge of when and where you study and get assignments done. You have a degree of schedule flexibility that many working people don't enjoy. For optimal productivity, McPherson recommends the following.

1. Own your environment.
Managing time isn't really about freeing up more hours of the day to do what you need to—it's about making the most of the hours you already have. You'll be a lot more productive if you spend more time in places that allow you to focus and work. If your dorm or apartment is constantly filled with frat boys, or it's a pigsty, you know you won't be able to concentrate there. Go to a library or coffee shop, or anywhere else that has an atmosphere conducive to getting work done. By owning your environment, you can better own your time.

2. Minimize distractions.
"If you know that looking at your phone and social media constantly will distract you, turn it off, or minimize notifications," suggests McPherson.

List the distractions you face regularly—including people, electronics, background noises, etc.—and try to remove or reduce them. If you can't withdraw from a noisy area, put on headphones. If dead silence drives you nuts, put on soothing music or white noise to help you study.

3. Be accountable.
McPherson encourages students to find a study buddy, or someone to work alongside with, even if you're not in the same class or working on the same project. Routinely meeting with someone, and holding up your end of an assignment, will make you accountable and more likely to get the work done in a timely fashion. McPherson adds that it will also make the process less lonely. You'll enjoy it more, and be motivated to give it your best effort.

If you still feel overwhelmed, don't lose heart. Research shows that better time management practices can be learned, and do improve performance. In one study, students who were taught time management skills like those shown here were able to manage their time better when it came to studying than students who weren't shown how to handle time.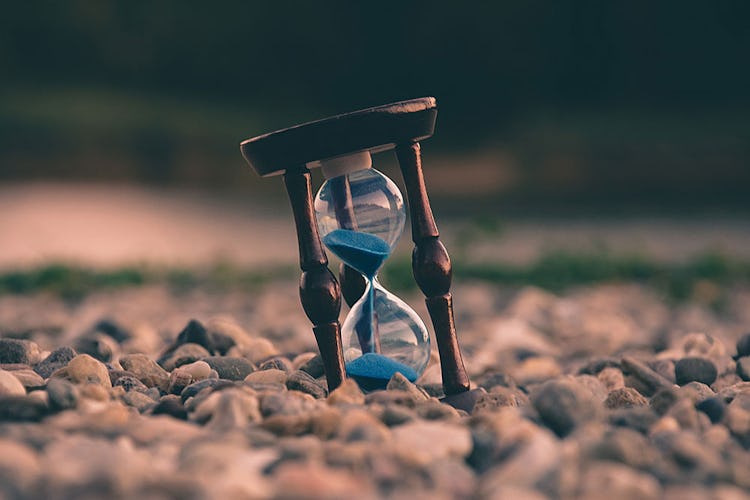 Time Management Activities for Adults
Whether you're a busy executive, single dad, or stay-at-home mom, adulting is hard. But there are steps you can take to ease the pain.

1. Know your role.
"One of the exercises I have people in my workshops do is write down their roles, from wife and mother to dog feeder and exerciser," says McPherson. Take a moment to list all the titles you wear that reflect some responsibility you have.

Now, just as you do with your daily tasks, rank these roles by importance. Seeing what order you should play all these parts will help you create healthy boundaries with your time. For instance, if you're a mom, taking care of the kids is top priority. If they need to be dropped off at soccer practice, the laundry can wait. Don't start a wash until you get home. Trying to multi-task increases the odds that you'll be late with the drop-off and forget to switch the laundry from the washer to the dryer.

2. Don't be afraid to say "No."
Saying no to things that are draining allows you the opportunity to say yes to things that are stimulating.

Although there are some adulting responsibilities we can't avoid, like taxes and dishes, when it comes to things that don't serve you, don't take on any more than you have to.

"One of my clients was spending hours of her week playing therapist to one of her friends," says McPherson. "When we evaluated her roles, she determined that this wasn't a role she wanted to play anymore." By closing her "practice," so to speak, she suddenly had time and energy to devote elsewhere.

3. Do the big things first.
Mark Twain once said, "Eat a live frog first thing in the morning, and nothing worse will happen to you the rest of the day."

While we are not encouraging anyone to actually eat live frogs, we are saying that tackling the hardest thing on your list first will give you some perspective. Determine the chore that makes you the most apprehensive, or is the one you're most likely to procrastinate on regardless of how important it is, and face up to it as soon as possible. It may be unpleasant, but wait and see how the rest of your day feels afterward. Easy peasy.

This goes double if it's a task that pertains to one of your long-term life goals. "There can be so much fear of failure when pursuing the big things that people just don't go after them," says McPherson. "So those should be some of the things you tackle first," when your mind is fresh and you have the most patience.

Think about it. If you wait till the end of the day to work on your novel, you may be too frazzled to see it objectively, and be more likely to think it stinks, shove it in a drawer, and leave it unfinished. Whereas if you write in the early morning, before the challenges of the day take their toll, you might feel more confident that the story is coming together the way you want, and you'll wrap it up sooner. In the scheme of things, isn't that more important than finishing last night's dishes?

Time Management Activities for Groups
It doesn't matter if they're coworkers or family members: the biggest challenge in working with large groups of people is keeping everyone on task. But if you can outline how everyone should spend their time before beginning a project, McPherson says, you won't leave much room for people to waste any.

1. Set expectations.
In most group project situations, the underlying goal is what's best for the group—not the individual—and underscoring this point will help keep egos to a minimum (or at least explain why you bruise them). Let everyone involved know the agenda and what is expected of him/her individually. They'll be more likely to engage and follow the plan you lay out if they know exactly what their roles are.

2. Reign in the outliers.
In every group, there's at least one troublemaker who distracts the rest and holds up the operation (often unintentionally). For example, an employee may start an off-topic discussion during a weekly meeting. Gently guide this person back with a statement such as, "That is a great point; let's take that offline after this meeting," so the whole group doesn't lose focus and go on a tangent.
Follow Amanda McPherson on Instagram, @girlgetyourrootsdone.