Every Memorial Day, our nation honors the service members who sacrificed their lives for our freedom. One of those service members, in particular, spawned a movement that brings average joes and celebrities together in sweat to commemorate U.S. Navy SEAL LT. Michael Murphy.
It's called the Murph Challenge, and it was created in 2014 in honor of Navy Lt. Michael Murphy, a SEAL who died in Afghanistan in 2005 in a battle with the Taliban. Every year it gains popularity as seen below, where Chris Pratt and John Krasinski have dared their fans to join in the festivities in years past.
Why do we do Memorial Day Murph Challenge?
https://t.co/V1psc13hjP Memorial Day is coming up. Take a moment of your day Monday to say thank you to the brave men and women who laid down there lives for all of us. Wanna do a little something more? Take the #TheMurphChallenge !! @donsaladino @prattprattpratt @TheRock pic.twitter.com/BGAVJjnk6X

— John Krasinski (@johnkrasinski) May 23, 2019
The Murph Challenge is the Official annual fundraiser of the LT. Michael P. Murphy Memorial Scholarship Foundation, presented by Forged®. It is also one of the primary means of funding for the Foundation on an annual basis. YOUR support is what drives our success!
Since 2014, Forged® has raised over $1,000,000+ for the LT. Michael P. Murphy Memorial Scholarship Foundation through The Murph Challenge campaign. In 2018, The Murph Challenge Fundraiser provided a vehicle to raise nearly $250,000 in order to begin construction on the LT Michael P. Murphy Navy SEAL Museum/Sea Cadet Training Facility in Long Island, NY! In addition to that, and ONLY with such overwhelming support and success, the Foundation was also able to add four additional scholarships in 2018, now providing the opportunity to award 27 or more scholarships each and every year!
This unique Memorial Day tradition will take place again throughout the United States on 05.27.19. 
What is the Murph Challenge?
Murphy created the workout that the challenge is now known for, and it is arduous. The Murph CHALLENGE can be found below :
1-mile run.
100 pull-ups.
200 pushups.
300 squats. 
1-mile run.
Here is a direct excerpt from the CrossFit.com programming. PLEASE READ CLOSELY. 
In memory of Navy Lieutenant Michael Murphy, 29, of Patchogue, N.Y., who was killed in Afghanistan June 28th, 2005.
This workout was one of Mike's favorites and he'd named it "Body Armor". From here on it will be referred to as "Murph" in honor of the focused warrior and great American who wanted nothing more in life than to serve this great country and the beautiful people who make it what it is.
Partition the pull-ups, push-ups, and squats as needed. Start and finish with a mile run. If you've got a twenty pound vest or body armor, wear it.
Who is Murph?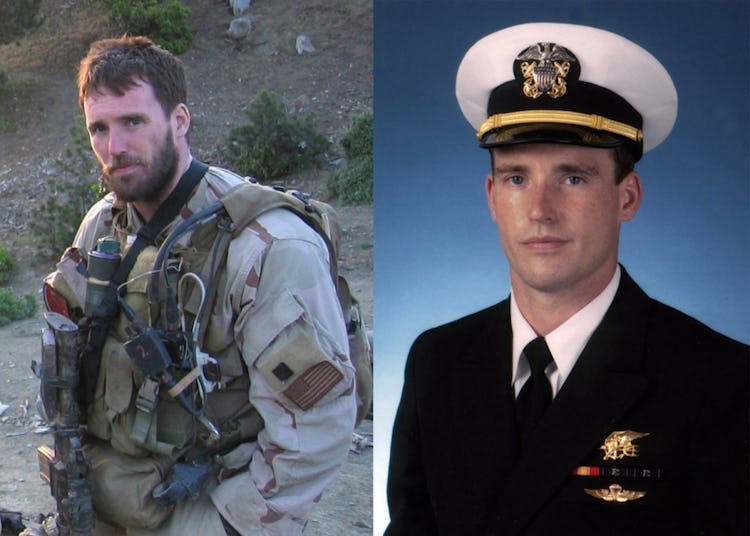 Murphy was a Navy SEAL who was thrust into the spotlight after his life had ended. The upstate New York native was part of a four-man team scouting a Taliban-aligned militant while high in the Afghan mountains on June 28, 2005, when all hell broke loose. The team was spotted by some locals, who reported their position to the Taliban, and a fierce firefight ensued.
Murphy and fellow SEALS Matthew Axelson, Danny Dietz and Marcus Luttrell were outnumbered, wounded and forced into a ravine. They couldn't get a good signal undercover, so Murphy put his own life on the line, going out into the open to transmit a call for help. He got shot in the back during this time, but finished the call and still made it back to cover with his men.
He eventually died, as did Dietz, Axelson, and 16 service members who were shot down in a Chinook helicopter while trying to rescue them. Luttrell was the only survivor, who managed to escape and get help from friendly villagers, who took him in, nursed his many injuries, kept the Taliban away and eventually got him rescued.
The incident was the single most substantial loss of life for the SEALs since World War II. Murphy, who was posthumously awarded the Medal of Honor, was the first Navy sailor to earn the distinction since Vietnam.
The History of Memorial Day Murph Challenge
Murph was first programmed on CrossFit's official website in August of 2005 – and has gone on to be programmed in the CrossFit Games twice now. When they programmed Murph during the CrossFit Games, it was "straight through" without any breaking up of the reps, but when programming on the CFHQ website, "partition the pull-ups, push-ups, and squats as needed" is the specific standard mentioned.
How Can I Do the Murph Challenge?
If you're interested in trying it, you can go to themurphchallenge.com to register. Once you register, you will not only be pledging to participate in the Crossfit Hero WOD 'MURPH' (originally named 'Body Armor'), you will also be joining a unique group of participants who pay tribute to LT. Michael P. Murphy (SEAL), and contributing to a prestigious organization founded by the Murphy family.
Beginning on Memorial Day, each registrant will be asked to return to TheMurphChallenge.com and submit their 'MURPH' time to compare their achievement with other participants worldwide. All times submitted will be displayed on a worldwide leaderboard found at TheMurphChallenge.com. From that board, the top 5 Men and top 5 Women will be recognized for their efforts.
The 'MURPH' is more than just a workout, it is a tradition that helps push us, humble us, and dedicate a bit of pain and sweat to honor a man who gave everything he had.

So, this Memorial Day, before you chow down on those hot dogs and apple pie, push yourself and try the Murph Challenge!