It's the season of giving—and receiving—but if you're a person with health and fitness goals, it may not be the most wonderful time of the year. Tube socks, ugly sweaters, and the obligatory fruitcake? Gee, thanks.
If only you could give, and get, holiday gifts you knew would be used and enjoyed, and could help you and your health-conscious loved ones start 2022 closer to the condition you want to be in, rather than weeks behind.
Well, that's where I come in. As a nutrition PhD and consultant to pro athletes and busy professionals—as well as a lifelong fitness freak myself—I know what options are out there for people who want to get in the best shape of their lives in the New Year (and not fall too far off the wagon before then), so I've rounded up some of the newest and best fitness equipment, nutrition-rich foods, performance-supporting supplements, tech, gear, and more for you, and the fit people on your shopping list.
Get ready to stuff those stockings with gifts that give back!
TRAINING EQUIPMENT
Hydrow Rower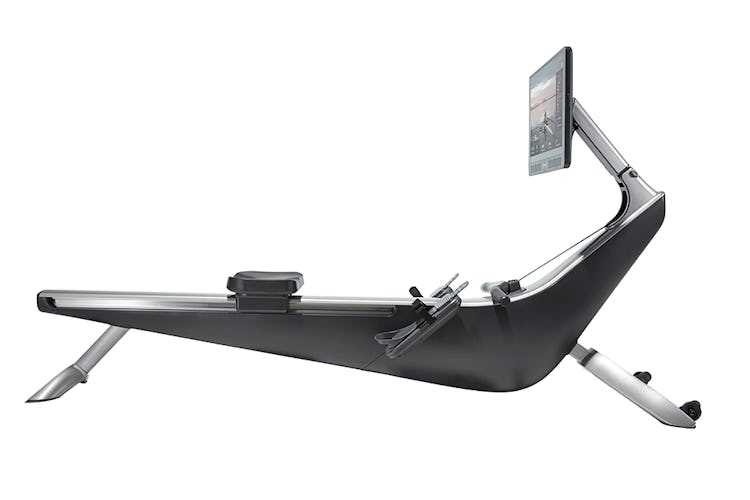 "Rowing is life" (said with the accent of Dani Rojas' character from Ted Lasso). As an aside, if you haven't seen this show yet, do yourself a favor and do just that (it's available on Apple TV). That's my holiday gift to you…
But getting back to the topic at hand, The Hydrow may not be life, but it's a great workout, whether you're an experienced rower or not. It has a patented drag mechanism that's electromagnetic and computer-controlled, so rowing the handle feels like you're rowing on actual water. Each stroke is smooth and nearly silent. And you don't have to focus on a tiny calculator screen while you train. Hydrow offers a 22-inch, HD touchscreen display and sound for an immersive experience: i.e., see yourself rowing on a river in beautiful locations around the world!
For an additional $38 a month, you get access to a library of 3,000-plus workouts, which includes stuff you can do off the rower, such as strength training, workout classes, yoga, stretching, and more. And these workouts weren't just thrown together by the latest social media influencer. The Hydrow approach to fitness is headed up by former rowing champion and PhD exercise physiologist Kristin Haraldsdottir. She says, "The workouts are created within a tight framework so that there is a clear distinction between workout types, and the benefits of that type of workout… [The workouts] are categorized and designed with targeted heart rates in mind. This way, you know the workout style and intensity that fits your needs before choosing it."
Should you need another "expert" opinion before making a decision, you may be interested to know that the Hydrow made Oprah's Favorite Things list for 2021. Nuff said.
Price: $2,295 at Hydrow.com
But buy before 12/24 and you're eligible for an extended at-home trial that runs through Jan 31.
Let it row, let it row, let it row, (Sorry, I was overtaken by the holiday spirit!)
Nuobell
An adjustable, selectorized dumbbell isn't a new idea, but the Nuobell design is. Unlike leading home-gym dumbbell brands such as Powerblock, where you have to pull a pin to change weights, the Nuobell lets you twist the handle on the dumbbell itself, making for faster, more convenient weight changes. This is a great feature if you like using advanced techniques such as drop sets in your training, or, you train with a partner who needs different loads (my wife and I often train together, and believe me… I can't lift as much as she does!).
The weights go up in five-pound increments from five to 80 pounds. For more advanced users, 80 pounds may not be heavy enough, but the equivalent set of Powerblocks only offers 10 pounds more. For serious meatheads who need more tonnage, I recommend getting an adjustable set like Nuobell to cover most of your weight range, and buy separate fixed-weight dumbbells for your heavier increments as needed.
I also really love the feel of the Nuobells. They have a knurled handle, so they offer the same sturdy grip a barbell does. They look and work like traditional dumbbells, not a big awkward block of weight. They don't bang into your legs when you curl them, or bruise your arms when you bump them into position for presses. They're especially good for moves where you use two hands on one dumbbell, such as goblet squats.
Price: $745.00 at Smrtft.com
The dumbbells come with cradles to store them.
Rucker 3.0 Rucksack
Not every workout needs to be in a gym. Enter rucking—walking with weight, like a soldier in the field. Rucksacks are insanely durable backpacks made to hold heavy weight comfortably, and they can turn any nature walk or stroll around the block into a calorie-melting march. (According to the Compendium of Physical Activities, walking with weight burns close to triple the amount of calories as conventional walking in the same time frame.) This past year, I started wearing a rucksack for my daily dog walks, and on the weekends, I'll do a five-mile hoof with 35 pounds on my back. I've seen more than a noticeable improvement in conditioning since then.
Which brings us to the Rucker 3.0. It's a standout rucksack due to its comfort features, which will make your rucks feel more like a walk to the campsite as opposed to donning a yoke to plow a field. The Rucker has 10mm of foam padding on the bottom section of the back panel, designed to support the natural curve in your lower back. It doubles as protection from the friction of seams, belts, and buckles on the pack. The CORDURA® material on the back panel and underside of the shoulder straps also prevents any irritating rubbing, meaning that you can ruck shirtless on hot summer days without chafing.
The Rucker is rainproof, can carry up to 45 pounds of external load, features a reflective safety stripe for use at night, and comes with a lifetime guarantee. Plus, the manufacturer donates 1% of its annual revenue to non-profit partners that support military veterans, first-responders, teachers, social workers, and military spouses. What's more in keeping with the holiday spirit than that?
Price: $215 at GoRuck.com
NUTRITION AND SUPPLEMENTS
Butcher Box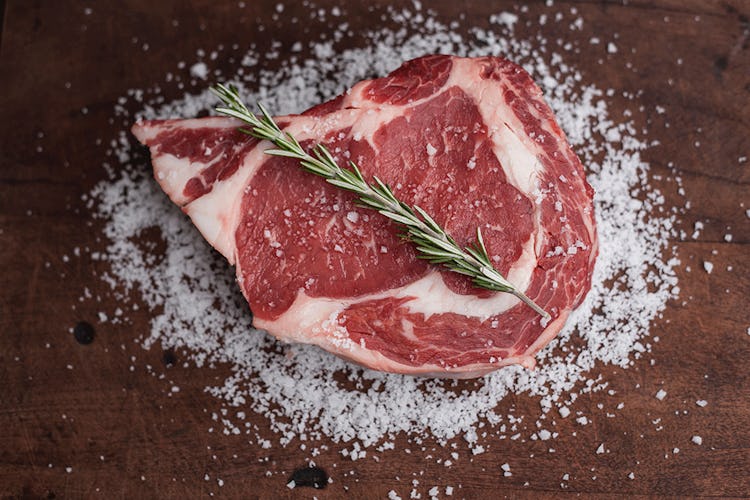 Imagine delicious, fresh, humanely-raised meat delivered right to your doorstep. You'd have more than enough protein on hand to build muscle and stay satiated forevermore. Well, heaven is a place on earth thanks to Butcher Box—a meat-delivery subscription service.
We're talking 100% grass-fed beef, free-range organic chicken, crate-free pork, and wild-caught seafood frozen for freshness and dropped off in an eco-friendly box. Choose from their curated collections, or customize your own box with up to 14 pounds of meat (drawn from more than 25 different cuts).
Price: $159 per month for a customized box (which breaks down to about $5.30 per meal) at butcherbox.com. Shipping is free.
If you join before 12/26, you'll get one pack of FREE bacon with every order for the entire life of your membership, and save $20 on each order for the first five months of your membership.
Laird Superfood® Hot Chocolate with Functional Mushroom Extracts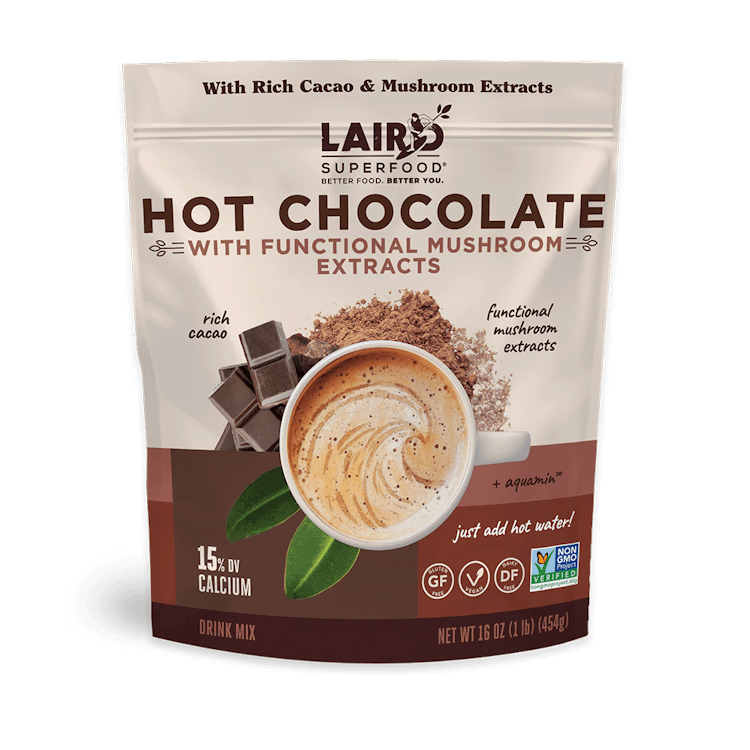 Everybody likes a cup of hot cocoa on a cold winter day, but most hot chocolate drinks are high in processed sugar, doing nothing to help you stay on track with your nutrition. Laird Superfoods®—as in big-wave surfing legend Laird Hamilton—however, has a solution.
Here's what Hot Chocolate with Functional Mushroom Extracts doesn't have: artificial flavors, dairy, GMOs, preservatives, and highly-refined sugars. It is, on the other hand, Paleo-Friendly, vegan, and features a blend of mushrooms (but don't worry, you won't taste them). These shrooms, including Maitake, Reishi, and Chaga, are not psychedelic but are adaptogenic, meaning that they help the body adapt to stresses. Some people like to use this drink as a substitute for morning coffee, claiming it gives them energy without as much caffeine.
The taste is less sweet and rich than conventional hot chocolate—it's more mild and earthy, with a hint of coconut and cinnamon—so it may not satisfy the kiddies in the way that Nestle's does. But Laird's is a healthier choice, and it makes a great last-minute stocking stuffer.
Price: $21.95 at LairdSuperfood.com
My wife grew up with the tradition of putting an orange at the bottom of Christmas stockings. I love a good orange, but maybe that tradition should change this year to a bottle of Onnit AB Focus Shot (hint: if my wife is reading this). It's about the same size and goes a lot further.
If you don't like swallowing pills or mixing up powders, Focus Shot is a way to get the focus and flow-state support of the other Alpha BRAIN® products in a convenient ready-to-drink bottle. But it does differ from the original AB capsules and instant drink mix in a few ways. Onnit added a low dose of caffeine (50mg), citicoline (a naturally-occurring brain chemical), and ashwagandha (an adaptogenic herb), a combination that can help with mood and mental stress.†
The result is a tasty drink that actually promotes a sense of relaxed alertness, as opposed to a caffeine-laden energy drink that makes you feel wired and jittery.† This allows Focus Shot to serve as both a pre-workout or pre-work cocktail, and it's great for hectic days when you need to be on your game and get stuff done.
Price: $76.77 for a 24-count box at Onnit.com
Focus Shot is available in Peach and Tropical flavors.
TECH AND GEAR
Theragun Prime
In a perfect world, we'd all get deep tissue massages on the reg. But for most of us, using a massage gun at home is the next best thing. Therabody is the leading brand for percussive therapy—applying rapid percussion to a muscle in order to bring blood flow to it and support its relaxation and recovery—and percussive therapy has been linked to a slew of benefits, ranging from injury relief to better sleep.
The Theragun Prime model offers a 16mm amplitude, which means that when the little knob pounds your flesh, it goes 60% deeper than the competitors' devices. But don't worry about feeling like a piece of veal. You get four options for attachments—different shapes to suit every muscle, nook, and cranny in the body—and all are non-porous, closed-cell foam that feel more like thumbs pressing in than a jackhammer driving down.

Pair the device with the Therabody app that integrates with Apple Health or Google Fit and it will customize your therapy regimen to your lifestyle. For instance, if you spend a lot of time sitting, Therabody will give you a program that releases the muscles in your glutes and lower back.
Price: $299 at Therabody.com
The device comes with a protective pouch.
OOLER Sleep System with Chilipad™
Self-care includes sleep care, and the quality of your sleep is more important than the overall quantity. I sleep hot, and research has shown that the optimal ambient temperature for sleep is between 62 and 68 degrees Fahrenheit. The OOLER pad has been a game-changer for me in this regard, and now my kids even use it too.
Fill the OOLER with water and set it to your desired temperature. Your partner can select a different temperature; it will accommodate you both. Then place the pad on top of your mattress and under your fitted sheet. I'll bet you don't wake up in the middle of the night so often anymore, and you feel more refreshed by morning.
The OOLER adjusts between 55 and 115 degrees, so you can change the settings as needed throughout the year—go cooler in summer and warmer in winter. It fits any bed size, and you can program it through an app.
Price: $639.20 for a half Queen pad and control unit at Chilisleep.com
Shipping is free, and it comes with a 30-night sleep trial so you can try it out risk-free.
Ministry of Supply Apollo Climate Control Duvet
Double-down on your sleep efforts by combining the OOLER with this duvet. Originally a clothing company, Ministry of Supply has expanded its NASA-derived technology to make climate-controlled duvets that absorb body heat and release it automatically as your body cools overnight.
The duvet itself weighs six pounds, with the option to snap on additional layers to customize the weight and warmth. The eucalyptus-based hygroscopic viscose even absorbs any sweat, so you won't wake yourself up in the wee hours due to temperature change. It's hypoallergenic too.
Price: $358 at MinistryOfSupply.com
OneClock
It would be a shame to spend so much effort (and money) on improving your sleep only to be jarred awake at 6 a.m. by a noisy radio alarm. OneClock is very clear: its product is "not an alarm clock." It doesn't buzz, ring, play radio stations, or even offer a digital screen. (This helps keep blue light out of your room, where it won't interfere with sleep.)
Rather, OneClock is an old-school analog timepiece with a solid oak face designed to wake you up at the prescribed hour by playing soft music—a process that minimizes stress to your nervous system and lets you start the day in a better mood.
But it's not like setting your radio alarm on the easy listening station and waking up to elevator music. OneClock employed a "Sonic Strategist" to design a musical template based on scientific research, and then had Grammy-award winning musicians compose appropriate pieces and perform them. The result is tones featuring woodwinds, brass, strings, and human voices that gradually build in volume over 30 seconds after the alarm goes off to help you wake up alert but relaxed, not groggy and irritated.

I use OneClock daily, and I'd liken its wakeup call to getting a light nudge, as opposed to being hit with a bucket of water to the face. Like you probably do, I used to keep my cell phone by the bed to use as an alarm. Now, thanks to OneClock, I don't even keep my phone in my room anymore, and that alone has worked wonders for sleeping better.
Price: $299 at OneClock.co
A GOOD READ
Comfort Crisis
Written by award-winning journalist and professor Michael Easter, this is, arguably, my favorite book of 2021. It's a quick, easy read, and the subtitle says it all: "Embrace discomfort to reclaim your wild, happy, healthy self."
Easter argues that modern conveniences have made us soft, and, by interviewing everyone from scientists to mystics, discovers how and why humans need to challenge themselves to reach their ultimate potential. In Onnit speak, Comfort Crisis is an atlas of Total Human Optimization.
When I finished it, I promptly bought three more copies to share with friends. Yes, given the harshness of the subject matter, it's an odd book to pull out of a Christmas stocking and read by a cozy fire with a full glass of eggnog at your side, but it still makes a great gift for someone you care about—maybe someone you care about too much to watch fall by the wayside in life.
Price: $28 for a hardcover at PenguinRandomHouse.com
BONUS
Duke Cannon Supply Co. Soaps
This is just for the men on your list, but I couldn't resist, because when it comes to marketing, few do it better. Their website reads, "Duke Cannon hails from a simpler time. A time when the term handyman was redundant… A time when you never put the word salad next to bar."
But it's not just macho bluster from another company trying to take your money. They make great-smelling grooming products for man's men, and donate a portion of the proceeds to legitimate tough guys (and gals): veterans and their families. They also test their products with active duty military to make sure they meet the highest standards. Duke offers bodywash, colognes, aftershaves, and more, but if you want to start simple and small, try their Big Ass Bricks of Soap.
Frothy the Beerman is a good seasonal choice. While he's made with real beer, he smells like sandalwood, and at 10 ounces, he'll endure many a shower before he needs to be replaced. He's also sure to make that Christmas stocking look like there's more in there than you actually stuffed.
Price: $9 for Frothy the Beer Man at DukeCannon.com