Summary
– Chaga is a fungus that has been used in traditional medicine for generations.
– Chaga promotes a strong immune system by supporting cellular integrity and provoking an immune response to beta-glucans.
– Chaga can be consumed as a tea, or in capsules, powders, and tinctures.
– Claims that chaga can help fight disease in humans are not substantiated.
What Are Chaga Mushrooms?
Chaga is a type of fungus (Inonotus obliquus) that forms on tree bark in cold climates. It grows mainly in Alaska, Canada, northern Europe, and parts of Russia, and looks something like a burned sweet potato—charred black on the outside and orange on the inside when you split it open. Chaga has been used in traditional medicine for generations as a supplement for immunity and overall vitality, and is usually consumed as a tea. These days, it can also be taken in capsules, as a powder, or as a tincture, and is often paired with cordyceps, another mushroom.
In case you were wondering, no—unlike some other mushrooms, chaga does not have psychedelic properties.
Chaga Mushroom Powder Benefits
Chaga is high in fiber and packed with B vitamins, vitamin D, and various essential minerals. It contains compounds that help fight cell damage. While there is practically no research on chaga's effects in humans, scientists have found that it has powerful health implications in animal studies, and shows great promise in in vitro trials.
A Japanese study investigated several mushrooms known for their medicinal properties and determined that the compounds in chaga were the most helpful for maintaining cellular integrity. The stronger your cells are, the better their ability to keep foreign invaders out, so cellular integrity helps to ward off illness.
The Journal of Ethnopharmacology adds further support to these findings, reporting that "Inonotus obliquus has the capacity to scavenge free radicals at concentrations higher than 5 microg/ml and that the polyphenolic extract can protect cells against oxidative stress."
Chaga has also been tied to immune health more directly by a 2015 trial, which concluded that its antimicrobial compounds may help support a strong immune system.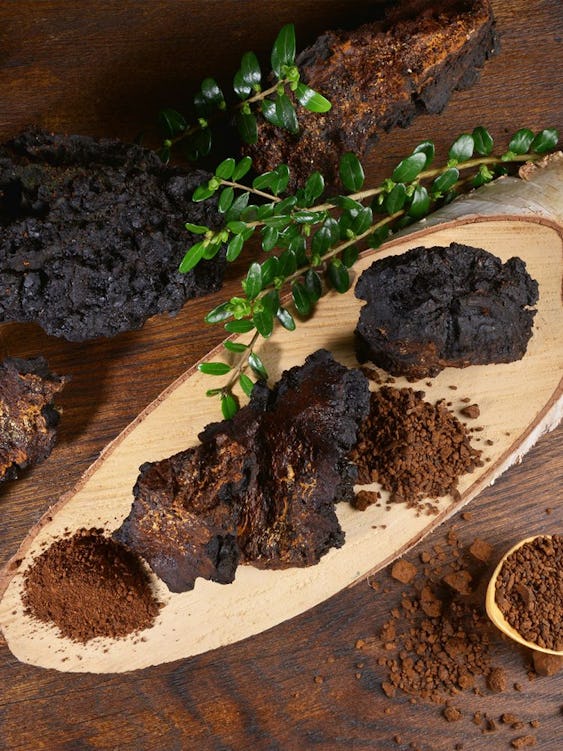 To appreciate how chaga acts on the immune system, you have to understand what type of plant it is. Chaga is classified as an adaptogen. "Adaptogens support the body's ability to adapt to stressors," says Shannon Ehrhardt, RD, CSSD, a Sports Dietitian with EXOS. "They function according to the current specific needs of the body, which may be chemical, physical, or biological. Similar to the way a thermostat controls the temperature in the house to keep it at a constant 72 degrees, adaptogens can work to stimulate or relax the body depending on the need at a given moment."
In small doses, stress can be a good thing, but chronic amounts that last a long time can be damaging to health. Adaptogens may apply a certain degree of stress to the body, but the ultimate effect they have is to help the body become more resilient. "Adaptogens work to not let stress get too out of control," says Ehrhardt.
In this way, chaga acts on the immune system by providing a polysaccharide called beta-glucan. This serves as food for the good bacteria in your gut—the guys that eat the bad bacteria that can make you sick—but beta-glucan is effective in another way too.
"Beta-glucans act on immune system receptors," says Ehrhardt, "stimulating immune cell activity and giving your immune system a boost."
Here's how it works: Your body can't make beta-glucan on its own, so it doesn't recognize it when you ingest it. Although it's perfectly safe to consume, your body is cautious. It assumes beta-glucan is dangerous, like any other invader, and to prevent it from making you sick, the body ramps up the release of white blood cells—the soldiers in your body's war against bacteria, viruses, and other pathogens. A study in Medicina indicates that beta-glucans can support the immune system.
So, in effect, by introducing a source of stress into your system—a very manageable one—chaga aids your body to become more resistant to the stress of sickness-causing agents.
Chaga Mushroom Capsules
Chaga is available in capsules for those who want a concentrated dosage that they can ingest quickly. If you're not interested in brewing chaga powder into a tea, or you don't like the taste, swallowing capsules is a suitable alternative. 
Chaga Tea
Chaga has traditionally been consumed in tea. It has an earthy and slightly bitter flavor, and many people think it tastes much like a medium roast coffee. And here's a fun fact: Finland is a big producer of chaga, and, during World War II, when coffee beans were in short supply, the Finns started drinking chaga in mass as a substitute. Chaga, however, is caffeine-free, and doesn't contribute to focus or energy.
Chaga Coffee
Chaga can be added to coffee, and some companies sell chaga-infused coffees. You can make your own chaga coffee at home if you choose by boiling chunks of chaga (available online) in water to make chaga tea, and then using the tea instead of water in your coffee maker. The addition of chaga can help to curb coffee's acidity, if that bothers you.
Scientific Studies on Chaga
Studies on mice and rats have shown chaga to be helpful in battling cancer, diabetes, and dangerous cholesterol levels, but be wary of any source that tries to make medicinal claims about chaga supplementation in people. To date, chaga has not been studied for its effects on health conditions in human beings, and any assertion that it can aid recovery from disease can likely be traced back to chaga sellers who stand to profit from misleading claims. As it stands, chaga may benefit the immune system in a round-about way, but cannot legally be named as a valid treatment for people already suffering from illness.
Meanwhile, people who take blood-thinning medications or are preparing for surgery may need to specifically avoid chaga. According to a study in Peptides, it contains a protein that can prevent blood clotting.
For information on supplements and strategies that support immune health, see our guide.