Energy for exercise used to mean one thing: sugar.
When you played pee-wee football, it meant Shark Bites fruit snacks at halftime. When you ran your first 5K, it was energy gels in your fanny pack. No matter how long or how hard your workout, the only way to get through it—we were told—was to inject carbs directly into our veins. And if you didn't? You'd "bonk," "crash," or otherwise poop out before the game, match, or workout was over.
It seemed to make sense. When you exercise, you burn carbs. Your body needs carbs to replenish its energy stores (unless you're following a keto diet), so everything from pasta and bread to candy and beer has been suggested at one time or another to help you restock. But there's more to performance fuel than carbs—or even calories—and, as you might have suspected, there are healthier ways to obtain it.
The true secret to promoting long-duration performance? Maintaining your water and electrolyte balance.
Aid Performance With Electrolytes
What Are Electrolytes?
Electrolytes are minerals that are transported through your body fluids and carry an electric charge. They play important roles in generating energy for cells, transporting signals to and from the brain, muscle contractions, and more. The main electrolytes are calcium, chloride, magnesium, phosphorus, potassium, and sodium.
What Is an Electrolyte Imbalance?
When you sweat heavily, due to heat exposure, physical activity, or a combination of the two, your body loses water and the electrolytes it carries. For athletes in the middle of a training session or competition, especially in summer time, this loss can be disastrous. In its position stand on exercise and fluid replacement, the American College of Sports Medicine (ACSM) states that losing as little as two percent of your body weight in water can compromise performance and health.
But drinking water by itself isn't enough to undo the damage. Not only does it not contain electrolytes, but drinking too much without taking in an appropriate amount of electrolytes at the same time will lead to an imbalance—read: you can drink water well past the point of quenching your thirst, but it won't recharge you.
You see, when you chug plain water, you dilute the electrolytes you have left in your system. This makes it even harder for them to serve the body processes they play such a critical role in. What's more, it actually results in some of the same problems as those caused by not getting enough water, and other challenges as well. Research shows that an inadequate electrolyte imbalance can cause blood pressure changes, confusion, fatigue, lightheadedness, muscle weakness, and decreased muscle control. In other words, drinking too much water is just as bad as not drinking enough!
The New England Journal of Medicine analyzed runners in the Boston marathon. Thirteen percent of the competitors tested were found to have an inadequate electrolyte balance during the race. In fact, the runners who drank the most water—at least three liters of fluid over the course of the marathon—had the worst finish times (greater than four hours). All that water actually resulted in them gaining weight—over the course of a four-hour race!
The amount of water and electrolytes you need is highly dependent on your size, the activity you're doing, the time you spend exercising, and the weather conditions, so it's impossible to give a blanket recommendation on how much to consume. But experts say the smartest strategy is to drink a water and electrolyte mix periodically throughout your workout—even before the first sign of thirst. The Clinical Journal of Sport Medicine suggests downing about one and a half to three cups of water per hour of activity, and the Institute of Medicine recommends that your beverage include sodium and potassium, in particular, to sustain performance during prolonged exercise in hot weather.
Benefits of Electrolytes
Supplementing with electrolytes has been found to have a positive and significant impact on two main measures of performance. It can…
Sodium, in particular, has been shown to support lasting energy for long-duration endurance exercise. A 2016 study found that triathletes who supplemented with sodium during a half-ironman finished faster than a control group, and lost less body mass from water depletion along the way. The Scandinavian Journal of Medicine & Science in Sports reported that cyclists taking sodium improved their finish times by 7.4% over a control group, which researchers credited to greater cardiovascular function.
Another study in the International Journal of Sports Medicine discovered that sodium bicarbonate helped to stave off fatigue in swimmers, improving their finish times in the 200-meter freestyle race—most likely by assisting with the athletes' acid-buffering capacity.
If your athletic endeavors are limited to your backyard or garage, sodium works for anaerobic exercise too. A trial from 2014 found that basketball players maintained sprinting performance into the final quarter of their games better on sodium bicarbonate than a placebo. Meanwhile, Amino Acids published a study showing that sodium promoted increases in the total work performed by experienced judo and jiu-jitsu competitors, as well as anaerobic power. That means the potential for more throws and submissions in the same amount of time.
2. Stimulate Strength Gains
Magnesium has long been linked to force production. A 2015 study found that it promoted max bench-press strength by 17.7%. (Good news for the impatient: it only took one week.)
Furthermore, a Magnesium Research study concluded that the mineral was directly associated with maximal core, leg, and grip strength—and jumping performance—in basketball, handball, and volleyball players. The researchers wrote: "The observed associations between magnesium intake and muscle strength performance may result from the important role of magnesium in energetic metabolism, transmembrane transport, and muscle contraction and relaxation." They also noted that, in general, athletes' magnesium intakes are "often below recommended levels."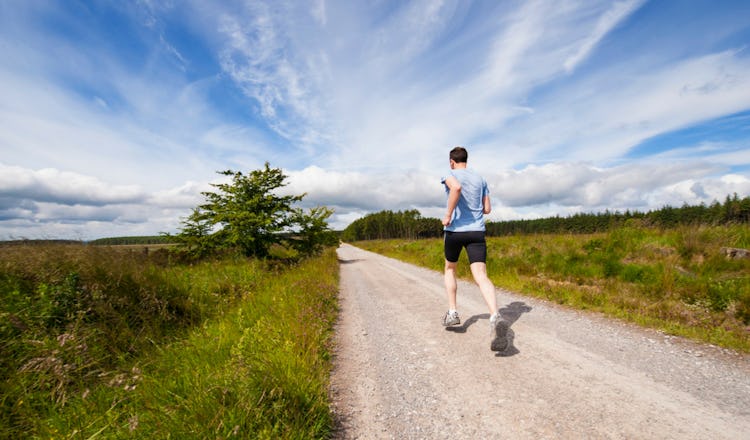 Do I Really Need Carbs For Energy?
Don't get us wrong. Electrolytes are an underrated and essential nutritional element for high performance, but carbs are also important for keeping your energy up during exercise. You just don't need them by the barrel full.
The ACSM recommends consuming no more than 60 grams of carbs per hour of activity. More than that can delay the rate at which your stomach empties of food, causing you discomfort in the gut that can affect your performance.
Furthermore, solutions made with a 2:1 ratio of glucose to fructose seem to offer more benefit than just slamming carbs in any form you can get them.  The Journal of the International Society of Sports Nutrition reported that this glucose-to-fructose combination aided performance in an array of activities, including sprinting, lifting, jumping, and shuttle runs. Meanwhile, a study in Medicine and Science in Sports and Exercise found that it helped cyclists improve on timed trials by eight percent. The pairing of glucose and fructose appears to help the body absorb carbs faster than consuming either type alone, making them more readily available during exercise.
A Summer Hydration Solution
If you're going to be playing sports or exercising outdoors on a hot day, and sweating heavily as a result, a sports drink that contains electrolytes and carbohydrates may help to maintain hydration as well as performance. Onnit's HYDRATechInstant comes in two delicious flavors—Lime and Tangerine—and mixes easily into 8–12 ounces of water. Add it to your water bottle or shaker cup before activity, and sip throughout, or down a full serving after a session.