When kettlebell training is brought up in conversations between strong men or women, the predominant thoughts are high reps, thin people, conditioning, etc.
Building mass and gaining strength is the last thing that most people are thinking when they see Youtube videos, infomercials, and up to 20lb kettlebells sold at Target in the sporting goods section.
When I was a successful national level NPC bodybuilder in 2009, the first time I picked up a kettlebell I was immediately humbled by the piece of steel. I took to it like Crossfitters took to bacon and raw milk.
Within a month I had transitioned my own training, along with my clients, to more than 50% with the kettlebell. The pestering came from all over:
"You can't build muscle with kettlebells!" "Thats pointless!"
"How can you build strength? That thing is only 52 lbs!"
You get the picture. I'm sure many of your barbell worshipping friends have said the same to you. Don't get me wrong, I'm not trying to take the barbells from you. If you want MAX strength, you need them. But the puzzle of life and training is much larger than just maximum strength.
It is now 5 years later and you would think that the training world would have caught up. Think again. My gym is next to Cincinnati, Ohio, an area of the country that loves to stay about ten years behind progressive thinking areas.
Just 20 minutes before I started typing this article, a high school football player was training in our gym. I overhear him telling another trainer that he has to sneak into our gym because of the fact his coach banned him from coming to train with kettlebells because he will get too "skinny."
I might as well go ahead and get myself on this coaches s*&# list and say, "1980's ex-NFL lineman" type coach. All they have the kids doing is bench press, squat, and running.
This kid I speak of, since he has been training with kettlebells and other functional tools, has developed into an injury-free sub-10% bodyfat player. Did I should mention that he is the strongest, one of the fastest, most talented players on the team?
He tells us that it is DIRECTLY related to heavy kettlebell strength and coordination training he has done at my gym for the past two years.
Still, he is banned from training here. When will this attitude stop? Luckily, with the help of entities such as Onnit Academy, trainers like myself are in the position to spread our success with the kettlebell.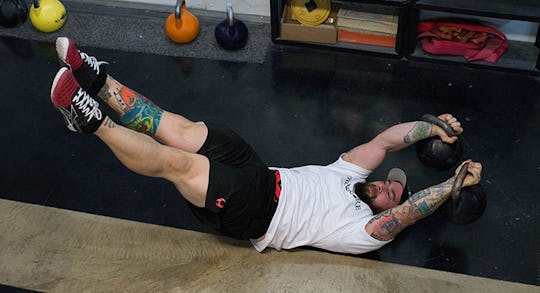 I truly feel there is nothing that you cannot gain from kettlebell training. Strength, mobility, coordination, stamina, strength endurance, power, acceleration, deceleration, transitional strength, balance; I could keep going. But there are glaring problems.
Since the kettlebell has only recently gained popularity as a training tool in the US, it is plagued by being misunderstood in a land of Schwarzennegaridolizing strength coaches who grew up with a barbell in their basements.
Old habits are hard to break, it takes time to learn a new skill, and it takes even more time to COACH that skill properly.
On top of that, businessmen and women, looking to profit on the hype of the newest exercise tool in the most obese country in the world, aren't looking for strength and muscle mass builders; they're targeting "weight loss."
Instead, they end up making videos and infomercials selling 10lb kettlebells and high intensity heart rate raising workout programs designed to have you shed the pounds by using the kettlebell in near pointless exercises that look like you're shooting your workout partner with a kettlebell handgun.
Kettlebells take a lot of skill due to fact that they challenge you on multiple planes of movement. On top of that, the handle is rotating in your hand as the weight changes position in several exercises. Sorry dumbbell, but you stay stuck in the same grip the whole time.
I'll bet that anyone who can clean a barbell that weighs close to 100kg will have a hard time cleaning even 96kg of kettlebells. For this, you will definitely have to have double kettlebells. Here is when we really get into the action of this article.
Luckily you have been following the Onnit Academy for awhile. You're probably pretty efficient with the basics of using a kettlebell. You've developed pretty even strength and coordination with both arms.
You've found that you have more strength in the torso due to developing musculature of the lateral subsystem.
"Hello, Quadratus Lumborum!" after heavy windmills and turkish get ups. swings, cleans, snatches, and jerks are all your friends. Now, it's time to get your hands dirty. Both of them.
Double Kettlebell Workouts for Strength
Double kettlebell training is a whole other beast. You can't cheat catching bad cleans or snatches. Your form must be spot on or you'll be sweeping your pinky off the chalky floor.
Nearly any exercise you can do with one kettlebell, you can do with two. Some differences are subtle and some are very noticeable.
Double kettlebell training is mostly about increasing strength and power. It's all in how you use them. In this way, all you have to do is to increase time under tension with heavier weights of slower tempos.
While not easily done with the kettlebell Swing, you can with overhead presses and multiple movement exercises such as the turkish get up and renegade row. Normally, kettlebells are used ballistically with little time under tension; the opposite of bodybuilding and powerlifting.
Girevoy (Kettlebell) Sport lifting is actually the art of lifting weight overhead for as many reps as possible for up to 10 minutes. This is done by expending as little energy as possible and using the body as a whole unit of force production and deceleration.
Swings, Cleans, and Snatches all require using heavier weights, mainly two kettlebells at once to increase strength and power. With this being said, lets move on to my favorites.
Double Kettlebell for Strength Workout
WARM UP
Mobility work and foam rolling as needed.
WORKOUT
A1: Single Leg Deadlift – 5 each side
A2: Double Windmill – 5 each side
Repeat 2 times. Rest 90 seconds between supersets.
B1: Double Snatch to Overhead Squat – 5-6 reps
B2: Double Kettlebell Dragon Flags – 3-5 reps slow
Repeat 3 times. Rest 120 seconds between supersets.
C1: Renegade Row – 10-14 reps (5-7 per side)
C2: Pull Ups – 6-8 reps
Repeat 3 times. Rest 90-120 seconds between supersets.
FINISHER
20 Kettlebell Swings, 6 Lunges, 5 Push Ups for 5 rounds. OR
10 Sandbell Slams, 5 Jump Squats, 5 Push Ups for 5 rounds
Double Kettlebell Workouts for Your Transverse Plane
WARM UP
Mobility work and foam rolling as needed.
WORKOUT
A1: Lateral Resistance Banded Lunges – 8 each side
A2: Mace 360s or Kettlebell Halos – 12 each side
A3: Mountain Climbers – 30 seconds
Repeat 1 time. Rest 1-2 minutes between rounds.
B1: Rotating Double Kettlebell Seesaw Press – 5-6 each side
B2: Renegade Row – 12 reps (6 rows each side)
B3: Sandball or Steelbell Rotating Slams – 16 -20 reps
Repeat 1-2 times. Rest 2-3 minutes between rounds.
C1: 90 Degree Rotating Kettlebell Swings – 1 minute
C2: Turkish Get Up – 3-5 each side
C3: Rotating Plank Reach – 1 minute
Repeat 2 times. Rest 2 minutes between rounds.
FINISHER
Tabata with Battling Ropes
Double Kettlebell Workouts for Conditioning
WARM UP
Mobility work and foam rolling as needed.
WORKOUT
A1: 14 Double Long Cycle Clean & Jerk
A2: 12 Double Alternating Cleans
A3: 10 Push Ups Alternately raising one foot off the ground
A4: 8 Double Kettlebell Swings Outside the Legs
A5: 6 Snatches each arm
A6: 4 Pistols each leg
A7: 2 Turkish Get Ups each side
Finish the round then cut off the last exercise in the list; subtract those reps from the previous round. For example, the second round start with 14 Long Cycle and does not include the Turkish Get Ups at the end. Each round continue to delete and subtract until the last round is only t Long Cycle Reps
Double Kettlebell Workouts for Simple Strength Endurance
WARM UP
Mobility work and foam rolling as needed.
WORKOUT
A1: 10 Double Kettlebell Rack Squats
A2: 10 Double Kettlebell Bent Over Rows
A3: 10 Double Push Press
Repeat with 9 reps, 8,7,6,5,4,3,2,1 of each. See how long this will take you. It's TOUGH with double 32kg kettlebells.