Barry Peterson craned his neck to see the top of the telephone pole. Tied to it was a 165-pound dummy, simulating a lineman who had become incapacitated, probably due to electric shock. It was now up to Peterson to climb 40 feet in his steel-toed boots, tie a rope around the body, cut its harness, and lower "him" to the ground safely—all in under five minutes.
Peterson, now age 52, hadn't done a hurtman rescue in nearly 10 years.
He took a deep breath, slapped on his hard hat, pulled on his gloves, and listened for the "go" command…
Joining The Tribe
Back in his 20s and 30s, Peterson, from Modesto, California, had his dream job as a high-voltage lineman for the local irrigation district. He had been a competitive mountain biker and road cyclist as well, until a bad knee injury made him give up cycling. From there, Peterson gradually settled into a sedentary lifestyle, and self-medicated with alcohol.
His weight ballooned to more than 300 pounds, making his work as a lineman that much more perilous. Facing alcoholism and burnout, Peterson quit his job in 2012, walking away from both his passion and a six-figure salary. He was 44.
After a few years running a restaurant, Peterson and his wife moved to Hillsboro, Oregon, in 2016, where he began work in a motorcycle dealership. Since his days on the line, he had quit drinking, and the process of drying out, as well as disciplining himself not to eat late at night, helped Peterson lose more than 100 pounds. But he eventually reached a plateau. "I was still too fat to go to a gym," he says. "It was too intimidating."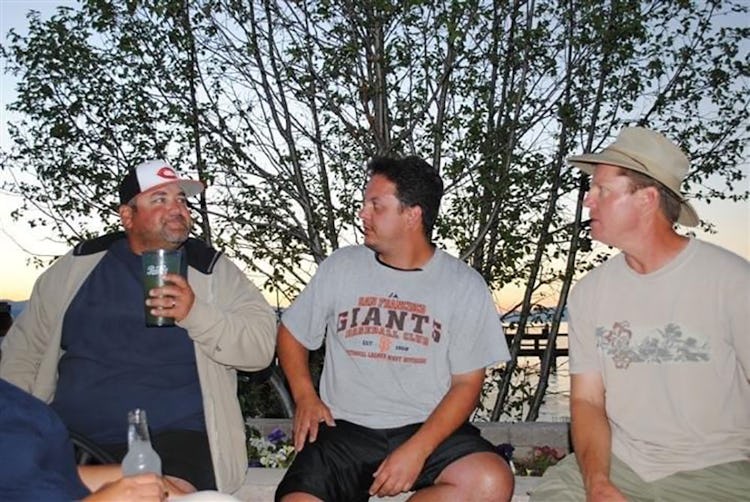 When the Covid-19 lockdowns hit in March 2020, Peterson was laid off by the bike shop. "I whined and cried for a minute," he says, "and then I came up with a game plan."
A longtime fan of Onnit since he had first heard founder Aubrey Marcus on The Joe Rogan Experience podcast, Peterson was browsing the company's website when he saw that digital products were on sale at 50% off. Though he was collecting unemployment benefits and had to be frugal, Peterson made the investment in an Onnit 6 (O6) program to help him lose weight and stay active during his downtime.
Onnit 6 workout plans are six-week long courses that focus on helping users adopt a fit lifestyle. There's one based around each of Onnit's core pieces of workout equipment, from the kettlebell to the steel club, and they also come with nutrition advice and yoga routines for recovery. Workouts are streamed online—featuring video instruction from Onnit's Chief Fitness Officer, John Wolf—so you can follow along with them in the comfort of your own living room.
Several times per year, Onnit offers an Onnit 6 Challenge transformation contest as a companion to the O6 workout plans. Participants choose an O6 they want to commit to for six weeks, and work (remotely) alongside other users to change their bodies and their lives. One of the key features of the O6 Challenge is access to the Onnit Tribe, a Facebook group that Challengers use to motivate and support each other. To win the Challenge, you need to demonstrate that training with Onnit helped make a positive difference in your life, and that you've developed the habits, mindset, and community one needs to be successful long-term. Grand-prize winners (one male, one female) are rewarded with free Onnit products, access to all Onnit 6 programs, and $6000 in cash.
Armed with Onnit 6 Bodyweight, Peterson signed up for the O6 Challenge in July.
"Team Fat Ass"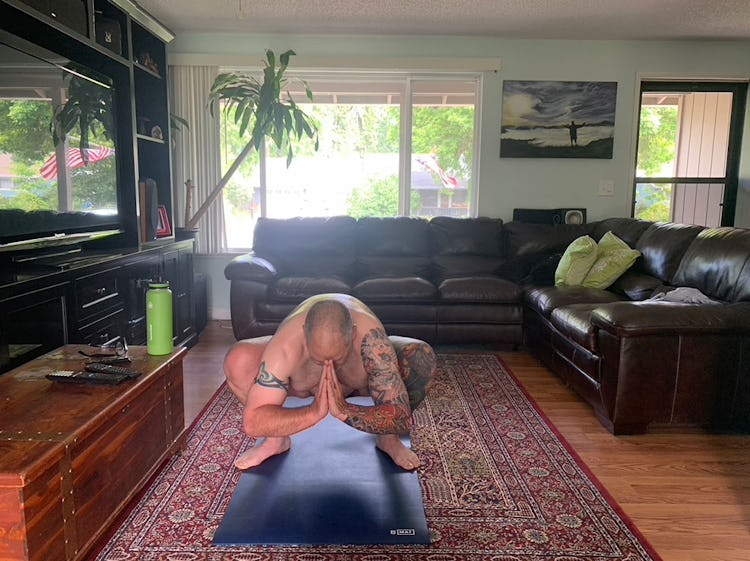 The O6 Bodyweight program requires no equipment, but Peterson soon discovered that lifting your own mass is often harder than hoisting any external load. "I was incredibly sore after the first workout," he says. "But I was also hooked. It's the hardest training I've ever done. And I never would have found these exercises without this program."
The exercises in question included rotary lunges—step back and drop into a lunge position, and then rotate your rear knee outward 90 degrees while staying low. The move challenges your hip mobility while it builds leg strength and conditioning. Peterson also performed planks with one leg lifted, a brutal core exercise. O6 workouts are always tiered, so users can customize them to their level. Beginners can focus on Level 1 exercises to help build a base, and more advanced trainees can choose Level 2 or 3 moves for a greater challenge. Therefore, two people of very different experience levels can train together in the same session without missing a beat.
"So many programs just give you exercises and let you go," says Peterson. "But I liked the three different levels that Onnit 6 lets you choose from. You can do half the exercises at Level 1 and half at Level 2 if you want to. You always have some way to progress or tailor the workouts to your own body."
Another outstanding feature of the O6 workouts is their user-friendliness. Most trainees find the workouts don't aggravate any pre-existing injuries they have, and they sometimes even help to alleviate them. "I had a meniscus surgery where they took a silver-dollar sized piece out of my right knee," says Peterson. "When a storm comes in, I'll feel it there first. But the O6 exercises were all doable. There were plenty of moves that scared me," Peterson says with a laugh, "but nothing hurt me. And some of the stretches we did in the yoga workouts were phenomenal for me."
Peterson coupled his grueling workouts with a return to sensible eating. He employed intermittent fasting by skipping breakfast, thereby reducing the amount of time during the day he could allow himself to eat. He also watched his sugar intake. "I go on sugar benders very easily," he says, "so I found that if I cut out sugar with my morning Starbucks, that helped me avoid it the rest of the day." But Peterson stresses that he's not a diet zealot, and never will be. He loves food too much, and says it's OK if you do too.
"If I want to go have a cheeseburger now and then, I will," says Peterson. "I'm not some crazy nutrition naysayer when it comes to food. I just tried to watch what I was eating, when I was eating, and how much I was eating. I ate mainly protein and green vegetables, but there were times when I felt tired. I asked Coach Wolf about it and he said I should eat some more carbs to bring my energy levels up. I had some rice, and sure enough, I felt better."
The best part of the entire O6 experience, says Peterson, was drinking in the love of the Onnit Tribe. Members share workout and nutrition advice, and encourage each other to stick to the program, but the relationships that develop aren't constrained to matters of fitness alone. Unlike with most physique transformation challenges, the competitors really aren't competing against each other. They're encouraged to form friendships that last beyond the six weeks of the program, and many participants find that they grow very close to each other and become like family.
The Tribe culture is positive and fun. There's at least as much discussion on the message threads about light-hearted topics such as music and jokes as there is about calories, sets, and reps. "At first I thought the Onnit Tribe was going to be a bunch of in-shape muscleheads that wouldn't want to hear from some old fat guy," says Peterson, who, in keeping with his self-deprecating sense of humor, referred to himself as "Team Fat Ass" in his posts. "But I was completely wrong. The very first video I saw on there was of another big guy working his ass off. The Tribe is real-world people who have real-world issues like everybody else. They come from many different walks of life."
No one has embraced the Tribe's happy-go-lucky vibe, or contributed more to it, than Peterson. A regular poster who hasn't been afraid to share his struggles with the group, many members cite Peterson as a constant source of inspiration… and entertainment.
"I posted a video of me dancing to the Moulin Rouge song, looking ridiculous" he says, "and challenged a bunch of the other members to do the same." Before long, nearly everyone in the Challenge group had contributed a video of their own dancing in what became an exercise in silliness, but also fearlessness—dropping the ego and letting senses of humor shine.
The Lineman… Is Still On The Line
When the Challenge concluded at the end of August, Peterson had lost 30 pounds. He had also trained through a freak injury to his hand, sustained while installing a new refrigerator in his house, without missing a step. "There was a chiropractor in the Tribe who gave me some tips on taping up my hand," says Peterson. And it was back to business as usual.
In light of his results and determination, Peterson was declared the O6 Bodyweight male grand-prize winner. At 52, he has the great distinction of being the oldest O6 winner to date.
Of course, the benefits Peterson reaped weren't just aesthetic. The strength and conditioning he gained from the training allowed him to get more out of his outdoors active lifestyle. Peterson and his wife enjoy hiking. "We go to this area where there's a really steep climb," he says. "I used to have to take a little break halfway through, but since Onnit 6, I can go all the way without stopping."
Even before his experience with O6, Peterson had been craving a return to line work. With the downtime his pandemic layoff provided, he looked for a new job in electric utilities. To get it, he had to become re-certified in hurtman rescue: the skill of saving an injured fellow lineman from the top of a high-voltage telephone pole. Peterson, nearly 10 years older than the last time he'd shimmied up a pole, but also more than 100 pounds lighter and in the shape of his life, accepted the challenge.
"I remember climbing it and thinking, 'I feel pretty good compared to how I thought I was going to feel,'" says Peterson. He completed the simulated rescue in time, passed the test, and got hired as a lineman at a Portland utility company in October 2020. "Line work is a young man's game," says Peterson, "but I'm not going to get outworked. I like to out-hustle folks that are younger, and Onnit 6 helped me be more confident that I could do the things I used to do."
Barry Peterson's Tips For A Fitter 2021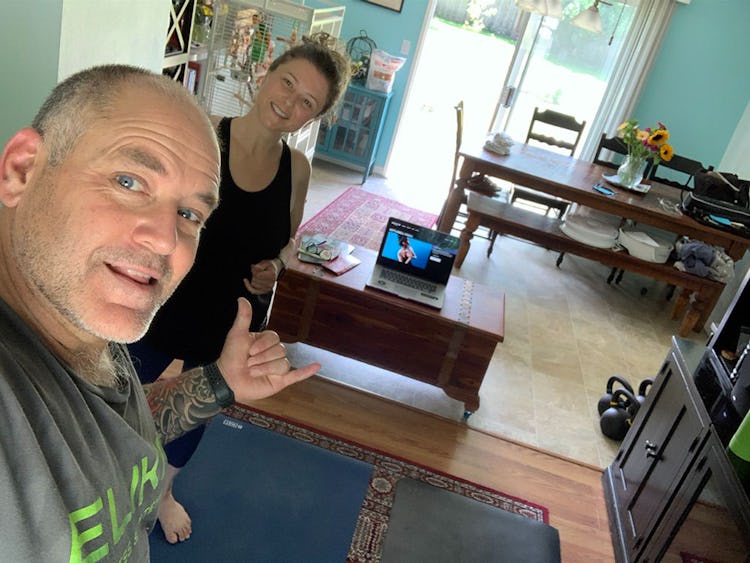 We asked Peterson what advice he would give to someone trying to turn over a new health and fitness leaf in 2021.
"Find something that works for you," he says. "People love to give advice, but it's usually based on what worked for them, and they have no idea what struggles other people go through. So try different stuff and see what fits. I tried lots of other stuff over the years—DDP Yoga® and silly stuff like Tae Bo®—and gave up on it, because it wasn't as user-friendly as Onnit 6, and it didn't have the community involvement that Onnit has.
"Onnit gives you six workout programs to choose from, so there's probably something there for you. If nothing else, repeat the Bodyweight one until you can do Level 2 or 3 for every exercise. You'll be amazed by the shape you can get in."
All photos courtesy of Barry Peterson.