Getting strong doesn't require wookiee-like genetics or a complex workout program. It really boils down to mastering four basic movement patterns: hinge, squat, pull, and push. In Week 7 of our 8-week Star Wars Fuel Your Force program, we'll show you how to train these movement patterns with kettlebells to build brute strength (without having to grow your hair or growl).
The hinge pattern involves moving at the hips, bending and extending them so that your glutes—the most powerful muscles in your body—do most of the work. Deadlift variations train the hinge. The squat requires you to keep an upright torso as you bend your knees, placing most of the load on your thighs. The simplest pulling motion is a row, which fires up your back and biceps, and the push can be trained with an overhead press, which hits the chest, shoulders, and triceps. Training all these movements in one session provides a total-body workout, and doing them as a circuit adds a cardio-conditioning component that helps build endurance and burn fat.
DISCLAIMER
The materials and information provided in this presentation, document and/or any other communication ("Communication") from Onnit Labs, Inc. or any related entity or person (collectively "Onnit") are strictly for informational purposes only and are not intended for use as diagnosis, prevention or treatment of a health problem or as a substitute for consulting a qualified medical professional.
Star Wars, Fuel Your Force, Week 7, Strength
Products used in this workout:
Stormtrooper Kettlebell
Perfect Shaker bottle
DIRECTIONS
Perform the exercises as a circuit, completing one set of each in sequence without rest in between. You'll do 5 reps for each movement (5 on each side for the ones that alternate sides) and complete as many rounds as you can in 5 minutes (so set a timer). If you're new to kettlebells, perform the exercises that Jena demonstrates. If you're more advanced and feeling strong, do the versions that Eric demonstrates. For reference, Jena uses an Onnit Harpy kettlebell (26 pounds), and Eric has a Stormtrooper bell (60 pounds), but choose weights that are appropriate for your level and will allow you to complete all your reps with good form.
JENA
1. Deadlift
Place a kettlebell on the floor and straddle it with feet shoulder-width apart. Draw your shoulders back and down (think about Superman showing the "S" on his chest), and then tilt your bottom back and upward. Now push your hips back as if trying to reach the wall behind you so that you feel a stretch in your hamstrings. Continue until you can reach the kettlebell—your shoulders should be directly over the weight and higher than your hips.
Take a deep breath and brace your core. Think "proud chest," and try to draw your shoulders down and back even farther. Keeping your head, spine, and pelvis in one line, push through your heels as you extend your hips to come up and stand tall with the weight at arm's length in front of you. Think about keeping a long spine so your lower back doesn't round forward. Squeeze your glutes as you lock out your hips.
2. Squat
From the top position of the deadlift, bend your hips back a bit and then pop them forward fast as you pull with your arms to clean the kettlebell up in front of your chest. Your hands should grip the ends of the handle and should be right beneath your chin.
Twist your feet into the floor, screwing them outward so that you feel your hip muscles fire up. Imagine you're spreading the floor like a rug beneath your feet—create that tension. Take a deep breath into your belly and spread your knees apart as you squat down as deeply as you can while keeping alignment from your head to your pelvis. Your knees should line up with your first two toes in the bottom position—don't let them cave inward. Squeeze your glutes as you come back up to standing. Begin the next rep from there.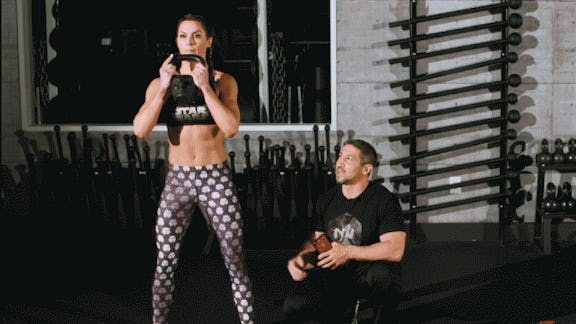 3. Split-Stance Row
Step your right leg back so you take a staggered stance and hold the kettlebell in your right hand. Keeping your alignment (remember your long spine) and a proud chest, bend forward at the hips and rest your left elbow on your front thigh. Use the arm to help you stabilize and keep your balance. From there, keep your shoulders square to the floor and row the weight to your hip, driving your elbow back and up. Complete your reps and repeat on the opposite side.
4. Push Press
Stand up and clean the weight to your right shoulder. Keeping your body very straight and tall, dip your knees quickly and then reverse the motion to generate momentum. Allow it to help you press the weight straight overhead. It's OK if you can't lock the weight out overhead. Use whatever range of motion you can without causing pain. Complete your reps and then switch legs and repeat.
ERIC
1. Plyo Deadlift
Perform a deadlift as described above but come up explosively so that your feet leave the floor as you lock out your hips. Land softly with knees bent and begin the next rep immediately—allow your body to sink right back into the bottom position.
2. Clean To Squat
As you come up on your last rep of plyo deadlifts, clean the kettlebell to your chest as in the squat described above. From there, perform a squat, and then lower the weight back to arm's length. Clean the bell on each rep.
3. Gorilla Row
Place the bell on the floor and stand with feet shoulder-width apart. Get your proud chest shoulder position and tilt your bottom back again, and then push your hips back to bend your torso toward the floor. Grasp the kettlebell and row it to your side while keeping your shoulders square to the floor. Maintain a braced core.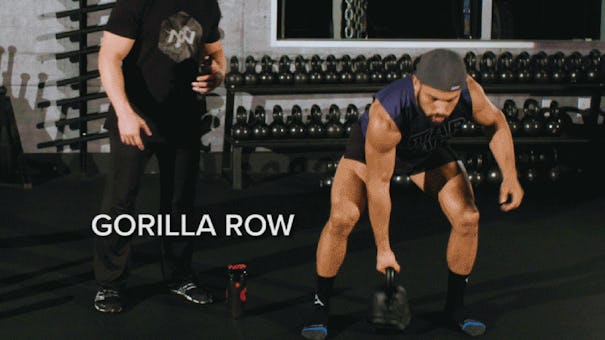 4. Strict Press
Stand up and clean the kettlebell to your right shoulder. Tighten your glutes, draw your ribs down, and brace your core. Press the weight overhead without using your legs for assistance.
Paleo-Friendly Waffles
Yields: 3 waffles
Prep time: 10 minutes
Cook time: 15 minutes
Difficulty: Easy
INGREDIENTS
2 tsp coconut oil, melted
2 tbsp unsweetened almond milk
1 pasture-raised egg
½ cup Simple Mills Gluten-free Pancake and Waffle Mix
2 tsp beetroot powder (for natural red color)*
⅛ tsp charcoal powder (for natural dark grey color)
¼ cup fresh, organic berries
1 tbsp coconut whipped topping, optional
*As an alternative to create a natural red color for the waffles, you can blend or muddle ½ cup of fresh strawberries with the stems removed. Then add to the batter.
INSTRUCTIONS
1. Preheat waffle iron to high-heat setting and spray iron with a non-stick oil.
2. In a medium mixing bowl, add the melted coconut oil, almond milk, egg, and waffle mix, and whisk until smooth. Pour ⅓ batter into the "Star Wars" upper left quadrant of the waffle maker. Cook according to instructions.
3. With remaining ⅔ of the batter, stir in the beetroot powder (or alternative), and mix thoroughly. It should be red throughout. Pour ½ of this batter into the "Alliance Starbird" upper left quadrant.
4. With the remaining ⅓ of the batter, mix in the charcoal powder. Remember, a little goes a long way, and the color of the charcoal powder will mask the red of the beet. Pour the dark grey batter into the "X-Wing" bottom-left quadrant and cook.
5. Serve with a dollop of coconut whipped topping and fresh berries if desired.