The first physical skill we lose as we get older is our ability to produce power—to jump, accelerate, and change direction on a dime. As it declines, so does our capacity to play sports (or roughhouse with our kids). Week 5 of our 8-week Star Wars Fuel Your Force program hones in on building power and agility with plyometric exercises.
Plyometrics, or "plyos," are exercises that put a sudden stretch on your muscles. That activates their stretch reflex, a defense mechanism in muscles that prevents them from being stretched to the point of injury by contracting them hard and fast. The resulting contraction gives you the ability to explode—to leap! That's why plyos are a cornerstone in the training of athletes of all kinds (and wannabe Jedis on Earth).
To amplify the effect plyos have on fat-burning and your endurance, we're having you do them in every-minute-on-the-minute fashion. Called EMOM for short, you'll set a timer and do your exercises as a circuit, beginning each round at the top of each minute. Whatever time you have left between when you've finished your reps and when the next minute begins is your rest period. In other words, the harder you work and the faster you go, the more time you'll get to recover before the next round. That means you'll have every incentive to give the workout your full effort—no slacking!
DISCLAIMER
The materials and information provided in this presentation, document and/or any other communication ("Communication") from Onnit Labs, Inc. or any related entity or person (collectively "Onnit") are strictly for informational purposes only and are not intended for use as diagnosis, prevention or treatment of a health problem or as a substitute for consulting a qualified medical professional.
Star Wars Fuel Your Force, Week 5, Leap
Products used in this workout:
Onnit's Han Solo Yoga Mat
Perfect Shaker Bottle
DIRECTIONS
Perform the exercises as an every-minute-on-the-minute (EMOM) circuit for 5 minutes. That means that you'll need to start a timer. At the start of a minute, you'll do reps of each exercise in sequence without rest. When you're done, you'll rest until the end of that minute. At the start of the next minute, begin your next round. You'll do 6 total reps for each exercise (for exercises that alternate sides, do 3 reps each side). We're giving you two options for the circuit, based on two levels of difficulty. You can choose to do the basic level or the (harder) power level. The basic level is modeled by Jena (with the exception of the frog sprawl), while Eric demonstrates the power level.
Here's how the basic level EMOM would look: At the start of a minute (0:00), do 3 reps of the split jump on each leg (6 total), followed by 6 reps of the low frog sprawl, and then 6 reps of the squat jump. Afterward, rest until the end of that minute, trying to control your breathing. At the top of the next minute, perform your next EMOM round.
While EMOMs are designed to make you move fast, don't try to beat the clock at the expense of good form. If you feel your movements are getting sloppy, slow down and do them right.
Basic Level EMOM
1. Split Jump
Get into a lunge position—step forward with one leg and bend your knee until your front thigh is parallel to the floor. Your rear knee should nearly touch the floor. From there, jump up and switch your legs so that you land in a lunge with the opposite leg forward. Each jump and lunge is one rep.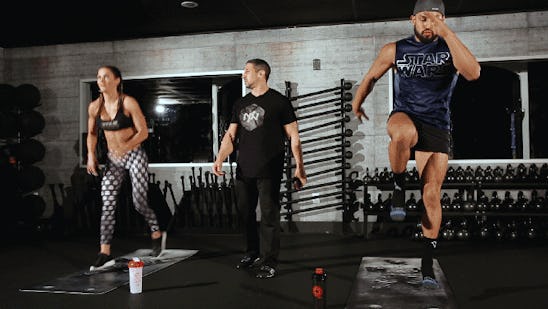 2. Frog Sprawl
Stand with feet shoulder-width apart, squat down, and bend forward to place your hands on the floor. Perform a half pushup, lowering your torso near to the floor while flaring your elbows and knees out (this is a sprawl). Now jump up and land in a deep squat position with your hands in front of your face. That's one rep. Make sure your knees line up with your first two toes and your head, spine, and pelvis form a straight line in your squat. Immediately jump back into the sprawl.
3. Squat Jump
From the bottom of the squat, jump up, extending your hips and knees as you throw your arms out to your sides for extra momentum.
Power Level EMOM
1. Sprinter Plyo
Get into a deep lunge position with your rear leg as far back as you can reach it and your weight on your front leg. Explosively jump and drive your rear knee forward, as if you were a sprinter taking off out of the starting blocks. Land and repeat for 3 reps; then switch sides.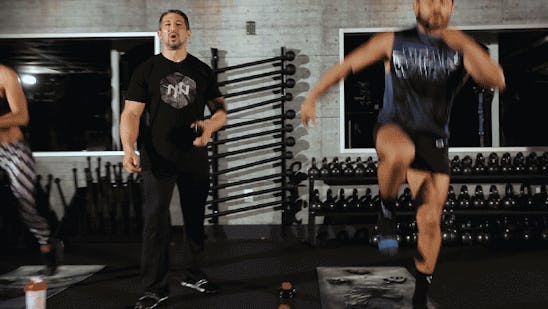 2. Frog Sprawl
Perform as described in the basic EMOM.
3. Jump Tuck
Stand up and then perform a deep squat, keeping your head, spine, and pelvis aligned. As you come back up, jump as high as you can and tuck your knees to your chest.
Garlic Dinner Buns
Yields: 12
Cook Time: 25 minutes
Difficulty: Easy
INGREDIENTS
2 pasture-raised eggs
2 tbsp filtered water
2 tbsp apple cider vinegar
4 tbsp extra-virgin olive oil
1 box Artisan Bread Mix
1 tbsp grass-fed butter, melted
¼ tsp Onnit Himalayan salt
1 tsp garlic powder
2 tsp poppy seed
INSTRUCTIONS
1. Preheat oven to 350 degrees Fahrenheit.
2. In a large bowl, whisk together the eggs, water, vinegar, and oil. Add the baking mix and stir to combine. Let sit for four to five minutes to allow the dough to thicken.
3. Line a baking sheet with parchment paper and coat lightly with cooking spray. Divide dough into 12 equal portions and place on the sheet.
4. Moisten hands with warm water to prevent sticking and gently roll each piece until it's about 3" in length. Then roll one side in towards the center, continuing until you create a pinwheel shape.
5. Repeat with remaining dough pieces. Lightly brush each pinwheel with melted butter, then sprinkle the garlic, salt, and poppy seeds on top.
6. Bake for about 20 minutes, or until the edges are light brown. Serve warm.