Summary
● Even a healthy diet can be low in some of the most important minerals that account for good health and athletic performance.
● The minerals you probably need more of are calcium, iodine, magnesium, and molybdenum—plus vitamin D.
● The amount of these minerals you're currently getting is dependent on many factors that are beyond your control, and dietary changes may not be enough to improve them.
The difference between being "healthy" and being "optimized" can be the difference between merely staying alive and what Matthew McConaughey called "livin'" in Dazed And Confused.
You get more out of life, and your fitness, when your system functions at its best, and taking it to that level begins with nutrition.
You may be eating healthy, but if your diet is still lacking in certain minerals—and research shows it may be—achieving your training goals and feeling your best will be more challenging.
The following nutrients are ones we consider key for optimizing health and performance.
#1. Calcium
What it Does
You know you need calcium for healthy bones and teeth, but it also helps facilitate muscle contractions and the secretion of vital hormones like insulin. There's some evidence that calcium intake helps with weight loss too.
A study in the journal Obesity Research examined the effects of differing calcium intakes in three groups of obese subjects placed on calorie-restricted diets. All three cut 500 calories per day for 24 weeks.
The control group ate 400–500mg of calcium daily and supplemented with a placebo. The second group followed the same diet as the control but supplemented with 800mg of calcium.
The third ate a menu high in dairy, offering 1200–1300mg of dietary calcium, supplemented with a placebo. All three groups lost fat, but the 800mg calcium eaters lost more fat than the control group, and the really high-calcium dairy eaters lost the most fat.
Remember that they all reduced their caloric intake by the same amount, so the researchers concluded that calcium might aid in weight reduction— apart from caloric restriction—and that dairy foods in general may contain other bioactive compounds that assist fat loss.
How Much You Need
The recommended dietary allowance (RDA) for calcium, as prescribed by the US Institute of Medicine, is 1000–1200mg a day for adults.
Where You Can Get It
Dairy sources such as milk, cheese, and yogurt are the most bioavailable (your body can absorb calcium from them easily). Tofu, beans, and green vegetables also offer calcium, and supplements are widely available.
Why You Might Be Low
Research has shown that children tend to replace milk in their diets with soft drinks when they become teenagers—particularly females.
If you're a teen, that means two things: one, you're probably too young to get the McConaughey reference above (that's a shame), and two, you're hindering your development unless you take in calcium from another source.
In addition, vegetarians are known to be at risk for calcium deficiency (along with anyone else who avoids dairy products).
The National Health and Nutrition Examination Survey (NHANES) estimates that the average dietary calcium intake for men ranges from 871 to 1266mg daily, and 748 to 968mg for women, indicating that some extra calcium would be beneficial in many cases (particularly for women).
#2. Iodine
What it Does
Iodine is essential for your thyroid gland, which helps regulate growth, brain development, and metabolism. It's especially important for expecting mothers.
How Much You Need
The RDA for iodine is 150 micrograms a day for adults. In 2012, the journal Paediatric and Perinatal Epidemiology reported that iodine requirements increase 50% during pregnancy (220 micrograms) and that iodine deficiency during that time can cause hypothyroidism in both the mother and fetus, as well as impair the neurological development of the fetus. "Two meta-analyses have estimated that iodine-deficient populations experience a mean reduction in IQ of 12–13.5 points," the paper's authors stated.
Where You Can Get It
Seafood, particularly seaweeds, such as kelp. Iodine is also available in dairy, grains, eggs, and poultry. Of course, iodized table salt is the most readily available and inexpensive source.
Why You Might Be Low
Data from NHANES suggests that more than 37% of women ages 15–44 have potentially low iodine intakes. Some experts recommend 250 micrograms of iodine a day to women who want to conceive to ensure adequate thyroid hormone production and iodine supply to the embryo and fetus.
But what if you're not a chick? Well, according to the Linus Pauling Institute, a non-profit research center at Oregon State University, iodine intake has decreased in the US in recent years.
Furthermore, judging by concentrations of iodine in urine, African Americans appear to consume less than whites and Hispanics.
#3. Magnesium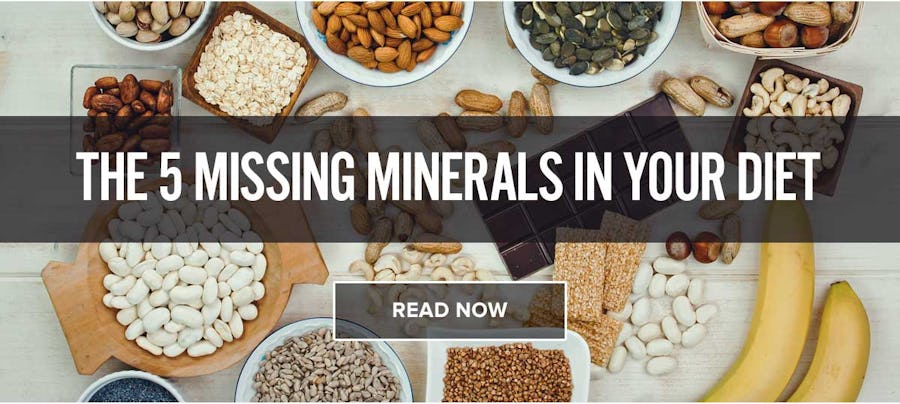 What it Does
An important compound for enzyme activity, magnesium is involved in more than 300 metabolic reactions. It helps your body metabolize carbs and fat for energy production and is required for the creation of proteins. Similar to calcium, magnesium can improve bone mineral density.
How Much You Need
The RDA is 400–420mg for men and 310–320mg for women.
Where You Can Get It
Green veggies, whole grains, and nuts are the most abundant food sources of magnesium, but it's also available in most multivitamins and as its own supplement.
Why You Might Be Low
NHANES found that the average magnesium intake among Americans is about 350mg per day for men and 260mg for women, which is significantly below the RDA. (Those over 50 years old had even worse numbers.)
Magnesium deficiency has been linked to a range of metabolic disorders, elevated blood pressure, and inflammation.
#4. Molybdenum
What it Does
Molybdenum promotes enzyme activity, perhaps most notably with balancing the body's sulfur levels. Sulfur is critical for detoxifying contaminants in the foods we eat, as well as in the health of connective tissue.
A survey published in the journal Environmental Geochemistry and Health looked at residents of Rugao County, Jiangsu Province, China—an agricultural area with a high number of people who are 90 years old and above.
Researchers observed a correlation between the molybdenum content of the soil, water, and rice in Rugao and the longest-living residents, leading to the conclusion that the mineral may positively influence longevity.
How Much You Need
The RDA for molybdenum for adults is 45 micrograms per day.
Where You Can Get It
Legumes—including beans, lentils, and peas—are rich in molybdenum.
Why You Might Be Low
The molybdenum content of food is highly dependent on the soil it grew in—the quality of which is very difficult for consumers to discover or gauge.
#5. Bonus – Vitamin D
What it Does
OK, it's not technically a mineral, but vitamin D is so critical to health that we'd be remiss not to include it. It increases the body's utilization of calcium, aiding bone health, and promotes the immune and endocrine systems.
Vitamin D also helps regulate mood and is critical for a healthy heart. Read more about it in our report, HERE.
How Much You Need
The RDA for vitamin D is 600IUs daily for adults. The Linus Pauling Institute, however, recommends shooting for way more—2,000IUs (see "Why You Might Be Low").
Where You Can Get It
There's one source that's far above the rest, literally: the sun. Unfortunately, most people have a difficult time getting enough sun exposure to meet their vitamin D needs.
Fatty fish, such as mackerel and salmon, offer vitamin D naturally, but foods usually need to be fortified with it, as milk and eggs often are (check on the label that vitamin D has been added). For these reasons, vitamin D supplementation is helpful.
Look for a supp that offers D3 (cholecalciferol), which is the same kind your skin synthesizes on its own from sunlight.
Why You Might Be Low
Most people simply can't get the vitamin D they need from the sun due to geographical location, atmospheric conditions (cloudy days, for example) and concealing clothing.
Even if you live right on a California or Florida beach, the sun block you (hopefully) wear that cuts down on your UV ray absorption reduces your ability to get the vitamin too.
In 2011, the journal Pediatrics reported that using even a low-SPF sunblock of 10 cut down vitamin D synthesis in the skin by 90%.
Furthermore, if you're African American, your vitamin D needs may be higher as well. Studies show that naturally dark-skinned people don't produce as much D when exposed to sunlight as light-skinned people do.