Studies show that exercise, hobbies, and relationships all contribute to overall happiness… but if those don't work, there's always food! Apart from just tasting good, certain foods really do have the power to brighten our outlook and improve our mood. Here are four options that you might consider adding to your regular menu, or eating more frequently.
#1 Dark Chocolate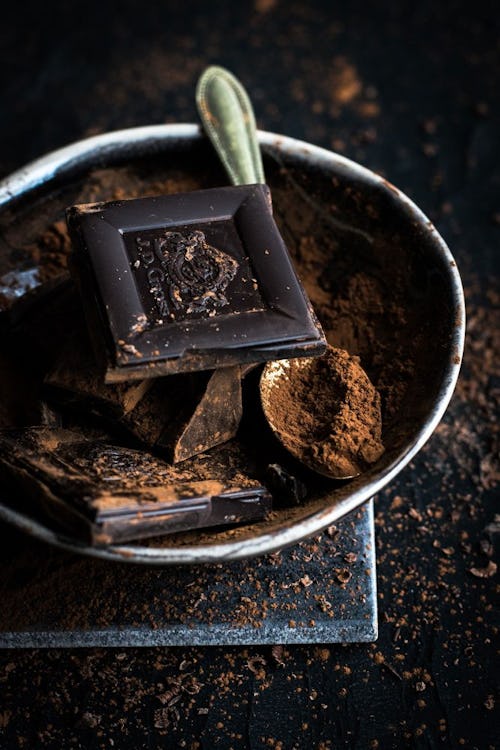 Eating a sweet doesn't just make you feel better because it's delicious. Cocoa contains polyphenols—metabolites unique to plants that offer myriad health benefits, including mood-boosting properties. A 2014 study had 60 stressed-out medical students eat different types of chocolate for two weeks and fill out a questionnaire on their perceived levels of stress. Those who ate dark chocolate reported the greatest reductions in stress. (Interestingly, the difference was more statistically significant in women.)
To be honest, subjects who ate milk chocolate enjoyed the same benefits as the dark chocolate group, but because milk chocolate has more sugar than dark, we advise you to stick with the darker stuff for the sake of better overall health. Sorry: no Hershey's bars. White chocolate eaters, if you were wondering, didn't do as well in the study.
#2 Turmeric
This spice is a staple in Indian cuisine. Turmeric's active ingredient is curcumin, which has mountains of research to show it helps support cellular health and regulate inflammatory responses. A 2014 trial concluded that curcumin helps the body make more DHA—an acid that helps prevent cognitive problems, including anxiety. The researchers suggested that people following a plant-based diet, or that choose not to eat fish, could benefit the most from consuming curcumin, as they may not get enough DHA-boosting foods otherwise. Turmeric can be added to rice, roasted vegetables, or used to make a curry.
#3 Salmon
This pink-fleshed fish is packed with muscle-building protein, but also omega-3 fats. In addition to being good for your heart, omega-3s have shown promise for supporting a good mood. One study showed that subjects who supplemented with the same kind of fish oil that's available in salmon experienced significantly less mental stress. Furthermore, a 2017 review suggests that eating too many omega-6 fats (which are common in processed foods) and too few omega-3s increases the risk for mood disorders—so if you rarely eat fish, upping your overall intake is a good idea.
#4 Matcha Tea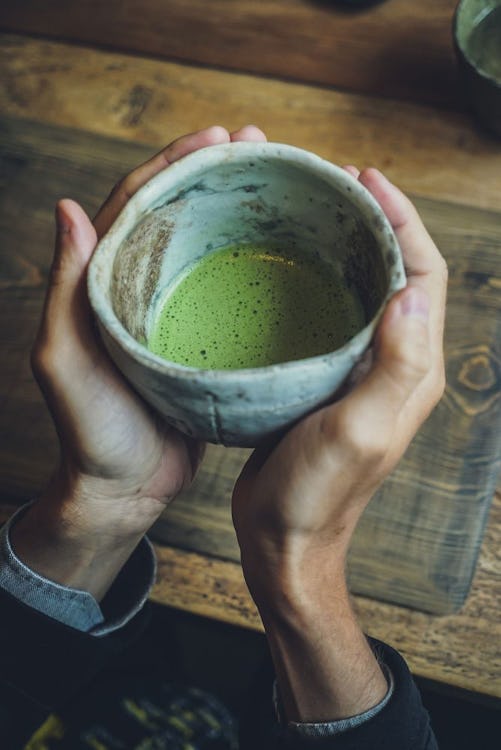 Regular green tea is great, but matcha is a type of green tea that's even richer in phytochemicals. Two of these—L-theanine and epigallocatechin gallate (EGCG)—have been shown to promote a healthy mood state and cognitive performance. A 2017 review demonstrated that L-theanine alone aided self-reported relaxation, tension, and calmness, and, when combined with caffeine (also in matcha), promoted alertness, memory, and the ability to avoid distraction.