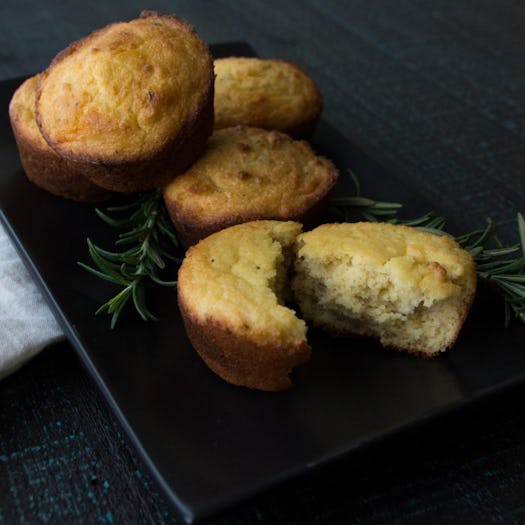 Keto Biscuit Recipe
| | |
| --- | --- |
| Yield: | 12 muffin-size biscuits |
| Difficulty: | Easy |
| Cook Time: | |
This keto biscuits and gravy recipe will change your life. You can easily repurpose the biscuits for any meal!
Ingredients:
Dry Ingredients:
1 cup super-finely ground almond flour
¼ cup cassava flour
¼ cup coconut flour
1 tsp. baking powder
½ tsp. Himalayan salt
½ tsp. garlic powder
1 tsp. fresh rosemary, very finely chopped
½ tsp. onion powder
Wet Ingredients:
½ cup organic sour cream*
3 tbsp. grass-fed butter, softened
1 tbsp apple cider vinegar
3 large pasture-raised eggs
2 tbsp. organic half and half
½ cup organic whole-milk ricotta cheese
Directions:
Preheat oven to 400 degrees Fahrenheit.
First, mix the dry ingredients in a large bowl. You might need to break up chunks of flour with a fork. In a different bowl, add the wet ingredients except for the ricotta cheese. Mix until combined.
Pour the wet ingredients into the dry ingredients, and mix with a silicone spatula. Fold in the ricotta cheese.
Grease mold of choice. I used a standard muffin tin, but a biscuit mold would be even better! You want to opt for a higher smoke point fat or oil when baking at 400 degrees. I recommend a little grass-fed butter, rendered bacon fat, or avocado oil. If you use a biscuit mold, this will make about 7 biscuits verses about 12 muffin-size biscuits.
Spoon mixture into mold, and flatten the tops. This is completely optional, but for a more crisp top, coat each with an egg wash. (Whisk an egg in a small bowl, and brush over the flat tops of each mixture).
Place the tin or molds into the over and bake for 20 to 22 minutes. Biscuit molds may bake for a little longer. They're done when the tops are a nice golden brown.
While the biscuits are cooking, make the sausage gravy. See recipe below.
Remove from oven. Enjoy warm!
Notes:
*If you aren't following a strict ketogenic diet, you can substitute the sour cream with a whole-fat Greek or Skyr plain yogurt instead.