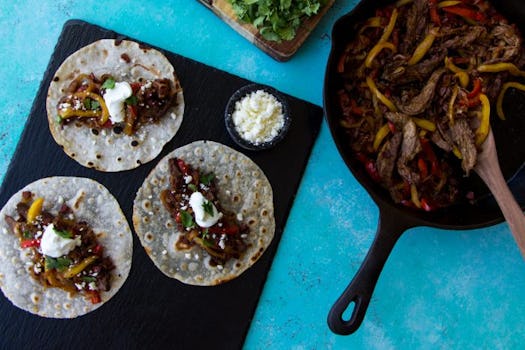 DINNER Elk Recipes: Elk & Steak Fajitas
| | |
| --- | --- |
| Yield: | 6-8 servings |
| Difficulty: | Easy |
| Prep Time: | |
| Cook Time: | |
| Total Time: | |
Ingredients:
1 lb. grass-fed skirt steak, thinly sliced
2 Elk Bacon Bison Bars, minced
3 tri-colored bell peppers, seeds & membranes removed, thinly sliced
1 large yellow onion, thinly sliced
2 tbsp. unrefined avocado oil
12-16 Siete Cassava flour tortillas
Full-fat organic sour cream or Greek yogurt, to taste
Queso fresco, to taste
Fresh cilantro, for garnish
#Spices
2 tsp. chili powder
1 tsp. cumin
½ tsp. smoked paprika
½ tsp. garlic powder
1 tsp. coriander
½ tsp. Himalayan salt
Cayenne pepper, to taste
Directions:
In a large mixing bowl, add the skirt steak, minced Elk Bar, 1 tbsp. avocado oil and the spices. Toss to fully coat and set aside.
Add the remaining avocado oil, sliced onion, and sliced peppers to a large cast-iron skillet on medium-high heat. You can also add a little rendered bacon fat here from the previous recipes if you want to add a little extra flava flave because who doesn't love bacon? Sautee for about 5-10 minutes until the vegetables soften and are golden brown along the edges.
Push the veggies to the rim of the skillet, then add the meat in the center to cook. Once the meat is no longer pink--this will cook quickly--incorporate with the onions and peppers.
Serve elk & steak fajitas with a warm grain-free tortilla. We love using Siete's Cassava flour tortillas! To quickly char the tortillas, add a little bacon fat or avocado oil to a pan on high. Cook the tortilla for about 20 to 30 seconds. For a keto-version, forgo the tortilla and enjoy over jalapeno cauliflower rice.
Serving options: Serve fajitas with organic sour cream or full-fat Greek or Skyr plain yogurt for some added probiotics, queso fresco crumbles, and fresh chopped cilantro. If storing in fridge for meal prep, keep the meat, onions and peppers in an air-tight container, and the tortillas and toppings separate for maximum freshness.