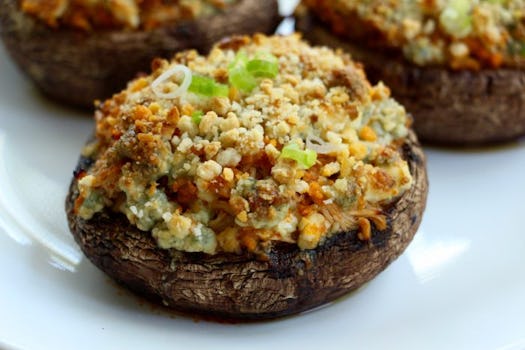 Buffalo Chicken & Blue Cheese Stuffed Portobello Caps
| | |
| --- | --- |
| Yield: | 10-12 Servings |
| Difficulty: | Easy |
Ingredients:
8 large portobello mushroom caps
½ cup crumbled blue cheese
¼ cup KNOW Better Crumbs or Pork Panko
Shredded buffalo chicken, recipe above
Green onions, garnish
Directions:
Preheat oven to 425 degrees Fahrenheit. Line a baking sheet with parchment paper.
Remove stems from mushrooms, and clean the outside of the caps using a damp paper towel Never run mushrooms under water. They are porous and will absorb the moisture. You can save the stems for re-purposing later; for example, finely dice up the stems and integrate them with the shredded chicken to cook all together, or save it to use in scrambled eggs or as a salad topper.
Carefully scoop out a little mushroom "meat" in the center to create more room for the chicken.
Add about ⅓ cup shredded chicken into each portobello cap. Sprinkle 1 tbsp. crumbled blue cheese and ½ tbsp. "breadcrumbs" on top of each stuffed portobello. If you're following a strict keto diet, we recommend using the Pork Panko "crumbs," which is ground pork rinds.
Bake for 20 minutes, or until the tops are golden brown. Remove from oven, and let cool. You can serve whole or slice into bite-size pieces for an easy grab-and-go bite.