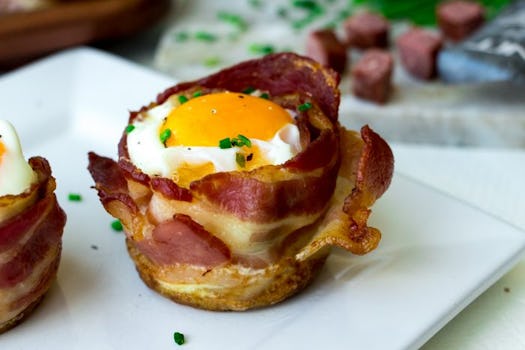 BREAKFAST Elk Recipes: Bacon & Elk Egg Cups
| | |
| --- | --- |
| Yield: | 6 egg cups |
| Difficulty: | Easy |
| Prep Time: | |
| Cook Time: | |
Ingredients:
12 slices bacon
6 pasture-raised eggs
1 Elk Bacon Bar, diced
½ organic yellow onion, sliced
1 cup shiitake mushrooms, thinly sliced
3 slices sourdough or sprouted grain bread
2 tbsp. raw sharp cheddar cheese, grated or shredded
Salt and pepper, to taste
Chopped chives or parsley, for garnish
Directions:
Preheat oven to 400 degrees Fahrenheit.
In a large skillet, partially cook the bacon, about 5 minutes. Don't cook to crisp! The bacon should be pliable. Drain on paper towels and set aside.
Drain the excess bacon fat into a small bowl, leaving about one tablespoon. Don't throw out the grease. We'll be using it soon. 4. Sautee the onions in the bacon fat on medium heat for about 5 minutes, or until they begin to soften. Then add in the shiitake mushrooms and diced Elk Bar.
Using the base of the muffin tin, carefully trace and cut a circle in the corner of the slice of bread. Then use this cut out as your tracing tool to cut remaining circles. Don't toss leftover bread. You can use it to make homemade bread crumbs, croutons or leftover bread pudding. This recipe can be made without the bread on the bottom for a keto-friendly version, but the "cup" doesn't hold together as well. Still works though!
Using rendered bacon fat, liberally grease a 6-ct non-stick muffin pan. Place a bread circle at the bottom of each muffin cup. 7. Now fit 2 slices of the partially cooked bacon around the sides in each cup, overlapping if necessary. This will line the sides of the muffin, forming a bacon "cup".
Place about 1 tbsp. of the onion-mushroom-elk mixture on top of the bread circle. Sprinkle with shredded raw cheddar, or cheese of choice.
Now, carefully break an egg on top of the cup. Sprinkle top of each egg with salt and pepper.
Bake at 400 degrees F for 18-20 minutes, or until bacon is cooked to crisp. Garnish with chopped chives and serve warm.
Notes:
*I suggest caramelizing the onions for this recipe and the 4-Meat Patty Melt together in the bacon grease. There's no such thing as too much caramelized onions. I usually make a bunch as part of my meal prep to throw in eggs, on salads or in bowls for a little extra some some. In this recipe, I added mushrooms for more veggies in my breakfast, but feel free to add any vegetables that make your insides happy!