A plank jack sounds like something you might find in aisle 33 at Home Depot, but it's actually a potent exercise that's becoming increasingly popular in HIIT, core, and circuit training classes. It's time you found out how to do a plank jack, the muscles it works, and how you can fit it into your workouts for better core strength and greater conditioning.
What is a Plank Jack?
The plank jack is a combination of two very common exercises: the plank and (big surprise) the jumping jack. You get on all fours in a plank position, and then hop your feet outward and inward while trying to keep your spine and pelvis aligned. The plank jack first started to hit the pages of fitness magazines in 2014, when it was offered up as a more advanced alternative to the standard plank—a longtime staple of core workouts because of the total-body stability it demands.
Celebrity trainers like Tracy Anderson, Anna Kaiser, and Erin Oprea started including plank jacks in their programming for ab/core workouts, and that catapulted the humble plank jack into the fitness mainstream. Whether you train at a big box gym, a boutique studio, or work out at home with a fitness plan you found online, you're likely to come across the plank jack.
What are the Benefits of Doing Plank Jacks?
Plank jacks are similar to the mountain climber exercise, in that you try to stabilize the hips and spine while moving the lower limbs. Because pretty much the whole body is active, there's a great demand placed on your heart, so plank jacks build cardio capacity while also developing strength and stability. "Plank jacks get your heart rate up quickly, and are lower-impact than exercises like high-knees or burpees," says Carmen Morgan, a Houston-based trainer (@mytrainercarmen on Instagram). "So they're suitable for a wide range of clients. The hopping component of the exercise allows you to feel your core engage more than when doing a regular plank, and most people seem to enjoy the plank jack more, too."
What Muscles Do Plank Jacks Use?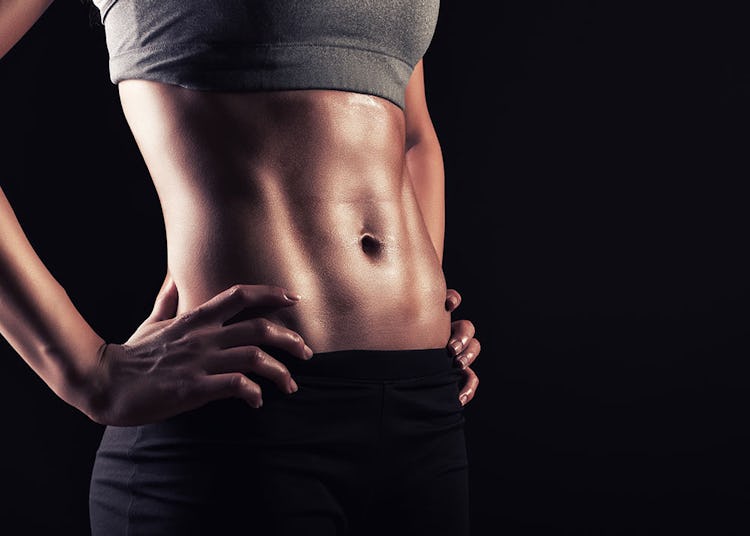 Plank jacks require some muscles to maintain the isometric hold of the plank while asking others to generate motion in the hips and legs. First, they call the internal and external obliques, rectus abdominis, transversus abdominis, and other core muscles into action to keep your body straight. On the other side of the body, plank jacks activate the muscles of the posterior chain to help you remain stable. These include the hamstrings, glutes, spinal erectors, rhomboids, rear delts, and lats. Since you're elevated off the floor, plank jacks activate the forearms, biceps, triceps, front deltoids, and pecs to help you retain a stable plank position.
Then there's the dynamic portion of the exercise. Your abductors pull your legs away from you when you hop, and the adductors draw them back toward your midline as you return to the starting position. Meanwhile, the calves (gastrocnemius and soleus) and quads also contribute to the explosive hop.
Wow… that's quite the list, isn't it? If you thought the plank jack was a basic bodyweight movement, you can see that there's a lot more to it. It may be used to target the core, primarily, but it's really a total-body exercise.
How To Do a Plank Jack
Step 1. Kneel down on the floor and place your hands on the floor. Bend your elbows so that your forearms rest on the floor. Your elbows should be directly beneath your shoulders.
Step 2. Extend your legs behind you and tuck your tailbone slightly so that your pelvis is perpendicular to the floor. Squeeze your glutes and brace your core. Your body should be in a straight line, your back flat. Focus your eyes on the floor.
Step 3. Keeping your body in a straight line, slightly bend at the knees and hop both feet out to the sides as if doing a jumping jack.
Step 4. Land on your toes, allowing your knees to bend slightly again, and then hop your legs back to the starting position.
The movement should look like a jumping jack performed from a plank position. Make sure you keep your belly button pulled in (core engaged) so you don't let your hips drop. "That will prevent you from feeling all the bouncing in your lower back," says Morgan.
Also, be careful not to move your feet out too wide with each hop. Morgan adds that, "Some people go a lot wider than is needed, which means they move slower and do fewer reps than they're capable of." Instead, hop your feet out just three or four inches from the starting position.
How Many Reps Should I Do?
Morgan advises performing reps for 20 seconds at a time, because "most people get gassed pretty quickly doing plank jacks." The longer your set goes, the more likely you'll fatigue and break form, and sloppy plank jacks where your hips bounce up and down aren't good for anything.
When programming for HIIT workouts or bootcamps, Morgan usually includes three to four sets of plank jacks, and only prescribes them once her clients have thoroughly warmed up. "If you're pushed for time and want to do a quick workout at home," says Morgan, "you could do three sets of plank jacks by themselves to get your heart rate up and challenge your core strength."
If you want to do plank jacks as part of a fat-loss circuit, Morgan typically sandwiches the exercise between renegade rows and floor presses. "It's a quick and easy transition into and out of plank jacks when you combine them with other floor-based exercises," she says. You can also use plank jacks as a finisher. Morgan often pairs them with regular planks. Try ending your workout with a superset in which you do 10 seconds of plank jacks followed immediately by 20 seconds of a plank hold. Rest 30–60 seconds, and repeat for three rounds.
Alternatives to the Plank Jack
Like all good exercises, the plank jack can be modified based on your experience level. The following are options you can use to regress or progress the plank jack as needed.
Regression
Can't do a full plank jack? Don't despair. Just work on mastering the regular stationary plank, which will help you improve head-to-toe stability before adding in the dynamic movement component. Perform three sets, holding the position as long as you can. When you can hold one set of the plank for two minutes, you should have ample stability to move on to a tougher plank variation.
When you're ready to add a little motion to your plank, start with the plank jack toe tap (see the video below). While in the plank position, slowly move your right leg out to the side by a couple of inches and, as the name suggests, tap your toes lightly on the floor. Pull your leg back to the starting position and then repeat on the other side. Continue for 20 seconds, rest for a minute, and then do another set. Do this twice a week until it feels comfortable, and then try the full plank jack.
Progression
As you become more confident in and competent with the plank jack, you can increase your speed, the length of your sets, or do it in conjunction with other exercises, such as pullups, pushups, or jumping rope, as well as the movements Morgan suggested earlier.
If you want another exercise that combines a similar level of stability and motion, you can perform mountain climbers, particularly the hip-opening version, to improve your mobility.