I'm not going to lie. The prospect of using natural deodorant frightened me. I knew my chemical-laden deodorant worked perfectly. I used it since 5th grade after my teacher sat us all down after recess one day.
"You all stink." She was unabashed in her criticism, so I didn't take it as an insult. I just took it to be a fact.
"You're growing up and your bodies are changing, so you've got to start using deodorant."
And that was pretty much all she said.
That night, I went home and asked my mom to take me to the store to get deodorant. Because no one – not even a 5th grader – wants people to think he stinks.
Sure. Change is scary. Not depending on chemicals and leaving the smell of your pits to baking soda and coconut oil probably sounds like a bad idea. Because if you eat them, how effective can they really be at getting rid of body odor? Or, if you prefer: if it's not broke, don't fix it.
But it is broken.
Because Science
There's a big difference between eating something and putting it on your skin. Your skin is designed to protect you from minor injuries and to release toxins. Your entire digestive system is designed to break down food, extract nutrients, and get the nutrients ready for your use (in the most basic terms). So what's the difference between eating and putting something on your skin?
Your digestive system will help filter out and get rid of the bad stuff so it doesn't get absorbed into your bloodstream. Your skin doesn't have a sophisticated system like that. Your skin is a barrier with tiny holes in it. So what you put on it can make its way into your bloodstream. That includes everything in your deodorant – aluminum, parabens, phthalates, and other strange chemicals that look weird and are hard to pronounce.
So what are you supposed to do?
Sweat
Sweat cools your body, is an elimination route for toxins, and it even helps protect you from bacteria colonizing. Sweat's a good thing. Plugging up your armpits (this is how antiperspirants work) isn't. It's unnatural. Besides, what exactly happens to the sweat that was trying to escape? It builds up. Sometimes extended use of antiperspirants can even cause more sweating.
Wanna know something crazy? Using deodorant (not an antiperspirant) can sometimes cause you to sweat less. It sounds backwards, but some people don't respond well to aluminum salts. Everybody is unique and different. I've had a positive experience with natural deodorant and will not go back.
Getting started is easy. You can make your own natural deodorant or you can buy some..
Natural Deodorant – No EZ Bake Oven Required
You probably even have all or most of these ingredients in your kitchen right now.
Baking Soda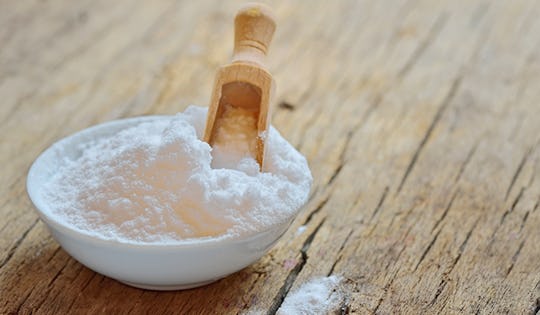 Baking soda is great for removing smells from your refrigerator, your carpet, and your armpits. Makes sense, doesn't it? Of course it does. So just take some baking soda and a little bit of water and apply it to your underarms. Prefer the dry route? A mixture of one part baking soda to six parts cornstarch dusted on your armpits can help too.
Rubbing Alcohol
Odor is caused by bacteria. Rubbing alcohol kills bacteria. Perfect. So put some rubbing alcohol in a spray bottle, add a little essential oil if you want it to smell nice and spray it where the sun don't shine (your armpits). Now, there are other things that also kill bacteria like everclear and vodka, so they may be effective too. But spraying alcohol on your armpits is probably not the best idea you've ever had, so let's not do that.
Lemon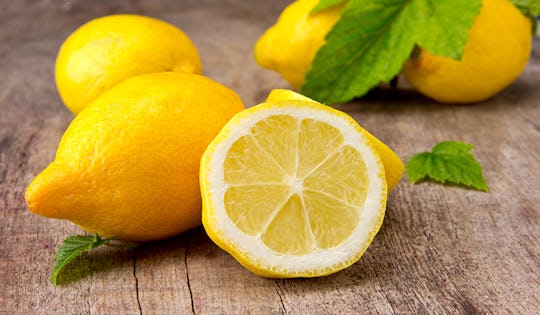 Just like rubbing alcohol, lemon juice (from a fresh lemon, not out of a bottle) can also kill odor-causing bacteria. Take a slice of lemon and rub it on your pits. Pro tip: if you just shaved, don't swab yourself with a lemon.
Make Your Own Natural Deodorant
Just so you know, it's going to feel a little weird using this at first. You'll essentially be coating your underarms in a thin layer of coconut oil, and so it may take some getting used to (it will go away after a little bit). But this is one of those "better safe than sorry" times. Personally, I'd rather use coconut oil and items I can mostly find around my house than aluminum, parabens, and phthalates. Aluminum does not do a body good.
Let me step off my soapbox and get back to the recipe.
Here's what you'll need:
· An empty container
· 6 Tablespoons coconut oil
· ¼ cup baking soda
· ¼ cup cornstarch or arrowroot powder
· Essential oils
Directions:
1. Mix your baking soda and cornstarch together.
2. Add coconut oil. Mix with fork until completely incorporated.
3. Optional: add oils.
4. Put it in a small glass jar or empty deodorant container.
Coconut oil turns to liquid at 76° F. It will re-solidify if it gets below 76, but it's best not to get it to that temperature to begin with. Though, the relatively low melting point does help it apply to your underarms easier.
Buy a Natural Deodorant
Your last, and certainly the easiest option, is to just buy a deodorant that doesn't have all the bad ingredients in it. Aluminum-free deodorants are plentiful. To start with, look for deodorants that have the ingredients listed above.
If you're worried about melting at 76°, then look for a deodorant with carnauba wax. Carnauba wax slightly raises the melting point.
Using a natural deodorant might be a little weird at first. It was for me. But it was also weird to put deodorant on the first time. Give it a week. Try it like you'd drive a rental car. I did. It survives my workouts and I don't smell after. So I will never go back to chemical-laden deodorant.