There are many reasons why your lower back might be sore from kettlebell training. One of the primary ones is weak, immobile shoulders. fix it!
Your overhead kettlebell position will be unstable and weak if you have mobility and alignment issues—the excess lordosis, forward head posture, and tight muscles in your hips, chest, and shoulders.
What you want is the ability to pack your shoulder and stabilize a load, while maintaining vertical proprioception.
That's a fancy word for your muscles and joints' ability to right themselves, stabilize, react and interact with the outside world.
Fixing Lower Back Pain with the Kettlebell
Use corrective exercises, stretches, and strength exercises to target your weaknesses. I call this "tightening up the nuts and bolts" on your most prized machine: your body.
This means greasing the grooves with sound movement patterns, incremental progressive loading, and conscious gradual progress. The purpose of corrective exercise is to magnify whatever your weak links.
One example of an exercise that can help you fix your weak shoulders is the arm bar. We use the Arm Bar as one of many prep exercises for a healthy, stable shoulder, and everyone gets what they need out of it.
The key is vertical stability and the ability to keep your shoulder stable while in motion.
The kettlebell is the best tool for the Arm Bar because of the offset center. The Arm Bar will not only mobilize the shoulder by stretching the chest muscles, but will strengthen the stabilizer muscles in the shoulder, increase thoracic mobility, and build shoulder strength in all ranges of motion.
Lower back soreness can be greatly reduced by gaining mobility, stability, and strength in the shoulder. It is best used along with other exercises and techniques that increase range of motion and strength in the hips and upper back.
How to Perform the Kettlebell Arm Bar
1. Begin with a light kettlebell-one you can press overhead 10-15 reps.
2. Lie flat on your back on the floor with the kettlebell to your right.
3. Roll towards the kettlebell, grab the handle with both hands and hug it close to your body keeping our right elbow tight to your side and slowly roll back on your back bring the kettlebell with you.
4. Take a strong grip on the kettlebell with your right hand, letting it sit deep across the heel of your palm. Keep your wrist neutral (knuckles to the ceiling). The kettlebell should be resting on your wrist/forearm, and your elbow should be tight to your body and at a 90 degree angle.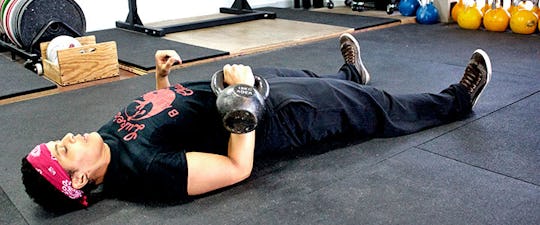 5. Press the kettlebell up over your chest and lock it out with a straight elbow.
6. Bend your right leg and plant your foot flat on the floor with your heel close to your hips.
7. Keeping your eyes on the kettlebell, reposition your left arm up over your head flat against the floor.
8. Push off your planted foot and slowly roll over, resting your head on your left arm, keeping your arm vertical, turning your hips flat to the ground as you roll over.
9. Stabilize the kettlebell vertically in this position with a strong grip, knuckles to the ceiling, and your lats locking down towards your hips. Take 1-5 deep belly breaths.
10. Repeat for 3-5 reps of 1-5 belly breaths on each side.