Worried about losing your six-pack after a Fourth of July binge? Fear not. If you use these delicious recipes, you'll save calories without sacrificing flavor or fun at your Independence Day cookout. Hmmm, freedom AND responsibility? That's what this country is all about!
3 Ab-Friendly Fourth of July Recipes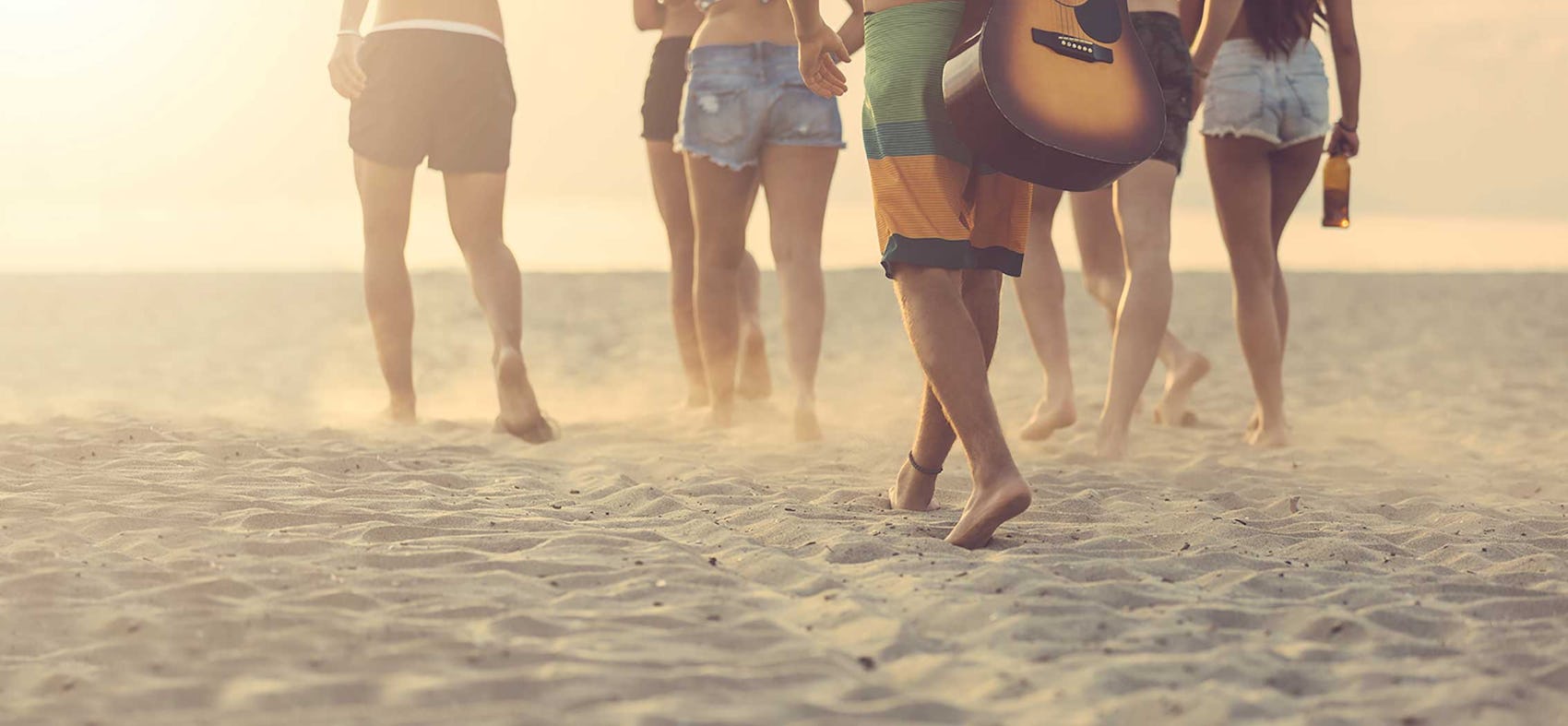 Red, White & Blue Fruit Kabob Recipe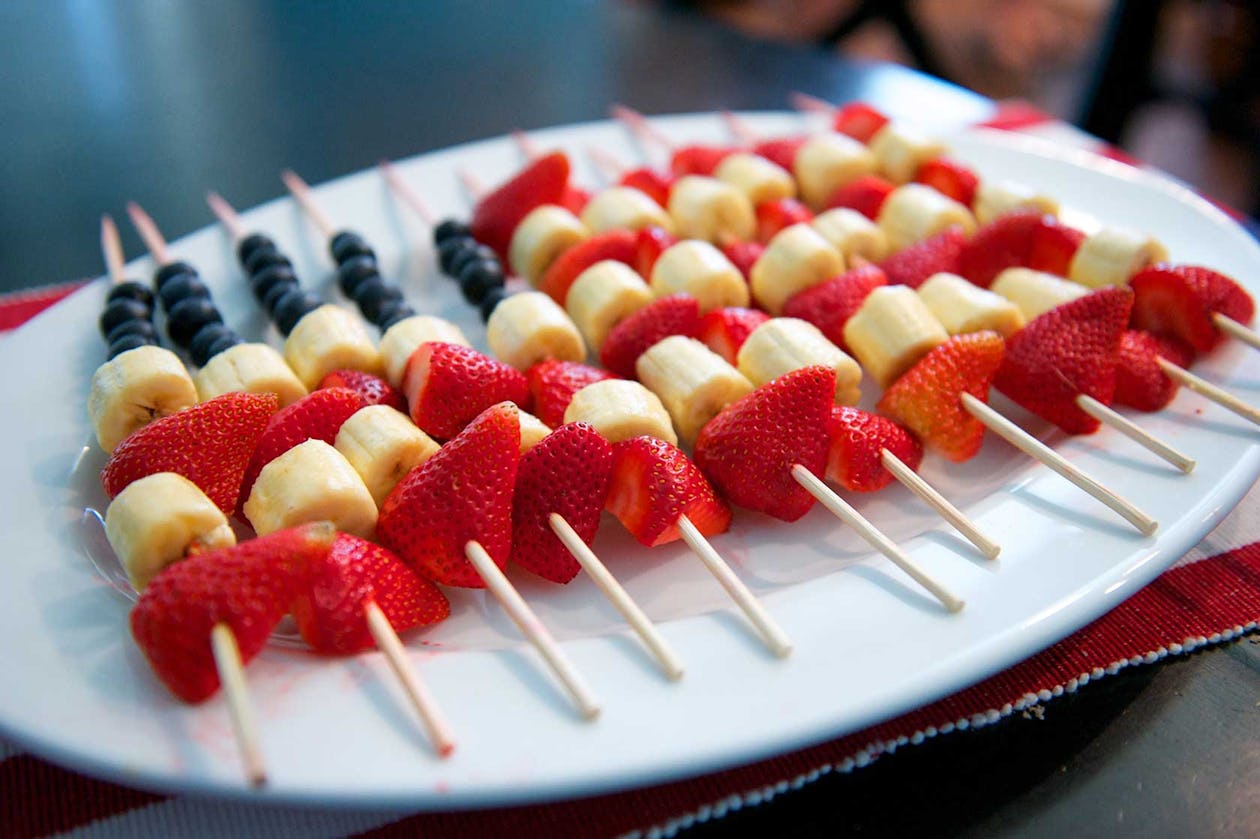 Yields: 24 kabobs
Prep time: 20 minutes
Difficulty: easy
Ingredients
● 1 container fresh strawberries, organic
● 1 large container fresh blueberries, organic
● 3 bananas
● Bamboo skewers
Directions
1. Wash all fruit. De-stem and slice strawberries in half. Peel bananas and slice in 2″ thick rounds.
2. Now, just have fun with it. Slide the bamboo skewers into the fruit. You can alternate red (strawberries), blue (blueberries), and white (banana slices). Another option, create an American flag with all the skewers. I recommend laying them out as you go so you can visualize the flag. Use one banana for the white stripes, one strawberry for the red, and blueberries for the top left corner.
Healthy Coleslaw Recipe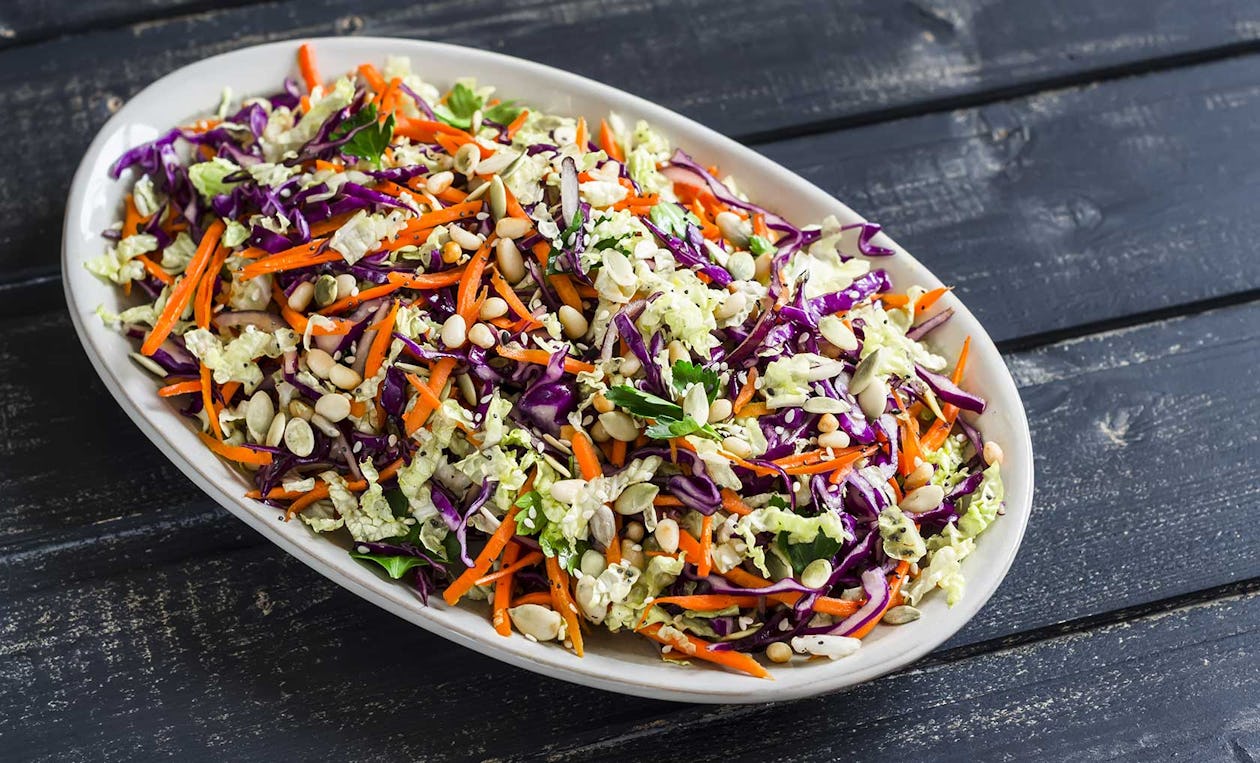 Yields: 12 servings
Prep time: 25 minutes
Difficulty: easy
Ingredients
● 1 green cabbage, shredded
● ½ purple cabbage, shredded
● ½ cup shredded carrots
● 1 crisp apple, julienned
● ½ cup avocado oil mayo
● ½ cup full-fat Greek or Skyr yogurt
● 2 tbsp. raw, unfiltered honey
● 2 tbsp. apple cider vinegar
● ½ tsp. Dijon mustard
● Juice from ½ lemon
● Salt & pepper to taste
● Fresh parsley, optional
● Pumpkin or seeds of choice for extra crunch, optional
Directions
1. Combine shredded cabbage and carrots in a large bowl.
2. In a small bowl, toss the apples with lemon juice and set aside.
3. Make the dressing: add the mayo, yogurt, honey, lemon juice, mustard, vinegar, salt and pepper in a bowl. Whisk to combine. Pour dressing over shredded cabbage & carrots.
4. Drain apples, and toss in. Here you can add any seeds or nuts of choice. I love pumpkin seeds, but sunflower seeds and sliced almonds work great here too! Garnish with fresh parsley.
5. Serve immediately, or refrigerate for up to 2 days.
Slow-Cooker Jalapeno 4-Meat & Sweet Potato Chili

With four types of meat (beef, chicken, turkey, and bison), two types of beans (kidney and black), and all types of flavor, this grain-free, sweet potato chili is filling, healthy, and has just enough jalapeno to spice up your life (in all the best ways).
Yields: 6-8 servings
Ingredients
● 2 tbsp. coconut oil
● 1 lb. lean (90/10) ground beef, grass-fed if possible
● 2 chicken breasts, chopped into 2" cubes
● 3 turkey or beef jerky bars
● 1 large yellow onion, chopped
● 3 small sweet potatoes, cleaned & diced
● 2 jalapenos, sliced thin
● 28 oz. can crushed tomatoes
● 15 oz. can black beans, rinsed and drained
● 15 oz. can kidney beans, rinsed and drained
● 3 cups low-sodium chicken stock, pastured-raised if possible
Seasoning
● 3 tsp. salt
● 1 tsp. garlic powder
● 1 tsp. cayenne pepper
● 2 tsp. cumin
● 1 tsp. black pepper
● 2 tbsp. chili powder
● 2 tsp. smoked paprika
Serving Suggestions
● Green onions, thinly sliced
● Avocado (squeeze lemon or lime on top to prevent oxidizing, or browning, when serving)
● Shredded white cheddar cheese, raw cheese if possible
● Plain full-fat Greek yogurt
Directions
1. Heat 1 tbsp. coconut oil in a large pan or cast-iron skillet over medium-high heat. Add the chopped onion, ground beef, 1 tsp. salt, garlic powder, and black pepper. Cook and break up the beef as you stir, until the beef is no longer pink. Add 1 tbsp. chili powder, smoked paprika, and cumin. Transfer beef to the bottom of the slow cooker.
2. Using the same pan, add 1 tbsp. coconut oil and the chicken breast cubes. Sear the chicken until cooked through, about 6 minutes. Add chicken on top of beef in slow cooker.
3. Slice the jerky bars in half lengthwise, then into small ½-inch pieces transversely. Add to the slow cooker.
4. Finally, add the diced sweet potato, black beans, kidney beans, crushed tomatoes, chicken broth, cayenne pepper, and remaining salt and chili powder.
5. Cover and cook on high for 3-4 hours or low for 5-6 hours, until the potatoes are tender. Serve warm with desired toppings.